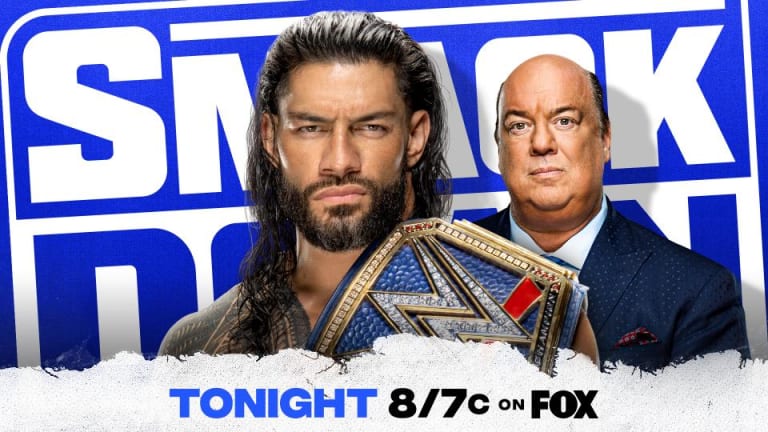 WWE SmackDown LIVE coverage and commentary (11.05.21)
Today is the big day! We finally get to play Animal Crossing: New Horizons Happy Home Paradise! Oh, also, WWE SmackDown is on.
Hey everybody! Kevin Christopher Sullivan here - writer and editor for Sportskeeda Wrestling and special contributor to Wrestling News World (that's here!) - and I'll be covering what happens on WWE SmackDown tonight. 
Just a heads up - if you're following along live, this page doesn't auto reload, so make sure you reload to get the latest updates. Also, I'll have updates time-stamped (in Central Time), so you can see how far behind I am or whatever.
I'll also be supplementing tonight's coverage with TWEETS! Yes, those posts on Twitter. I'll be interspersing them throughout the coverage, especially when my daughter is throwing a fit and I can't type and yell at the same time. If you would like YOUR Tweets used on this page, just message me at @HeyImKevinSully, and help a poor dude out. Or whatever.
Anyway, that's all for the jibber-jabber. Let's get this show on the road so I can go back to playing No Man's Sky. See you after that Jay Leno show is over!
---
Also, check out my main man Juice's interview with Levi Cooper, the man formerly known as WWE Superstar Tucker and one of the underratedly funny dudes on WWE TV ever. Also, I think I just made up a word.
---
(7:52pm) Los Lotharios win. 

RESULT: Los Lotharios defeat Mansoor and Cesaro
(7:41pm) Angel Garza and Hamburgo Camino are now know as Los Lotharios. And they're wrestling Mansoor and Cesaro.
(7:40pm) Shotzi is not happy and she wants to beat up Sasha Banks. 
(7:37pm) Ridge Holland is being interviewed, and he wants to meet Sheamus.
(7:34pm) Shotzi is coming up after the break to say some things.
(7:31pm) Sonya Deville comes to the ring and restarts the match because the ref didn't break the hold when Naomi grabbed the rope and blah blah blah and long story short Baszler wins.

RESULT: Shayna Baszler defeats Naomi
(7:30pm) Shayna gets the Karafuna Clutch on Naomi, but reaches the ropes. Baszler pulls her back from the ropes, but Naomi rolls her up for the win!

RESULT: Naomi defeat Shayna Baszl...oh, wait, hold on...
(7:25pm) Naomi is pulling some pretty cool Dustin/Cody Rhodes-style "duck and punch" kind of moves and it looking pretty damn good. Still, she ends up sprawled on the floor as we head into another break.
(7:22pm) It's time for our first match of the night - Naomi vs Shayna Baszler
(7:15pm) King Woods offer a challenge: him vs Jimmy Uso. If Jimmy wins, King Woods will acknowledge Reigns as the "Head of the Table." But, if Woods will have to "bend the knee." Reigns accepts on Jimmy's behalf, much to his chagrin. 
(7:12pm) So, yeah, the New Day come out.
(7:10pm) Roman is upset about the Usos losing to the New Day last week, and he wants to know which Uce got oh-ed. I think it was Jimmy, but either way, whoever it is, he says he's gonna beat up the New Day and stuff like that.
(7:07pm) Roman Reigns wasn't here last week, but he's here this week. And he's got some mean things to say about Brock Lesnar.
(7:02pm) Roman Reigns comes out to his Network TV newsmagazine theme music.
(7:00pm) wwe then now forwhatever