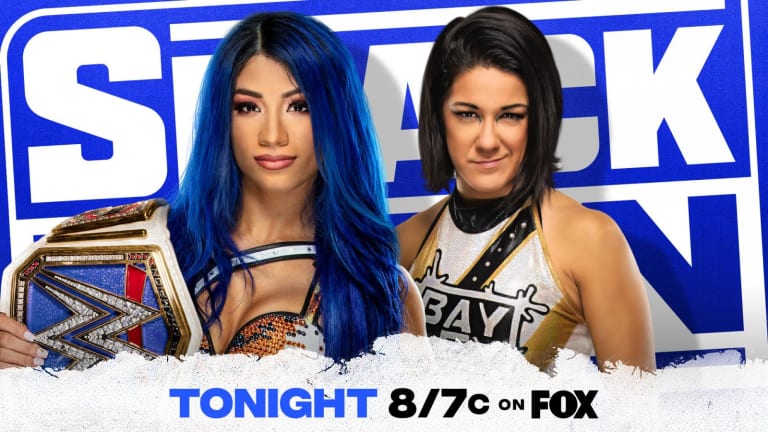 WWE SmackDown LIVE coverage and commentary (11/6/2020)
Will tonight be the night we find out who was elected President of SmackDown? Or am I confusing TV shows again?
Will tonight be the night we find out who was elected President of SmackDown? Or am I confusing TV shows again?
For the latest updates, you may want to refresh the page
Hey, everyone. Kevin here and we're about to get underway with this week's episode of WWE SmackDown. Sorry I missed you all on Monday - family stuff. But, I'm here and ready to watch this episode of the blue brand's weekly show with you all.
As usual, I will not only be covering what's happening on the TV screen, but also on Twitter and other social media accounts - which reminds me, you can share your own thoughts on tonight's show by Tweeting me at @HeyImKevinSully. 
Bayley gets her rematch against her former best friend Sasha Banks tonight, as the former hug enthusiast attempts to wrest her SmackDown Women's Championship back. Also, Otis takes on Seth Rollins in a qualifying match for Survivor Series. That, and King Corbin reminds us all that he's still alive and takes on Rey Mysterio, to boot!
And other stuff, too, I'm sure.

Anyway, take a load off from Election Anxiety and enjoy our coverage of (and my stupid, stupid jokes about) tonight's SmackDown, starting soon!
Also, here's our preview of tonight's show, which you need to read if you know what's good for you. Or even if you don't.
My Internet stream is kind of being lame - thankfully, so far it's just making my picture really pixelated but who knows what'll happen. Also, it looks like they're starting out with Sasha Banks vs Bayley instead of closing.
Will Sasha actually hang on to her singles title for once?

I dunno. Maybe? Who am I, Nostradamus?
Bayley's music sucks. Yeah. I said it.
Bayley is on the arena floor and Sasha is heckling her... "DING DING I'M WAITING!"
Banks has Bayley on the ring apron, and she charges at her. Bayley gets her legs up and kicks The Boss up in the air, causing her to crash right onto the Hardest Part of the Ring™.
Bayley lifts a staggered Sasha onto the top turnbuckle, but Banks recovers and fights her way to a Meteora. Then the two crash outside the ring as the show goes to commercial.
Also, this just in from Mustafa Ali...
Banks with a Frog Splash on Bayley but still only gets a 2-count.
Bayley brings in a kendo stick (WHY IS IT THERE?!) and the ref immediately tosses it away. While he does that, though. Bayley grabs a chair. Banks catches her with it but Bayley with a Backstabber and a Bayley to Belly (that's a lot of B words) and then a flying elbow - each followed by a pinfall attempt and also a kick out.
Bayley gets the Banks Statement on, er, Banks, but The Boss rolls out.
Banks with a Backstabber and a Banks Statement and the bin... I mean win!
RESULT: SmackDown Women's Champion Sasha Banks defeats Bayley
Sasha walks backward up the ramp which means only one thing... she's getting attacked.
And she does. By Carmella.
Backstage, we see Jey Uso getting himself a cup of coffee and Kevin Owens approaches him. After making an innocent joke about Uso fetching Roman's coffee ("Isn't that Heyman's job?"), Jey gets upset about it. Owens apologizes and suggests Uso switches to decaf.
After the break, Kayla Braxton is interviewing Uso and, after introducing a video package of last week's Uso-related incidents, basically calls Jey out for being a punk. Heyman comes to the rescue and drags Uce away.

Meanwhile, Rey Mysterio is backstage, yapping on his phone, when Dominick hits him up and asks him why he's yapping on the phone. Rey asks him if he's seen his sister and then King Corbin attacks him.
We come back from break and Roman says something but I was in the bathroom. Anyway, Rey is taking on Corbin now and getting his butt kicked.
Mysterio finally gets the upper hand, only to have Seth Rollins come out and be distracting.
Michael Cole is all "Rey Mysterio is the biggest underdog in WWE history" and I'm like "what about Hornswoggle?"
As expected, Corbin ends up on the floor and attacks Dominik.
In the hubbub, Rollins also attacks Dominik and Rey rushes out to save him. As he does, Murphy and Aalyah... Aliyah... anyway, Rey's daughter comes out to help but Rey wants nothing to do with it. He gets back in the ring and Corbin nails him with a Deep Six and wins.
RESULT: King Corbin defeats Rey Mysterio
Back from break and now Natalya, Ruby Riott, and Zelina Vega are in a triple threat match for a Survivor Series match spot.
Natalya has the Sharpshooter on Vega, but Riott slides in and puts Vega in a crossface and actually gets the win!

RESULT: Ruby Riott defeats Natalya and Zelina Vega
We've got Otis vs Seth Rollins. 
Halfway through the match, Murphy comes to the ring area to watch.
And then this happened...
We're about to get Kevin Owens vs Jey Uso. 
Owens admits he's done plenty of "questionable things" for his family, like Uso, but the difference is that he chose to do them instead of being forced to do it.
Roman and Heyman are watching backstage - and watching Jey get his butt handed to him by Owens. Heyman nods to Roman and starts to head to the ring. Ad break.
Heyman comes to the ring and Uso starts to get aggressive.
Owens with a pop-up powerbomb and the pin! Uso gets his foot on the rope.
Roman's music starts and it's enough to distract Owens enough to get hit with a low blow by Uso. Frog Splash. Pin. Win.
RESULT: Jey Uso defeats Kevin Owens
Uso and Reigns and Heyman celebrate atop the ramp as we go to credits.
What did you think? Personally, I thought it was a little underwhelming but not an unentertaining show. Hopefully, they really get things revved up for Survivor Series.
Until next time... I'm outta here.