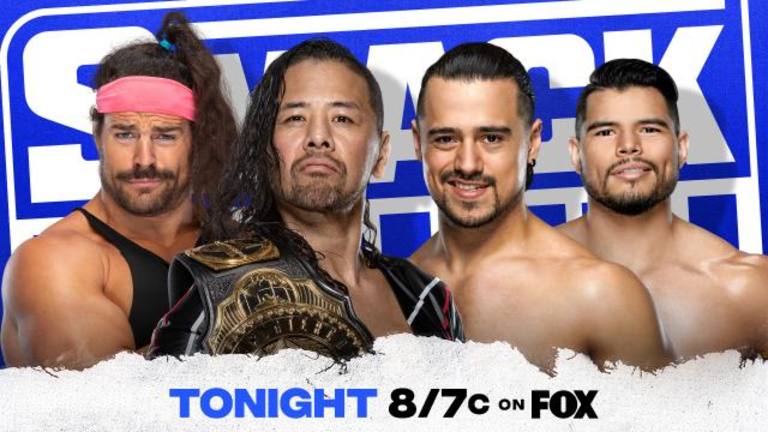 WWE SmackDown LIVE coverage and commentary (11.12.21)
It's Friday Night, which means that WWE SmackDown will be airing on the FOX Network and wrestling stuff is gonna happen! Probably. I mean, there's a pretty good chance it will.
Hi, everybody! It's Friday night, which means... well... probably a number of things, depending on your situation, I suppose. But, it means SmackDown will be on! Wheeeee! That's what we're here for!
I'm Kevin Christopher Sullivan, writer and editor for Sportskeeda and special contributor with Wrestling News World. I'll be keeping you informed as to who wins, who loses, who gets saddled with a dumb new gimmick, things like that.
If you're following along live, we'll have updates time-stamped (in Central time), but you'll have to refresh the page every now and then to get the latest commentary. Assuming that's what you want.
I'll also be sharing Tweets - THAT'S RIGHT, BITCHES, I SAID TWEETS - relevant to tonight's show and if you would like to have YOUR Tweets shared here, well, TWEET ME AT @HEYIMKEVINSULLY. Or don't. Whatever. It's not like any of you motherfuckers actually read this. ;)
Anyway, share this link, tweet it out, like and subscribe? Is that how this works? I've had a few. Anyway, enjoy SchmackDown, you goobers!
Oh, shit! I almost forgot. You need to check out our SmackDown preview! Once again Ja'Von York kicks ass and doesn't bother to take names because who has time to do THAT? Not Ja'Von, that's who, he's too busy doing that ass kicking thing. Anyway, go read that, you dork.
---
(7:37pm) Kayla is trying to interview Roman, but he passes her off to Paul Heyman. Heyman informs her that Roman will "bend the knee" if Xavier Woods defeats him... and will even vacate his title. Meanwhile here comes Shinsuke Nakamura.
(7:32pm) Aliyah is celebrating backstage, when Sonya lets her know that she is no longer on the SmackDown Survivor Series team. 

Boooooooooooooooooooooooooo!
(7:24pm) Alyiah rolls up Natalya and gets the win on her very first SmackDown match!

RESULT: Aliyah, Naomi, and Sasha Banks defeat Natalya, Shayna Baszler, and Shotzi
(7:11pm) Oh, hey, now it's a 6-woman tag team match.
(7:05pm) Sonya DeVille is introducing the SmackDown women's team for Survivor Series, wrapping things up with team captain Sasha Banks... and then things break down. Naomi comes out, too, and now everybody is fighting.
(7:00pm) THEN. NOW. FOREVwait a minute, does Jay Leno have a new show?