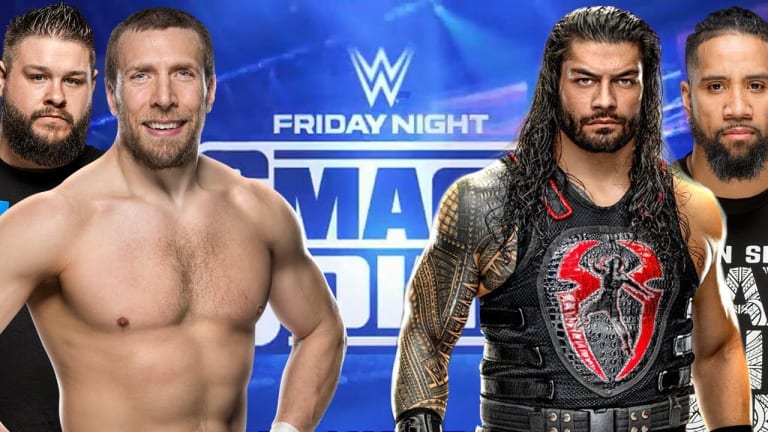 WWE SmackDown LIVE Coverage and Results (11/13/2020)
WWE is a little over a week away from Survivor Series, and we're still looking to see who will be on all the teams.
WWE is a little over a week away from Survivor Series, and we're still looking to see who will be on all the teams.
You may need to refresh the page to get the latest updates.
Hey everybody! I'm back! Er... again. You would think that as a professional Guy Who Writes About Pro Wrestling, I'd keep better tabs on my TV bills, but whatever.
Let's start immediately with THIS craziness...
Anyway... while we recover from THAT news, um... yeah, I'll be covering SmackDown tonight. If you'd like to join in on the conversation, Tweet me on the Twitter thing at @HeyImKevinSully. I'll share some of my favorites, assuming I get any.

Well.. I'll see you guys at showtime.
It's about time to get this show started. Who's ready?
Tonight's episode begins with WWE Universal Champion Roman Reigns and Paul Heyman coming to the ring. 
Drew McIntyre gets his rematch against WWE Champion Randy Orton this Monday on Raw.
Roman talks about making people around him "relevant", including his cousin, Jey Uso. He turns his attention to his match against WWE Champion Randy Orton - how he respects the "man's accomplishments" but not the man. Suddenly, Drew McIntyre makes his way to the ring.
Drew informs Roman that he won't be facing Randy Orton at Survivor Series - he'll be facing him. 
Following some jaw-jacking and smack-talking regarding each other's shows (Drew's on Raw if you forgot), Jey Uso hits the ring and he's challenging Drew to a match. According to him, he took care of Daniel Bryan and he took care of Kevin Owens, and he'll take care of Drew McIntyre.

Sami Zayn defends his Intercontinental Championship against Apollo Crews.
Despite an early advantage by Crews, Zayn manages to use the ring apron to his advantage and get the win.
RESULT: Sami Zayn defeats Apollo Crews
Rey Mysterio and family are interviewed backstage and they're ready to end this chapter against Seth Rollins once and for all. Meanwhile, Jey Uso vs Drew McIntyre has been confirmed, and it's an unsanctioned match.
Sasha Banks cuts a promo in the middle of the ring, putting the whole SmackDown women's roster "on notice". Just as she brings up Carmella, who should come out but... well, Bayley, actually. But, it's a ruse to allow Carmella to sneak in and superkick the champion.
Otis takes on Dolph Ziggler and, despite interference from Robert Roode, Otis wins the match.
RESULT: Otis defeats Dolph Ziggler
Otis is backstage, grump as you would expect, and who should appear but the former "Shorty G" Chad Gable - who offers to provide Otis with the training that will push him over the edge and be a star.
After a video package, it's time for the No Hold's Barred match between Seth Rollins and Rey Mysterio.
The word is that Seth is taking some time off from television (what with he and Becky Lynch's baby soon to be born, I imagine), and with this a NHB match, expect Murphy - who is at ringside with Rollins - to interfere and cost his mentor the match.
You often see people get sent through the announce table at ringside but... you don't often see then suplexed through them. Which is what Seth does to Rey.
Seth props a chair into the turnbuckles and tries to lawn dart Rey into it, but Rey scrambles out. I guess he was having Kevin Nash flashbacks.
Rollins uses the steel steps against Rey, and nearly gets The Stomp onto them, but Rey gets away. Back to another commercial.
There's a table propped up in the ring and Rey and Seth are fighting on top of the turnbuckles. Rey attempts a hurricanrana off the table, but Seth catches him and powerbombs him through the table. Still only gets a 2 count, though.