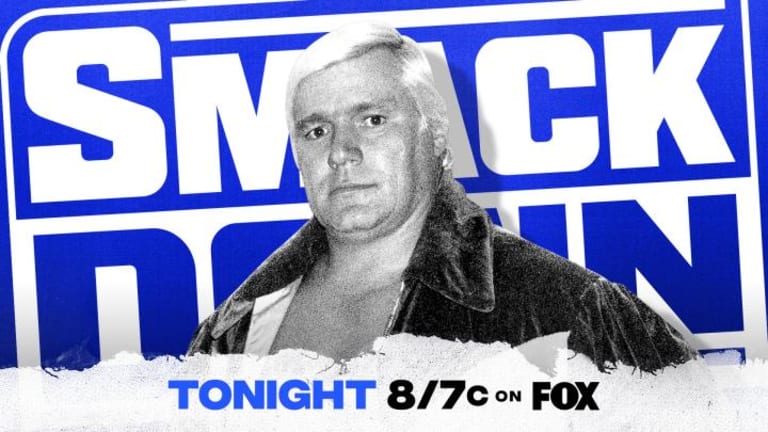 WWE SmackDown LIVE coverage and commentary (12/4/20)
Tonight we say goodbye to Pat Patterson and say hello to whatever WWE is planning next for TLC.
You may have to refresh this page for the latest updates.
Hey everybody. I got held up a bit with some Christmas present stuff so I'm running a few minutes behind. Stay put and refresh for tonight's intro...
In the meantime, here's WNW's preview of tonight's show.
So, hey everyone! Kevin Christopher Sullivan here, ready to cover tonight's episode of SmackDown with you all. There's a lot I like about SmackDown on the Fox Network, but one of the biggest reasons is that it's not on USA. Nothing against the USA Network at all, actually - some of my legit favorite shows have come from there. Like Monk. And Burn Notice. And Silk Stalkings. Seriously, that was a good show. But, also, it means that usually when a WWE show on USA starts, I have to sit through the final moments of some Dick Wolf NBC police drama - which are also good shows, but they rarely have happy endings. So, having TMZ lead into SmackDown is like a vacation.

Anyway, like Raw earlier this week, updates following this intro will run from latest to oldest. Which means that whatever you're reading after this will be the most recent update that we've posted. So, it's like reading Manga except up to down instead of right to left and also nothing like Manga.
Whatever. You guys ready for some gotdang wrasslin'? Let's do this.
<BEGIN WNW LIVE COVERAGE>
<C:// run SMACKDOWN>
-----------------------------------------------------------------------------

Hope you guys enjoyed SmackDown tonight. I'll see you all for Raw on Monday. In the meantime, have an awesome weekend and... I'm outta here.
We end our show with Reigns holding his Universal Championship over the prone body of Kevin Owens as we fade to Trademark Graphic.
Uso grabs a couple of chairs and the two of them start the attack on Owens. After Uso finally hits the top rope splash, however, Reigns begins to blast away at Uso with his chair.
RESULT: Kevin Owens and Otis defeat Roman Reigns and Jey Uso via DQ
Uso heads to the top to hit the splash, but Reigns tells him to tag in - "this is MY show" - and Uso obeys. But Owens fights back and nails Uso with a stunner. Reigns jumps in and puts Owens in the Guillotine but the ref DQs him. 
And, actually, Otis has been taken to the back by medical officials. It's Owens fighting against Reigns and Uso by himself.
Now here's Roman, and following Reigns hitting Otis with the ring steps, he and Uso start to tear up Kevin Owens.
Otis and Owens facing Jey Uso and Roman Reigns.... but Roman has decided to come out when he feels like it.
The Street Profits come out to comment on the previous match, and suddenly both Robert Roode (representing him and his partner Dolph Ziggler) and Cesaro (representing him and his partner Shinsuke Nakamura) confront the champs and then there's a lot of yelling.
RESULT: King Corbin defeats Murphy
Blake and Cutler charge and attack Rey and Dominik. Murphy rushes out to help, and Corbin's henchmen are chased through the ring... and Murphy gets caught in an End Of Days and into a pin.
Anyone remember when Blake and Murphy were NXT Tag Team Champions?
Corey Graves just confirms that the guys in hoods with Corbin are Wesley Blake and Brandon Cutler.
Remember before the Headbangers were the Headbangers, they were that tag team of nuns that Brother Love was managing? That's kind of what these guys with Corbin remind me of.

Also, I'm hearing reports that they're actually Cutler and Blake from the Forgotten Sons?
Corbin comes to the ring and he's brought two dudes with him to ... even the odds, I guess. Who are these guys?
Murphy - along with the Mysterio Family - comes to the ring for his rematch against King Corbin. Whee.
Carmella and Sasha Banks have themselves a good old fashioned interview promo.
RESULT: Daniel Bryan, Rey Mysterio, and Big E defeat Dolph Ziggler, Shinsuke Nakamura, and Sami Zayn
Bryan kicks out of a brainbuster and after some back and forth, he gets a small package roll-up on Zayn and the pin.
Bryan gets the Yes Lock on Zayn, but Sami gets to the bottom rope.
Ziggler with a Famouser on Bryan, and the pin, and Big E makes the save.
Sami Zayn turns a Rey Mysterio hurricanrana attempt into a Blue Thunder Bomb.
Did Graves just say that Pat Patterson didn't like Shinsuke Nakamura?
And they're taking on other former IC champions Dolph Ziggler and Shinsuke Nakamura, as well as current IC champ Sami Zayn.
Speaking of IC Champions, former champs Rey Mysterio and Daniel Bryan  and Big E (with new music) are taking on... well, I'm not sure, there's a commercial, but this is the Pat Patterson Tribute Match.
WWE has the Intercontinental Championship belt Pat Patterson "won" in a "tournament" in Brazil. And then a really touching tribute to the WWE Hall of Famer.
Here's my colleague and friend, Rick Ucchino from both Sportskeeda and 700 WLW AM in Cincinnati, OH, regarding Bayley's loss...
A tribute to the late Pat Patterson is coming up next.
RESULT: Natalya defeats Bayley
Natalya manages to knock Bayley down and gets the Sharpshooter on her for the submission win.
By the way, we'll be doing LIVE coverage of NXT War Games on Sunday and handling the duties will be my brothafromanothamotha Dave DiNezza! Be sure to check it out as you're watching the show.
Meanwhile, Natalya and Bayley are wrasslin', with Bianca Belair on commentary and good grief, look at these badass sunglasses Bianca is rocking...
We're back from break and Uso is backstage, apologizing to Roman for knee-jerk accepting the challenge from Owens. Roman tells his cousin that he knows he meant well, but there's always consequences for actions. So, I guess Uso is screwed-o.
Bayley comes to the ring for her match against Natalya as we head to a break.
Owens challenges Roman to a championship match at TLC - and even offers to have the match right now! Roman informs Owens that he is a gentleman and there's a lady in the ring (Kayla, he's not ripping on either Jey or Paul). Roman leaves the ring, Owens calls him a "bitch" because that's the worst thing you can call someone in WWE. 
Kayla introduces footage from last week's episode involving Kevin Owens and then asks him about it.
Roman comes out, along with Paul Heyman and Jey Uso.
Kayla Braxton is in the ring, about to conduct an exclusive interview with WWE Universal Champion Roman Reigns.
Gerald Brisco next to Roman Reigns and Vince McMahon, which is a beautiful touch.
Ten bell salute for Pat Patterson.