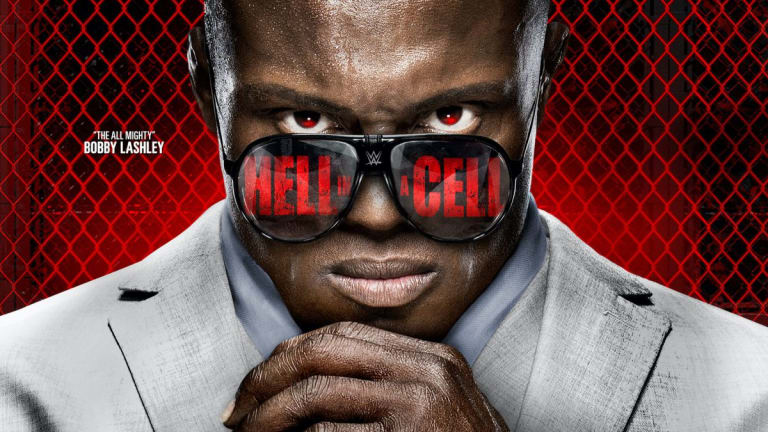 WWE Hell in a Cell 2021 LIVE coverage and commentary
Drew McIntyre gets one last shot at WWE Champion Bobby Lashley tonight inside the Cell Which Has Hell Inside Of It.
Drew McIntyre gets one last shot at WWE Champion Bobby Lashley tonight inside the Cell Which Has Hell Inside Of It.
(If you are following along live, you may need to refresh the page once or twice to get the latest updates. All updates are updated with a timestamp [in Central time] and will be posted below the intro. Please post your thoughts in the comments section below as the show airs!)
Happy Father's Day, everybody (or, at least, you fathers out there)! Tonight, we're about to go through Hell - and I'm not talking about trying to use Peacock (seriously, anybody else have to deal with those sign-in issues?).
Anyway, we're thirty minutes away from the show proper - but Natalya and Mandy Rose will be going one-on-one during the Kickoff Show. I don't think I'll be covering that. However, I'll certainly be happy to tell you all who won when we start the full show. 

Be sure to follow me on Twitter at @HeyImKevinSully if you want to chime in on the show over there, as well - and use the hashtag #WNWHellinaCell. See you after the line!
---
(9:32pm) Both champ and challenger have been beating each other senseless so far. Really intense match.
(9:24pm) Sorry about that, kids. I'm back, and we're in media res for the Lashley/McIntyre HIAC match.
... One blown fuse replaced later...
(9:09pm) "You're learning, b****. You're learning." - Charlotte
"I did what you would have done." - Rhea
(9:07pm) Ripley ends up getting disqualified, sick of Charlotte's s***, but retains the title.

RESULT: Charlotte Flair defeats Rhea Ripley (DQ)
(9:02pm) Charlotte goes for the moonsault, but Ripley move. So, Charlotte just lands on her feet and hits her with a standing one, instead. Still can't get the pin.
(9:01pm) Still, Charlotte is just decimating Rhea.
(9:00pm) Natural Selection and Charlotte goes for the pin - but gets caught putting her foot up on the ropes.
(8:58pm) Ripley has taken a lot of damage to her knee, but it doesn't stop her from charging into Flair with a baseball slide - then hitting her with a dropkick.
(8:56pm) Charlotte has dominated this match since the beginning, especially after the pre-match attack she hit Ripley with.
(8:50pm) The Raw Women's Championship match is up now, with Rhea Ripley defending against Charlotte Flair.
(8:37pm) Sami gets Owens to fall into the ropes - throat first. Remember, he's still dealing with that throat injury. Helluva Kick and a win.

RESULT: Sami Zayn defeats Kevin Owens
(8:36pm) Both of them are in the middle of the ring, on their knees, face to face, and just punching away at each other.
(8:35pm) Kevin's cut on his arm and bleeding. 

Even with one arm, he still manages to hit Sami with the Stunner outside of the ring. Both men manage to avoid being counted out.
(8:32pm) Owens, with an inured arm, goes for a senton off the apron onto the floor, but Sami gets his knees up, then hits Owens with a Blue Thunder Bomb in the ring.
(8:22pm) Sami Zayn vs Kevin Owens for the 837th time is up next.
(8:18pm) Apparently, Alexa can hypnotize people if she makes eye contact with them - like she does with Nia Jax, who is compelled to slap Reggie. Baszler goes for the Carafuna Clutch, but Alexa slips away with a modified Sister Abigail/DDT thing, then Twisted BLiss, and then a pin and a win.

RESULT: Alexa Bliss defeats Shayna Baszler
(8:15pm) Baszler with the propped-up elbow stomp spot, and Alexa laughs it off. 
(8:12pm) Baszler trying to get the match started, and Bliss is just staring at her - and Baszler is hesitant to engage - until Reginald leaps to the apron and distracts her, letting Shayna attack - finally.
(8:11pm) Alexa is next and she looks scary. Also scary hot. But scary.
(8:10pm) Baszler is first, and she's flanked by Nia Jax and Reginald.
(8:06pm) Shayna Baszler vs Alexa Bliss is next. Who ya got?
(8:00pm) Cesaro is attempting a submission, then begins to stomp on Seth's arm to keep him from grabbing the rope. Cesaro goes for a sharpshooter again, but Seth rolls him up for a sneaky win.

RESULT: Seth Rollins defeats Cesaro
(7:58pm) And here's the Swing.
(7:58pm) Cesaro on his hands and knees, and Seth is going for the Stomp - Cesaro telegraphs it and nails him with a discus clothesline.
(7:56pm) Seth going for that armbar think that Brock Lesnar used to break all those people's arms, but Cesaro powers out of it, so Seth kicks him in the head.
(7:54pm) Rollins rears back and nails Cesaro in the back of the neck like he's Karrion Kross or something. Cesaro kicks out. Seth is now yelling at him. Grrrr.
(7:52pm) Cesaro pulls Seth's Michael Jackson glove off his hand and shoves it into his (Seth's) mouth. Gross.
(7:47pm) Now we're at the part of the match where Seth Rollins beats up Cesaro.
(7:43pm) Cesaro comes out first and Rollins isn't waiting and comes right at him, attacking from behind. They finally get in the ring and the match can start proper. Seth charges at him, and Cesaro picks him up and just tosses him like a garbage bag full of leaves.
(7:41pm) We get some more creepy talk from Alexa Bliss, and now we're getting hyped for Cesaro vs Seth Rollins.
(7:37pm) Not Renee Young interviews an exhausted Bianca Belair, who says that she can't forgive Bayley for something but I didn't catch it. Meanwhile, Bobby Lashley glares at his WWE Championship while ladies dance around him, which is what I do when ladies dance around me. Which is never.
(7:33pm) Bianca opens the ladder, nails Bayley with the KOD right on top of it and gets the pin!

RESULT: Bianca Belair defeats Bayley
(7:32pm) Bianca Glam Slams Bayley into the Buckle.
(7:31pm) Bayley has Bianca trapped inside the ladder! Holy crap!
I sneezed and suddenly there's a ladder in the ring. DId R-Truth show up thinking this is Money in the Bank again?
(7:28pm) Now Bianca is tied to Bayley herself, and just goes ham on her. Shoulder blocks into the cage wall over and over and over. Bayley is pleading to the ref outside to let her out.
(7:26pm) Bayley has tied Belair to the bottom of a chair and pulls on it while pushing on her shoulder with her boot. 
(7:24pm) Bayley has propped two kendo sticks between the ring apron and the cage wall and attempts to throw the champion into it... but gets a spinebuster onto the sticks by Belair instead!
(7:22pm) Bianca manages to turn the tables on Bayley and tosses her onto the floor. Getting her face ground into the cage, Bayley bites Bianca and gets free.

"It's legal, but it is not cool to bite another human!" - Pat MacAfee
(7:21pm) Bayley does what I can't believe nobody has done up until now and that's tie Belair's frickin' hair to the frickin' ropes.
(7:20pm) Michael Cole has reminded us that there are no disqualifications in Hell in a Cell, like, six times already.
(7:18pm) Bianca charges into the turnbuckles, and Bayley dodges, crashing into the ring post. Bayley charges and drives a knee right into her shoulder.
I swear I didn't intend that to rhyme.
(7:16pm) Bayley weilds a chair, Bianca whips her hair.
(7:15pm) Less than two minutes into the match and the chairs are already in the ring.
(7:13pm) Next up, Bianca is here, and she looks ready to throw down.
As opposed to an incomplete badass, whatever that looks like.
(7:11pm) Bayley comes out first and she is looking like a complete badass tonight.
Who ya got for this one, campers? Bayley or Belair? Let me know on Twitter (@HeyImKevinSully, #WNWHellinaCell) or in the comments down below... down there. At the bottom. Near the bottom. Just above the... you know where they are, quit fooling around, you goober.
(7:06pm) DUNDUNDUNDUNDUNDUNDUN Here comes the CELL WITH HELL INSIDE OF IT.
(7:02pm) WWE. THEN. NOW. FOR GOD'S SAKE DON'T EVEN THINK ABOUT PIRATING THIS SHOW!
The Cell is being lowered, and Bayley vs Belair for the SmackDown Women's Championship will be starting the show!