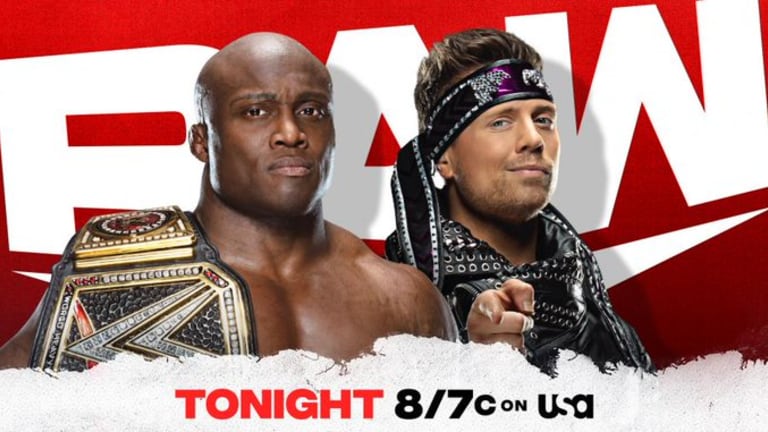 WWE Monday Night RAW Live Coverage (3/8/21)
This week Kevin will be taking a break from the Live Coverage and I'll be covering for him this week. Update the page frequently with newest information on the bottom I'll place time stamps throughout to make things easy to follow. Don't be afraid to engage with me to and talk about the show! You can do this in the comments or on twitter @juicecannon1. 
This should be an interesting show. Will WWE take some shots at AEW the day after their ppv? Why is Miz getting a rematch for the title and what will happen? Will more WrestleMania storylines start to become more clear? So many questions and hopefully this show will answer them! 
(8:05 p.m EST) Starting the show off with the title rematch but not before some words form the new WWE Champion Bobby Lashley. I'm curious do you guys think this will be dragged out throughout the show or what? Probably yes right?
Also I need the number of the tailor of The Hurt Business members. Could I afford one of those suits no but who knows maybe in the future.
The Miz still sticking to the stomach cramps story come on man you lost accept it. Still waiting on the reasoning for the rematch. 
The reasoning is he had two title defenses in the same night so now he gets a rematch because of that ok sure.
(8:18 p.m) Lashley with a new Titantron intro video interesting. Lets go Lashley teach The Miz a lesson yet again.
(8:21) What a Stalling Vertical Suplex by Lashley and look who is watching it's Drew McIntyre in the backroom! 
(8:23) Miz actually getting a bit of offense in maybe this match will be longer than expected. 
(8:29) Still longer than expected but as expected Miz is getting dominated by the almighty! Hurt Lock time and a quick tap from The Miz.
Result Bobby Lashley (c) defeats The Miz 
Drew McIntyre going off on Lashley with a fiery promo! Sheamus is not done with him though and brutally attacks his former best friend! What a throw from McIntyre! He should do Shotput on the side.
 Come on WWE enough vignettes give us Rhea Ripley and put her right in the RAW Women's title picture! 
(8:39) McIntyre orders a rematch with Sheamus from Adam Pearce and it will be no DQ! If this match actually happens looks like this could be the show of rematches but at least this rematch if it happens has a stipulation change.
(8:42) First R-Truth tried to apologize to Strowman for things he did bad in his life then when Strowman cleared it up he tried to pull a Men In Black and mindwipe him? This man is comedy gold never change Truth.
(8:48) Strowman's face gets really red when he's mad wow, it's honestly impressive. Will Strowman get an apology from Shane McMahon for the fiasco that happened last week? 
All we get from McMahon is an I apologize before he dips. Then he tries to say more as he's leaving but doesn't this is far from over. Interested to see how the very probable WrestleMania match between the two will pan out. I also wonder if he will spit out out by the end of the night.
(8:58) McIntyre with a attack before the bell rings on Sheamus! Come on man how did you not see that coming Sheamus.
(9:04) Sheamus double fish-hooking the corners of the lips of McIntyre is an interesting move and must be uncomfortable and gross for both men to be honest.
Sheamus truly is a phenomenal athlete. His core strength is off the charts and showed it the way he just got on the top rope.
(9:12) Superplex from McIntyre almost gets him the win.
Future Shock DDT from McIntyre onto Sheamus into a steel chair. McIntyre goes for the Claymore but boom steel chair thrown into his face!
(9:16) Claymore hits this time but sends Sheamus outside the ring. This might be no DQ but the pin must still happen in the ring. 
Both men grab grab steel step and put them on their heads and run into each other! Both men seem to hurt and the referee stops the match.
Result: Referee Stoppage
(9:28) Recap of the Randy Orton and Alexa Bliss feud but after AJ Styles is being interviewed. Styles is mocking Orton and The Fiend stuff probably not wise.
Orton versus Styles in the ring later in the night I hope Bliss messes with both of them to be honest.
Kofi Kingston and Xavier Woods come out so Woods can face Shelton Benjamin in singles action. So did WWE just end The New Day and Retribution feud and why?
(9:41) Result: Xavier Woods defeats Shelton Benjamin
Riddle is interviewing with Sarah and is more concerned with where to park his scooter than his match with Slapjack. Riddle then does some friendship with Woods and Kingston maybe the Retribution/ New Day feud is not over.
(9:49) Riddle is taking a beating from Slapjack but the Bro should rebound. Ali is ringside but the other three Retribution members are missing interesting. 
(9:51) Final Flash knee from Riddle almost gets the win but the arm of Slapjack is under the ropes so Riddle has to pull him away buying some recovery time for Slapjack. Does not matter though because a minute later Riddle gets the win!
Result: Riddle (c) defeats Slapjack
(9:55) Looks like Shane McMahon will say what he wanted to say to Braun Strowman after all or maybe not but we will see.
(10:00) McMahon is still holding back but he is saying he needs to get something done but he keeps stopping himself. Spit it out dude
Is this feud really centering around the word stupid? Started with Strowman saying it and now McMahon is doing it. Strowman is now pursuing him backstage. Quite a mature way for the boss to act. 
(10:04) A white SUV has driven away and Strowman assumes it is Shane. Shane did not leave though there he is and calls Strowman stupid. Dude you are on live television, maybe you are the stupid one.
(10:12) Naomi and Lana finally get their WWE Women's Tag Championship match against Shayna Baszler and Nia Jax but the champs are not alone... They are with Carmella's former manager and Sasha Banks' former stalker the sommelier Reginald!
(10:19) Lana gets the tag and Naomi comes in time to feel the glow. Baszler also tags in Jax but Jax is taking a flurry of strikes from Naomi. Near pin put pulled off of Jax by Baszler. Naomi goes for a move on Jax on the ropes but Naomi is nearly tripped by Reggie.
Lana all alone with Jax due to interference and a Powerbomb finishes Lana leading to a pin and a successful title defense.
Result: Nia Jax and Shayna Baszler (c) defeat Naomi and Lana
Jax carries a hurt Reggie off on her shoulders seems like she has a new boyfriend. 
Mandy Rose and Dana Brooke have been in a losing streak in the tag division and in singles matches why do they think both are worthy of being in the RAW Women's Championship picture? WWE USE PEYTON ROYCE!
(10:42) Styles and Orton begin there clash who you guys got? Probably will end in a disqualification to be honest but we will see.
(10:44) Styles hit by a strong back elbow by Orton after some bouncing on the ropes. 
(10:46) Stare down between Orton and Omos allows Styles to recover and take control!
It's been back and forth and so far there has been no appearance by Bliss. 
(10:56) Both men are on the top rope with Orton trying for the Superplex but Styles gets out of it and is on the apron. He tries for Phenomenal Forearm but is thwarted.
Calf Crusher by Styles on Orton, can the Viper slither to the ropes? Almost gets there which causes Styles to loosen his grip allowing Orton to escape.
Orton stands tall and is showboating the end might be near. Omos then pulls Styles out and as he does that Bliss appears on the TitanTron in the Firefly Funhouse playing with a jack in the box and says not yet. Three corners of the ring then explode with flames, Orton spits up blood. Styles then comes flying in and delivers the Phenomenal Forearm!
AJ Styles defeats Randy Orton
Styles and Orton are gone and Bliss is back on the TitanTron laughing her ass off. 
Thanks for joining me tonight and join me Friday to watch SmackDown as I will be covering that as well!