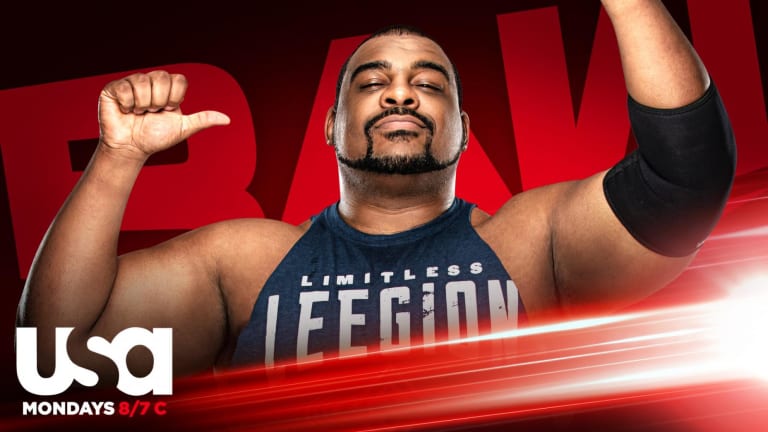 WWE Monday Night RAW LIVE Coverage & Results (8/24/20)
Tonight's edition of Monday Night RAW emanates from then Amway Center in Orlando, Florida, inside of WWE's ThunderDome. The show is headlined by all of the fall-out from last night's SummerSlam PPV event as well as the Red-brand debut of former-NXT Champion, Keith Lee.
Before the show begins, let's see what tonight has in-store...
WWE Champion, Drew McIntyre Kicks-Off The Show
Keith Lee Makes His Monday Night RAW Debut
Aleister Black Joins Kevin Owens On The 'KO Show'
WWE Hall of Famer, Mark Henry Moderates An Arm-Wrestling Match Between United States Champion, Apollo Crews and Bobby Lashley
*LIVE COVERAGE*
The show begins with the commentary team of Tom Phillips, Byron Saxton and Samoa Joe run-down the events of the evening and then announce that this Sunday at the WWE Payback PPV, the new Universal Champion, 'The Fiend', Bray Wyatt will defend the title against Braun Strowman and the returning Roman Reigns in a no-holds-barred match.
The WWE champion, Drew McIntyre then makes his way down to the ring as we see a video package highlighting his win over Randy Orton, last night at SummerSlam.
McIntyre asks the fans in the 'WWE ThunderDome' to give him a thumbs up...and most of the fans oblige. He then turns his attention to Randy Orton and asks Orton that if he beat Edge in the 'Greatest Wrestling Match Ever' at Backlash and then he beat Orton, last night with a wrestling maneuver...doesn't that make him (Drew) the best wrestler in the world?
Drew then says he knows Orton won't just move on, so he'll give Orton another chance at the title, this Sunday at Payback and he will do what he didn't get to do, last night...Claymore Kick him in the skull.
McIntyre then makes his way out and poses on the stage with the WWE Championship but Randy Orton comes out of nowhere and attacks the champion. The two brawl into the backstage area before Orton drills Drew with a punt-kick to the head and WWE officials tend to McIntyre before Orton sneaks in and drills Drew yet again with another punt-kick to the skull as we head to a commercial break.
Bayley vs Shayna Baszler never really gets underway as Nia Jax is standing on the entrance ramp just waiting to attack and she takes the first opportunity to do so when Bayley tosses Shayna out of the ring. The match then ends in a no-contest, as Nia and Shayna brawl on the outside before Nia gets the better of the exchange, throws Shayna back in the ring and Bayley & Sasha Banks try to attack them both but then escape before Shayna & Nia can fight back. Shayna & Nia chase off the Women's Tag Champs before we cut backstage.
We then see Kevin Owens walking around, backstage and he finds Aleister Black in a dark room and asks if he's going to join him for the 'KO Show'...he doesn't seem to get an answer but tells Aleister that he's heading out to the ring for the show and hopes to see Aleister there and we head to a commercial break.
Back from the break, Kevin Owens is in the ring and introduces Aleister Black. Aleister makes his way to the ring and is sporting a wrap around his eye from the damage caused by Murphy and Seth Rollins gauging his eye into the corner of the ring steps, a few weeks ago. Owens asks Aleister how his eye is healing up and Aleister says they should just roll the footage and remind everyone what happened to him. Owens says that's not necessary but Aleister insists. We see the footage of the gruesome attack from a few weeks ago then Owens says they share a common enemy in Rollins. Aleister then falls off his chair and Owens asks for some medical assistance but then Aleister drills Owens with a spinning-back elbow and then follows it up with the 'Black Mass' and storms off set. 
24/7 Championship, Fatal-4-Way Match - Shelton Benjamin (C) vs R-Truth vs Cedric Alexander vs Akira Tozawa
Highlights (Shelton Benjamin vs R-Truth vs Cedric Alexander vs Akira Tozawa)
Result - Akira Tozawa defeats R-Truth, Shelton Benjamin and Cedric Alexander, And NEW 24/7 Champion
We then see Randy Orton, backstage. Sarah Schreiber catches up with him and asks Orton if has anything to say about what happened with Drew McIntyre, earlier tonight. Orton says yes and keeps walking and it appears as if he'll be making his way to the ring after the commercial break.
Back from the break, Randy Orton makes his way to the ring.
Orton says he's done everything he says he was going to do. End Edge's career, end Christian's career and take out everyone in his path and it's disgusting that McIntyre offered him a rematch out of pity and maybe he needs to remind Drew of who he is but Keith Lee interrupts!
Lee properly introduces himself and says since he took his good friend, Drew McIntyre out, earlier...maybe he will bask in his glory and fight him, right here, right now. Orton takes off his vest and then says maybe later and slides out of the ring.
We then see Charly Caruso, backstage and she finds Angel Garza with Demi and Zelina Vega. Charly asks Zelina if she's ready to admit poisoning Montez Ford, a few weeks ago. Zelina laughs and says she didn't do anything and that footage didn't prove a thing then Zelina gets frustrated and says she has a match to worry about and walks off. Angel then invites both Demi and Charly to the ring for his match, which is up next.
Before Angel Garza and Montez Ford go head-to-head, it's announced that Keith Lee will indeed take-on Randy Orton, later tonight!
Match - Angel Garza (with Andrade and Demi) vs Montez Ford (with Angelo Dawkins)
Highlights (Angel Garza vs Montez Ford)
Result - Montez Ford defeats Angel Garza
After the match, we then see Nia Jax and Shayna Baszler, backstage and Nia says she wants the WWE Women's Tag-Team Championships. Shayna says if she helps Nia with Bayley and Sasha Banks, she better stay away from here and leave her alone. Nia shoves Shayna and says she better follow her lead and then Shayna smacks the hell out of Nia and we go to a commercial break.
6-Woman Tag-Team Match - Bianca Belair, Liv Morgan & Ruby Riott vs Zelina Vega and The Iconics
Highlights (Bianca Belair, Liv Morgan and Ruby Riott vs Zelina Vega and The Iconics)
Result - Bianca Belair, Liv Morgan & Ruby Riott defeat Zelina Vega & The Iconics
WWE Hall of Famer, Mark Henry is in the ring where he's about to moderate an arm-wrestling match between Untied States Champion, Apollo Crews and the challenger for his title, this Sunday at the Payback PPV, Bobby Lashley.
Henry introduces both men, who each make their way to the ring. Henry says 'The Hurt Business' needs to stay in the back so this stays fair. Lashley says he doesn't need MVP or Shelton Benjamin to beat Apollo. Lashley says he's going to win this contest then beat Apollo down, but not too bad, because he needs Apollo to come back, this weekend for their match at Payback, where he will beat Apollo down again and take his United States Championship. Apollo laughs and says Lashley will suffer the same fate as MVP did, last night. Henry says it's time for their arm-wrestling contest to get underway, Apollo stomps on Lashley's foot under the table and wins then Lashley goes for the attack but Apollo is ready for it and takes down Lashley, goes outside the ring and dodges the attack from MVP and Shelton Benjamin who ran out to make the save. Apollo celebrates with his United States Championship as Lashley, MVP and Benjamin regroup in the ring.
We then see a video package of the match between Seth Rollins and Dominik Mysterio, from last night at SummerSlam. After the video, we see Rey Mysterio, Dominik and Angie (Dominik's mom and Rey's wife), backstage with Charly Caruso.
Charly asks Rey what is was like to watch his son fight a man who caused he and his family so much pain. Rey says it was terrifying but he's so proud of his son for going head-to-head with one of the most dangerous men in WWE. Charly then asks Dominik if he was nervous but he did what he had to do. Rey says nothing will ruin this moment for him and fighting alongside Dominik, tonight is the biggest honor he's ever had in his life and as long as his family is together, that's all that matters and we head to a commercial break.
Back from the break and we see Lana and Natalya in the ring. They mock Mickie James for a few minutes, Natalya calls herself the 'BOAT'...'best of all-time'...and then Natalya says she made a highlight reel of Mickie's career...and nothing is on the screen and they laugh as Mickie comes rushing the ring and takes both Natalya and Lana out.
We then see Shane McMahon getting ready for RAW Underground and 'The Hurt Business' is going to be involved after the break.
Back from the break and it's time for RAW Underground and it's pretty much Bobby Lashley beating the HELL out of everybody in the area, including Dolph Ziggler.
We now go back to the ring where it's time for Keith Lee to make his Monday Night RAW, in-ring debut against the 13-time World Champion, Randy Orton.
Keith Lee dominates the balance of the match and just as Orton nails Lee with his patented middle-rope-DDT, Drew McIntyre attacks Randy Orton which causes the match to end in a no-contest.
We then see a video package of The Fiend vs Braun Strowman's Universal Championship match, from last night at SummerSlam which concluded with The Fiend winning the title and Roman Reigns returning to attack both men and it's once again announced that The Fiend will defend The Universal Championship in a No-Holds-Barred Triple-Threat Match against Roman Reigns and Braun Strowman, this Sunday at Payback and the 3-men will also have a contract signing for their match, this Friday night on SmackDown.
Drew McIntyre is then shown backstage and Charly Caruso catches up with him and asks how he's even standing after being punted in the head twice by Orton, earlier tonight and before Drew can respond, Orton attacks him and drills him in the head with a 3rd punt-kick to the skull and we head to a commercial break.
Back from the break, we again see Charly Caruso and she gives an update on Drew McIntyre's condition and she says that doctor's are fearful he could have a skull fracture and possible brain bleeding. Charly says that she will provide more updates as she gets them and we go back to the ring, where our next match is set to get underway between Sasha Banks and Asuka...
While Sasha Banks makes her way to the ring being flanked by Bayley, commentary announces that Sasha and Bayley will defend the WWE Women's Tag-Team Championships against Shayna Baszler and Nia Jax, this Sunday at Payback.
Lumberjack Match, RAW Women's Championship - Asuka (C) vs Sasha Banks (with Bayley)
Highlights (Asuka vs Sasha Banks)
Result - Asuka defeats Sasha Banks, And STILL RAW Women's Champion
After the match, wee see Drew McIntyre being loaded into an ambulance and Charly Caruso says due to the possible severity of his injuries, doctors didn't want to waste any time in transporting him to a local medical facility. Keith Lee then walks in and says Drew is one of the toughest men in the world and he will be fine...but he can't say the same for Randy Orton.
We then see Rey and Dominik Mysterio, backstage and after a commercial break, our main event is next...
Before our main event, we see Bobby Lashley who's still beating everyone up at RAW Underground and Erik and Ivar of The Viking Raiders attack Lashley but MVP and Shelton Benjamin help Lashley beat them down and Shane McMahon announces that, that's a wrap for RAW Underground, tonight.
It's then announced that Keith Lee will take-on Randy Orton, this Sunday at Payback!
It's now time for our main event...
Rey Mysterio & Dominik Mysterio vs Seth Rollins & Murphy ends in a no-contest after a fantastic match and another great showing for Dominik, in just his 2nd ever match, after his debut, last night at SummerSlam, because 'Retribution' shows up and destroys Rey and Dominik after Seth and Murphy escape before they get attacked.
Retribution stands tall as the show goes off-the-air.
That's a wrap for Monday Night RAW!
Be sure to stay with WrestlingNewsWorld.com and (@WNWNews) on Twitter for all of your Pro Wrestling news and needs! You can find me on Twitter (@WNWFaria)!
While you're here at Wrestling News World, why not become one of our Premium Members for exclusive backstage news? You can even start off with a 30 day free trial!