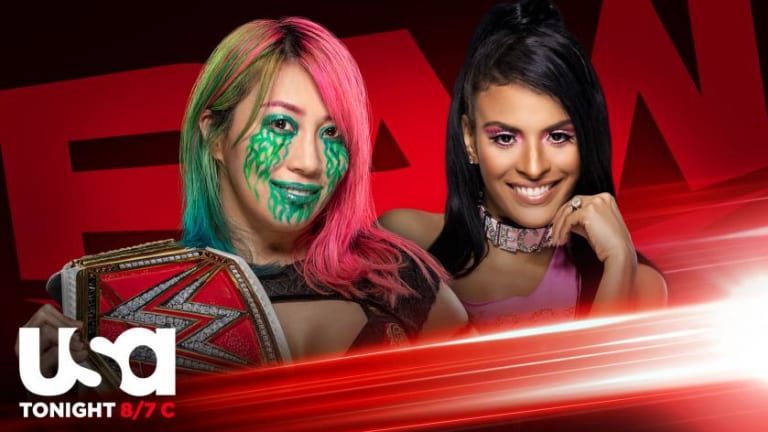 WWE Monday Night RAW LIVE Coverage & Results (9/28/20)
Tonight's edition of Monday Night RAW emanates from the Amway Center, in Orlando, Florida, inside of the WWE ThunderDome.
The show is headlined by all of the fall-out from last night's Clash of Champions PPV event as well as a rematch for the RAW Women's Championship between champion, Asuka and the woman who she successfully defend her title against, last night, Zelina Vega.
Before the show begins, let's see what tonight has in-store...
Asuka Defends The RAW Women's Championship Against Zelina Vega
*LIVE COVERAGE*
The show begins with Ric Flair entering the WWE ThunderDome as the commentary team of Tom Phillips, Byron Saxton and Samoa Joe welcome us to Monday Night RAW.
Big Show, Christian and Shawn Michaels all make their way out to the ring and then out-comes the WWE Champion, Drew McIntyre.
McIntyre says it's unreal that he's standing in the ring with these 4 legends and it was even more surreal that they assisted him in retaining his title, last night against Randy Orton at Clash of Champions.
Drew tells them that he appreciates every single one of them and he wouldn't be where he is today without every last one of them.
Shawn Michaels says while they were recovering from what Orton did to them, they got together and decided that they'd help Drew in getting revenge on Orton and he hopes that he's not upset that they interfered in the match and if Drew is upset, it was Flair's idea. 
Randy Orton appears on the big-screen and says that he hopes Drew enjoys this moment, because it won't last and if Drew thinks they went through hell, last night...he doesn't even know what hell is and he won't stop until he becomes WWE Champion.
Drew asks Orton if he's going to beg for another WWE Title match and Orton says he doesn't have to beg for anything, he'll be handed a title shot because he's Randy freaking Orton and is a 13-time WWE Champion.
Orton walks to the parking lot and we cut back to the ring. Drew says he's going to put his title on the line, tonight and he's issuing an open challenge to anybody that he hasn't yet faced for the WWE Title. McIntyre pleads for somebody to step up as commentary runs-down the events of the evening and we see Zelina Vega and Asuka bickering, backstage as their RAW Women's Championship match, is set for after the commercial break.
RAW Women's Championship - Asuka (C) vs Zelina Vega
Highlights (Asuka vs Zelina Vega)
Result - Asuka defeats Zelina Vega, And STILL RAW Women's Champion
After we comeback from a commercial break, Andrade is in the ring and he's yelling at Zelina Vega, telling her that she's nothing without him and says the he was holding the team of he, Vega and Garza together and he calls out for anyone to come out and face him...and out comes Keith Lee.
Match - Keith Lee vs Andrade
Highlights (Keith Lee vs Andrade)
Result - Keith Lee defeats Andrade
Rey Mysterio, Dominik Mysterio, Rey's daughter, Aalyah and Rey's wife, Angie join Jerry Lawler in the ring for 'Kings Court'.
Rey says Seth Rollins can't even control his own life, so he's trying to ruin his. Mysterio says that Dominik & Aalyah have both been his entire life ever since they were born. Dominik says that this rivalry has gone way too far and the next time he sees Seth Rollins, he's going to put an end to this.
Lawler says that Aalyah was really upset about what Rey said, last week, when he called her naive and doesn't know anything that happens in the world, which led to her storming out and being consoled by Murphy. Aalyah says she is 19-years old and can do whatever she wants and she doesn't know what to think about Murphy, but whoever associates themselves with Seth Rollins needs to evaluate their own life.
Seth Rollins appears on the big-screen and says he has to tell the Mysterio family the truth...and the truth is that one of them isn't being 100% honest with the rest of the family...and the truth is that Aalyah isn't being truthful on how she feels about Murphy. Rollins says they don't need to believe him, they can see it for themselves. We then see screenshot of Aalyah and Murphy's text conversation. Aalyah yells that Murphy isn't like Seth and storms out of the ring and Rey and the family come chasing after her.
Murphy then approaches Rollins, backstage and says Rollins doesn't know anything. Murphy chokes Rollins but Dominik Mysterio comes in and attacks Murphy as WWE officials break-up the brawl and we cut back to the ring where Natalya and Lana are making their way to the ring and we head to a commercial break.
Tag-Team Match - Mandy Rose & Dana Brooke vs Natalya & Lana
Highlights (Mandy Rose & Dana Brooke vs Natalya & Lana)
Result - Mandy Rose & Dana Brooke defeat Natalya & Lana
Match - Aleister Black vs Kevin Owens
Highlights (Aleister Black vs Kevin Owens)
Result -