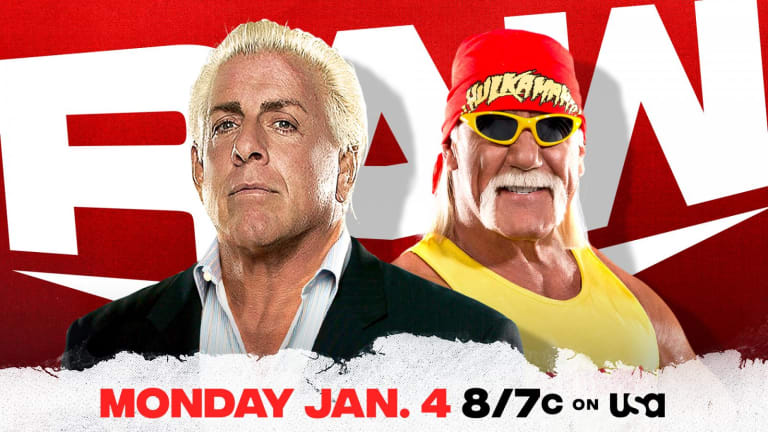 WWE Raw Legends Night LIVE coverage and commentary (1/4/2021)
The first WWE Raw of the new year will feature bright, young and upcoming superstars like Hulk Hogan and Ric Flair. That's right, it's another Legends show.
(You may need to refresh this page for the latest updates)
Happy new year, fellow wrestling nerds! Kevin Christopher Sullivan here with you all, and you and I are about to go on a journey together. A journey that will not only take us into the storied past of the company known as World Wrestling Entertainment, but its future, as well. For, tonight is *dramatic musical sting* Legends Night!
🎵 Yes, it's Legends Night, and the feelin's right. Yes, it's Legends Night and the feelin's right 🎵 *disco dancing*
Sorry about that. Anyway...
Not only will our TV screens be graced with the presence of "The Immortal" Hulk Hogan and "The Probably Is Immortal, All Things Considered" Ric Flair, among others - but we'll also have ourselves a WWE Championship match between current champion Drew McIntyre and his fellow former NXT Champion Keith Lee.
We're about fifteen minutes away from showtime as I write this, so let's get things going. As usual, please share your thoughts in the comments below or via Twitter at my handle @HeyImKevinSully.
Enjoy, and happy new year!
---------------------------------------------------------
Well... that doesn't bode well.
The first in-ring segment of the show is Miz TV. 
Miz informs the crowd that his first guests of the new year is The New Day - Kofi Kingston and Xavier Woods. However, in a swerve that would make Vince Russo proud, The New Day inform Miz and Morrison that this is actually their talk show, New Day Talks. 
I love John Morrison's goofy new persona - it's really funny and he seems like he's having such a great time. Graduating from Hibachi chef school, indeed.
And our first Legend of the evening, Teddy Long, comes out and - as one might expect - informs Miz and Morrion will be taking on... The Undahtakah! Then Adam Pearce corrects Teddy and the match is actually Miz and Morrison against The New Day... and that match is next!
Morrison and Woods are starting this match out and the Neeeew Daaaaaay get the early advantage.
Tweet me a video of you doing the Teddy Long dance and I'll show it to everybody here. @HeyInKevinSully.
Morrison goes for a pin on Woods with his feet on the ropes, but Kingston slaps them away before he can get the three count. Woods knocks John to the mat and hits the ropes - Shining Wizard! New. Day Wins. New. Day Wins.
RESULT: The New Day defeat Miz & John Morrison
After taking a look at the fiery confrontation between Randy Orton and Alexa Bliss - and we're informed that Orton didn't actually light Bliss on fire. Oh, he wanted to, but something kept him from doing it. And he hates himself for it. But, imagine if he takes that hatred he has for himself and focuses it on... someone else?
The neeeeeeeeeeew 24/7 Champion Angel Garza is backstage and has some pretty entertaining moments with Alicia Fox, and then with the trio of Tatanka, Mickie James, and Sgt. Slaughter.
That leads us into tonight's next match, AJ Styles vs Elias.
(7:50pm [Central]) This match - which hasn't been bad by any means - has mostly seen Elias holding the advantage throughout, even through a commercial. However, Styles with a reversal and then a Styles Clash and gets the pin. 

RESULT: AJ Styles defeated Elias
While Elias recovers on the arena floor, Jaxson Ryker slides into the ring with The Drifter's guitar. Ryker goes to swing the instrument onto AJ's head... and Omos steps in and literally kicks the guitar into shards and out of Ryker's hands. Sick.
Charlotte Flair announces her entry into the 2021 Women's Royal Rumble match, and then coming out for her match - along with her father, two-time WWE Hall of Famer Ric Flair - with her partner Asuka against Peyton Royce and Lacy Evans.
Following the ad break, we see Riddle talking to The Biiiiiiiiig Shoooooowwwww (or the Biiiiiiig Brrrrrrooooooooo). As Riddle moves on, Randy Orton approaches him, reminding him that Show's last match was against him and tries to get Show to attack him. Show isn't biting - at first. But they're hinting that we may see Paul Wight in action again tonight.
(8:01pm) Flair and Royce start off this tag match for their respective teams
(8:05pm) Lacy Evans ends up on the arena floor - next to the Nature Boy (whooooooo!). The two flirt a bit back and forth, but that's interrupted by Charlotte, who pretty much slaps the taste out of the Sassy Southern Belle's mouth.

However, Lacy isn't taking that laying down - and, instead, lays out Charlotte with a spear as we go to commercial.
(8:12pm) Flair heads to the corner,tags in Asuka and nails both Lacy and Peyton with a moonsault. Asuka with a diving elbow and the pin... no, a kick-out!
Royce slips out of an Irish whip attempt and tosses Flair into the ropes herself. Ric reaches out, thinking he's about to trip Royce but accidentally trips Charlotte instead. Royce rolls Flair up and gets the pin.
RESULT: Peyton Royce & Lacy Evans defeat Charlotte Flair & Asuka.
Drew McIntyre and Sheamus are backstage, discussing Drew's title match against Keith Lee when Hulk Hogan and Jimmy Hart approach them for a meeting of the Mutal Admiration Society. Hogan tells Drew that the champion reminds him of himself, which prompts Drew to ask Hulk if Sheamus reminds him of Jimmy. 
Coming up next after anti-vaping PSAs and Geico commercials is Riddle against United States champion Bobby Lashley.
Lashley hands his US belt to a ringside attendant and Riddle - remembering the attack by Lashley last week - charges into the corner and attacks him before the bell. Riddle is now directly in Angry Matthew Mode.
Riddle has one of the - if not the - best "lights are on but nobody's home" look in the business.
Lashley slaps the Hurt Lock on Riddle, who leaps onto the middle rope and tries to slip away. Lashley holds on, and Riddle taps out - but the ref didn't see it! Lashley starts to celebrate and the ref is all "uh, what are you doing?" Riddle rolls up Lashley and gets the pin.
RESULT: Riddle defeats Bobby Lashley
Backstage, Ricochet is talking to WWE Hall of Famer Mark Henry. Once Ricochet walks off, Mark is confronted by Randy Orton, who is still tormenting the legends of Legends Night. Mark, who is using a scooter for an injured leg, lurches off as Randy yells at him.
Mandy Rose heads to the ring for a match with Shayna Baszler, when Baszler attacks her from behind before the match can even start.

With Mandy crumpled in a heap on the ground, Dana Brooke heads down to protect her partner. Then, Dana challenges Shayna to a match of their own. Challenge accepted.
(8:42pm) Dana tosses Shayna out of the ring, and the former NXT Women's Champion charges back in and gets the Caracuna Clutch on her. However, Brooke flips her onto her back and gets the pin!
RESULT: Dana Brooke defeats Shayna Baszler
Baszler holds on to the Clutch, but Mandy has recovered enough that she can make the save.
Ric Flair is backstage talking to Irwin R. Schyster (Bray Wyatt's dad, btw) and Molly Holly. Randy Orton approaches them, scares off Bray's dad and Mighty Molly, and then chastizes Ric Flair. Flair, on the other hand, does his usual schtick where he tells Randy how much hope he had for him and blah blah blah.
(8:57pm) The last hour of tonight's show will start off with Randy Orton taking on Jeff Hardy.
Hardy has a rope made of cloths tied together hanging out of his back pocket - in case he, I dunno, has to escape from a tower bedroom in a castle or something.
(9:13pm) After a brutal match - a fight, actually - Hardy goes to finish Randy off with a Twist of Fate, but Orton reverses it into an RKO - and the win.
Lucha House party are backstage, getting psyched for their match against the Raw tag champions The Hurt Business. What are the odds that, of all the legends at the ThunderDome on Legends Night, they would run into Melina? Pretty good, apparently.
Dang... I stand up to use the restroom for one minute and before you know it...
RESULT: Lucha House Party defeats The Hurt Business
MVP is screaming at Benjamin and Alexander, asking them if they're embarrassed. Cedric has had enough of being chastized for one night and storms off.
Meanwhile, Torrie Wilson is backstage talking to Nikki Cross, when 24/7 Champion Angel Garza approaches her with a rose and a smile. Torrie says thank you, but that she's in the middle of a conversation, but that Cardie B and other celebrity types are in another room.
Garza goes to investigate - "Cardie B???" - but it's not musicians and reality stars in the room but, instead finds The Boogeyman - and he's comin' to get him! Angel hightails it out of there and right into R-Truth, who rolls him up to win the title for the, I dunno, 837th time, I guess.
Main Event time! WWE Champion Drew McIntyre takes on Keith Lee, and as Lee makes his way to the ring, all the legends from earlier in the show see off down the ramp. Including Hogan, who was chumming it up with McIntyre earlier in the show so I dunno, he's weird.
(9:38pm) About five minutes into the match, Lee connects with a forearm ro McIntyre's chin - and I think it legit connected. 
With the legends seated on the entrance stage, Keith Lee has been decimating the champion nearly the entire match... up until (9:45pm) when Drew begins to mount a counterattack.
Drew catches Keith in midair and buckle bombs him onto the announce table. Not through it, mind you - the table didn't give - just onto it.
Keith Lee with a top rope Spanish Fly on McIntyre! Wow!!
And the champion still kicks out!
Drew goes for a Claymore, but Keith blocks it and scoops him up for a Spirit Bomb. However, Drew slips away, hits the ropes and hits the Claymore for the win.
RESULT: Drew McIntyre defeats Keith Lee
Drew and Keith share a fistbump out of respect... and then Goldberg's music hits.
Goldberg wants a WWE Championship shot against Drew at the Royal Rumble.
Drew scoffs at the challenge, telling the former Universal champion that fighting him would be like "fighting my dad." Goldberg and Drew share a sarcastic laugh, and then Goldberg shoves Drew hard to the mat to close out the show.
And that's our show! For once, those three hours kind of went by pretty quickly. What did you guys think? Share your opinions in the comments section.
That's all for tonight - I'll see you guys on Friday for SmackDown. Also, please check out my work over at Sportskeeda.com as well. Until then... I'm outta here.