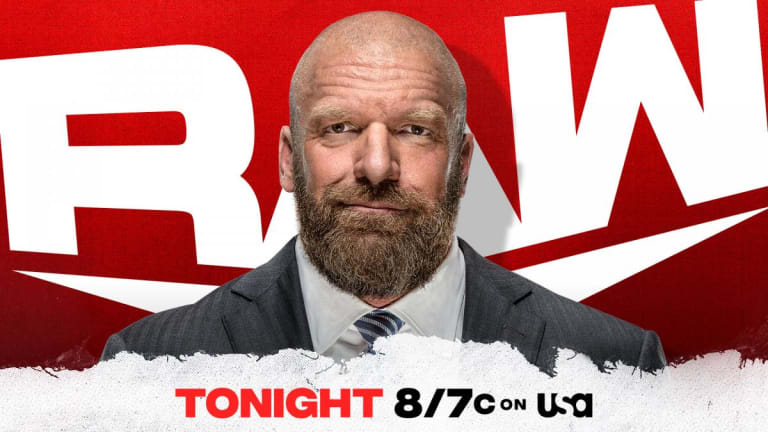 WWE Monday Night Raw LIVE coverage and commentary (01/11/2021)
Triple H opens up tonight's WWE Raw as we tuck Drew McIntyre into bed and get him some chicken soup and take his temperature.
(You may need to refresh this page in order to get the latest update)
Hey, folks - Kevin here. It's January 11, 2021, and we're about to watch us some WWE Monday Night Raw! In case you missed the latest changes:
WWE Champion Drew McIntrye has tested positive for COVID-19, and he'll be addressing the WWE Universe - hopefully from a sterile clean room on a satellite in near-Earth orbit - regarding him, you know, having COVID-19.
If you folks want to chime in - and why wouldn't you, that's totally fun - then drop in to the comments section below or shoot me a tweet at @HeyImKevinSully.
Time to get the fires going - enjoy Monday Night Raw, everyone!
--------------------------------------------------------------
Finn Balor just tweeted this and I'm just gonna leave this here:
Anyway... THEN.... NOW.... WHATEVER....
We get a recap of Randy Orton bravely hassling old guys. Oooooh.
And here comes Triple H.
Triple H welcomes us all to the Thunderdome/Monday Night Raw, and before he can get into his schpiel, Randy Orton comes out.
Triple H was totally OK with Randy Orton lighting The Fiend on fire, but not with him being mean to Ric Flair. Then he calls him a "prick" because there's football on another channel right now.
Randy Orton challenges HHH to a fight. Hunter says there's no benefit to him so he says no. Orton pulls the "Stephanie has your balls in her purse" line that CM Punk made famous. HHH punches Randy as if he's never heard anyone say that before.
Charlotte Flair will be taking on Lacey Evans tonight. She's apparently patched things up with Ric. Meanwhile, Evans tells McKenzie that she didn't flirt with anyone who didn't want to be flirted with - and she dedicates this match to the Nature Boy.
Before getting back to the Evans/Flair match, we get a word from WWE Champion Drew McIntyre. He reconfirmed that he has tested positive for COVID-19 but, thankfully, he hasn't shown any symptoms. He implores everyone to continue to wear their masks and practice social distancing and reassures everyone he'll be back very soon.
Meanwhile, Charlotte Flair has completely been dominating Lacey Evans.
Flair nails Evans in the knee and goes for the Figure Eight. Evans frantically crawls to the bottom rope and pulls herself out of the ring.
Suddenly, Thus Spake Zarathustra beings to play and Ric Flair - who Charlotte thought was sitting at home - comes to the ring. She does not look happy.
(7:30pm) The show comes back from break with Lacey in control, but misses a knee drop and lets Charlotte regain the upper hand.
(7:35pm) Charlotte hits the Natural Selection on Lacey, but Ric Flair grabs her leg and puts it on the rope. 
Charlotte attempts to suplex Lacey over the ropes and into the ring, but gets tripped by her father, and Evans gets the win.

RESULT: Lacey Evans defeats Charlotte Flair
Lacey prances off with Ric, as the Nature Boy shouts "Somebody wants me here!"
Keith Lee is being interviewed backstage regarding his loss against Drew McIntyre last week. Sheamus interrupts and makes it seem like he's going to cause a problem, but instead tells him that Keith has earned his respect.
Meanwhile, The Miz and the funniest guy in wrestling today John Morrison approach them and, essentially, challenge them to a match later.
In the ring, Elias announces he injured himself recording music, and so Jeff Hardy will have to take on Jaxson Ryker instead. 
Elias is on commentary, and about a minute into the match, he leaps to ringside to distract the former WWE Champion. It's enough of a distraction for Ryker to roll Hardy up, pull the tights, and gets the pin.
RESULT: Jaxson Ryker defeats Jeff Hardy
Hardy grabs the mic and challenges Elias to get in the ring - accusing the Universal Truth singer for hiding so that the world won't see that Ryker is a better wrestler than Elias. 

Elias heads to the ring, telling Ryker "do NOT get involved", which kind of sounds like code to me.
Hardy and Elias go at it, and Ryker is at ringside - and he's staying to his word and not interfering. Eventually, Hardy nails Elias with the Swanton Bomb and gets the win.

RESULT: Jeff Hardy defeats Elias
As Hardy leaves the ring, Elias berates Ryker. 
"Why didn't you help me?!"
"You told me NOT to!"
Classic.
After getting a look at Randy Orton getting Triple H upset by using a joke that's, like, nearly a decade old, It's time for Sheamus and Keith Lee vs Miz and Morrison.
Seriously, nobody in pro wrestling is having more fun being a pro wrestler than John Morrison right now.
And now for something completely different....
Anyway, back to the match.
HOLY CRAP
Keith Lee tosses Morrison into the corner and charges into him so hard THE ENTIRE TURNBUCKLE BROKE OFF THE RING POST.
Lee destroys both Miz and Morrison and is about to finish off Morrison, when Sheamus tags himself in to Brough Kick Morrison for the win. Instead of being upset, Lee laughs and celebrates with Sheamus with a hug and a fist bump.

RESULT: Sheamus and Keith Lee defeat Miz and Morrison
Meanwhile, Triple H is taking that whole "balls in your wife's purse" line pretty poorly as he dramatically and intensely accepts Randy Orton's challenge. 
Wait a minute.... what?
All of a sudden, Lee and Sheamus are now in a match against each other.
You think maybe there's more of the roster than just McIntyre that has COVID?
(8:30pm) Keith Lee wraps up this match with a Spirit Bomb and gets the win.

RESULT: Keith Lee defeats Sheamus
Keith Lee offers his hand for a fist bump. Sheamus smacks it away... and hugs the Limitless One instead. Yay they're friends again. Again.
Braun Strowman featured in this Royal Rumble ad - guessing he'll be returning then.
My question for Goldberg: at what point did Drew McIntyre imply that he didn't respect the WWE legends of the past? 
Oh, Drew just addressed that.
McIntyre accepts Goldberg's challenge.
And now Riddle is rambling on about pizza. It's amazing.
Sorry, everybody. My laptop crashed and I just got it back up. While I was out... Xavier Woods has been taking on T-BAR of RETRIBUTION.
Wow.... T-Bar with the Eyes Wide Shut. He wins.

RESULT: T-BAR defeats Xavier Woods
Bobby Lashley vs Riddle for the United States Championship is coming up next.
Introductions are over but the bell hasn't rung... and Lashley just assaults Riddle - much like Riddle did to him last week.
Bell rings and Riddle is busted open at the mouth. He's then tossed over the top rope. Lashley attempts to throw the Original Bro into the ring post, but Riddle moves out of the way and Lashley goes head-first into it.
 The action is back in the ring and Riddle finds himself caught in the Hurt Lock. He starts to tap out, but the ref doesn't see it... no, wait, now he does. Lashley wins.

RESULT: Bobby Lashley defeats Riddle
As MVP and Lashley head to the back, Riddle grabs the mic and calls MVP out. "I sure as hell can BEAT YOU!" 

It looks like MVP is obliging. How nice of him.
You know, that ad where that kid steals money out of his mom's purse to buy vaping stuff reminds me of when in the first Ninja Turtles movie Danny stole money from April O'Neil and then gave it back to her at the end of the movie anyway is this show over yet?
MVP is beating on a tired Riddle, but Riddle gets the advantage. He heads up to the top rope but, before doing anything, kicks Lashley at ringside in the head. He then nails Lashley with a senton but, before he can pin him, Lashley nails him with a spear. Riddle wins by DQ.
RESULT: Riddle defeats MVP
Now, let's look at how Adam Pearce found himself in one of the main events of the Royal Rumble.
Backstage, AJ Styles is talking to that same Adam Pearce, and they're interrupted by Drew Gulack, who wants to be in the Rumble match. Pearce tells him he can be in the match - IF he defeats Styles... NEXT!
Gulack taking Styles to school, in a sense, but AJ is giving just as much as he's taking.
Drew has landed out of the ring... and right next to Omos. It's enough of a distraction that AJ slams him into the announce table and then back into the ring. A Phenomenal Forearm later and...
RESULT: AJ Styles defeats Drew Gulack.
OK, now... I'm in no way saying that Omos isn't physically imposing or intimidating - he clearly is, even just on TV. But these guys are working with dudes his size every day. And these guys aren't just intimidated by Omos - they're downright terrified of him. And that doesn't make a lot of sense.

Now, if it was me that was face to face with an angry Omos? Oh, you bet your sweet ass I'd be crying and trying to hide. But, the rest of the WWE roster? I'm not buying it.
Triple H is backstage, getting hyped up for his match with Randy Orton. Keith Lee approaches him and offers to take the match for him. HHH has always been there for him, Keith tells him, and despite the fact he's already two matches in, he doesn't mind fighting a third for him. Trips tells him he appreciates it, but this is something he has to do. Keith nods and hands Triple H his leather jacket "I guess it's time to play the game."
OK, that should have been lame and cliche, and yet I loved every second of it. 
Nia Jax and Shayna Baszler are taking on Dana Brooke and Mandy Rose and I really hope Brooke and Rose win because I just do, OK?
Well, they don't. Shayna gets the Karakoona Clutch on Mandy Rose for the tap out.
RESULT: Nia Jax and Shayna Baszler defeat Mandy Rose and Dana Brooke
OK, Triple H vs Randy Orton with six minutes left in the show. GO!
Triple H honoring his buddy Lemmy by selling some Motorhead t-shirts tonight.

I love Motorhead.
Orton's left cheek is cut open. On his face. The cheek on his face.
Triple H has Orton's blood on the top of his head. What a great visual.
And Trips has the sledgehammer.
And the lights are going out. It's Fiend time, apparently.
Triple H's sledgehammer is ON FIRE!
Triple H has also disappeared.
Alexa Bliss is here, though. She holds up a glove that says "Pain" and suddenly a fireball hits Orton in the face.
And once again, Raw ends with some weird Orton/Bliss/Wyatt s***. I love it.
Not as crazy a Raw as maybe we expected, especially with what seems to be a temporarily depleted roster (all the best to Drew and any other WWE employee fighting off COVID), but still an overall entertaining show. Once again, three hours is WAY too damn long for a single wrestling show, and it really dragged during the middle. They have to think of more creative ways to fill that time.
Nevertheless, it was still a decent show. I'd love to hear what you all think - so head to the comments down below. 
Thank you for hanging out with us tonight, and I'll see you here at WNW for SmackDown on Friday. Until then... I'm outta here.