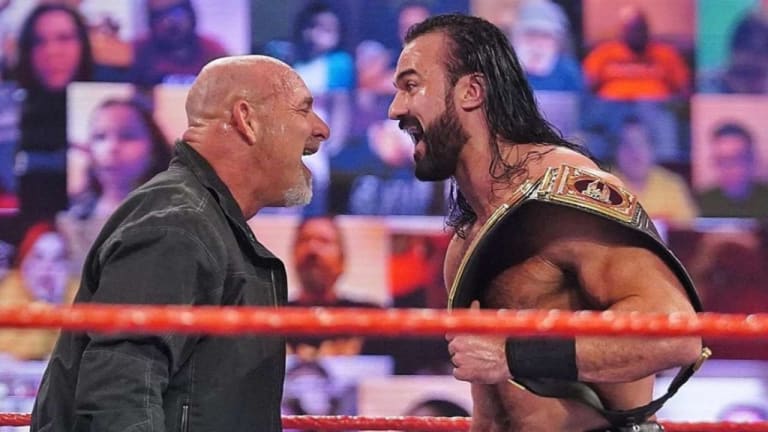 WWE Raw LIVE coverage, commentary, and results (01.25.21)
(You may need to refresh the page to get the latest update)
Oh, hey. I didn't see you there. How are ya? Thanks for coming by tonight's live coverage of WWE Raw on the Network of the United States of America - also known as the USA Network (which is weird because it's technically not a network but I won't go into that now). The show starts 8pm Eastern/7pm Central
You can click here to get WNW's preview of tonight's episode here.
If you want to chime in on tonight's conversation, use the comments section down below, or Tweet me at @HeyImKevinSully. Either way, I'll hear you.

Time to make some Hamburger Helper and get ready to watch some Raw. I'll see y'all in a little bit.
---
OK, now that Chicago P.D. has thoroughly depressed us, let's watch some WWE Raw!
And we're starting with Drew McIntyre coming to the ring.
Drew thanks the WWE Universe for their support as he recovered from COVID-19. He tells us all that he's going to be ready for his match with Goldberg at Royal Rumble on Sunday.
Miz and John Morrison come to the ring, The type of schpiel you'd expect - "I'm gonna cash in, la la la" oh... and here comes Goldberg.
Goldberg comes face to face with the WWE Champion. "You. Me. Sunday. You're next."
Miz and Morrison are trying to goad on the two into fighting now, but instead they just turn and attack, putting them out with a spear and a Claymore. Then they do that "stare at each other and the champ holds up his title belt for some reason" thing.
TONIGHT! Asuka defends her WWE Raw Women's Championship against Alexa Bliss.
Following the commercial break, Charlotte heads to the ring to take on Shayna Baszler
.Flair nearly has the Figure Eight on Baszler, but Nia Jax leaps in and hits the Women's Tag Team Champion with a legdrop, giving Flair the DQ win.

RESULT: Charlotte Flair defeats Shayna Baszler
Baszler and Jax continue the 2-on-1 attack, but it's broken up by Mandy Rose and Dana Brooke. Only a moment after that, Lacey Evans is in the ring.
It's commercial time. I feeling a six-person tag match coming up.
Oh, hey. I called it.
After taking a beating from Flair's team, Evans scrambles away quickly to her corner when she sees Flair getting tagged in.
Flair has Baszler out of the ring, jaw-jacking with Evans and Jax, when Shayna nails Flair, and tosses her back into the ring...

AND DOESN"T MAKE IT IN BEFORE THE 10 COUNT! HAHAHAHAHAHAHA
I don't think that was part of the plan.
And, Adam Pearce has restarted this match.
Flair has chased Lacey Evans out of the ringside area, making this essentially a normal tag team match.
And Nia Jax with the legdrop on Brooke and the win.

RESULT: Nia Jax, Shayna Baszler, and Lacey Evans defeats Charlotte Flair, Dana Brooke, and Mandy Rose.
Nia, if you injured my Dana, I swear I'm gonna.... well, nothing. 
Mustafa is going after Kofi Kingston and he confirms it's because of KofiMania.
Xavier Woods is taking on Slapjack. 

Slapjack. 
He has a point. Someone was going to take that spot.
Xavier Woods comes to the ring and he's looking determined. The bell rings and Woods immediately takes the fight to SlappyJacky.
Xavier Woods with a kick to the face of Slapjack and gets the pin.

RESULT: Xavier Woods defeats Slapjack
T-BAR with a running kick on Woods as the New Day member tries to escape. RETRIBUTION hits Woods with a double chokeslam, and they hold him taught for a chairshot to the head from Ali. However... Ali pulls the chair down instead.
Ali is taking Kofi Kingston's place in the Royal Rumble on Sunday.
Riddle's gauntlet match against The Hurt Business is NEXT!
Hey, cool! Bad Bunny will be on the Royal Rumble kickoff show whoever the hell that is.
The Hurt Business is in the ring, which is now the "VIP Lounge." And MVP is telling Cedric to "focus on the task at hand." Who does he think he is? My mother?
Awww, the rest of The Hurt Business bought MVP a pretty gold necklace.
Truth comes out, thinking he's about to get a surprise party from the Business for his birthday. At first they're annoyed, but then they attempt to get him to come in the ring to get his "gift."
Before he can, the usual crowd of dorks comes running down the aisle, trying to get Truth's 24/7 Championship. 
MVP is in the ring by himself, confused, and IN COMES RIDDLE with a knee to MVP's big dumb head!
And it looks like R-Truth will be taking on AJ Styles for a spot in the Royal Rumble match.
Sheamus faces John Morrison.... NEXT!
So... John Morrison and Sheamus are having a match. That's all that's happened so far.
Sheamus goes off the top rope, but Morrison nails his left knee with a dropkick and then tosses him to the outside. Now, he's focusing on that knee because that is wise pro wrestling strategy.
The Celtic Warrior finds the way to a victory with a White Noise and a pinfall.
RESULT: Sheamus defeats John Morrison
Miz isn't happy and immediately challenges Sheamus to a handicap match between him and Morrison. Sheamus, because he's kind of dumb, apparently? agrees.
Wow, they're really beating him up pretty badly. Oh, wait, Sheamus digs down deep and knocks both of them out of the ring.
Sheamus dodges a flying forearm from Morrison and nails him with a Brough Kick. Miz uses the opportunity to nail him with a Skull Crushing Finale and gets the win.

RESULT: Miz and Morrison defeat Sheamus
Ric Flair is backstage, showing Lacey Evans some moves - wrestling moves, you goof, mind out of gutter - when Charlotte shows up and wants to have a private word with her father.
After a verbal altercation between the dad and daughter, Charlotte starts to leave the room, but it's in the walk-backwards-looking-away-from-the-door way which always guarantees you get attacked. Which she did. By Lacey.
AJ Styles vs R-Truth is up now. And AJ starts off attacking.
Styles holds up Truth by the hair and shouts "this is what I'm gonna do to 29 other men in the Royal Rumble match!" Then tries to throw him over the top rope, but Truth reverses it and toses STYLES out of the ring.
Truth fights back and goes for a Five Knuckle Shuffle and hits it. Truth misses the scissor kick, but gets AJ up for the Attitude Adjustment! AJ rolls out of the hold and gets Truth in the Calf Crusher and the win.
RESULT: AJ Styles defeats R-Truth
We're now listening to Randy Orton talk about how much his face hurts from last week.
Following that, Alexa is in her playground, discussing previous events, as well.

She's so cute. And terrifying.
Riddle's gauntlet match against The Hurt Business is next after these commercial messages.
Riddle is starting this match out with Shelton Benjamin.
And now, as I have a sick daughter to tend to, I pass the baton over to my main man, Juice. Take it away, Juice man!
Hello everyone I will close out the night on live coverage with you all! 
A Cedric Alexander distraction accidently cost Shelton Benjamin the match
RESULT: Riddle defeats Shelton Benjamin
Alexander and and Benjamin are arguing oops they distracted MVP and he quickly lost not long after. Hurt Business please figure things out I don't want you guys to break up.
RESULT: Riddle defeats MVP
Riddle is on a roll making quick work of the Hurt Business! Alexander has been a tough opponent in the ring though so he should give the most resistance.
More arguing between Alexander and the other two Hurt Business members I just don't see Riddle losing. 
Riddle's combination of agility and strength is just crazy. One moment he will toss his opponent with a german suplex and the next he will perform a standing moonsault. 
These two gave quite the show Alexander and Riddle need to wrestle again someday but Riddle ended up on top in this one! He did not have much time to celebrate though when Lashley came out from behind and attacked Riddle and put him in the Hurt Lock thrashing him around before releasing the hold. Riddle versus Lashley for the title who will win?
RESULT: Riddle defeats Cedric Alexander and wins Gauntlet Match
The return of Edge in another great promo from the Rated R Superstar! Well kind of he was not in the Thunderdome but just appeared on the TitanTron in a video package.
 Edge has officially entered the Royal Rumble. Everyone better watch out for him in his in ring return since his injury from Backlash.
Will Alexa Bliss get her shiny new toy? Asuka versus Bliss for the RAW Women's Championship is up now.
It's important to add Bliss starts the match in her playful school girl like persona and not the calm and deadly persona that won her the match last week against Asuka. Of course she turned mid match last week so who knows what will happen.
Oh look Bliss is on a rocking horse that appeared randomly in the ring from the Playground ok then.
Commercial is over and the horse is gone and Bliss is controlling the match. Asuka must have gotten as confused as I was and that led to Bliss taking control.
The normal Alexa Bliss music is playing? Oh and attire change and there is the Goddess Alexa Bliss? She is crying and is terrified! What is happening. The lights and sounds are going off again and there is the sinister calm Bliss!
Our we about to see a title change?
Knee to the face of Bliss but it did nothing. Mandible Claw by Bliss! There is Randy Orton with no mask but still a burned face! RKO on Bliss, Asuka better buy Orton some chocolates or some kind of gift! 
Thanks for joining us in watching Monday Night RAW I hope Kevin's daughter feels better soon! Everyone have a great night!