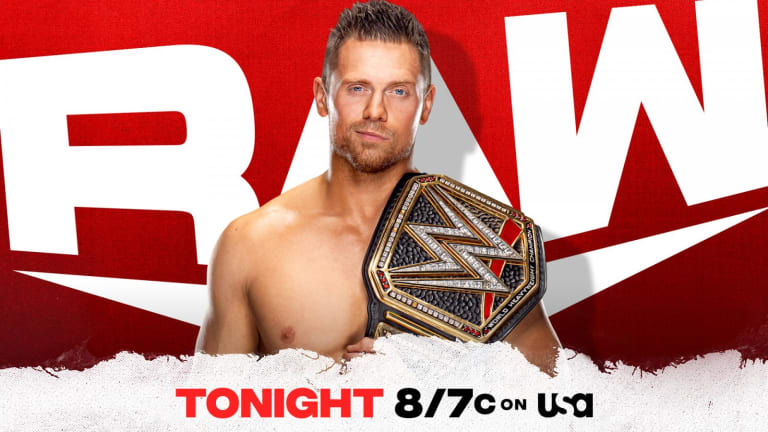 WWE Raw LIVE coverage and commentary (02.22.21)
We're heading into WWE Raw with a new WWE Champion. Let's see what happens.
(You will probably have to refresh the page once or twice to get the latest updates. You can handle that, right? RIGHT?)
Hello and welcome to tonight Wrestling News World LIVE coverage of WWE Monday Night Raw! I'm Kevin and I'll be running down tonight's events for you all.
As you probably have heard, The Miz cashed in his Money in the Bank contract last night at Elimination Chamber to win the WWE Championship - with a little help from Bobby Lashley. OK, a lot of help from Bobby Lashley. Miz will be opening the show with a celebratory episode of Miz TV. 
Considering Miz's buddy John Morrison was the one to eat the pin during the Triple Threat US title match, moving said title from Lashley to Riddle, what will that mean for the dynamic between the new champ and the Hurt Business? 

Anyway, we're about fifteen minutes away from showtime, so let's get settled in and get ready for some *Vince McMahon voice* Tuesday Night Paws! No, sorry, Monday Night RAWWWWWWWWWWWWWW!
---
By the way, if you want to chime in on tonight's show, send a Tweet out with the hashtag #WNWRawWWE or just use the comments section below. 
A couple of self-promotion-type dealy-bobs. You can follow me on Twitter under the name @HeyImKevinSully. I post there a lot. Also, I have a Ko-fi page if you want to help supplement the work I do here and elsewhere. OK, anyway, let's get ready to rock.
---
Thank you all for watching along with me tonight! I'll see you all on Friday for SmackDown! Until then... I'm outta here.
(10:00pm) That's our show! Lashley closes us out by standing on the turnbuckles, raising the WWE Championship belt in the air.
(9:59pm) Lashley attacks Strowman after the bell, then slaps the Hurt Lock on him. Miz charges into the ring, attempting to hit Lashley with the belt.... Lashley kicks his ass.
RESULT: Bobby Lashley defeats Braun Strowman
(9:58pm) Lashley with the spear on Strowman and gets the win!
(9:56pm) Lashley with a low dropkick on Strowman's leg that Lashley attacked earlier in the show. He then goes for the Hurt Lock, but Braun fights his way out.
(9:53pm) Miz is at ringside, watching these two monsters punch each other.
(9:51pm) Braun "Brawny" Strowman storms his way to the ring for his match with Bobby "Bobby" Lashley.
(9:46pm) Omos picks Ricochet up by the neck off the mat and drives him into the canvas with a chokeslam. That's one large dude.
RESULT: AJ Styles defeats Ricochet
(9:45pm) No.
(9:44pm) Can Ricochet actually pull this off?
(9:42pm) AJ is taking on Ricochet tonight and the show is over in less than 20 minutes and what the hell, WWE?
(9:35pm) Here comes AJ Styles and Omos!
(9:34pm) I look away for one moment and Lana and Naomi beat Dana and Mandy and I'm not OK with that.
(9:33pm) Naomi and Lana are taking on Mandy Rose and Dana Brooke.
(9:27pm) Charlotte and her dad are backstage, talking out their problems. We get confirmation that they're not going with the whole "Flair is Lacey's baby's father" angle. The two of them have an actual constructive conversation - I'll see if I can find a video to share in a little bit - but it ends with Charlotte asking her dad to leave her alone, to go home, and to let her be Charlotte.
RESULT: Sheamus defeats Jeff Hardy
(9:23pm) Hardy goes for the Swanton Bomb, but Sheamus gets up and charges. Jeff flips over him, but favors his knee as he lands. Sheamus nails Jeff with a Brough Kick and gets the win.
(9:22pm) Hardy goes for a splash but Sheamus gets his knees up. So, Jeff punches him some more and then does a splash.
(9:13pm) Sheamus doesn't waste any time and goes right for the Charismatic Rainbow-haired Warrior Enigma.
(9:12pm) Sheamus? More like LAME-us! Am I right? I'm just kidding, Sheamus is alright.
(9:07pm) Schmeff Bardy is taking on Shaymoose, NEXT!
(RESULT: Nia Jax and Shayna Baszler defeat Charlotte Flair and Asuka
(9:04pm) Asuka holds Shayna back and Charlotte charges in for a big boot... but Shayna moves and Charlotte nails her partner instead. Charlotte goes after Shayna, tossing her out of the ring and following her. Nia Jax comes in and lands the legdrop on Asuka for the win.
(9:03pm) Charlotte with the figure four leglock on Shayna, but Nia breaks it up with a legdrop. This match is dope.
(8:59pm) Shayna goes for the arm stomp that looks ridiculously vicious, but Asuka slips away and makes the hot tag to Charlotte.
(8:58pm) Back from break and Baszler has the upper hand on Asuka, twisting her left arm in ways left arms were not meant to be twis
(8:52pm) Shayna Baszler is out, followed by Nia Jax. Jax comes past the curtain and, immediately, both Charlotte and Asuka are injured for three weeks.
(8:51pm) Here comes Asuka!
(8:45pm) Charlotte is in the ring as she and Asuka will be taking on WWE Women's Tag Team Champions Jia Nax and Bayna Shaszler.
(8:42pm) Randy Orton is not used to failure. Then, he starts coughing and then throwing up black goo as if Papa Shango was still around.
(8:40pm) We get a look at what happened with Randy Orton last week while I was in the bathroom.
(8:34pm) The usual crowd of challengers charges the ring, trying to win the 24/7 title from Baddington J. Bunny III, but Priest kicks them all away, except for Drew Gulak, who gets tosses out of the ring by Bunny himself.
RESULT: Damian Priest defeats Angel Garza
(8:32pm) Angel clotheslines Priest right out of the ring, then continues to taunt the 24/7 Champion and trying to get him to come into the ring. It's enough of a distraction for Priest to get back to into the ring and hit him with Hit The Lights and get the win.
(8:29pm) Garza managed to get the upper hand and is laying into Priest, while every so often taking a moment to taunt Inferior Rabbit.
(8:27pm) Bell rings and Garza charges after Priest immediately - but Priest just nails him with a clothesline that sends Garza flipping in a complete circle.
(8:21pm) Priest is taking on Angel Garza after these commercial messages.
(8:20pm) Bad Bunny, technically the 24/7 Champion, comes to the ring with his own theme music and Titantron video. He's followed up by Damian Priest.
RESULT: The Hurt Business defeat Lucha House Party
(8:18pm) Knee to the face and then a flatliner and Hurt Business has the win
(8:17pm) LHP fights out a double-team attack and smash Benjamin with a flying splash. They go for the pin, but Alexander breaks it up.
(8:13pm) Hurt Business are pretty much destroying LHP, but the luchadores refuse to stay down for the pinfall.
(8:11pm) Lucha House Party have a match against Cedric Alexander and Shelton Benjamin in a Tornado Tag Match.
(8:06pm) Lashley isn't fooling around and clips Braun in the knee. 
(8:04pm) Braun thinks everybody and everything sucks and wants a WWE Championship match TONIGHT. Shane says no. So, instead, we get a match between Braun and Lashley - and if Braun wins, he gets a Triple Threat Match with Lashley and Miz for the title.
(8:03pm) After Miz attempts to get Braun and Lashley to start fighting, Shane O'Mac makes his way to the ring.
(8:01pm) Miz says he needs more time to come to a decision. Braun Strowman has decided to come out and be Braun about the whole thing.
(7:58pm) The Hurt Business is in the ring with Adam Pearce, waiting to find out what Miz's decision is. Miz comes to the ring in his suit.
(7:52pm) Ali is furious - even though it was kind of his fault - and is screaming at the rest of the stable. That's probably not going to end well.
RESULT: The New Day defeat RETRIBUTION
(7:50pm) Double chokeslam on Kofi, and Mustafa Ali demands they do it again. Bad idea, as Woods gets Mace to charge him and fall over the top rope while Kofi regains his composure and nails T-BARR with Trouble In Paradise and gets the win.
(7:47pm) RETRIBUTION makes their way to the ring and sorry I'm kind of oddly excited because I found out there's a new Punky Brewster show on Peacock.
(7:42pm) Kofi Kingston and Xavier Woods are taking on RETRIBUTION.... NEXT!
(7:40pm) The Miz is backstage, as well, and he's talking to Adam "Kevin's Favorite Personality on Raw and It's No Contest" Pearce and complaining about having to deal with Lashley. Pearce says he actually respects Miz, but he's got to make a decision and soon. Pearce walks away and Miz pulls out his phone.
(7:37pm) We get a look at Bad Bunny on Saturday Night Live this past, er... Saturday... and now he's here with Damian Priest. R-Truth tries to sneak up on him with a ref, but Priest sees him. Truth tries to play it off like he wants to congratulate the singer, then sneaks away.

I shouldn't admit it but... this Bad Bunny stuff is kind of growing on me.
That was an awesome match. Also, before we go into break, we get a cool little segment announcing that Rhea Ripley is coming to Raw! Whoo hoo!
RESULT: Riddle defeats John Morrison
(7:30pm) Morrison is on the ropes, about to hit Starship Pain (still an awesome name for a finisher) but Riddle catches him and slams him with the Bro Derek and gets the pin.
(7:29pm) Riddle is on the turnbuckles and Morrison races up the ropes to hit him with a Spanish Fly... and a gorgeous one at that.
(7:28pm) Following an Asai moonsault outside of the ring on Morrison, Riddle gets him back between the ropes and hits him with a German suplex, but only gets a 2.
(7:21pm) With Riddle out of the ring, Morrison leaps over the top rope - spins over it, actually - but also catches the rope a bit with his leg, landing on Riddle but hurting his knee in the process.
(7:20pm) Both Riddle and Morrison are showing off their strengths here - Riddle with the MMA-style blocking, strikes, and takedowns, and Morrison with the parkour-style attacks and dodges.
(7:20pm) Looks like Riddle vs JoMo is a non-title affair.
(7:19pm) See?
(7:17pm) Not only does Miz have an hour to give Lashley a title shot, but Raw even has a countdown clock to drive the point home.
(7:13pm) The new US Champion Riddle is having a really fun convo with Lucha House Party (who are awesome themselves and I don't care who knows it). Lince Dorado congratulates Riddle, although the new champ thinks it's for a great round of Call of Duty. He's got a match with Morrison coming up, but it's on the other side of the building. No worries, though - Riddle's got himself a stallion - aka a Razor scooter.
(7:11pm) Then MVP points out that Miz mentioned that he said Lashley's name in the list of Superstars who "don't measure up" to him. Lashley is giving Miz one hour to give him a title match or he's gonna beat him up.
(7:09pm) MVP congratulates Miz for his win, but points out that he hadn't mentioned Bobby Lashley's part in that win. MVP mentions that as part of their agreement, Lashley gets a shot at his WWE title.
(7:08pm) Bobby Lashley, looking very sharp, interrupts Miz as he enters the ring with MVP.
(7:05pm) The new WWE Champion, The Miz, is here. He's going on about how he's outlasted all the wrestlers of his generation - including Bobby Lashley? That's certainly not going to come back to bite him in the rear.
(7:00pm) WWE. THEN. NOW. WHOA WHAT WAS THAT?!