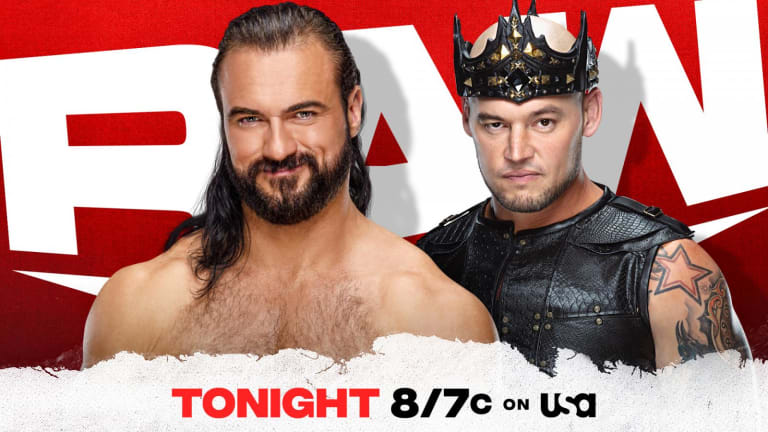 WWE Raw LIVE coverage and commentary (WrestleMania Go-Home Show Edition) (04.05.21)
It's the final Monday Night Raw.... EVER! Just kidding, it's just the last one before WrestleMania. Let's see what happens!
(As usual, you will probably have to refresh the page a couple of times to get the latest updates.)
Welcome to the last Monday Night Raw before WrestleMania.... what number are we on? 37? Good grief, that's a lot of WrestleManias. 
Now, I know there isn't much on the card this year to get people really excited - even with Daniel Bryan in the main event once again. But, WrestleMania Week is always an entertaining and sentimental time for fans of the business/the industry/our great sport - even for you hipsters who only watch indie promotions from Luxemburg. Which, by the way, there's some good sh** coming out of Luxemburg, don't sleep on it.
I'm going to keep this opening short because we all have a lot of work to do this week and I want to - just like everyone else here at Wrestling News World - provide you all with the best coverage and content that I can. So, let's get comfy and enjoy tonight's show... and the rest of WrestleMania week.
If you want to chime in on tonight's show, shoot me a Tweet at @HeyImKevinSully. I mean, chances are you won't, but I figured I'd throw it out there. See you in a bit!
---
 So... apparently, Raw is taped tonight. I feel deceived. 
---
WWE. THEN. NOW. THEN AGAIN. ALSO LATER.
---
(9:28pm) Sorry, guys... my Internet went out for a good twenty minutes. I'm here.
9:28pm) Sorry, guys... my Internet went out for a good twenty minutes. I'm here.
(9:01pm) Bad Bunny actually cutting a pretty heartfelt promo. I'm not kidding, it honestly sounds like he means what he's saying.
(8:59pm) Miz VS Bad Bunny just became a tag team match, with Damien Priest and John Morrison added to the match.
(8:49pm) Meanwhile, Bad Bunny is all mad and stuff and backstage, showing Damien Priest how all mad and stuff he is about being attacked and he's gonna "address the situation" after the break.
RESULT: Bobby Lashley defeats Cedric Benjamin
(8:47pm) Alexander can't keep up the offense and Lashley destroys him, slaps on the Hurt Lock, and gets the win. Then fights off a sneak attack by Benjamin and does the same to him.
(8:36pm) We're setting up for Alexander vs Lashley, and Cedric and Benjamin attack the champion before the bell and start a beatdown on him.
(8:20pm) Before we head into Cedric Alexander vs Bobby Lashley, Cedric and Shelton Benjamin confront MVP, and tell him that they're going to show him t
RESULT: Nia Jax and Shayna Baszler defeat Asuka and Rhea Ripley
(8:15pm) Rhea Ripley has decided to attack Asuka, pushing her off the top turnbuckle, onto the floor, and then attacking her on said floor. She tosses Asuka back into the ring and Baszler pins her.
(8:13pm) Nia Jax is putting some serious damage to Ripley's leg and now she wants to tag in Asuka like they're actual partners.

And she does.
(8:12pm) Who really thinks the tag titles are going to change hands here? 
(8:06pm) This match is significantly playing up the fact that Ripley simply isn't talking to - or even acknowledging - Asuka, to the point that they're tagging each other in against their will. It's a fun story, but it also kind of makes the tag champions pretty irrelevant. 
(8:03pm) It's announced that there will be a "Tag Team Turmoil Match" on the first night of WrestleMania - with the winner taking on the WWE Women's Tag Team Champions on night two of the show.
(7:59pm) Rhea Ripley and Asuka are taking on WWE Women's Tag Team Champions Nia Jax and Shayna Baszler and, if you weren't aware, Ripley and Asuka are WrestleMania opponents so I'm sure this won't be weird at all.
and then this happened....
(7:47pm) Miz and Morrison "deface" Bad Bunny's fancy sports car with what appears to be the same paint my daughter uses for finger painting.
RESULT: Braun Strowman defeats Elias and Jaxon Ryker.
(7:45pm) Braun tosses Ryker into Elias and then pins them both together. The end.
(7:38pm) Shane comes out and basically says he's going to win and then Elias and Jaxon Ryker come out and they're going to have a handicap match against Braun and I just saw a laundry detergent commercial with Vanilla Ice, Ice-T, and Stone Cold Steve Austin and now I forgot what I was doing.
(7:34pm) Braun says he's going to beat Shane, and he's going to dedicate the match to everyone who was treated mean by someone.
(7:31pm) I love these subtle, nuanced wrestling angles, such as "You called me stupid, let's fight."
(7:30pm) Here comes Braun Strowman in his Baby Gap t-shirt.
(7:29pm) WRESTLEMANIA: SEA OF THIEVES
(7:26pm) Damien Priest and Bad Bunny are here, showing up in a fancy car which, like, do you not know the history of Raw? Don't bring a fancy sports car to Raw if you don't want someone to destroy it. What is wrong with these guys? Anyway...
RESULT: Xavier Woods defeats AJ Styles
(7:23pm) Kofi tosses a microphone at Omos, and it's enough to distract AJ enough for Xavier to roll him up for the win.
(7:20pm) Samoa Joe is back in the announce booth.
(7:18pm) Riddle approaches The New DAY at Gorilla, makes some jokes about "getting high" and then Xavier heads out to the ring to fight AJ Styles.
(7:14pm) Corbin is channeling his inner Curt Hawkins.
(7:11pm) Corbin says Drew isn't going to make it to WrestleMania and yeah he's dumb.
(7:10pm) Oh, goody, here comes King Corbin. Yay.
(7:08pm) This whole segment feels like a meeting of the Mutual Admiration Society.
(7:07pm) Drew is yelling his story and talking about how he's going to win. And then Bobby Lashley comes out with MVP and then he starts yelling, too.
(7:01pm) It's time, and Drew McIntyre starts the show off with his sword, kilt, and what I thought was a windbreaker but turns out is a leather jacket.