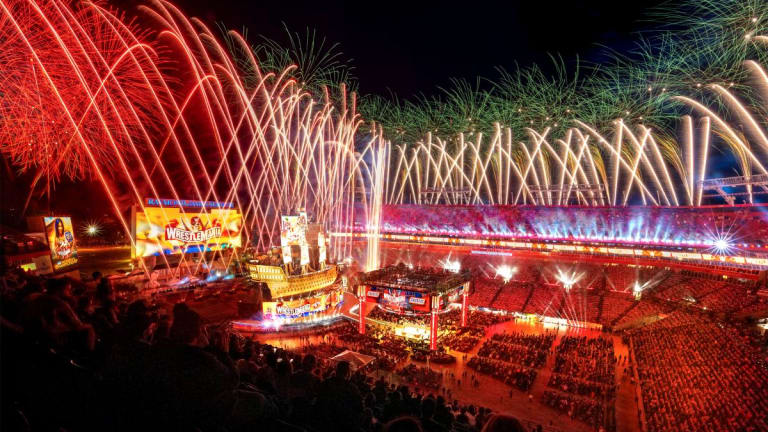 WWE Raw After WrestleMania LIVE coverage and commentary (04.12.21)
You thought WrestleMania was OVER? Nuh uh, sparky. It's only just beginning.
(Coverage scrolls down from end to beginning following introduction. You may have to refresh the page once or twice to get the latest updates if you are coming in during the show.)
You thought WrestleMania was over?! Well, it... is, actually, technically. But, just like Corey Graves metaphorsiphilized (yes I made that word up) last night, if WrestleMania is the "season finale" of WWE, the Raw after Mania is the "season premiere." Which means that WWE has a 24 hour off-season, which is only just slightly shorter than the NHL's.
The Raw After Mania™ has consistently been the stage for big debuts, massive story reveals, exciting returns, and a crowd that is usually as entertaining - if not more so - than the action in the ring. That last part's probably not going to happen, sadly, as it doesn't look like the crowd from last night's show will be carrying over to the ThunderDome. 
Still, there's plenty to look forward to, so let's see what they have up their sleeves. However, don't set your expectations too high or else you're probably going to have a bummer of a time tonight. We'll be here covering the important stuff as it happens, along with commentary from myself and the rest of the Live Coverage Crew (which mostly just consists of me and Juice but, hey, that's technically a "crew" so shut up). So, get comfy (not, like, now - closer to showtime is a little more reasonable) and get ready.
The Raw after WrestleMania 37 is on the way...
Let's go.
---
(coverage begins at 6:45pm Central time)
Thanks for joining us and have a good night!
MVP comes out and distracts McIntyre then T-Bar and Mace formerly of Retribution come out and sneak attack and take out McIntyre! Are they now of The Hurt Business or just hired as mercenaries by MVP? We will have to wait next week to find out!
(9:57 pm) Orton is pinning Strowman and seemingly has the win, no McIntyre interrupts and then pins Orton and gets the win he gets his rematch at Backlash against Lashley!
(9:56 pm) Orton counters and it is his turn for a bit of offense he slamming on the mat preparing for an RKO and delivers it!
(9:55 pm) The monster among men is controlling the match right now hammering both men with the steel steps that are always part of ringside. 
 (9:46 pm) The match officially begins between the three in what should be a hard hitting affair.
(9:39 pm) Main event time where McIntyre, Strowman, and Orton will battle for a shot at the WWE Champion Bobby Lashley at Backlash.
It was quick and he never really said about what he will do about Bliss.
Ramblin' probably liked Wyatt being gone and not killing him all the time because he just was thrown out a window and killed again.
Ramblin' Rabbit, Abby the witch and all the crew is back and sweater vest Wyatt is back! Abby is not happy with Bliss and cusses her out.
Firefly Funhouse will return next! It has been gone for a while and this should be interesting in how Wyatt takes the betrayal of Bliss.
RESULT: The New Day defeat Ryker and Elias
(9:28 pm) Elias and Ryker fought hard but The New Day wins this one.
(9:18 pm) Match time The New Day takes on Elias and Ryker.
They then said if they got a butt kicking like the one Strowman gave them that they would not show their faces. I guess The New Day forgot what happened Saturday Night. Elias did not forget that though.
Elias wants to perform a song about Shane McMahon's great effort at WrestleMania but something is wrong we hear trumpet sounds instead and The New Day comes out an talks trash about Elias and Jaxson Ryker.
Adam Pearce comes out and announces a triple threat between the three in the main event tonight to decide Lashley's Backlash opponent! I like that McIntyre is just given the rematch and that Strowman and Orton two men who won their matches at Mania are getting an opportunity to earn a title match.
Now Randy Orton comes out and wants a shot too and MVP is not happy about all these challengers.
MVP interfered in the match and McIntyre wants a rematch then Braun Strowman comes out now and he wants the match and wants McIntyre to move to the back of the line. 
MVP is in the ring is talking about Lashley's Mania win over McIntyre and speak of the devil McIntyre enters.
RESULT: Nia Jax and Shayna Baszler defeat Mandy Rose and Dana Brooke by count-out
(8:50) Jax slipped off the apron in ironic fashion here after making fun of Rose for slipping. Jax angry charges in and Rose and Brooke decide to just leave so not to take the rage of Jax leading to a defeat for the pair of Brook and Rose.
(8:45pm) Tag match begins between Jax and Baszler and the team of Dana Brooke and Mandy Rose.
RESULT: The Miz and Morrison defeat Damian Priest
(8:39pm) Miz rolls up Priest after interference by Maryse, and gets the pin with his feet on the ropes.
(8:33pm) Miz and Morrison, in street clothes, are doing their best to beat up Priest. They aren't doing so great.
(8:28pm) It looks like after the break that we're going to get Priest vs Miz & Morrison in a handicap match.
(8:26pm) After a good five minutes of taking credit for Bad Bunny's success at WrestleMania, Damian Priest comes out to be Damian Priest.
(8:18pm) Maryse is the guest on the next edition of Miz TV. After these commercials.
(8:17pm) Alexa introduces her new friend, Lilly - which is a doll. But, you know exactly how scary dolls can be in this context.
(8:15pm) After Mandy Rose and Dana Brooke attack Nia Jax backstage, Alexa Bliss explains why she turned on The Fiend last night.
RESULT: Asuka and Rhea Ripley fight to a no-contest
(8:05pm) To the shock of absolutely no one, Charlotte Flair attacks both Ripley and Asuka, ending the match.
While this match goes into commercial, let's take a look at tonight's commentary team, including the already impressive Adnan Virk!
(7:47pm) Asuka gets a rematch against Rhea Ripley and that match is NEXT (after this promotional consideration)
My feed is a few minutes behind, so forgive me if I seem delayed.

Anyway... Bobby Lashley is taking on Riddle and.... just kidding... :)
(7:43pm) Flair is laying down the law, calling everybody in the women's division out, and just cutting an amazing promo.
(7:39pm) Charlotte Flair has returned! And she looks like she just stepped out of The Grid from Tron.
RESULT: The Viking Raiders defeat Shelton Benjamin and Cedric Alexander
(7:32pm) Six minutes later and the Raiders have destroyed their opponents and won the match.
(7:26pm) Shelton Benjamin and Cedric Alexander are here for tag team action and they're taking on.... THE VIKING RAIDERS!
(7:20pm) Kevin Patrick is interviewing the new Raw Women's Champion Rhea Ripley and the accents are just palpable.
RESULT: Bobby Lashley defeats Riddle
(7:18pm) Riddle manages to get some offense in - to the point that Lashley is on the mat. Riddle goes for his Floating Bro moonsault, but Lashley dodges and slaps on the Hurt Lock for the win.
(7:16pm) Just checking back in to let you all know that Lashley is still in the process of murdering Riddle.
(7:09pm) Lashley tosses Riddle's scooter over the security rail.
Graves: "Now how is RIddle supposed to get home?"
(7:07pm) My apologies, everybody. Got held up, but it looks like we're starting off Eaw tonight with Lashley vs Riddle.