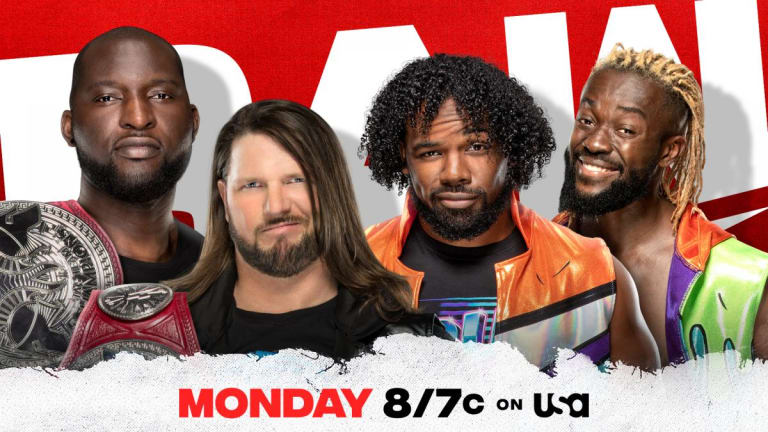 WWE Monday Night Raw LIVE coverage and commentary (05.02.21)
It's time for some WWE Raw... of the MONDAY NIGHT variety! I mean, it's usually Monday night but, still... aw, shut up.
It's time for some WWE Raw... of the MONDAY NIGHT variety! I mean, it's usually Monday night but, still... aw, shut up.
Hey everybody! Kevin here and I am in a fantastic mood. As much as I love pro wrestling, I took a much-needed break over the past week and I feel like Ponce De Leon at the fountain of youth but if that had been a real thing. 
Anyway, I'm ready to goof around and have some fun with tonight's three hours of WWE Raw. I hope you are, too.

So, tonight, I'm going to have some fun and I am going to give away a Blu-Ray copy of the John Carpenter/Roddy Piper cinematic classic They Live to one of you fine folks. How do you win? Well, you'll have to wait and see.

And by wait, I mean wait, like, twenty minutes into the show. So keep following along.
Anyway, who's ready to rock?
---
(9:23pm) Sheamus sets up for the Brough Kick on Monsoor, but Humberto Carrillo races into the ring and attacks! So... Sheamus wins....

RESULT: Sheamus defeats Monsoor via DQ
(9:21pm) Sheamus vs Monsoor is in the works and, so far, Monsoor is getting deconstructed by the US champion.
OK, you guys are boring. Nobody wins.
(9:13pm) RESULT: Randy Orton and Riddle defeat Elias and Jaxson Ryker.

And we're heading into a break before Sheamus's open challenge for his United States championship.
(8:54pm) And Garza is a man of his word and shoves his rose up where the sun doesn't shine.
(8:53pm) Garza with the Wing Clipper on Drew Gulak and the former Cruiserweight Champion wins!

RESULT: Angel Garza defeats Drew Gulak
Whoever Tweets me at @HeyImKevinSully and correctly guesses who wins this upcoming match gets the prize. Otherwise, I'm giving it to the Standing Streaming and you'll have no one to blame but yourselves.
(8:44pm) Oooh... a special 205 Live segment on Raw next, as Drew Gulak and Angel Garza are going at it after the break.
(8:43pm) Cedric tells Shelton their team is done.
(8:41pm) Never mind. We'll try again before the end of the show.

Lucha House Party defeat Cedric/Shelton
OK! So.... who wants a collector's edition copy of THEY LIVE, starring Roddy Piper and Keith David, on Blu-Ray? First person to tweet me at @HeyImKevinSully before this Lucha House Party vs Cedric/Shelton match is over gets it!
(8:29pm) The Kingdom of Saudi Arabia's Monsoor is now a Raw Superstar! Sheamus decides to get into his face and encourages him to accept his open challenge.

The KSA bit is a joke, as Monsoor is more than just a guy from Saudi Arabia - and I wouldn't be surprised if he wins the US title tonight.
(8:27pm) I have been informed that, despite an attempt by The Miz to distract the ref...

RESULT: Damian Priest defeats John Morrison
(8:19pm) Sorry for the delay, folks. TV fell off the wall. It's actually still not back up there, but I'm here to fill you in as best as I as to what you missed.
- Sonya Devilla announces that Charlotte Flair will be inserted into the WrestleMania Backlash match for the Raw Women's Championship between champion Rhea Ripley and Asuka.
- John Morrison is now taking on Damian Priest.
(7:41pm) Elias and Jaxson Ryker attempt to toss tomatoes at The New Day... but, instead, hit Randy Orton.
(7:36pm) Holy crud, Eva Marie is back!
(7:32pm) Charlotte Flair is backstage talking to Sonya when Adam Pearce wanders in. Flair walks off and Pearce lets Sonya know that he doesn't appreciate how she's been "over-stepping [her] bounds" lately.

Also, this Friday's SmackDown is going to be a "throwback/old school" edition.
(7:30pm) After destroying Woods and Kingston single-handedly for a few minutes, Omos tags in an anxious and excited AJ, who hits Woods with a Phenomenal Forearm and gets the pin to retain.

RESULT: Omos and AJ Styles defeat The New Day
(7:22pm) Omos has tagged out and takes his spot on the ring apron. New Day take the opportunity to take the fight to AJ Styles... all the while keeping an eye on the 7'4" giant on the outside.

I think that's how tall they said he was...
(7:19pm) The match begins and it's Woods starting this fight off with Omos... and Omos tosses Woods into his own corner and demands to take on Kofi.
(7:11pm) Kofi Kingston: "There is a REASON why we're 11-time tag team champions!"
Me: "Because you lost ten times?"
(7:09pm) AJ is a Grand Slam Champion after only five years.
(7:06pm) The new Raw Tag Team champions AJ Styles and Omos are making their way to the ring. My daughter is freaking out.
(7:05pm) Coin flip and it's going to be WWE Champion Bobby Lashley vs Braun Strowman later tonight.
(7:01pm) WWE THEN . NOW. FOR A FEW MINUTES.