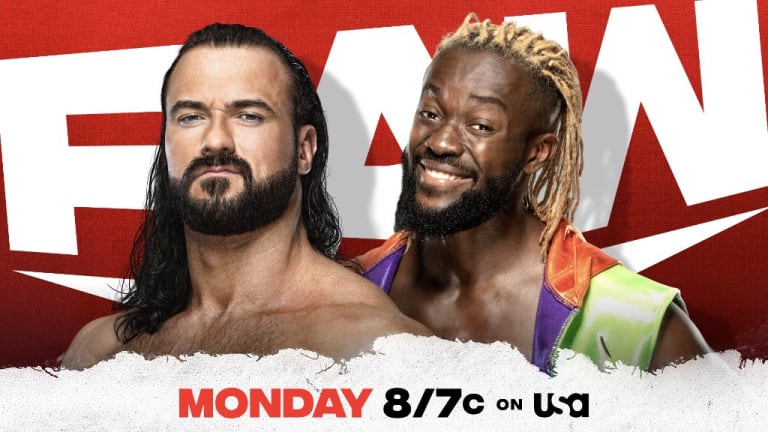 WWE Raw LIVE coverage and commentary (05.31.21)
Happy Memorial Day! Let's hope tonight's Raw is something to remember, as well.
Happy Memorial Day! Let's hope tonight's Raw is something to remember, as well.
(You may need to refresh the page once or twice to get the latest updates if you are reading this live. Please check the most recent time stamp)
---
Hey everybody! Kevin Christopher Sullivan here, getting set to cover WWE Raw tonight. I hope everyone (in the US, anyway) had a good and safe Memorial Day (even if you're not in the US and don't observe Memorial Day, I still hope you had a good and safe day, as well). Because this is WWE, you can expect plenty of tributes to the US military during tonight's show - which is fine, I'm not complaining. 
We've got some interesting matches set tonight, including Drew McIntyre vs Kofi Kingston, and AJ Styles/Omos defending their Raw Tag Team titles against Elias and Jaxson Ryker. It's gonna be a long - but, hopefully entertaining - three hours, so make sure you stay hydrated.
If you're on Twitter and you're watching, use the hashtag #WNWRaw and I'll keep tabs on what you're saying. Maybe I'll include it here. Maybe I won't. Maybe I'll just post Guided By Voices song lyrics the whole night to see if anyone's paying attention? Who knows? Oh, also, there's a comments section down below that I check every couple of updates, so let me know what (warning: rhyme up ahead) think of the show as it goes.
That's all for the intro. Enjoy the show, enjoy the coverage, and let's get this popcorn popping, shall we?
---
That.... was a really good episode of Raw. Great matches, nothing really dragged. Just a solid three hours of pro wrestling television. I hope you guys enjoyed it as much as I did. And let's hope Friday is as good, if not better.

Thanks to everyone who followed along. Until Friday... I'm outta here.
(10:00pm) Kofi offers his hand in respect, and Drew shakes it. Bobby Lashley comes out to do the whole "In case you forgot, I'm the champion, look, I'm lifting the belt in the air" thing.
(9:59pm) Kofi leaps from the top, but Drew gets to his feet and nails Kofi with a Claymore! DREW GETS THE WIN!

RESULT: Drew McIntyre defeats Kofi Kingston
(9:58pm) Kofi counters the Claymore attempt with a Trouble in Paradise, but only gets a 2 when Drew grabs the bottom rope!
(9:57pm) Drew's setting up the Claymore after tossing Kofi off the top rope.
(9:56pm) This match is THE BOMB DOT COM
(9:54pm) Kofi attempts Trouble in Paradise, but Drew dodges it. Kofi responds with an attempt at an SOS, but Drew turns it into a spinning Future Shock DDT. Kofi still kicks out at 2.
(9:47pm) Kofi leaps from the top rope onto Drew on the arena floor - Drew catches him and tosses him behind the security wall as Raw goes into what I imagine is the last commercial break of the night. For Raw. Not, like, for everyone.
(9:42pm) Back from break and Kofi has Drew in the corner, but Drew fights his way out with a headbutt.
Why does Jake from State Farm hang out with his clients in non-insurance-related situations?
I just want to say that Jimmy Smith has been fantastic on his first night tonight. And, on top of that, both Graves and Saxton has really upped their games tonight, as well. The whole commentary team has been on point.
(9:37pm) Corey Graves makes reference to Kofi's Power Rangers-inspired ring gear. Also, Kofi is wearing Power Rangers-inspired ring gear.
(9:33pm) MVP cuts a good promo.

Also, Kofi makes his entrance. It's main even time!
(9:26pm) The Viking Raiders are giving Monsoor a pep-talk. As they walk away, Mustafa Ali approaches him. He tells Mansoor not to trust the Viking Raiders - in fact, he tells him not to trust anybody.

Monsoor: "Then why should I trust you?"
Ali: *slap on the shoulder* "Now you're getting it."
(9:24pm) Alexa and Lily are talking to Reginald, and it all seems to be going well, when suddenly Shayna Baszler jumps Reggie and tears him apart. Baszler sits down on the same swing Reginald was on, and tells Alexa that she's become a problem, and she'll see her next week.

Then she tells Lily that she's a stupid doll. That was probably unwise.
(9:22pm) Elias doesn't want to be around Jaxson Ryker anymore.
(9:16pm) Reginald is limping around backstage, and Nia Jax is concerned about him appearing on Alexa's Playground. Reggie says he's got this.
(9:14pm) Omos with a short-arm clothesline on Ryker, then tags in AJ. Styles with a Phenomenal Forearm and gets the pin.

RESULT: Styles/Omos defeat Ryker/Elias
(9:13pm) My feed comes back on, and it's Omos tossing around Ryker in the ring, while Elias is high-tailing it up the ramp.
(9:07pm) Ryker tags himself in, and AJ takes advantage to get the... er... advantage. Anyway, both Elias and Ryker are on the arena floor, AJ is in the ring, and my TV has commercials on it now.
(9:05pm) Bell rings and Elias puts the boots to Styles to start things off.
(9:04pm) Elias and Ryker head to the ring, and Jaxson is looking intense. He's wearing a jacket with a military theme - which is totally cool, he's served, he's earned that at the minimum. 
Kofi cuts a good promo. Also... Kevin Patrick! That's his name! Hi fellow Kevin! I hope you read one of these some day.
(8:54pm) Elias is trying to psych up Jaxson Ryker and asks him if he's ever been in battle. Does Elias not.... you know... watch the show? 
(8:52pm) A thumb to the eye and a neuralizer by Alexander for the win.

I have a weird feeling of Deja Vu.

RESULT: Cedric Alexander defeats Shelton Benjamin
(8:47pm) Oh. We're getting Shelton Benjamin vs Cedric Alexander. Again.
(8:45pm) Yay! Mandy and Dana win!

RESULT: Mandy Rose and Dana Brooke defeat the Ravishing Glow.
(8:42pm) They're taking on my favorite tag team, Dana Brooke and Mandy Rose, with the Women's Tag Champions Tamina and Natalya on commentary.
Commercial time but Naomi and Lana are coming to the ring.
Hahahahahahahahahahahahaha! hooo... it's funny because it's depressing
(8:32pm) Sheamus slams Humberto onto the mat, then decides to focus his attention on Ricochet, trying to pull him into the ring. Apparently he lost more blood than we realized because that was dumb.

Humberto uses the opportunity to springboard off the ropes, kick Sheamus in the mush, and roll him up for the pin.

RESULT: Humberto Carillo defeats Sheamus
(8:31pm) Sheamus took a stiff forearm to the nose and now his nose is broken and now he's bleeding all over the place and it looks really creepy on his skin.
(8:27pm) Yeah.... what he said.
(8:24pm) Sheamus is wearing Ricochet like a backpack, about to sling him down to the mat, when Humberto's music starts playing and Humberto runs to the ring. He doesn't get in the ring, though, as that would be cheating. But, it's enough for Ricochet to roll him up and get the win.

RESULT: Ricochet defeats Sheamus
(8:20pm) Sheamus is going on about Humberto Carrillo and Ricochet except he's in Irish Grandpa Voice mode and I don't really follow. I think basically he's offering to fight Ricochet and Humberto one after the other instead of 2-on-1 and Ricochet comes out so I guess that's what it was.
(8:14pm) Alexa Bliss is backstage talking to get doll and invited Reginald to be her guest on her interview segment show thingy.

And now Sheamus is coming to the ring, with his 1920s old-timey boxer cosplay. COMMERCIAL.
(8:13pm) Lucha House Party are getting destroyed. 

Double chokeslam on Gran Metalik and Mace gets the pin.

RESULT: Mace and T-BAR defeat Lucha House Party
(8:02pm) Nia Jax celebrates with Reginald backstage.

Meanwhile, Drew McIntyre is backstage with the Irish guy (I LOVE that guy, I'll learn his name, I promise) and going on about how because he doesn't have kids and Kofi does and he'll have kids someday and anyway, long story short, he's gonna win.

Also, Mace and T-BAR are in the ring now, and they're going to face Lucha House Party.
(7:59pm) Reginald gets some major height on a moonsault attempt, but Shayna moves. Reggie lands on his feet (still hurts), and Shayna slaps on the Karakuna Clutch. However, a Kane-style burst of flame erupts from the turnbuckle. Reginald uses the distraction to roll up Shayna for the win.

RESULT: Reginald defeated Shayna Baszler
(7:55pm) The bell rings and Reginald is flipping around the ring, avoiding all Shayna's attacks. He's also flipping out of all of Baszler's attacks. However, Shayna eventually grabs Reggie's leg and starts to attack like only she can.
(7:54pm) Reginald assures Nia Jax that he can handle Shanya Baszler, kisses her hand, and then heads out for the match. He gonna die.
(7:53pm) So.... I was wrong. Instead, we come back from break with MVP leading some ladies into a backstage room and Bobby Lashley approves of this.
(7:49pm) Shayna Baszler heads to the ring for her match with Reginald. I'm guessing we'll see a Reginald entrance after this ad break.... and then another ad break. 
How are you folks enjoying Jimmy Smith on commentary tonight? Comments down below or hashtag #WNWRaw
(7:46pm) Riddle hits his pose in the middle of the ring. Randy looks as if he's about to join him, but decides against it.
(7:45pm) Randy hits Woods with Riddle's finisher, the Bro Derek, and gets the pin.

RESULT: Randy Orton defeats Xavier Woods
(7:43pm) Randy's got Woods set up for the draping DDT, telling Riddle to watch what he's about to do. However, Woods blocks it and hits a jumping armbreaker. Randy eventually hits it, but he's favorite that arm.
(7:34pm) Orton and Riddle (on his scooter) make their way to the ring.
(7:36pm) Riddle is backstage with Damian Priest and asking him how to say things in Spanish, when Randy Orton approaches. Randy invites Riddle to come to ring for his match with Xavier Woods to hopefully learn some stuff,
(7:23pm) As the clock counts down, Charlotte goes for the Figure Four, but time runs out and...

RESULT: Nikki Cross (technically) defeats Charlotte Flair
(7:22pm) Nikki Cross keeps running out of the ring, hoping to run the clock down. 
(7:21pm) Yep, it's up next. And it's still two minutes.
That mom in that anti-vaping ad is kind of a jerk. I don't feel bad that her son took money out of her purse. At all.
(7:17pm) Nikki challenges Charlotte to another "two minute challenge" (my quotes, not their's), Charlotte declares she could beat Nikki in one minute, Nikki slaps her, and the match has been made.

Not sure if it's right after this ad break or later in the show. But, it's only a minute so, who cares?
(7:15pm) Is Disney paying Charlotte to promote their Cruella Deville movie or is this just a conscious choice on her part?

Anyway, here comes the woman who "beat" Rhea Ripley last week (well, she didn't lose within two minutes).
(7:13pm) I love Rhea Ripley, but man, her promos really sound scripted coming out of her mouth. But... she's learning.
(7:11pm) "Zombies... vampires... flight attendants..." John Morrison is currently my favorite wrestler right now. Holy s***, I can't stop laughing.
(One last thing: my feed of the show is usually a minute or two behind the acual broadcast so, you know.... yeah...)
---
(7:10pm) Miz introduces Charlotte Flair as his first guest tonight on Miz TV. Morrison is singing along with Flair's theme music and I. AM. DYING.
(7:08pm) John Morrison is ready for any monsters that may come his way and The Miz is trying not to laugh like his life depends on it.
(7:06pm) We're starting off with Miz TV, with John Morrison also in the ring with him, wearing a necklace of garlic. I think I see where this is going...
(7:04pm) Former NYPD Blue and Star Wars prequels Jimmy Smitts is behind the commentary desk and I think that's a pretty bold choice to take over for Adnan Vi... oh... Jimmy Smith. Oops.
(7:01pm) Raw's annual Memorial Day opening begins with a quote from Ronald Reagan. Don't worry, I don't have any jokes about this.
(7:00pm) WWE. THEN. NOW. HEY HARRY POTTER WAS JUST ON.