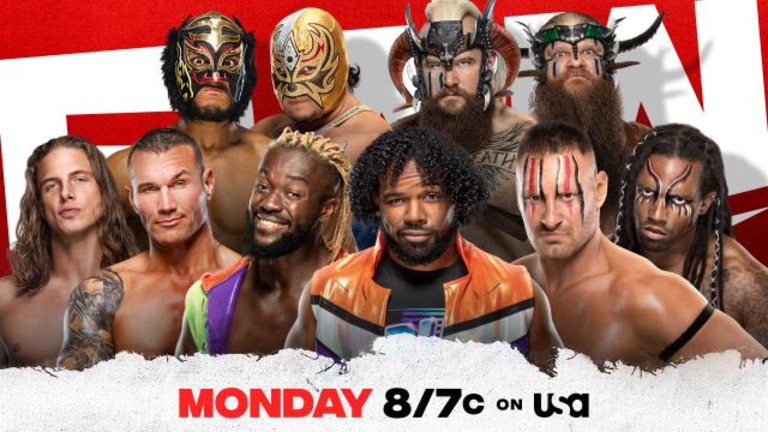 WWE Raw LIVE coverage and commentary (06.07.21)
It's time for WWE Raw! And there's a contract signing! Those never end badly!
(During the live portion of the show, you may need to refresh the page once or twice to get the latest updates. I have all the confidence in the world that you can handle that.)
Hey cats and kittens, Kevin Christopher Sullivan here - running a little behind but still here to cover tonight's WWE MONDAY NIGHT RAAAAAAWWWWWW (gravel voice grrrr) for Wrestling News World!
I'll be covering what happens AS it happens - or, at least, as it happens on my YouTube TV stream, which is usually a minute or two behind everyone else, but I'm pretty sure you fine folks can handle that.
We have a comments section down below and you can also chime in your thoughts on Twitter by using the hashtag #WNWRaw. I tend to answer because I like talking to people and, even more, attention in general.
See you guys in a little bit! (Time stamps are in Central time)
---
In honor of Mick Foley appearing on Steve Austin's Broken Skull Sessions, here's a really fun video: a lady from New Zealand reacting to the documentary about Foley's iconic match with Undertaker at Hell in a Cell:

---
I'll see you all on Friday. Hope you enjoyed the show. I kind of did. Until later this week... I'm outta here.
(10;00pm) Aaaaaaaand.... that's the end of the show. Weird. Shayna Baszler is being stalked by a doll.
(9:59pm) Alexa wants Shayna to apologize to Lilly, but Shayna throws the doll to the ground and stomps on it. Annnnnnd... that's when things get spooky.
(9:54pm) Alexa Bliss is in the ring and ready to interview Shayna Baszler.
(9:45pm) Riddle tries to set up for an RKO, but Kofi dodges it and hits Riddle with a Trouble in Paradise and gets the win.

RESULT: Kofi Kingston defeats Riddle
(9:27pm) Time for Kofi vs Riddle, after this break.
(9:25pm) Monsoor kicks out of a pin attempt with a handful of trunks, and rolls him up and gets the win.

RESULT: Monsoor defeats Drew Gulak.
(9:16pm) It looked like Charlotte and Rhea were going to co-exist, but then they finally start laying into each other, and after knocking Rhea out, Nikki pins her and gets the win.

RESULT: Nikki Cross and Asuka defeat Charlotte Flair and Rhea Ripley
(9:07pm) I had to put my kiddo to sleep, but while I was gone, apparently Rhea and Charlotte have already attacked each other. Figures.
(8:53pm) Jeff Hardy nails Cedric Alexander with a Swanton Bomb and gets the win over the former Hurt Business member.

RESULT: Jeff Hardy defeats Cedric Alexander
(8:38pm) Monsoor is warming up backstage for his match against Drew Gulak, and Mustafa Ali asks him how he's going to handle it when Drew breaks the rules. Monsoor doesn't have an answer.

Meanwhile, Jeff Hardy is coming to the ring to face Cedric Alexander.
(8:38pm) Riddle takes on Kofi later tonight.
(8:37pm) Eva Marie returns to Raw... next week.
(8:32pm) MVP seems to try and get Kofi to go the heel turn route and, for the moment, it doesn't seem to be working. But... there's that look of uncertainty in Kofi's eyes that makes us go "hmmmmmm..."
(8:30pm) MVP confronts Kofi Kingston backstage and discusses Kofi-Mania from two years ago.
(8:28pm) Ricochet and Humberto Carrillo went at it in a hard fought match tonight to see who would challenge Sheamus for his US Championship, but it ends up in a double count-out.
(8:10pm) Nikki Cross's mystery tag team partner is Asuka!
(8:07pm) This will be McIntyre's last shot at Bobby Lashley for the WWE Championship at Hell in a Cell... but it'll be inside Hell in a Cell. 
(7:58pm) McIntyre makes a great Lashley/Godfather comparison. 
(7:57pm) It's time for the Drew McIntyre/Bobby Lashley contract signing.
(7:48pm) OK, well, Elias high-tailed it out of there and Ryker wins by count-out

RESULT: Jaxson Ryker defeats Elias by count-out.
(7:46pm) And we're already getting Ryker vs Elias? Like... wouldn't this be better at SummerSlam or even HIAC? Why not have Elias constantly dodge Ryker until we finally get a pay-off match?
I dunno. I think the buzz cut looks good on Ryker. Let's hope he doesn't becom another Mason Ryan.
(7:41pm) Jaxson Ryker's got a new haircut and he's attacking Elias like the guy just stole his girlfriend. Dang.
(7:38pm) Shayna Baszler will be on Alexa's Playground later, but right now, we've got Elias in the middle on the ring, running his mouth about Jaxson Ryker.
(7:30pm) Looks like we're going to get Rhea Ripley and Charlotte Flair against Nikki Cross and a "player to be named la..." I mean "a partner of her choosing."
(7:26pm) Kofi goes for a Trouble in Paradise on Orton, but Riddle dives into the ring and takes the hit instead. Orton tosses Kofi out... but then Ivar tosses Orton out and win the match!

RESULT: Viking Raiders win the battle royal to earn a Raw tag team title opportunity.
(7:24pm) Riddle is knocked out of the ring by Xavier Woods, but Randy Orton is still in there... and then Woods finds himself tossed out, as well.
(7:19pm) Mace-BAR and Viking Raiders face off, and suddenly everybody jumps in and it's a skirmish. I like that word. Skirmish. Skirrrrrrr-mish. Anyway, Raiders toss out Mace and T-BAR so there's that.
(7:17pm) Morrison shoots his "drip stick" (it's basically a squirt gun, get your mind out of the gutter) on the former RETRIBUTION members, and ends up getting tossed out.
(7:16pm) Morrison eliminates Lince Dorado and that's all for that team.
(7:15pm) This match starts officially. AJ/Omos are on commentary, Miz is at ringside in his wheelchair, which is equipped with a clown horn.
(7:10pm) John Morrison is going to compete, by himself, on behalf of himself and Miz - and nearly sends Miz crashing down the ramp and into the side of the ring. Meanwhile, the bell rings and Orton has already hit three RKOs. Dang. Commercial time.
(7:09pm) Miz (in a wheelchair) and Morrison are coming out for some reason.
(7:07pm) New Day are still going on about how AJ and Omos aren't a registered tag team. Riddle is going on about RK-Bro's new t-shirts and his uncle's pet snake and it's AMAZING.
(7:05pm) Who you got winning this one, friends? Sound off in the comment or on Twitter using #WNWRaw.
In the ring: New Day, Viking Raiders, Mace and T-BAR, and the Lucha House Party - actually, Lince Dorado is out there by himself. Metalik is apparently injured.
(7:01pm) We're starting off with tonight's Tag Team Battle Royal, as RK-Bro head to the ring - as the rest of the combatants are already there. Meanwhile, AJ Styles and Omos, the current champs, are heading to the ring to watch the proceedings.