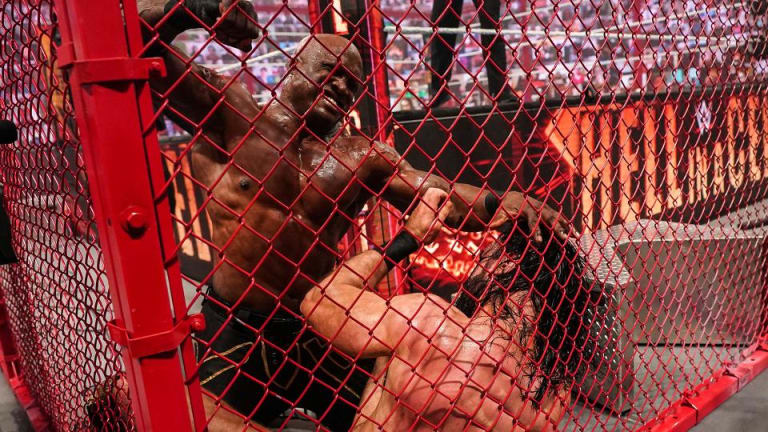 WWE Raw LIVE coverage and commentary - Post-Hell in a Cell! (06.21.21)
What will be the fallout from last night's Hell in a Cell PPV? Let's find out....together. *hold hands*
What will be the fallout from last night's Hell in a Cell PPV? Let's find out....together. *hold hands*
(Attention: If you are reading this as Raw is live, you may need to refresh this page once or twice to get the latest updates. Most, if not all, updates will be timestamped - in Central time - and the most recent update will be at the top.)
---
Hello, and welcome, to our LIVE coverage of WWE Raw here at Wrestling News World. I'm Kevin Christopher Sullivan and, yes, I know who I have the same name as, shut up, and, also, I'll be your host. 
So, here's how it works - first, I'm sure (or, at least, hope) you read all the technical stuff at the top of the page. If not, please go do that really quick. Go ahead. I'll wait. I mean, not really, this is text and that's not how text wor... anyway. During the show, I'll be covering the various entrances, segments, matches, and notable events during the show.
It won't be a move by move breakdown because a) that's both nearly impossible and you don't care anyway and b) there's a good chance I don't know the names of 60% of the moves. I may even make up some. See if you can guess which ones.
If you want to communicate with me during the show, there are, again, two ways to do that. First, you can reach out to me via Twitter at @HeyImKevinSully and using the hashtag #WNWRaw. I'll be including Tweets from various sources, as well, so if you want yours posted up in this bitch, reach out.

Secondly, there's a comments section down below, and I check that every commercial break. Chances are, if ya write something, I'll respond to it.
That's about it. I'll be here at the start of the show, if not earlier making snarky comments about whatever Dick Wolf NBC drama USA is airing before Raw. Talk to you all soon!
---
Here's some pre-show stuff:
---
(8:09pm) After another backstage confrontation between Natalya/Tamina and Rose/Brooke, we watch Randy Orton walking slowly to the ring for his HIAC qualifier against John Morrison.
(8:01pm) Adam Pearce and Sonya Deville are in the ring, addressing the end of the Rhea Ripley/Charlotte Flair match last night. They've asked Ripley to come out to the ring, saying she was a bad girl for breaking the roles. *wags finger*
Oh, sorry, it's "Doudrop." 


What?
(7:52pm) Piper gets Naomi down hard and perfect set-up for a pin - and then Eva Marie demands to be tagged in. Marie goes for the pin - and Naomi kicks out! Eva wants to tag back out, but Piper ain't having it, and jumps off the apron, allowing Naomi to roll her up for the win.

RESULT: Asuka and Naomi defeats Eva Marie and Piper Niven
(7:50pm) Our next match is a Money in the Bank tag team qualifying match - Asuka and Naomi vs Eva Marie and Piper "Dew Drop" Niven. Winning team's members get into the MITB match.
(7:42pm) Apparently Piper Niven's name on the main roster is... Dew Drop?
(7:35pm) Riddle is in a qualifying match of his own (vs Drew McIntyre), and he's backstage talking to Randy Orton, trying to get "pointers" on winning the briefcase.

Riddle is very funny.
(7:31pm) AJ is setting up for the Phenomenal Forearm, but is distracted when the Viking Raiders head to the ring to attack Omos. They drive the giant into the security barricade to take him out. AJ goes for the Forearm, but Ricochet counters and gets the pin!

RESULT: Ricochet defeats AJ Styles to qualify for Money in the Bank.
(7:27pm) I like it when Ricochet wrestles in pants. He's less Ricochet-y when he doesn't.
I wish *I* was Jake from State Farm. Dude gets so much free stuff.
(7:21pm) WWE Raw Tag Team Champions AJ Styles and Omos are heading to the ring for Styles' MITB qualifying match - and they confront the Viking Raiders, who are the current #1 contenders for their title.

Tonight, AJ has to fight Ricochet.
(7:13pm) Kofi challenges Lashley to a match at Money in the Bank. Lashley accepts, but only if he gets a match against Xavier Woods tonight. Then, Woods accepts, on the condition that it's inside HELL IN A CELL because Raw has to have its own Cell match if SmackDown gets one. Which is what's going to happen.
(7:06pm) MVP is about to raise a toast to Bobby Lashley's victory last night, but the New Day comes out because they want to be part of the toast. They then throw actual toast at them.
(7:03pm) Are these the same ladies each week? I feel like they are. I wonder if they get health insurance with this gig.
(7:01pm) There's 5 qualifying matches for Money in the Bank tonight. 

Also, WWE Champion Bobby Lashley and MVP and some ladies are now heading to the ring.
(7:00pm) WWE. THEN. NOW. FOREVER. TOGETHER. RICK ASTLEY.