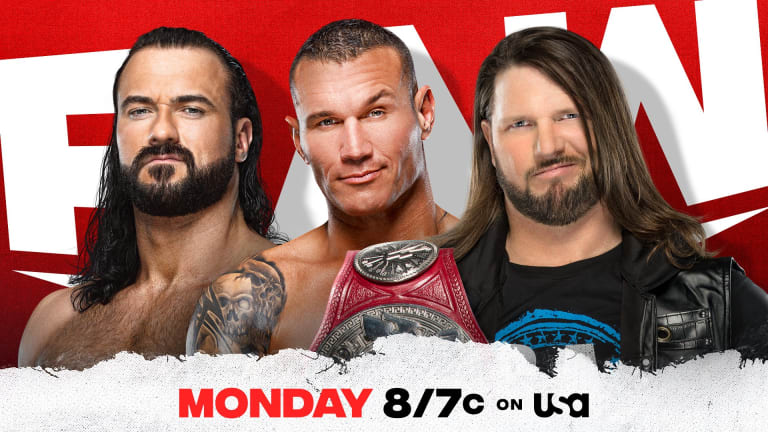 WWE Raw LIVE coverage and commentary (06.28.21)
Things are heating up on WWE Monday Night Raw, whereas Kevin is heating up a frozen burrito before covering it LIVE tonight.
(If you are following along live with the show - and thank you very much if you are - you may need to refresh the page once or twice to get the latest updates. All - or most, anyway - updates will be timestamped in Central time as we report them. If you need a transcript of tonight's coverage, wait until the show is over, highlight all the text, hit CTRL-C on your keyboard, open a text program, then hit CRTL-V.)  
Hey yo and *Too Sweets all of you over the Internet*, my fine feathered friends, and welcome to another edition of WWE Raw LIVE coverage here at the finest website to ever use the color blue, Wrestling News World. My name, as usual, is Kevin Christopher Sullivan (the "Christopher" is silent), and I'll be doing my best to keep you up to date with everything that happens during tonight's show.
Now, for you new kids, just a heads up. If you're looking for a play-by-play, move-by-move description of each match tonight, well, this ain't it. However, if you want to keep up with the important moments during the show, see who lives and who dies... sorry, wins and loses... or looking for some goofy commentary of the show as you watch it yourself, well... this ain't it. No, wait, yes it is. That's exactly what this is.
Now, over on Twitter Dot Com, I have myself a list of various different accounts that are related to tonight's show. They're official WWE accounts, accounts of wrestlers (and not just WWE wrestlers), wrestling media personalities from both WNW and beyond (props to my homies over at Sportskeeda!), and all sorts of other fan accounts. If you'd like to see your Tweets included in our coverage and be added to said list, just shoot me a message at @HeyImKevinSully. If you want, feel free to add #WNWRaw to your Tweets about tonight's show if you're also following along.

Finally, if you scroll down, you'll see the usual comments section - and I encourage you all to voice your opinions of the show. I also include some impromptu Twitter polls, as well, so keep your eyes out for those.
Anyway, showtime will be here before you know it, and that's when I'll see you guys! Enjoy!
---
Oh, and for a preview of tonight's show, check out WNW's look at what's up ahead for us!
---
(8:53pm) As Rhea Ripley is introduced and she joins Mandy Rose and Dana Brooke (happy sigh), they cut to an earlier backstage interview, but Rhea gets cut off early because everyone starts fighting.
(8:46pm) It sounds like we're heading into the six-woman tag team match for tonight. 
These next Tweets have bad words, but they're from the WNW staff so I'm going to post them.
(8:42pm) Morrison is out of the ring and sitting on the security barricade, and Ricochet flings himself out of the ring and onto Morrison and into where the crowd would normally be! HOLY S***! And the two men are counted out.

RESULT: Ricochet vs John Morrison ends in a double countout.
This instant replay is brought to you by Ryback's favorite restaurant, Applebee's.
Come on, guys. Who ya got?

(8:34pm) Both men are on the floor, and Miz pulls his wheelchair in-between the two of them, trying to protect Morrison. Ricochet simply leaps off of Miz and hits Morrison with a Hurricanrana, then shoots Miz with another squirt gun, COMMERCIAL TIME.
(8:26pm) Meanwhile, Morrison is pushing Miz in his wheelchair backstage, when they're approached by McKenzie for an interview. Just as they look away, however, McKenzie has been replaced by Ricochet, who has used his speed to snag Morrison's "drip stick" water gun from him, blasting both him and the Miz with... well... water... but they sell it like it's battery acid.
(8:22pm) Asuka nearly has the Asuka Lock on Doudrop, as Marie reaches out for the tag. Just as Piper gets free and reaches for the tag back, but Eva Marie jumps from the apron. So, Piper Niven hits the ropes and nails both Naomi and Asuka, then hits Asuka with a running senton and gets the win!

RESULT: Doudrop and Eva Marie defeats Naomi and Asuka
(8:12pm) Meanwhile, Eva Marie and... ugh... Doudrop (nothing against her, just that name) are heading to the ring for a rematch from last week.
(8:08pm) Kofi and MVP with a war of words. Kofi brings up how MVP has been milking his knee injury for months, and MVP tells him that if he was medically cleared, he's beat Kofi up. Kofi decides to leap over the top rope, nail MVP with a TIB, and show him a thing or two about a thing or two. Then screams at him.
(8:01pm) Kofi Kingston tells us all that he's going to make Bobby Lashley pay at Money in the Bank and take everything from him.
(7:53pm) Xavier Woods is awesome and a guy I wish would be best friends with me but, kayfabe wise, Woods challenging Lashley to a Hell In A Cell match was really kind of stupid.
(7:49pm) Alexa trying to hypnotize Nia, but Reginald runs to her rescue. Alexa kicks both of them, with the same leg, to the ground, and then walks her way to the back.

Meanwhile, Nikki rolls up Shayna and gets the win!

RESULT: Nikki Cross defeats Shayna Baszler
(7:43pm) Nikki Cross knocks Shayna out of the ring... and then music hits. It's Alexa Bliss - with a new theme - distracting Shayna, Nia, and Reginald... which is the perfect opportunity for Nikki to leap over the ropes and onto all three of them.
(7:40pm) Nikki Cross vs Shayna Baszler kicks off.
(7:34pm) Following an interview with AJ Styles, where he talks about how his odds are good for his match tonight, as Riddle was just in a battle royale and Drew is still banged up with his match with Lashley, we get an interview with Nikki Cross. Cross tells McKenize that she "aspires to be a hero" and she's "almost a superhero." Then heads to the ring.
(7:24pm) Nikki Cross is taking on Shayna Baszler tonight, and tells Nia and Reggie that after she beats Cross, she's gonna beat up Alexa, too. They walk away and we see Alexa in the background. She clearly heard that (and, also, shouldn't have been surprised, I mean, that's how wrestlers talk)
(7:19pm) Riddle manages to get Priest over the top! 

Riddle wins the Battle Royale and goes on to the qualifier match later tonight.

Randy Orton's music plays rather than Riddle's.
(7:17pm) Riddle and Priest are the last two.
(7:16pm) Cedric out (via Damian Priest)
(7:15pm) Jeff Hardy, Cedric Alexander, Damian Priest, and Riddle are left.

Nope, wait, Cedric just eliminated Hardy (out)
(7:14pm) Oh, hey, there's Damian Priest!

And he just eliminated Jinder Mahal (out)
Looks like I'll have to alter that Twitter poll following this match...
(7:10pm) Omos comes to the ring and pulls both Viking Raiders (out) to the floor. Then beats them up as we go to commercial.
(7:08pm) R-Truth and Akira Tozawa out... and Drew Dulak races in to pin and get the 24/7 Championship!

Then R-Truth pins Gulak!

Then Tozawa pins Truth!

Then.... no, that's it.
(7:07pm) Angel Garza is ou... nope! Hopping on one foot, he scoots back into the ring, trying to eliminate Monsoor. Ali races over to eliminate Garza... then eliminates Monsoor, too.

Angel Garza and Monsoor out.
(7:06pm) Shelton Benjamin out.
(7:05pm) Drew Gulak is out.
(7:02pm) Apparently, Randy Orton can't compete in the MITB qualifier, so Adam Pearce and Sonya Deville announce that there will be a battle royale to determine who will take his place. Riddle comes racing in with a letter "written" by "Randy Orton" declaring that he wants Riddle to take his place.

Nobody's buying it (the letter started with "Aloha") but Riddle's in the battle royale instead.
(7:01pm) EXPLOSIONS!
(7:00pm) WWE. THEN. NOW. FORSOOTH!