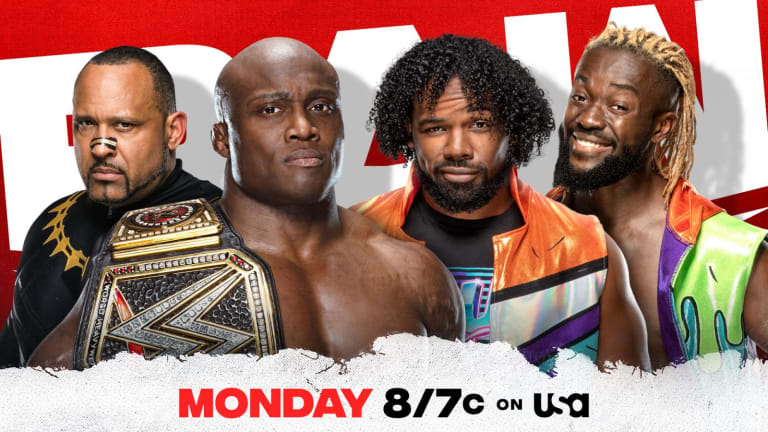 (If you're following along live - first, thank you! - and also you may need to refresh the page once or twice every so often in order to get the latest updates. Updates will be timestamped as I see them, and stamps are in Central time. Thanks.)
We're less than a week away from the 10th anniversary of the Money In The Bank PPV where CM Punk won his first WWE Championship and thus giving wrestling fans yet another annoying thing to chant during matches they consider boring. 

It IS catchy, though.
Hey, kids. Kevin Christopher Sullivan here. You can call me Kevin. Or Sully. Heck, you can call me John Jacob Jingleheimer-Schmidt if you want, as long as you're interacting with me.  On second thought, maybe don't call me that. I would probably get confused. Whatever. Tweet at me @HeyImKevinSully, use the hashtag #WNWRaw, or use the comments down below. Come say hi.
Tonight is a night of lasts on Raw. It's the last Raw before Sunday's Money in the Bank PPV. It's the very last (for now, anyway, unless those Delta Variant boogeyman stories turn out to be true) Raw from the ThunderDome. The last... er... that's about it, I think. Let me know if I forgot something. Tweet, hashtag, comments - that old chestnut.
Well, I'm gonna go finish my Spaghetti-Os and pour me a full glass of ethyl alcohol and Everclear and watch my life flash before my eyes I mean Raw, watch Raw. Have fun! See you in there!
---
That's our show! What did you all think? Some really solid matches and now it looks like Lashley/Kingston is going to be intense.

Thanks for hanging out with me tonight. I'll see you guys on Friday and then on Sunday for Money in the Bank! Until then... I'm outta here.
(9:59pm) Lashley is gonna beat up Kofi Kingston on Sunday, he says. He sounds like he means it.
(9:58pm) Bobby tells MVP that "this bulls*** needs to stop NOW!" and then destroys all the furniture in the ring as if the furniture ran over his puppy or something.
(9:57pm) Lashley sends the ladies out of the ring, and then yells at MVP, blaming him for his recent losses.
(9:56pm) Lashley finally comes to the ring, looking very glum. Maybe he's worried about Hamburgo Camino.
(9:55pm) MVP introduces Bobby Lashley to the ring but no Lashley. Where could he be??
(9:49pm) The VIP Lounge w/ special guest WWE Champion Roberto Lashlinino will be on right after these commercial messages.
(9:47pm) It looks like Charlotte really did a number of Ripley's knee. WILL SHE BE 100% BY SUNDAY FOR HER MATCH?!!1
(9:46pm) Charlotte attacks Rhea after the match and how was Rhea not even, like, kind of expecting that? 
(9:45pm) Rhea Ripley with the Riptide and this one's ovah.

RESULT: Rhea Ripley defeats Natalya
(9:44pm) Natalya gets the Sharpshooter on Rhea, but Rhea flips her over into the turnbuckles.
(9:38pm) Natalya takes a tumble to the floor. Rhea charges at her as Tamina is trying to help her partner up and I think you can see where this is going.
Why do champions always hold up their belts to their opponents? Like, you know the challenger is like "Yeah, I KNOW you're the champion, dumbass. That's why we're having the match. Put that thing down."
(9:34pm) Rhea Ripley is in the ring and she's going to have a wrestling match against Natalya, who is now coming to the ring. And so is Tamina. Because they are friends.
(9:26pm) Drew McIntyre says stuff.
(9:17pm) Natalya says she wants to be the first woman to hold all the WWE women's division championships at once. She's got Raw Women's Champion Rhea Ripley tonight. Mandy Rose and Dana Brooke make fun of her and Tamina and Tamina pushes Dana Brooke and Brooke wants to fight but Mandy stops her and tonight's Raw coverage is brought to you by run-on sentences.
(9:14pm) Riddle races down on his scooter and knocks Miz over. It's enough of a distraction that Ricochet can hit the recoil. Morrison still kicks out.

But, then he rolls out of the ring and onto a propped up horizontal ladder and Ricochet with a Frog Splash ONTO MORRISON. THROUGH THE TABLE. FOR THE WIN.

RESULT: Ricochet defeats John Morrison
(9:13pm) Ricochet rides the back of Miz's wheelchair down the ramp and uses it to leap onto Morrison!
(9:11pm) RIcochet attempts to throw Morrison into the video screen on the top of the ramp but forget that it's just, like, a projector screen and not an actual monitor so it was like he interrupted a school flipstrip.
(9:10pm) Holy crap, watch this you guys.
(9:05pm) Morrison struggles to get to his feet on the floor, and Ricochet is apparently tired of living as he bolts across the ring, jumps to the top turnbuckle, then to the top of the ringpost and then a FRIGGIN' SHOOTING STAR PRESS (because of COURSE he did) onto Morrison and now they have both died I think.
(9:04pm) Ricochet leaps off the security barricade and just NAILS Morrison with a 450 splash onto the concrete-though-covered-with-a-mat floor!
(9:02pm) Did you guys know that John Morrison does parkour? Because he totally does Parkour.
(9:00pm) John Morrison is beating up Ricochet.
(8:52pm) Riddle is the greatest.

Anyway, Ricochet and Riddle (that sounds like the greatest accounting firm ever) are talking about Money in the Bank, and Miz and Morrison sneak up on them and squirts the two of them with a Drip Stick and then run over Riddle's foot with Miz's wheelchair.

Richard O'Shea vs Jonathan P. Morrison IV, Esq. in a Falls Count Anywhere match, NEXT!
I SWEAR I didn't mean to type "Hamburgo Camino" but now I can't stop laughing.

Speaking of not stopping, Sheamus is still attacking Hamburgo! He's about to stomp on his face, but Damian priest tells the music guy to play his music and then runs out to save him!
(8:47pm) It looks like Humberto is going to try and compete after all! He limps to the ring and Sheamus kicks him in the face and wins.

RESULT: Sheamus defeats Hamburgo Camino.
(8:39pm) Sheamus does to Humberto Carrillio what I thought Bobby Lashley was going to do to Xavier Woods and attacks him backstage to the point that the backstage guys need to shout "get medical!" Damian Priest happens to walk by says "that's a shame." OK, no he didn't. But he DID walk by
(8:33pm) The New Day and Lucha House Party have a nice pleasant conversation and then a reporter comes over and tells them that Bobby Lashley has come back to the ThunderDome. Woods and Kofi don't seem concerned.
(8:28pm) Sheamus has a broken nose from Humberto Carrillio and he's mad about that and about how he has to defend his US title against him tonight. So, he's yelling at Pearce and DeVille about it and then the segment just sort of ends. I think. I'm gonna go get a beer.
(8:25pm) Ivar charges up and nails running clothesline after running clothesline, and just as it looks like he's gonna clothesline him over the ropes, Omos hits his OWN running clothesline then does a two handed chokeslam and pins Erik and wins and that might be the most times I've ever typed "running clothesline" in one sentence.

RESULT: Omos beats Erik.
(8:24pm) He's also really strong, as he's got Erik in a bearhug and it's working. That, or Omos is a hugger.
(8:22pm) Holy f***, Omos is tall.
(8:16pm) Ok, so THAT didn't happen. I can't ALWAYS be right, you guys. Styles working on Ivar's leg which now I'm thinking maybe A.J. shouldn't have mentioned his match strategy out loud.

And, of course, my kid steps on a Lego and screams bloody murder and I raced up stairs to make sure she was OK and then chastised her for leaving Legos on the floor especially because WE TALKED ABOUT THIS EARLIER TODAY and, anyway, I missed the ending but Ivar won.

RESULT: Ivar defeats A.J. Styles
(8:15pm) Well, Ivar is pretty much decimating A.J. right now, which probably means we're going to go to a commercial and when we get back, Styles will have the advantage.
(8:12pm) A.J. insists that he's going to break Ivar's leg with the calf crusher, and I guess "crushing" is technically "breaking" so OK. Oh, also, tonight is Omos's first WWE singles match! Good luck, sweetie! Don't forget to wave to your parents!
(8:11pm) "Salmonella infested" is the type of insult you get when you don't script everybody's promos, you guys.
(8:05pm) We get an interview with the Viking Raiders, who are challenging for the Raw tag team championships, held by A.J. Styles and Omos. Erik will be taking on Omos, Ivar against A.J. tonight in singles matches.

Ivar takes issue with A.J.'s comment about them being "smelly barbarians", insisting they have excellent grooming habits. Then Erik says something, I dunno. I'm surprised one of them didn't shout "WHAT A RUSH!" at the end of that.

I'm only teasing, I love the Viking Raiders.
(8:02pm) Nikki reverses an Asuka Lock into a back roll-up, sits her weight down onto Asuka's legs, and gets the pin!

RESULT: Nikki A.S.H. wins the fatal four way.
(7:52pm) After a fun little spot between Nikki and Alexa, Eva Marie and Doudrop make their way to the ring for some reason. Alexa sees the two and begins to slink toward them on the entrance ramp. Doudrop steps in beterrn the two, trying to casually chat the spooky Bliss, but Alexa walks right by her. Marie takes off her shoe to use as a weapon to defend herself, Alexa screams at her, and Piper grabs Alexa and tosses her into the "crowd."

However, when Eva Marie look over the barrier, she's not there.
(7:40pm) Nikki A.S.H. and Riddle meet up backstage and Riddle does more of his dopey stoned guy act and I'm all about it. Also, there's a Fatal Four Way between her, Asuka, Naomi, and Alexa Bliss. After we watch 13 commercials for the new Space Jam movie.
(7:38pm) Oh, look, I was right.
(7:27pm) Jinder has stolen Drew McIntyre's sword but I'm sure NOTHING will happen to Jinder's motorcycle that the announcers keep mentioning is his "prized possession."

Meanwhile, it's time for Alexa's Playground with Eva Marie and Doudrop and I'm already annoyed. 
(7:25pm) Kevin Patrick makes the first Dumb Reporter Interviews Angry Dude Who Just Lost segment. MVP tells him that Lashley has left the building, but he'll be back.
This is also the point that I remind everybody that a) Raw is about more than the matches, b) there's a lot of Raw left and c) Lashley is probably going to destroy Woods backstage before the end of the show. Hell, I'd say before the end of the hour.
(7:20pm) Coming up next - Eva Marie and Doudrop are the guests on Alexa's Playground which I'm betting is going to be a nice, civil chat and nothing ridiculous will happen whatsoever.
(7:18pm) After all of that, Woods manages to steal a win with a small package! 

RESULT: Xavier Woods defeats Bobby Lashley
(7:17pm) Lashley picks up Woods into a Fireman's Carry and then just tosses him into the ring post. Ouch.
(7:14pm) Woods is trying to make a comeback here, reversing a side slam into a tornado DDT - then follows it up with a somersault plancha onto the floor because that sounds like the right follow-up. :/
(7:09pm) Xavier is tossed out of the ring and eats a mouthful of ring steps and Lashley lifts him up and drops him face-first.
(7:07pm) And we're kicking off the action with Xavier Woods taking on the WWE Champion and guy who is probably about to murder Xavier Woods Bobby Lashley.
(7:02pm) Raw starts out with a recap of the Hurt Business/New Day feud. 
(7:00pm) WWE. THEN. NOW. In memory of "Mr. Wonderful" Paul Orndorff.