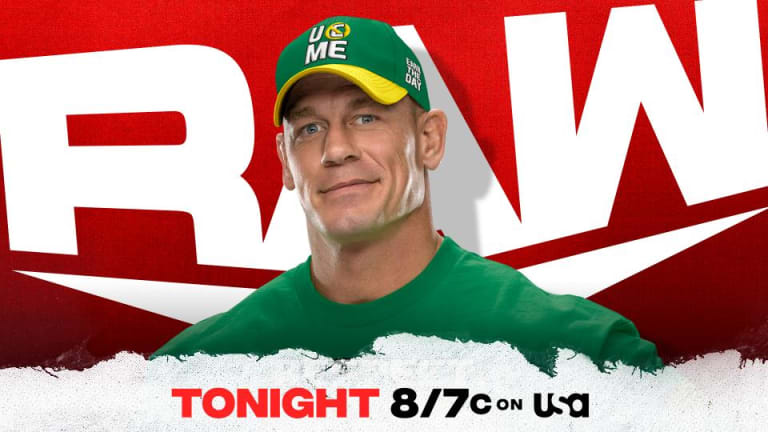 WWE Raw LIVE coverage and commentary (07.19.21)
Oh, God, John Cena is here. What the heck does *he* want?
(Thanks for joining us for our live coverage of WWE Raw. If you're following along live, you will need to refresh the page once or twice every so often to get the latest updates. Updates will be timestamped [Central time] to help keep track of events. Opinions expressed during this coverage are those of either Kevin Christopher Sullivan or the authors of any social media posts shared here, and are not necessarily those of Wrestling News World.)
---
Howdy, farmers. Kevin Christopher Sullivan here with you on this (insert what the weather is like where you are right now) Monday evening for tonight's episode of WWE Monday Night Raw. I'll be doing my best to keep those of you who can't watch abreast of what's happening and providing commentary for those of you who are watching. See, Dad? I can multi-task! Nyaaaaaaah! :P
Tonight, we've been informed that Raw is going to kick off with John Cena doo doodoo doooooooooo making some remarks after confronting Roman Reigns last night. Roman Reigns, who is the champion on SmackDown. OK. Whatever. It's wrasslin'. Let's not make a federal issue out of it. 
Hey! You wanna hang with the cool kids? Well, I don't know how you can do that, but you can hang with us if you want. There's three ways. You can:
---
* Twitter: Shoot me a message at @HeyImKevinSully. If you do, I may just share it here during our coverage. Also, use the hashtag #WNWRaw.
* Comments section: Go post things in the...er... comments section. It's down there.
* Chat room: We have a chat room! Go to it here. Please. Sorry. Wasn't trying to be bossy. 
---
So, with that out of the way, I'll see you guys at showtime! Coverage begins below - most recent events first so if you need to catch up with anything, scroll on down. 
---
So, you ask, what did *I* think of tonight's show? Well, I'm glad you asked. The first two hours were really entertaining. It was actually good to see John Cena back, and I'm looking forward to seeing him confront Roman on Friday. That last hour, though, that made things dicey. 

I'm an unapologetic huge Keith Lee fan, and seeing him lose is never fun for me. However, he still looked good and he was up against a WWE Champion who is being presented as an unstoppable force. And the announce team did a great job of making Lee sound awesome. And, I'm also an unapologetic Goldberg fan, so I don't need to go into that.

Karrion Kross's Raw debut was dumb. I get that they WWE needed to pad the rosters this week, and they have big plans for Kross, but having him lose to Jeff Hardy (which, in of itself, is nothing to be ashamed of) in the manner he did is just stupid. I hope they know what they're doing.

And, finally, Nikki A.S.H. cashing in to win the Raw Women's Championship? Dope. As. F***. Congratulations, Nikki. 

Anyway, that was tonight, and I hope you all enjoyed yourselves. I will see you all on Friday. Until then, I'm outta here. Stay fresh, cheese bags!
(10:00pm) Rhea lays into Charlotte out of frustration. Suddenly, Nikki A.S.H.'s music hits and she's cashing in! Top rope cross body block and Nikki WINS! NEW CHAMPION!

RESULT: Nikki A.S.H. defeats Charlotte Flair and is the NEW Raw Women's Champion!
(9:58pm) Charlotte grabs her belt and starts to head to the back. Rhea chases after, and Flair nails her with the title, causing the DQ.

RESULT: Rhea Ripley defeats Charlotte Flair by DQ
(9:41pm) Ripley vs Charlotte is up next. I'll let you know if anything worthwhile happens. Don't hold your breath.
Well, I'm out. No, not really, but this has gotten really shitty really fast.
(9:29pm) Kross says that Hardy has "made the biggest mistake of his life."
(9:27pm) Hardy with a Twist Of Fate and then misses a Swanton Bomb. However, Hardy rolls him up and puts his feet on the ropes like a goddamned cheater and gets the pin? Gross.

RESULT: Jeff Hardy defeats Karrion Kross
(9:25pm) Hardy comes to the ring to "No More Words", his old theme music. 
(9:19pm) NXT Champion Karrion Kross comes to the ring - without Scarlett - so my attention has lessened. And he's taking on Jeff Hardy.
(9:15pm) Shanky is singing a weird-ass birthday song to Jinder, but Drew comes in with a chair and beats everyone up with it.
(9:13pm) It's Jinder's birthday.
(9:05pm) Oh, hey guys. Goldberg is here.
(9:03pm) It doesn't matter, though, as Lashley nails him with a spear and gets the win.

RESULT: Bobby Lashley defeats Keith Lee
(9:02pm) Lashley with a spear outside of the ring and then tries to apply the Hurt Lock on Lee, but Lee's is just too damn big.
(9:00pm) After a flurry of offence, Lashley finally gets the advantage and starts to maul Lee. Lashley tries to suplex Lee over the security barricade, but Lee fights out and pushes the champ into the ring post.
(8:58pm) It looks like this isn't a title match but who cares?! Keith Lee is BACK!!
(8:51pm) Bobby Lashley puts out an open challenge and KEITH LEE IS BACK!
(8:42pm) After the break, WWE Champion Bobby Lashley is holding an open challenge. Who will we see take the call?
(8:38pm) Hamburgo throws a punch at Sheamus's face, but he's wearing a steel mask and it hurts Hamburgo's hand. Then, a Brough Kick later and Sheamus wins.

RESULT: Sheamus defeats Humberto Carrillio.
(8:37pm) After a couple of shots to Sheamus's face, Humberto leaps from the top rope with a missile dropkick but only gets a 2-count with the follow-up pin attempt.
(8:30pm) Humberto has been all over Sheamus since the bell rang. Carrilio even attempts to pull Sheamus's mask off. Sheamus, though, gets some offense in and powerbombs Hamburgo onto the ring apron and then shouts "Are you not entertained?!" and I forgot he used to do that and now I'm reminded that he used to do that and now I'm annoyed.
(8:28pm) Here comes Hamburgo! He's ready to fight!
(8:27pm) Well... looks like we're going to see Karrion Kross tonight on Raw.
(8:22pm) Meanwhile, Sheamus and his silly coat come to the ring for his match against Hamburgo Camino. Commercial time.
(8:20pm) Shayna is, once again, furious at Reginald and, for once, Nia agrees with her and nails him with a headbutt. The former champs walk out of the ring, leaving Reginald alone.

Suddenly, Akira Tozawa comes running down the aisle with his 24/7 Championship, chased by the usual suspects. He slides into the ring, and finds Reginald. Reggie with some fancy flips and splashes and REGGIE IS YOUR NEW 24/7 CHAMPION!

RESULT: Reginald defeats Akira Tozawa to win the 24/7 Championship.
(8:17pm) Tamina charges at Shayna for a superkick, but Nia moves her out of the way and eats the kick. In all the confusion, Reginald accidentally distracts Shayna and Tamina finally gets that superkick in and pins her for the win.

RESULT: Natalya and Tamina defeat Shayna Baszler and Nia Jax.
(8:09pm) We're getting a new edition of Alexa's Playground with, apparently, a "very, very special guest." Ooooooh. Meanwhile, WWE Women's Tag Team Champions Natalya and Tamina head to the ring, as they will be facing Nia Jax and Shayna Baszler following these commercial messages.
(8:04pm) Rhea challenges Charlotte, and Charlotte tells her that she doesn't want to further injury Rhea's knee. Pearce and DeVille come out and book the match for later tonight. Flair doesn't like that and kicks Ripley right in the knee.
(8:04pm) "Ha ha I have your title," - Charlotte Flair
(8:01pm) Crowd chants for Becky Lynch. Charlotte says Becky is at home, breast-feeding... so we're probably not seeing her tonight.

Flair then says she can beat Rhea Ripley any night of the week - in fact, she could defeat her now if she wants. So, of course, out comes Rhea Ripley.
(7:57pm) The NEW Raw Women's Champion Charlotte Flair saunters to the ring for her coronation ceremony. Possibly a big return or debut coming up?
Also, this is apparently a thing...
(7:51pm) Monsoor is talking to Adam Pearce and Sonya DeVille, and Ali approaches them and it seems like the two of them (Ali and Monsoor, I mean) are going to be in a tag team match together tonight.

Meanwhile, Sheamus is mad about something or other and it seems like Hamburgo Camino is going to get a match against Sheamus which, if he wins, means then he'll get a match for Sheamus's United States Championship.
(7:49pm) Jaxson Ryker superplexes Elias onto a table on the arena floor and gets the win.

RESULT: Jaxson Ryker defeats Elias.
(7:45pm) Ryker and Elias slugging it out on top of a piano.
(7:41pm) Oh, apparently falls count anywhere in this type of match. 
You know, I bet there's a lot of underprivlidged children that would really appreciate those musical instruments that Elias and Ryker and destroying right now.
(7:36pm) Oh, it's a Symphony of Destruction match. Well, that certainly makes it better. I guess. Anyway, the bell rings and Ryker is beating up Elias. 
(7:34pm) Oh, hey, it's another Elias vs Jaxson Ryker match. Whee.
(7:28pm) Riddle races around to the other side of the ring, grabs a Drip Stick near Miz, and sprays Omos with it... then runs away, making it look as if Miz sprayed him.

Omos goes after The Miz, with AJ trying to calm him down. Meanwhile, the Raiders hit the Viking Experience on Morrison and get the win!

RESULT: Riddle and the Viking Raiders defeats AJ Styles, Omos, and John Morrison.
(7:27pm) Ivar hits Morrison with a Bronco Buster, than goes for a moonsault - Morrison moves! Morrison goes for Starship Pain (still one of the greatest move names ever), and he misses!
You see the kind of conditions I have to work under, people. The puns. THE PUNS!
(7:19pm) Morrison leaps over the ropes in an attempt to hit a Hurricanrana on Erik, but Erik catches him. Morrison escapes but eventually ends up the meat in a Viking Raiders sammitch. Riddle comes over for a high forearm. Suddenly Omos tosses a running AJ over the ropes and into their opponents, just like they did last night. And now it's commercial time.
(7:15pm) WWE Champion Bobby Lashley is holding an open challenge tonight

The next match is Riddle and the Viking Raiders vs AJ Styles, Omos, and "America's Moist Wanted" John Morrison.
(7:10pm) Ha ha Riddle nearly hits Cena with his flip-flop. He's clearly so excited to be there with Cena, it's adorable. No, seriously, it really is. LOL
(7:09pm) Cena also says he'll be at SmackDown this Friday and then welcomes Riddle to the ring... BRO.
(7:07pm) Cena has officially declared he wants to face Roman Reigns at SummerSlam and then calls him a name that has to be bleeped out because it's only the first hour of Raw.
(7:05pm) John Cena says he's here to explain why he showed up last night. 
(7:02pm) This crowd really likes John Cena. DOO DOODOO DOOOOOO
(7:01pm) DOO DOODOO DOOOOOO