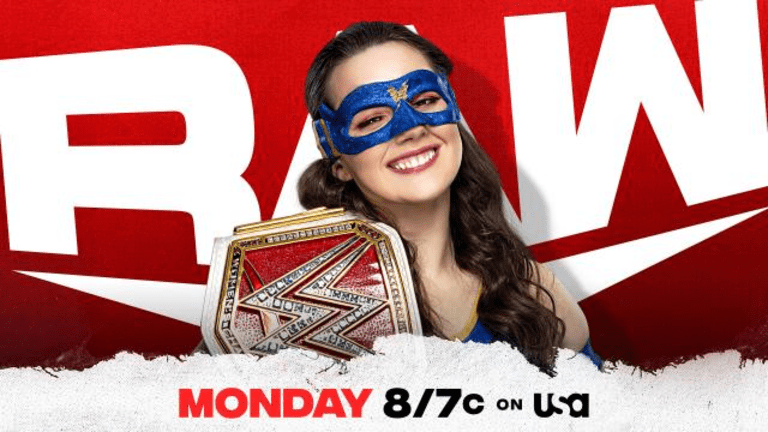 WWE Raw LIVE coverage and commentary (07.26.21)
It's Monday! Who's ready for Monday Night Raw? I mean, other than *you*, Todd!
(Thanks for joining us for our live coverage of WWE Raw. If you're following along live, you will need to refresh the page once or twice every so often to get the latest updates. Updates will be timestamped [Central time] to help keep track of events. Opinions expressed during this coverage are those of either Kevin Christopher Sullivan or the authors of any social media posts shared here, and are not necessarily those of Wrestling News World.)
---
Hey everyone! Kevin Christopher Sullivan here, and it's time for Monday Night Raw! 
I'm running a little behind, so let's get things going! See you in a bit!
---
There's your show. Dragged a little bit here and there, but some good matches here and there, as well. Hopefully, we'll get more next week. *fingers crosses*

Thanks for coming by and hanging out, friends. I'll see you on Friday for SmackDown. Until then... I'm outta here.
(9:59pm) Nikki challenges Charlotte to a rematch next week, and Charlotte accepts. Then, Charlotte attacks her and beats her up as the credits roll.
(9:56pm) Nikki leaps from the top rope for a flying cross-body, but Charlotte reverses it for a pin and gets the win!

RESULT: Charlotte Flair defeats Nikki A.S.H.
(9:45pm) Charlotte tries to rip Nikki's mask off of her face, as if she's rey Mysterio or something.
(9:44pm) We're at our final match of the night, Charlotte Flair vs Raw Women's Champion Nikki A.S.H. in a non-title match.
(9:35pm) Reginald pins R-Truth following some flippy stuff and a flipping senton - all the while R-Truth on the headset mic is cracking us up during the match.

RESULT: Reginald defeats R-Truth
(9:24pm) Oh no! Omos and AJ break RIddle's scooter! The unmitigated audacity! It's enough of a distraction for Morrison to hit Starship Pain and get the win.

RESULT: John Morrison defeats RIddle.

And AJ Styles continues the attack on Riddle as the crowd chants "Randy!"
(9:23pm) John Morrison vs Riddle carries on, and the Raw tag team champions Omos and AJ are at ringside now, too. What the what?
(9:06pm) Lashley demolishes both of them and pins them both at the same time.

RESULT: Bobby Lashley defeats Cedric Alexander and Shelton Benjamin
(9:00pm) Bobby Lashley and MVP are in the ring, addressing Goldberg's challenge. Before he can say anything of substance, Cedric Alexander comes out and wants a shot at Lashley. So does Shelton Benjamin. Lashley decides to take them both on at the same time..
(8:51pm) Monsoor and Ali pull off the win when Monsoor sneaks his way out of a chokeslam from Mace, and rolls him up for the pin!

RESULT: Monsoor and Mustafa Ali defeats Mace and T-Bar
(8:48pm) Oh, hey, it's the former leader of RETRIBUTION vs two former members of RETRIBUTION and teaming with... some guy who has nothing to do with RETRIBUTION.
(8:41pm) Mace and T-Bar have an actual entrance! Wow. They're going to face Mustafa Ali and Monsoor after the break.
(8:37pm) Kross with an elbow to the back of Lee's head, then slaps the Kross Jacket on Lee once again, getting the win.

RESULT: Karrion Kross defeats Keith Lee
(8:35pm) Kross with the "Kross Jacket" on Lee, but Keith fights his way out of it!
(8:34pm) Kross with the upper hand so far in this match but, let's be honest, nobody's going to be happy no matter who win.
(8:28pm) Both Karrion Kross and Keith Lee each took a loss last week on Raw and pissed the Internet off, and now they're fighting each other on Raw.
(8:25pm) Kross comes out first... again without Scarlett... for some reason.
(8:24pm) Keith Lee is taking on Karrion Kross? On Raw? Next?

What the hell is happening?
(8:20pm) Tamina with a superkick on Eva Marie following a distraction from Alexa Bliss on the Titantron, and gets the pin.

RESULT: Natalya and Tamina defeats Eva Marie and Doudrop

Looks like Natalya's hurt, as she needs help getting to the back. She looks like she's still in good spirits, though.
(8:11pm) Eva Marie and... sigh... "Doudrop" take on the WWE Women's Tag Team Champions Natalya and Tamina in an attempt to earn a title shot against... that same team.

I need a nap.
(8:09pm) Drew then beats up Jinder's lawyer as Veer and Jinder hightail it out of there.
(8:07pm) Veer grabs a chair from Jinder, which causes a DQ, and Drew drives a Claymore into the chair and into his face.

RESULT: Drew McIntyre defeats Veer by DQ for some reason.
(8:03pm) "Drew is gonna kiiiiiiiiill yoooooooooou." Well, that's not nice.
(8:02pm) Drew ain't apologizin'.
(8:00pm) Jinder comes out and introduces his personal attorney and announces he is going to sue Drew for his attack on Shanky the week before.
(7:55pm) Coming up after the break, Drew McIntyre is taking on Jinder Mahal's flunky, Veer.
(7:52pm) After Omos destroys Erik, he tags in AJ, who leaps off the ropes with a 450 Splash and gets the pin.

RESULT: AJ Styles and Omos defeat The Viking Raiders.
(7:50pm) Ivar grabs Omos by the leg, distracting him long enough for Erik to go for the pin on Styles. AJ still kicks out, and AJ tags in the giant!
(7:48pm) Wow... AJ leaps over the ropes, going for a Phenomenal Forearm, but Ivar cartwheels out of the way!
(7:42pm) As the Raiders start their match out, I invite you to check out my new weekly column here at Wrestling News World, The Sullivan Segment. Check it out here!
(7:38pm) Following the ad break, the Viking Raiders get one more shot against AJ Styles and Omos's Raw Tag Team Championship.
(7:35pm) Sheamus tries for that Ten Beats of the... however that's spelled... but Priest with a kick straight to his nose! A Reckoning (the move, not Mia Yim) later and Priest picks up the win!

RESULT: Damian Priest defeats Sheamus to earn a shot for the United States Championship.
(7:34pm) Damian Priest with a flurry of offense, but Sheamus counters with a Brough Kick! Still.. only a 2-count.
(7:32pm) Priest with a roundhouse kick on Sheamus and the champion's mask comes off! Oh my.
(7:27pm) Oh god, Sheamus is still yelling "Are you not entertained?!" again.
(7:24pm) US Champion Sheamus is here and he's taking on Damian Priest. This should be pretty good, honestly.
(7:17pm) Adam Pearce and Sonya DeVille are out, and declare that at SummerSlam, it'll be a Triple Threat Match between these three ladies. Charlotte doesn't like that and wants a match against Nikki tonight.
(7:13pm) Flair insists that the title was stolen from her, and she'll get it back at SummerSlam. Then, she blames the fans for losing the title, including Hawaiian Santa. Also, Rhea Ripley comes out.
(7:11pm) Charlotte doesn't think Nikki deserve to be a champion, and points out that when Nikki showed up on The Today Show, and Al Roker laughed at her! Forgetting the fact that Al Roker laughs at everything.
(7:08pm) Charlotte is on her way out and Nikki doesn't seem too surprised.
(7:06pm) The new champion gets to introduce the show! The crowd gets to chant something ("You dee-seerve it!")! It's very touching.
(7:04pm) Nikki ASH is the new Raw Women's Champion and she's HERE... right now!