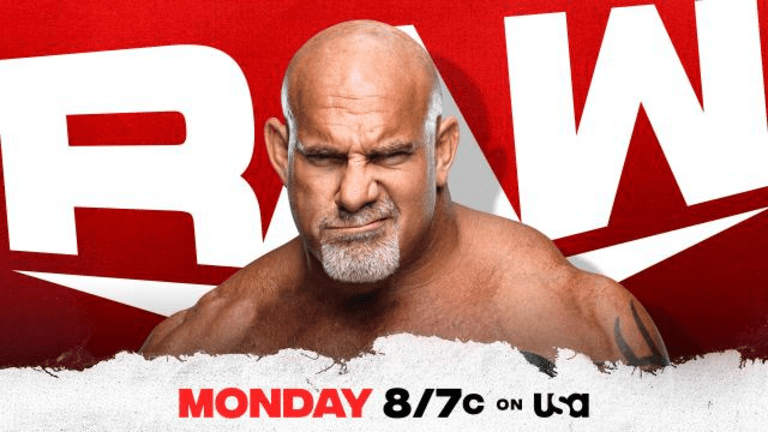 WWE Raw LIVE! coverage and commentary (08.02.21)
Goldberg looks like he's thinkin' 'bout 'taters in this photo. Mmmmmm, 'taters.
(Welcome to our live coverage! If you are following along live, you may need to refresh the page once or twice for the latest updates. Updates will regularly be tagged with a timestamp [in Central time]. If you have any questions or comments, just keep them to yourself, you big crybaby. All opinions are those of either Kevin Christopher Sullivan or the authors of any social media posts shared here, and not necessarily those of Wrestling News World or its staff. Please have your pets spayed or neutered.)
---
Hey fam, Kevin here. Who's ready for some WWE Monday Night Raw? Well, I sure hope I am, seeing as how I'm covering it live and all. Otherwise, this is gonna be a long three hours, yanawwhamean? Word. I'm sure I'll be fine.
Raw is LIVE from the Allstate Arena in Chicago, IL, a city known for its well-behaved and in no way outspoken live wrestling crowds. 
Even if you're already watching the show on TV tonight, we encourage you to hang out here and let us know what you think - either via Twitter (@HeyImKevinSully) or the comments section below. I'll reply back. 
With that being said, grab yourself a plate of 'taters and a can of PBR and get ready to watch WWE Raw with us!
---
(7:56pm) Monsoor and Mustafa Ali have a rematch against Mace and T-Barr, who they defeated last week. While the two certainly worked well together, a momentary lapse in communication gives their opponents an opening and the former RETRIBUTION members get the win.

RESULT: Mace and T-Barr defeat Monsoor and Mustafa Ali.
(7:44pm) It looks like Shayna and Nia are going to throw down, but Baszler decides she's over it and rolls out of the ring.

Rhea sneaks back in and attacks Jax again.
(7:42pm) Baszler leaps to the apron to distract Rhea, and Rhea goes after her. Nia charges at her, but Rhea moves and Jax nearly crashes into her partner. Rhea uses the opportunity to roll Jax up and gets the pin.

RESULT: Rhea Ripley defeats Nia Jax.
(7:41pm) Nia is busted open.
(7:33pm) Nia Jax and Rhea Ripley are having a match. Against each other. Nia Jax has bed head.
(7:27pm) Now all three dudes have chairs and are cornering Drew in the, er, corner. So, McIntyre pulls out his sword and all three of them hightail it out of there - and out of the building.

(7:25pm) Jinder's henchmen spend the beginning on the match beating up Drew, but McIntyre eventually gets the upper hand and is about to hit Veer with the Claymore but Jinder comes in and hits him with a chair and Drew gets the DQ win.

RESULT: Drew McIntyre defeats Veer and Shanky by DQ
(7:18pm) Drew McIntyre will be taking on Veer and Shanky in a 2-on-1 handicap match. Wheeee.
(7:12pm) Goldberg goes on about Gladiators and such and yells YOU'RE NEXT SNORT GRRRR RAWR and then stomps away. 

MVP sees Goldberg's son - who has apparently aged 17 years in the span of, what, four? - in the crowd and it looks like Lashley is gonna do something but MVP just starts going on about how Lashley is gonna assassinate his dad or something. Goldberg doesn't like that so he spears MVP and then he and his son go to the back.
(7:07pm) MVP goes on for about five minutes regarding Goldberg, so Goldberg decides to just come on out anyway. The crowd, who was loudly booing upon hearing Goldberg's name is suddenly now chanting it. Weird.
(7:01pm) And we kick things off with WWE Champion Bobby Lashley.
Oh, there we go.
(7:00pm) Well... the show starts with... no picture?