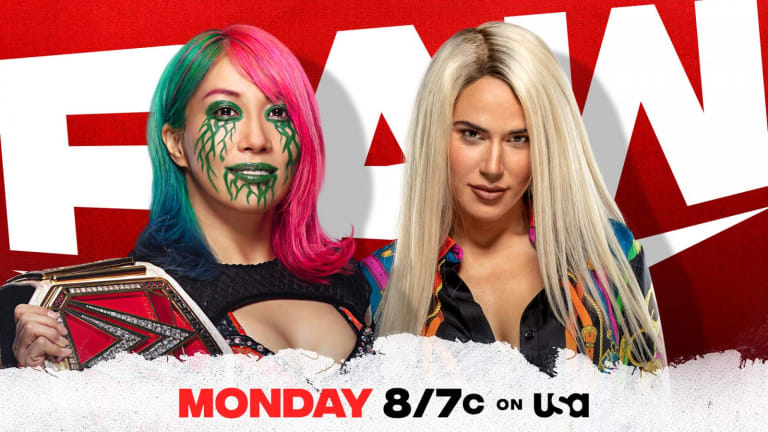 WWE Monday Night Raw "Season Premiere": LIVE coverage and results (10/19/20)
For those of you in a hurry:
Braun Strowman defeated Keith Lee
Tucker and... El Gran Gordo defeated Miz and Morrison
Kofi Kingston defeated Sheamus
Nia Jax and Shayna Baszler won a Fatal Four Way tag match
Asuka defeated Lana
The Hurt Business defeated RETRIBUTION
But there's plenty more than that which happened on tonight's television program....
Hi, folks, and thanks for coming by for Wrestling News World's LIVE (give or take how lagged my YouTube TV feed is) coverage of tonight's SEASON PREMIERE of *gravelly Vince McMahon voice* WWE Monday Night Raw! *coughing fit*
First and foremost, I'm Kevin and I'll be handling this for you all. If you're on Twitter and you'd like to chime in on what's happening during tonight's show, you can reach out to me via that very same social media platform using my Twitter "handle", @HeyImKevinSully. I may just share your post right here, assuming it's appropriate for viewing and/or doesn't contain any major classified government secrets. I'll also be sharing Tweets from various other industry-related accounts. 
Or use the comment section below. Or don't do any of that stuff. I'm not the boss of you. Anyway...
What can we expect tonight? Well, for starters, this stuff.
We'll also see one-half of the *pretend I'm swiveling my hips here* W-W-E-Raw-Tag-Team-Champions *ok, stop pretending, you look a little creeped out* Kofi Kingston taking on former WWE Champion and albino hamster turned human Sheamus. 

We're also going to be treated to Keith Lee fighting Braun Strowman, Raw Women's Champion Asuka defending against Lana for some reason, and Matt Riddle taking on AJ Styles in what should definitely be a wrestling match of some sort. Also, we'll get to feat our collective eyes and ears on a concert from Elias and a new episode of Firefly Funhouse. 
And other things, too. Probably. So, come on back in an hour and we'll get this party started.
There's going to be a Saved By The Bell reboot?
Before things really kick-off, a little shameless self-promotion...
It would appear that to go along with tonight's season premiere, Raw has a new theme song and opening signature.
And the show kicks off... with The Fiend.
Alexa Bliss waits in the ring as Bray Wyatt makes his way towards her. And... just as Bray's music cuts out, RETRIBUTION comes out. 

What?
RETRIBUTION circles the creepy couple and rush in to attack just as the lights go out. When they come back on, however, Bliss and Wyatt are gone. 

That's when the Hurt Business theme kicks in and, uh, the Hurt Business comes out. Fightin' time. 

It's also time for a commercial break and I'm sensing an 8-man tag match coming up.
Called it.
Before we get to that, let's take a look at a video package about Matt Riddle with what appears to be Grand Theft Auto IV music.
The bell rings and Bobby Lashley and T-Bone... er... T-BAR start things out. 
Tom Phillips informs us that Ali's comments that were supposed to explain why he joined RETRIBUTION last week weren't cut... Ali is apparently playing mind games with the WWE Universe or something.
Cedric Alexander and Mustafa Ali are in the ring now and Ali is showing some serious aggression to go with his heel turn. He slams Cedric right into the security barrier - hard enough that the rest of the Business hit the floor to put a stop to it.

Then the screaming that announces the appearance of The Fiend plays... and it also apparently announces another commercial break, because that's what happens.
Back from break and it's like nothing happened. 
Lashley goes for a pin on T-BAR, but Ali breaks it up. Lashley doesn't like it and starts to stalk the RETRIBUTION leader. That gives BAR enough time to grab Lashley from behind and attempt a German Suplex. Lashley gets free and slaps a Full Nelson on him, getting the win.

RESULT: The Hurt Business defeats RETRIBUTION
Nails On Chalkboard screaming again and the lights turn red. Wyatt comes out from under the ring and just DESTROYS the entire RETRIBUTION crew.
Another break, and now AJ Styles is here. And he has a new bodyguard.
The ref attempts to get AJ's buddy out of the ring, and he won't. The ref starts to count to 5, but the man (I know who he is, but I can't remember his name - he was the doorman for Raw Underground and also the really big ninja with Akira Tozawa) grabs his arm and stops the count. After some pleading, he leaves the ring and the match can start.
By the way, I'm having chicken wings delivered here in a few minutes. What are you guys eatin'? Tacos? 
Break's over and during said break, AJ hit Riddle with a gutbuster (which is probably what these chickens wings I ordered are gonna be) and now has control over the Original Bro.
Riddle is tossed out of the ring, right in front of AJ's new buddy. Riddle looks up at him in terror, as the big man makes a fist in front of him. Riddle scrambles back into the ring... and right into a Styles Clash.

RESULT: AJ Styles defeats Matt Riddle.
And now a recap of the Drew McIntyre/Randy Orton feud.
It's time for Lana (still wearing pink and black) to challenge Asuka for her WWE Raw Women's Championship.
It's Lana. How long could this possibly take?
Lana manages to actually roll up Asuka into a pin, but the champion almost reverses it into an Asuka lock. Yowzers.
Eventually, after Lana manages to pile on some actual offense, Asuka gets the Asuka Lock on her and wins.

RESULT: Asuka defeats Lana.
And Nia Jax and Shayna Baszler storm the ring and attack Asuka from behind. The Women's tag champs also take a moment to, once again, put Lana through a table. However, when they turn their attention back to Asuka, she goes full Asuka and Asuka kicks the Asuka crap out of them long enough to escape.
Nia and Shayna cutting a promo about how they're totally rad and no one can beat them and they challenge anyone to try and prove them wrong and now here come a whole bunch of thrown together tag teams wheee.
Oh, and the Riott Squad, too.
So, it's the champs vs Mandy Rose/Dana Brooke vs Peyton Royce and Lacey Evans(?) vs the Riott Squad in a FATAL FOOOOOOOOOUR WAAAAAAAAAY MAAAAAAATCH.
What was the point of taking Peyton Royce out of a tag team if they're just going to put her back into another tag team?

Nia Jax with a Samoan Drop on Evans and this match is ovah...

RESULT: Nia Jax and Shayna Baszler defeat everybody.
Elias is backstage with... his band? Whoa. Elias has a band for his concert tonight.
So... Elias and his pretend band put on a pretend concert that I spent looking for my phone. When Elias comes back to do an encore and asks for his guitar, some dude is PLAYING it! The nerve!

Oh, wait. It's Jeff Hardy, who swings the guitar at Elias and chases him off.
Now we see Miz and John Morrison talking about how they don't like Otis and then Tucker approaches them and is all like "that's not cool, grrr"
Elias wants to fight Jeff Hardy at Hell In a Cell. So that's probably going to happen.
The New New Day are here and they're having a verbal spat with Sheamus (who is taking on Kofi shortly).
Sheamus has had most of the control throughout this match but you know how Kofi works and... there we go... Kofi with a leaping boot into Sheamus's face.
Not knocking this match - it's entertaining - but, so far, it's going pretty much how you'd expect.
Sheamus slaps a Cloverleaf on Kofi and, in the process of trying to reach the ropes, Kofi manages to roll Sheamus up and get a 2 count.
Samoa Joe: "You've got to wonder how much Kofi has left!"
Xavier Woods: "He's got a lot left, Joe!"

That happened.
BIG E IS IN THE BUILDING!
SEE? I TOLD YOU!
Sheamus goes for White Noise, but Kofi squirms out and BOOM! (cuz, you know, Kofi), hits him with Trouble in Paradise.

RESULT: Kofi Kingston defeats Sheamus.
Mustafa Ali is backstage with RETRIBUTION and admits that he was the "hacker" on SmackDown. And also cuts the greatest promo of his career. Holy crap.
Titus O'Neil meets up with Hurt Business, trying to join up. Hurt Business isn't having it. They beat up Titus. Awwww.
Miz and Morrison wait in the ring for Tucker to reveal his tag team partner - El Gran Gordo.

Yeah. It's Otis in a mask. But, man, they really make it work.
Miz cuts one of his patented "I've been doing this for a really long time and no one respects me" promos and then they fight.
So, here's how that match ended....
RESULT: Tucker and El Gran Gordo defeated Miz and Morrison
Following the break, the winners celebrate their victory backstage with New Day and Mandy Rose.

And now it's time for Firefly Funhouse.
It's worth finding it on YouTube once they post it, but the new Funhouse has a hilarious segment with Ramblin Rabbit and a very special surprise visit from... well... I don't want to spoil it but you will be in BLI... yeah, Alexa Bliss shows up at the end, you guessed it. Geez. Smartass.
Looks like we're wrapping up the show with tonight's main event - Braun Strowman vs Keith Lee.
Braun starts the match off with the upper hand, smashing Lee into the corner and knocking him out of the ring and into the announce table. Still, Lee manages to get free of Braun's grasp and kicks Braun in the ribs that Braun had injured by Roman Reigns on SmackDown last Friday.
Strowman with a headbutt right into Lee's junk - ow and ick. Braun gets the win.

RESULT: Braun Strowman defeats Keith Lee
Keith ain't having that and nails Braun with a low blow of his own.

Oh man, he's switched over to Scary Keith Lee. I LOVE IT.
So, next Wednesday is NXT's Halloween Havoc (which I'll be covering over at our friend at Sportskeeda.com) and this Sunday is Hell In a Cell, which I will be covering for my friends in my living room as I usually don't work Sundays.
Anyway, Raw has ten minutes left. Let's see what this season premiere has left for us.
Well, they're lowering the Hell in a Cell cell, and Randy Orton is coming out to talk some trash inside of it, I guess.
Orton is locking himself inside the Cell... by himself.... what?
Randy, you know that if Drew wanted to attack you while you were in the Cell he could just have whoever lowered it to, you know.... raise it.
Following an absolutely (and I can't believe I'm saying this about Randy Orton) amazing promo, McIntrye comes down to the ring. He's not wearing a shirt so you know he means business.
The cage is locked and Randy is all "ha ha it's locked" but Drew is all like "ha ha bolt cutters are a thing you dofus" and cuts off the lock and chain and... oh... that's the show.
So... what did you guys think? I thought it started off pretty darn slow and then ended up pretty slightly better than OK. Anyway, that's all from me for tonight. Thank you so much for letting me help you enjoy tonight's Raw - as I always enjoy doing it. I'll see you all right here on Friday.