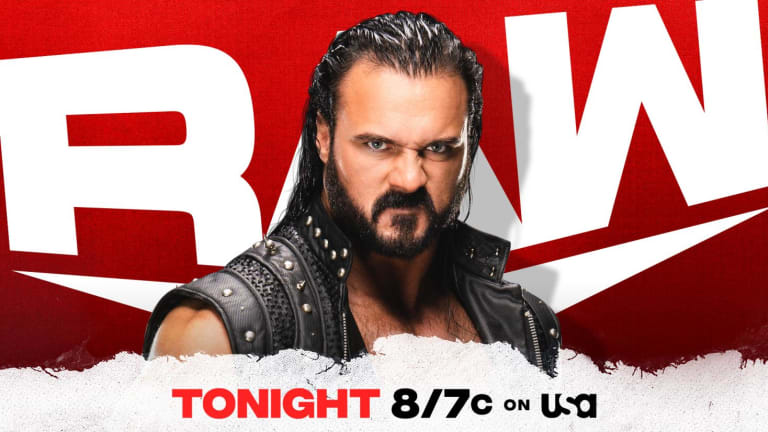 WWE Monday Night Raw LIVE coverage, commentary, and results (10/26/2020)
Tonight's post-Hell in a Cell Raw is already shaping up to be dramatic. You know what else is dramatic? A train wreck.
You may need to refresh this page to get the latest updates.
Good evening and welcome to Wrestling News World's weekly LIVE coverage of WWE Monday Night RAW! It's both the last Raw before Halloween and the first Raw following last night's Hell in a Cell PPV - the latter of which being the only one of those even slightly relevant here.
For those of you in a hurry:
Sheamus defeated Matt Riddle
Lana wins a Fatal Four Way match for a spot on Team SmackDown
Drew McIntyre defeated The Miz
The Hurt Business defeated RETRIBUTION

Keith Lee defeated Elias
Lucha House Party defeated Drew Gulak and Akira Tozawa
AJ Styles defeated Jeff Hardy
You can read WNW's preview of the show right here, and I recommend you do, but here's a few bullet points:
Former WWE Champion Drew McIntyre opens the show

Current WWE Champion Randy Orton is a guest on A Moment of Bliss

Qualifying matches for spots on Raw's Survivor Series team are tonight
So, we're about an hour away at this point, so a couple of comedy club-"turn off your phones and don't talk"- style announcements (that's just a metaphor, you don't have to follow either of those).

First, you might need to refresh the page if you're following along. Give the page a chance to catch up. You need to be understanding - it's not as if the Internet has been under development since the 1950s or something. Sheesh. 

I wanna hear from you guys! Shoot me a Tweet via, um, Twitter to my username @HeyImKevinSully and tell me what you think of what's happening on Raw, what you think about what I've been saying I think about what's happening on Raw, what you think about whatever creepy episode of whatever Dick Wolf-produced series they have on before Raw - things like that. I'll share them throughout tonight's coverage - as well as Tweets from official (and not so official) accounts.
OK... let's get ready to rumble...
Also, happy birthday to my dad!
And here... we.... go...
As we already know we're going to be opening tonight's Raw with a McIntyre promo, we get a cold open of clips from his match against Randy Orton last night.
Drew comes to the ring, claims he has no excuses for losing and that he promises he'll be WWE Champion once again. Then he quotes Rocky Balboa and addresses the fact that he's surprisingly in a good mood.
The Miz is here with his newly won Money in the Bank briefcase and his other carry-along John Morrison. 
McIntyre has had enough of Miz and Morrison's (admittedly pretty funny) jokes and lays them both out. Drew attempts a Future Shock DDT on John, but Miz clips him on his bad knee and gets his partner out of the ring - leaving behind Morrison's sunglasses. Sunglasses that Drew smashes under his boot. Drew also says he's going to have a word with management. I think. The sound mixing of this episode has been kind of garbage.
No, wait, I heard it right...
With AJ Styles - along with his heavy, Jordan Omogbehin - in the ring, about to address the crowd before his Survivor Series qualifying match against Jeff Hardy, we hear that Drew McIntyre vs The Miz is scheduled for later tonight.
Styles acknowledges his very tall buddy behind him, simply calling him "My Associate" and telling the crowd that his associate doesn't want to be noticed. Maybe he should have thought about that before deciding to be eight feet tall?!
Anyway, Styles makes some comment about Jeff being a drunk and then Jeff comes out. 
With AJ on the floor, Jeff takes to the top rope. But, instead of leaping on to his actual opponent tries a cross bodyblock on Jordan - who catches him and cradles him like a baby.

Now we just have to wait until commercials are over to find out what he does with him.
Plenty of back and forth between the two dynamic ring veterans, but the real story is Jeff clearly being distracted by AJ's bodyguard at ringside and AJ taking advantage of that whenever he can.
Hardy goes for a superplex on Styles, but Styles slides off the turnbuckles, through Jeff's legs, and tosses him into the corner.
Jeff is heading to the top, presumably for a Swanton Bomb, but the big man on the outside distracts him long enough to allow Styles to get back to his feet and knock him to the turnbuckle. One Phenomenal Forearm later and...
RESULT: AJ Styles defeats Jeff Hardy
Hardy's not happy and starts shouting at AJ down the ramp... but his turned back gets blasted by a guitar from Elias.
Lucha House Party are taking on Drew Gulak and Akira Tozawa - who have all been trying to dethrone R-Truth as 24/7 Champion. As he said in a promo before the ad break, Truth is planning on coming to the ring to check out his competition.
The tag match itself is pretty standard, but when Truth's music hits and he starts to come to the ring, everything becomes unglued. With everyone a
RESULT: Lucha House Party defeat Drew Gulak and Akira Tozawa 
It's a tea party at the Firefly Funhouse! Wheee!
Keith Lee tells Charley Caruso that the next time he faces Braun Strowman, the Monster Among Men will see a real monster. But, after the break, he's taking on Elias.
Spot for Wednesdays NXt Halloween Havok features Finn Balor, which gives me the impression he might be making an appearance despite being injured.
WWE Women's Tag Team Champions Nia Jax and Shayna Baszler confront Adam Pearce and hand him their lists of who they feel should be on Raw's Women's Survivor Series team - as each of them are under the impression they are the captain of said team (and aren't on either of each other's lists). Pearce says he'll take the suggestions under advisement and will have a decision by the end of Raw.
Elias is in the ring, doing his Elias stuff (didja know he has an album out today?) and here comes Keith Lee and he looks like he's aiming to eat the poor guy.
Oh, when the show is over, check this out...
Elias squirms out of a Spirit Bomb attempt and reverses it into a Frankensteiner. Then, Elias gets the upper hand for about... eh... two minutes?... before Lee drives him right into the mat. Still, Elias reverses again and goes to the top rope.

That's when Jeff Hardy's music hits.
Hardy isn't coming out, though. But, it's enough of a distraction for Lee to get to his feet, grab Elias, and nail him with a Spirit Bomb.
RESULT: Keith Lee defeats Elias
Oh, wait, Hardy IS coming out. And hits Elias with a guitar. Shocking, I know.
Thanks for hanging in there, everyone. Had to jump away from the room for a moment - luckily it was during the midshow break. As seen above, Randy Orton cut himself a promo and now the Hurt Business are taking on RETRIBUTION in an 8 man elimination bout.
Mia Yim.... er... Reckoning (*sigh*) sees SlapJack taking some serious offense from MVP and does the only thing anyone could do - go into convulsions and seizures inside the ring long enough to distract MVP and getting him pinned. (MVP is eliminated)
However, it's a continuation from last night as Lashley spears SlapJack and eliminates him. (SlapJack is eliminated)
T-BAR and Lashley take the fight to the arena floor - to the point they're both counted out and eliminated. It's Cedric and Shelton vs Ali and Mace.
Aaaaaaaand Mace is eliminated by Shelton and it's Ali vs Cedric and Shelton.
Alexander knocks Ali out of the ring, so Ali takes a chair to him and gets DQd.
RESULT: The Hurt Business defeats RETRIBUTION
And now the Hurt Business chase Ali out of the ringside area. Like a punk.

Seriously. Why is RETRIBUTION? Why are they a thing? 
Anyway, Angel Garza hits on Mandy Rose and Dana Brooke and then Nia Jax and Shayna Baszler interrupt and Garza hits on them (and Nia likes it) and then... they say things? I dunno. It was dumb.
Drew McIntyre is in the ring now as we go to commercial.
Well... sorry about that, everyone. My Internet went haywire. So, here's what happened...
Drew McIntyre defeated The Miz
The New Day did their Street Profits impressions and announced matches for Survivor Series (along with Auska)
The Hurt Business interrupted.
We found out four of the five members of the Raw Women's team... Jax, Baszler, Rose, and Brooke.

Adam Pearce announces a Fatal Four Way match to determine the fifth.
That match is happening now...
Oh, and this match is Lana vs Lacey Evans vs Peyton Royce vs Nikki Cross
Much like how she won the battle royale to win her title shot as Auska, Lana pulls Royce off of Cross and pins her to win.

RESULT: Lana wins the Fatal Four Way
Nia, who has been sitting at the announce table during the match, offers Lana a hug in congratulations. Lana gleefully accepts. Then gets tossed through the table. Yet again.
Charley Caruso interviews Randy Orton, asking him if he's still planning on going on A Moment of Bliss after watching Firefly Funhouse. Orton says he's not afraid of The Fiend, mentions something about the "Three Most Dangerous Letters" and then *I* said on Twitter...
Anyway, we're getting ready for Matt Riddle vs Sheamus.
Mustafa Ali says that RETRIBUTION wins when their opponents suffer, which just feels like a dorky way to justify their losing streak. However, Ali is so damn good on the mic (even though he wasn't using one) that... well, let's just say this whole angle is hanging on by a thread and Ali's mic skills are the reason why.
WWE's premier David Lee Roth impersonator takes the fight to Shameful Thing Lobster Head to determine the 3rd member of Raw's Survivor Series team.
Sheamus nearly cracks Riddle's skull open with a knee strike but still only gets a count of two.
Sheamus also nearly nails Riddle with his trademark backbreaker, but Riddle turns it into a sleeper.
Brough Kick by Booger Red and this one is over.

RESULT: Sheamus defeats Matt Riddle
New WWE Champion Randy Orton walks backstage, heading to the stage for his interview segment, glancing around the room like he's lost his wallet and he thinks he might have lost it around there but he isn't sure and doesn't want to look like it's a big deal.
Orton comes to the stage. Bliss makes a reference to a burning house. Randy asks where Wyatt is. Instead, McIntyre's music plays. The former champ charges the ring and attacks. Lights go out. Screeching metal sounds. Lights go out.
Red lights.
Drew is alone in the ring as Randy backs his way towards the entrance. Then, he stops. He closes his eyes and has that expression on his face: "S***, he's behind me, isn't he?" And The Fiend is. Instead, though, Orton just starts walking back to the ring and attacking Drew again, leading my buddy Kyle Lewis (@KeepItFiveStar) to make the following observation...
And Raw ends with the two of them fighting as the USA Network starts showing Modern Family now.
Well... that was Raw for October 26, 2020. All in all, it was a pretty good show that could have been a great show had it only been two hours long. 

I hope you all enjoyed both the show and my silliness here. These LIVE reports are a work in progress, so I really would love your suggestions. What would you like to see more of? My main goal is to create a live commentary piece for each show that you guys will enjoy. So, shoot me your thoughts on Twitter to @HeyImKevinSully. Or, follow me and send me a DM.
I'll be over at Sportskeeda on Wednesday for a live report of NXT Halloween Havok and back here for Friday's SmackDown. Until then... I'm outta here.