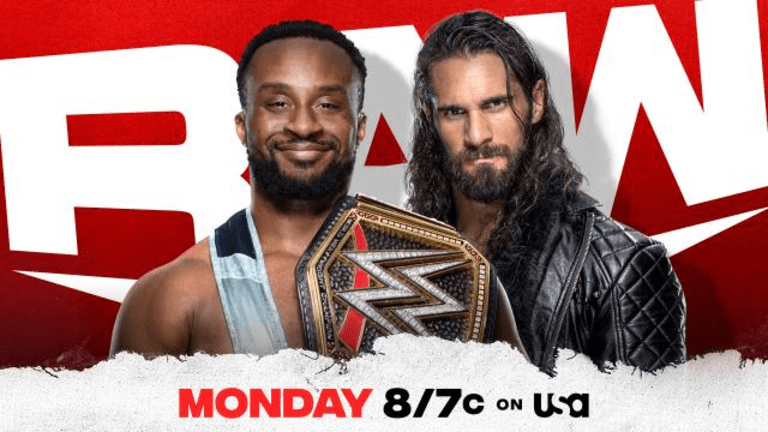 WWE Raw LIVE coverage and commentary (11.01.21)
Hope you all enjoyed Halloween! Now it's time for something *really* scary - three hours of WWE Raw and Kevin's lame jokes!
(Following along live? Make sure you refresh the page a couple of times every so often to get the latest updates)

Hello, good evening, how are you and happy Night After Halloween - or, as they call it in Mexico, 50% Off All Candy Day! I'm Kevin Christopher Sullivan - writer and editor for Sportskeeda Wrestling and special contributor to Wrestling News World. I'm here to keep you up to date on what's going on during Monday Night Raw tonight!
I'll be relaying the events here on the page, as well as sharing relevant Tweets from all over the Pro Wrestling Twitterverse. Yes, I used the word "Twitterverse" and I'm not going to apologize for it. If you Live Tweet during Raw and you'd like your posts added to our list, just shoot me a message at @HeyImKevinSully. 
This isn't a move-by-move account of the show - I'll be hitting the important beats, events, things that are happening, that sort of thing. We're heading into Survivor Series, so it's that time of year where WWE suddenly decides there's a rivalry between Raw and SmackDown despite the fact that nobody's even hinted at it on TV since last year. But, who knows? Maybe you guys like that sort of thing and I'm just an idiot. Sounds plausible.
Anyway, coverage starts below so enjoy the show! Or don't. I'm not the boss of you. If I were, I'd be getting a lot more feedback from you people.
---
---
(9:57pm) Rollins clocks Big E, and walks off. Kevin Owens looks around, and decides to pin E, but E rolls him up for the pin.

RESULT: Big E defeats Kevin Owens
(9:48pm) I take that back... Rollins is coming down now. 
(9:47pm) Kevin Owens vs WWE Champion Big E with Seth Rollins at ringside. Let's see what happens. *puts chin on hands, kicks feet behind him* wheeeeee!
(9:26pm) Oh, hey. Apollo Crews and Commander Aziz Light! are here.
(9:25pm) After fighting his way out of being tied up in the ropes, Damian Priest loses his shit and destroys T-BAR with a chair, throws him into a table, and then hits a Reckoning for the win.

RESULT: Damian Priest defeats T-BAR
(9:07pm) Anyway... I guess it's time for that Priest/T-BAR match? OK. Oh. It's no DQ. That's cool.
(9:04pm) Well, Riddle runs out to help the Profits, but Omos just kicks his ass and drops him onto the ring apron. Orton springs to his feet and is ready to fight to giant when.... uh... the show just jumps to footage of last week's Damian Priest vs T-BAR?

What the hell?
(9:02pm) Roode slingshots Ford into a DDT by Ziggler, but can't get the pin due to a pin break by Dawkins.

Meanwhile, Omos comes back out for the second week in a row, allowing Ziggler to get the pin.

RESULT: Dirty Dawgs defeat Street Profits
(9:00pm) The top of the 3rd hour has the Dirty Dawgs vs the Street Profits going strong.
(8:40pm) After what was a really damn good match, Chad Gable goes for a Superplex, but Finn Turns it into an inside cradle and gets the pin.

RESULT: Finn Balor defeats Chad Gable.
(8:34pm) Before Finn Balor vs Chad Gable can happen, we get a little vignette highlighting former Jinder Mahal lackey (and former subject of a Disney baseball movie) Veer Mahaal coming to Raw.

Anyway, now the match has started.
(8:25pm) *walking back into the room with a beer* Oh... um... the match is over.

RESULT: Queen Zelina and Carmella defeat Rhea Ripley and Nikki A.S.H.
(8:12pm) Well... we're getting Rhea Ripley and Nikki A.S.H. vs Queen Zelina and Carmella and... I dunno... I guess that's a match that's going to happen.
(8:09pm) I guess Zelina Vega and Carmella are a tag team now?
(8:03pm) Seth is heeling up and refusing the match, he wants it when he's 100% and on his terms. 

Kevin Owens isn't happy about that. I assume. Because he's coming out.
(8:02pm) Seth badmouths Kofi and Xavier, so Big E challenges Rollins to a title match.... wait for it.... waaaaaaaaait for it..... TONIGHT!
(7:58pm) Big E is out now. ANYTHING COULD HAPPEN!
(7:55pm) Seth Rollins is in the ring and he'll address the crowd assuming we can hear him over his suit.
(7:48pm) Theory pushes Dominick, so Dominick slaps Austin while he's on the ropes for a 619. Rey hits said 619. The ref didn't see the slap, but he just kind of... figured it out? So, he disqualified Rey even though he didn't see it, which was dumb but OK.

RESULT: Austin Theory defeats Rey Mysterio
(7:41pm) Theory and Rey are on the floor, and Theory has him up in a powerslam position. Dominick grabs Rey's foot and spins him around, allowing Rey to hit Theory with a spinning DDT. 
(7:31pm) We get a confrontation between the Mysterios and Austin Theory backstage, setting up Rey vs Theory... NEXT!
(7:28pm) Bianca has Becky in the air again, looking to hit the Kiss Of Death, but Becky is holding on for dear life onto the turnbuckle. She's able to get the turnbuckle cover off and lands on her feet.

Becky shoves her into the exposed turnbuckle and then rolls Bianca up - with a handful of tights - and gets the pin.

RESULT: Becky Lynch defeats Bianca Belair
(7:27pm) Bianca lifts Becky up and drops her face first onto the announce desk and tossing her back into the ring. Still not enough to get the pin.
(7:20pm) Match still going on - Becky attempts the Disarmer a couple of times, but Bianca lifts her up with one arm and tosses the both of them over the ropes.
(7:12pm) Becky attempts to use Bianca's braid to bash her into the ring post, but Bianca blocks it and blasts her down onto her back.

We'll be right back after this break.

(7:07pm) We've heard from both competitors and WWE Raw Women's Champion Becky Lynch vs Bianca Belair for the championship is our FIRST match on Raw tonight.

(7:03pm) The show starts out with a recap of what happened between Bianca Belair and Becky Lynch last week - setting up their match tonight.
(7:00pm) WWE. THEN. NOW. FOR CRYING OUT LOUD I THOUGHT THIS CHICAGO P.D. EPISODE WOULD NEVER END.