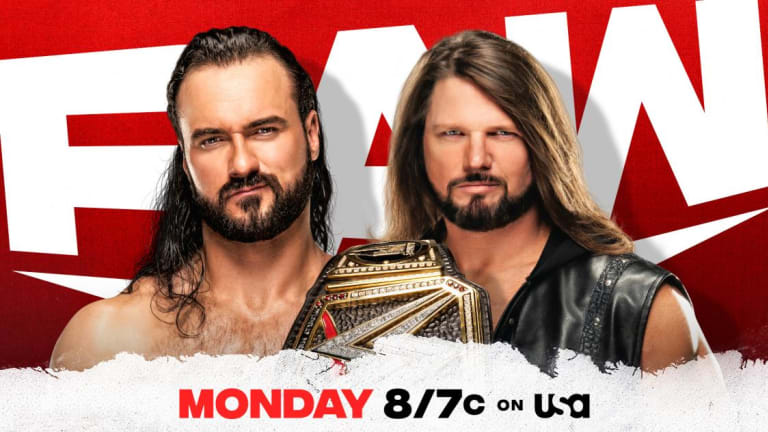 WWE RAW Live coverage and commentary (12/14/2020)
It's time for WWE's go-home show for TLC 2020 and we're here to cover, like, at least 99.8% of it. At LEAST.
You may need to reload the page for the latest updates.
Hey everyone, and welcome to tonight's Wrestling News World Dot Com coverage of WWE Monday Night Raw. I'm the guy with the keyboard tonight, Kevin Christoper "My Christmas tree has an ornament of a martini glass' Sullivan. For the next three and a half hours, I will be sharing the events of the evening - sometimes as they happen and others as a brief recap of, say, the previous fifteen minutes. Like you really need a blow-for-blow recap of a Lana match, for example. 
Unlike the last few weeks, the order of the coverage will be the newest events on downward. This means that whatever you're reading right after this intro will be the newest thing I've posted. I am, however, going to attempt to add timestamps where appropriate.
Anyway, we'll begin rocking and rolling here in a little bit so settle in, crack open a beverage and be sure to tweet me (or post in the comments below) at @heyimkevinsully and in the immortal words of Darkwing Duck, let's. Get. DANGEROUS.
--------------------INTRO OVER PREPARE FOR COVERAGE---------------
(All timestamps are Central time)
(7:00pm) We start with a cold open of Sheamus accidentally Brough Kicking Drew McIntyre last week, and they're showing it over and over as if it were the Zapruder film.
(7:03pm) The show kicks off proper with a Dirt Sheet segment, and The Miz - following plugging his reality show and his & Morrison's match against Keith Lee later tonight - reads "The Nightmare Before TLC".
 They really need to sell this book in the WWE shop.
(7:09pm) Miz tacks on an ending to the poem with him cashing in his Money in the Bank. AJ doesn't care for that.
Sheamus, who is taking on AJ later tonight (or possibly after this ad break for all I know), comes out to do the usual thing. AJ throws a Christmas tree at him. Sheamus throws a big cardboard box wrapped in gift wrap. AJ was more awesomer.
"Sheamus is a 4-time World Champion, earned a degree from the National College of Ireland where he also played rugby, and speaks fluent Gaelic. He also worked as a bodyguard for U2's Bono!"
(7:15pm) And it looks like this match actually is on now.
Coming out of the break, Sheamus has the upper hand. AJ recovers and gets Sheamus outside the ring- and Sheamus barely makes it back in before the count-out. Styles for a suplex, but Sheamus reverses it. Sheamus eventually gets AJ out of the ring and is about to slam him into the announce table, but Omos pulls his charge to safety. Ad break.
(7:24pm) Back from break and AJ has a vicious calf crusher on Sheamus.
Sheamus with the Ten Beats of the.... Bau..baad... bauu... that move he does, all the while keeping an eye on Omos outside of the ring. 
AJ with another Calf Crusher, but Sheamus makes it to the ropes.
(7:30pm) Sheamus with AJ in a fireman's carry, taking him up to the top rope. AJ slips away and clips the Irishman in his injured knee, rolls him up, and gets the pin.
RESULT: AJ Styles defeats Sheamus
AJ saunters back to the ring to trash talk Sheamus, and Sheamus grabs AJ's arm, trying to pull him in. Omos interferes and Sheamus ends up tangled up in the ropes, hanging upside down outside of the ring. AJ takes a steel chair and lays into Sheamus severely.
Where was Drew?
The Hurt Business backstage, humiliating a backstage worker who just happened to be wearing a Matt Riddle hat. They even pour milk on his head. The monsters.
Meanwhile, New Day and Jeff Hardy are backstage, getting psyched up for their match. Riddle comes down, Woods makes a pretty funny G4 reference, and Riddle offers to be in their corner for their match against the Hurt Business.
Lashley and Woods are starting this match off, and the United States champion nearly gets his full nelson finisher on him right from the get go.
(7:52pm) Woods escapes and tags in Kofi. Cedric tags himself into the match and, as Lashley looks on angrily, Kofi gets the upper hand over him.
(8:05pm) Hardy slips out of a Hurt Lock attempt and heads to the top rope for a Swanton on Alexander, the legal man. MVP knocks Hardy off the turnbuckle and Cedric rolls him up for the pin.
RESULT: The Hurt Business defeats New Day and Jeff Hardy
Meanwhile, Asuka is trying to get a terrified Lana psyched up for his match against Nia Jax - which is NEXT!
Holy crap... I barely got time to write up the INTRO to this match!
RESULT: Lana defeats Nia Jax
So, after Lana gets some surprising offense in, Nia goes for a Samoan Drop off the top rope. However, Lana slips out and kicks Nia in the knee, knocking her to the mat. Lana rolls her up for the three.
Shayna Baszler assaults Asuka backstage, preventing her from helping Lana during the assault Nia unloads upon her. Shayna and Nia work over Lana's ankle, and it looks like she might be seriously (kayfabe) injured. Asuka finally comes to and saves her partner.
Hello, he is Elias. With Jaxson Ryker.
Elias's music has changed Ryker's life and he's here to protect him. Just as Elias is about to play a song dedicated to Lana, when R-Truth comes into the ring to apologize for interrupting him on Main Event last week - MAIN EVENT IS STILL ON?! - then the usual tidal wave of wrestlers chasing Truth for his 24/7 title erupts. Ryker clears some of them out, showing us all that's he's OH SO DANGEROUS.
Meanwhile, Miz and Morrison are backstage, discussing the angle they're in - and then Keith Lee - who is about to take them on in a handicap match - comes out and they do a coin... flip thing... I don't know, my daughter was yelling in my ear but I don't think it matters.
(8:38pm) Miz and Morrisson (hey hey ho ho) vs Keith Lee begins and Miz and Morrison aren't really doing all that well. Commercial time.
Keith Lee eventually gets beaten down by the 2-on-1 attack, but that won't last very lo... yep, Lee with a double suplex on M&M
Miz and Morrison with a series of kicks on Lee. Morrison goes for a flying cross body but Lee catches him. Miz nails him in the knee, knocking Morrison on top of him. Miz then jumps on top of Morrison for the double pin and win.
RESULT: Miz & Morrison defeat Keith Lee
Bray Wyatt is here for the Funhouse Field Trip. He tells us that TLC won't be a laughing matter, but tonight can be! So it's time for jokes!
Randy Orton is on the Titantron, and he challenges Bray to a "little game" of "hide and seek"
(9:05pm) Mace from RETRIBUTION comes to the ring with other members of RETRIBUTION and he's going to face Ricochet, who RETRIBUTION keeps trying to get to join RETRIBUTION but he doesn't want to.
Also this from Rick Ucchino of Sportskeeda and ESPN 1530 am and 700 WLW AM in Cincinnati...
Why do you people keep watching Christley Knows Best? Stop it.
Mustafa Ali and other members of RETRIBUTION are at ringside, with Ali chiming in on commentary.
And Mustafa Ali just confirmed that Mace is Dio Madden.
Ali sends RETRIBUTION after Ricochet, and Madd.... er Mace... gets the pin.

RESULT: Mace defeats Ricochet
Ali informs Ricochet that "this doesn't end until he joins RETRIBUTION." I think he means the feud, not tonight's episode of Raw.
Bray is looking for Randy. Riddle confronts him... well, not confronts, but approaches him... and wants to promote his new idea - 'Bro-nouns', which I can get behind - on the Firefly Funhouse. Bray's not interested. But you know who is? Ramblin' Rabbit! He comes out and Riddle gets an autographed carrot from him.
In the blink of an eye, Shayna Baszler vs Dana Brooke ends with MAH GURL getting DQ'd when Jax pushes her off the top turnbuckle.
RESULT: Dana Brooke defeats Shayna Baszler
Baszler and Jax start their assault on Brooke (LEAVE HER ALONE, YOU MEANIES!), but Mandy Rose comes out with a kendo stick to even the odds. Just as Baszler fight HER off, Asuka comes out and now all three of them are beating up Jax and Baszler and I'm very happy right now.
We're also informed that Lana won't be cleared to compete on Sunday and Asuka needs to find a new partner against Nia Jax and Shayna Baszler at TLC.
Bray is backstage looking for Orton, and Orton gets the drop on him. Randy then gets Bray in a dumpster.... and pours kerosene on it. Uh oh.
Randy lights it on fire and the three announcers are certainly pretty calm for people WITNESSING A MURDER ON TELEVISION.
However, The Fiend jumps out of what would have been Bray's burning tomb and attacks. He has the Mandible Claw on Randy and takes him out with it as we go to commercial.
It is now time for MVP vs Riddle.
(9:41pm) Riddle comes down with a box of Bronuts but, when the bell rings, MVP is immediately on the attack.
And Riddle... geez.... wins....
RESULT: Riddle defeats MVP
Looks like we're heading into the final segment of the show tonight, as the WWE Championship belt will be placed above the ring for Sunday's title match.
I see WWE has gone from calling Drew McIntyre the "Scottish Psychopath" to the "Scottish Warrior". 
(9:52pm) AJ is cutting a sick promo, basically psychoanalyzing Drew regarding his career.
"I'm willing to do to myself, and I'm sure as hell willing to do whatever it takes to you, to remain WWE Champion."
As the belt gets lifted above the ring, Miz and Morrison sneak in and attack.
And Drew fights them off.
Omos tosses the ring steps into the ring, and it's enough to distract Drew long enough for AJ to hit the Phenomenal Forearm.
AJ climbs the ladder as a beaten Drew struggles to get to his feet. AJ grabs the belt and the show fades to black and into MIZ AND MRS WHICH IS A WAY BETTER SHOW THAN CHRISTLEY KNOWS BEST I CAN'T BELIEVE YOU PEOPLE WATCH THA.... sorry... it's been a long day.
Well... that's Raw. What did you think? Are you ready for TLC on Sunday? Hit up the comments down below. 
In the meantime, I'm heading out but I will be back on Friday for SmackDown (plus my NXT coverage over at Sportskeeda) and I'll be covering TLC just like this on Sunday, as well.

Until then... I'm outta here.