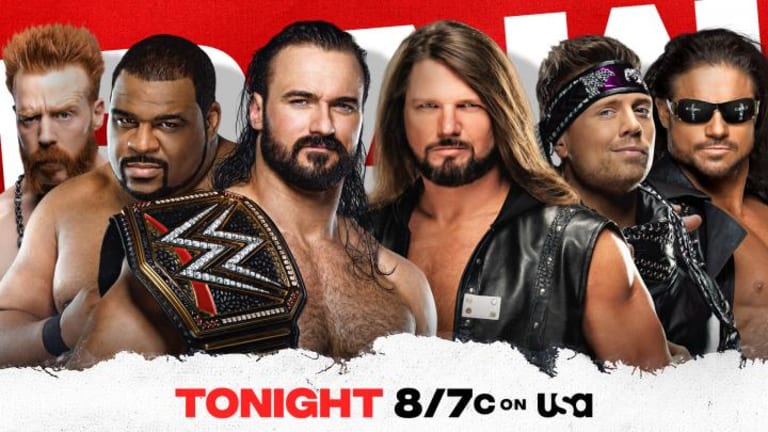 WWE Raw LIVE coverage and commentary (12/21/20)
We're 24 hours removed from WWE TLC. What will the fallout be and how will it lead into Royal Rumble? I guess we'll have to watch television and find out,
You may need to refresh this page for the latest updates.
Hey y'all, Kevin Christopher Sullivan here, and we're getting ready to enjoy some WWE Raw! Well, I am, anyway.
WWE TLC was last night and, in typical boring same-old same-old WWE fashion, it ended with someone being lit on fire in the middle.of the ring. YAWN. Booooooooring.
Seriously, though, that happened. Randy Orton lit a person on fire in the ring to end the show. I mean, not really. Although how great would it be if WWE started the show with Orton getting out on bail after being arrested for attempted murder. I'll tell you how great. So great. That's how great.

Before the show starts, here's a few things to keep in mind:
- You can read Wrestling News World's WWE Raw preview here to make sure you're up to speed with what's on the agenda in the Thundahdohme tonight. 
- Make sure you add your thoughts on the show in the comments section below as well as Tweeting me at my Tweety name @HeyImKevinSully. 
- Cyberpunk 2077 is still a really awesome game, even if it is really buggy. 
Anyway... I'm gonna get my wrestling watchin' pants on and get ready for Raw! See you all in a bit!
----------------------------------------------------------------
OK, let's do this.
We're kicking things off with the NEEEEEEWWWWW Women's Tag Team Champions Charlotte and... well, actually, it's just Charlotte right now.
"But when a friend asks for help... there's something in it for me..." I don't care what anyone says, Charlotte Flair is awesome.
(7:07pm) After introductions and celebrations, Flair is about to discuss challenging for the Raw Women's title "friend to friend", when Nia Jax and Shayna Baszler make their entrance.
(7:11pm) Mandy Rose and Dana Brooke come out and cut pretty much the most basic promo anyone could give in that situation and I hate saying that because I'm actually really big fans of both of them, no joke, but ugh. Anyway, it looks like we're getting Rose/Brooke vs Baszler/Jax next.
Oh, and in two weeks.... Legends Night on Raw! Hopefully, nobody tells Randy Orton.
Brooke and Rose nail the former champs with flying cross bodyblocks onto the arena floor. As they celebrate, the current champs stand up and take noticed. Then, Mandy Rose gets thrown into the security wall, and then suddenly I'm watching a really gross anti-vaping ad and COME ON.
(7:29pm) Shayna Baszler nearly breaks Mandy Rose's arm with a stomp, but Rose rolls away. Shayna still gets ahold of her and slaps on the Cara Koona Clutch and gets the submission win.

RESULT: Shayna Baszler and Nia Jax defeat Mandy Rose and Dana Brooke
With the match over, Jax and Baszler taunt the champions at ringside, when Brooke and Rose jump them from behind and knock them out of the ring. You know they really won that match because they played their music at the end.
Speaking of the champs, they'll be taking on Peyton Royce and Lacy Evans later tonight.
Meanwhile, The Hurt Business are hassling a guy in a New Day shirt backstage.
By the way, Shelton Benjamin and Cedric Alexander are your new Raw Tag Team Champions.
The Hurt Business gather together for a photo in the middle of the ring, unaware that 24/7 Champion R-Truth stands behind them, grinning and holding up his belt. The usual suspects chase after him.
Now, the Hardy BROS come out to confront them... and Riddle starts making marijuana references that feel like they're being fed to him instead of him coming to him off the top of his very high brain.
Angel Garza is taking on Drew Gulak tonight and... wow, that match lasted literally five minutes.

RESULT: Angel Garza defeats Drew Gulak.
Miz attempted to cash in his Money in the Bank last night during the AJ Styles/Drew McIntyre match and, as a result, Drew walked out of the show still WWE Champion. After the ad break, Styles will be a guest on Miz TV, as the Phenomenal One wants to hear what Miz "has to say for himself."
The Miz apologizes to AJ and offers Styles a role in the next Marine film. Omos then points out that it was Morrison that cashed in the briefcase, and not Miz. 
WWE Champion Drew McIntrye comes out and basically talks about how he and Sheamus and Keith Lee got drunk after the PPV last night.
Following a flustercuck of an attack, Keith Lee and Sheamus are at each other's throats, and McIntyre is trying to get them on the same page before their six man tag match tonight.
Meanwhile, Ricochet is taking on T-Bar os RETRIBUTION, as Mustafa Ali's group continues to aggressively recruit the former US Champion.
With Ricochet on the ropes, Ali screams at him to join RETRIBUTION. Ricochet attacks Ali, which gives T-Bar the opportunity to grab him and nail him with... it's the GTS, who are we kidding? Anyway, Tee Bar wins.

RESULT: T-Bar defeats Ricochet
Riddle and Jeff Hardy are ready to take on MVP and Lashley of the Hurt Business.
Jeff Hardy, as Jeff Hardy is wont to do, has fallen off the top rope and landed on the steel steps. As is par for the course.
Riddle hits MVP with a Perfect-Plex and nearly gets the pin, but Lashley breaks it up.
Hardy goes for the Swanton, kicks MVP out of the way, and dives - but Lashley moves. The US Champion dodges a Twist of Fate attempt and grabs Hardy into the Hurt Locker and gets the win for his team,'
RESULT: The Hurt Business defeat The Hardy BROS
Elias is in the ring, along with Jaxson Ryker, discussing his year and also how his music has changed his new disciple, Ryker. Gran Metalik of Lucha House Party is Ryker's opponent and the former Forgotten Son begins to dismantle Metalik while Elias sits on the top turnbuckle, singing.
Elias gets thrown from the top rope, but it's enough of a distraction for Ryker to chokebomb Metalik and get the win.
RESULT: Jaxson Ryker defeats Gran Metalik
We get a look at the end of the Randy Orton/Fiend match from last night, as Orton makes his way to the ring to discuss that very thing.
Randy Orton really enjoyed setting The Fiend on fire.
Randy Orton brags about how he ended The Fiend so, obviously, The Fiend shows up.
No, actually, it's Alexa Bliss.

"Expecting somebody else? *giggle*"
Alexa tells Randy (and us) that The Fiend is "home" but that when he comes back, it'll be like "nothing [we] have ever seen before."
The Women's Tag Team Champions are accepting the challenge of Lacy Evans and one half of the former Women's Tag Team Champions, Peyton Royce, and I'm still waiting to get the memo on what the good reason WWE came up with to split up her and Billie Kay just to put her in some other random tag team and oh hey it's a commercial.
Asuka saves Charlotte from a beating by her opponents and while the Empress of Tomorrow occupies Lacey Evans, Charlotte gets Peyton "Manning" "Place" Royce in the Figure Eight and match is over night night.

RESULT: Charlotte Flair and Asuka defeat Peyton Royce and Lacey Evans.
It's time for the Holiday Street Fight, which really sounds festive.
So that's what happened to Billy Banks.
McIntyre and Sheamus are in the ring, enjoying some cookies and Keith Lee makes his entrance.
Despite the tension between them, McIntrye manages to coax a fist bump between Sheamus and Lee.
Sheamus and Morrison start this match off. I'll be back if anything happens.
Just as aside, The Cincinnati Bengals, my favorite NFL team, are beating the Pittsburgh Steelers, my least favorite, and I am giggling like an old school Final Fantasy villain.
Lee and Sheamus reluctantly work together to take out each of their opponents and then do that thing where they each slap each other on the arm and/or chest and they each get mad about it because things are stupid and now Drew is trying to get them to quit being stupid as we go into commercial.