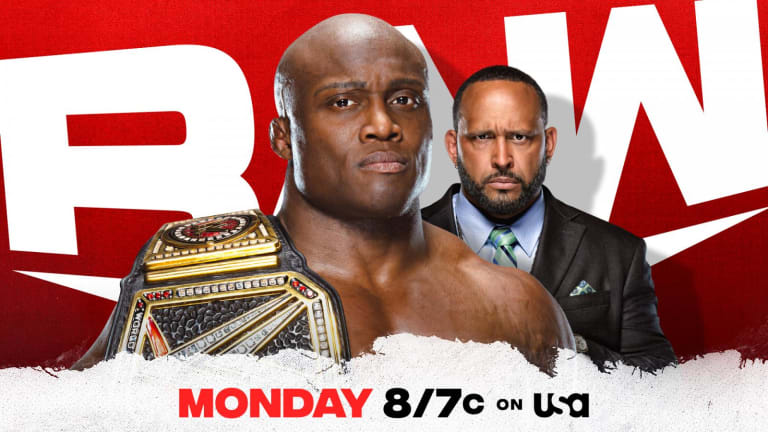 WWE Raw LIVE coverage, commentary, and other things (04.26.21)
It's Monday! It's time for WWE Raw! It's Kevin's birthday! How much better can stuff get?
(You may need to refresh this page once or twice to get the latest updates. All updates are time stamped on Central time.)
 What a weekend, am I right? Hey there, my Monday Mon-Stars! Wrestling New World's Kevin Christopher Sullivan here with you all for tonight's LIVE (give or take ten seconds of lag) coverage of WWE Monday Night Raw! No giveaway this week, but I am toying with some ideas for the next upcoming PPV.
I'm celebrating my 43rd birthday this weekend, which is why I wasn't around last week. Thanks to Juice and the rest of the WNWLCC for helping me out there. 

Also toying an idea of starting a Patreon or some other similar platform, but I'll save talk for that on a different client. Of course, you can always find me on Twitter at @HeyImKevinSully or just use the comments down below.
Anywhoo, We've got less than 30 minutes until showtime. If you're reading along, drop me a line in the comments and say hi, just so I know you're there. So... see you then.
---
Who's ready for Monday Night Raw! Well, you better hurry up and at least look like you're ready because it's showtime.
---
And there we go. Have a great night everybody. I'm outta here.
RESULT: Braun Strowman defeats Drew McIntyre
(9:58pm) T-BAR and MACE distract Drew long enough for Braun to powerslam Drew and get the win.
Why doesn't MVP just attack Drew and get Braun DQ'd and keep him out of the match?
(9:54pm) Ok, there's this. Drew goes for a Claymore but Braun turns it into a powerbomb. Only gets 2, though.
(9:45pm) We're getting Drew vs Braun, and Braun gets added to the Backlash main event if he wins.

We're.... just gonna tell you who wins.
RESULT: Charlotte Flair defeats Mandy Rose
(9:37pm) After some drama with the referee, Charlotte hits Mandy with Natural Selection and gets the win.
(9:33pm) Charlotte takes on Mandy Rose and *happy sigh*
(9:27pm) Charlotte is wearing red and black and that's it. 
(9:24pm) Alexa puts all of WWE on notice and she decides she can out-Bray Wyatt Bray Wyatt, apparently. Sigh. 
(9:22pm) Alexa Bliss and the Twisted Infomercial for a Doll.
Next SmackDown:
"If Daniel Bryan loses, he has to leave SmackDown.... forevah!!!!"
Me:
Oh no anything but that there's nowhere else to go plaes halp oh noes"
(9:16pm) Alexa's Playground is up after these commercial messages.
RESULT: Nia Jax, Shayna Baszler, and Rhea Ripley defeat Asuka, Lana, and Naomi.
(9:14pm) After a ton of misdirecting back and forth, Ripley hits Lana with a Riptide, and Jax hits a legdrop to win the match.
(9:06pm) Dana Brooke and Mandy Rose come down to the ring to distract Baszler and Jax - including throwing a bucket of water onto Shayna because that'll... show.... her?
(9:05pm) It's Lana/Naomi/and Asuka against Rhea Ripley, Nia Jax, and Shayna Baszler.
RESULT: RK-brO defeat Cedric Alexander and Shelton Benjamin.
(8:53pm) Randy Orton has Benjamin draped on the middle rope for the spike, but Riddle remands a tag. The tag is in. DDT followed by the Floating Bro. And the win.
(8:50pm) Oh... so Randy Orton and Matt Riddle are taking on Cedric Alexander and Shelton Benjamin.
(8:38pm) As Nia Jax complains about how unfair her match is tonight, a batch of roses is delivered to her - and it's from Angel Garza. 
(8:32pm) RK-brO is the tag team I never knew I wanted and now I want it to be a faction.
(8:30pm) Lashley is irritated that he wasn't consulted and will be at ringside for the McIntyre/Strowman.

On the other hand we're getting a confrontation between Riddle and Randy Orton.
(8:22pm) After some words from Raw Champ Rhea Ripley, WWE Champ Bobby Lashley heads to the ring.
(8:20) Commercial time.
(8:17pm) Sheamus announced the challenge, but then informs us all it won't be for the title. Humberto Carrillio takes the challenge again. Sheamus goes for a cheap shop, but Humberto gets the upper hand and Sheamus is curled up on the floor. Humberto heads to the back celebrating as if he did something, while Sheamus is on his feet and throwing office chairs around the ringside area as if an office chair murdered his family when he was a child. 
(8:07pm) CURRENTLY getting ready for action, Sheamus is holding an open challenge for his United States Championship. 
(8:02pm) Charlotte giving the most insincere apology ever and it's glorious. Sonya declares her suspension lifted. Flair wants an apology from the referee, who offers it to her. Flair will be in action tonight.
(8:00pm) Also in the ring is the referee Charlotte beat up last week.
(7:59pm) Sonya stands in the middle of the ring on Raw as if she's about to sing America the Beautiful, and brings out Charlotte Flair.
(7:54pm) Sonya Deville saunters backstage like the badass she is and opens a side door. And through it... walks Charlotte Flair. *gulp*
RESULT: New Day & Damien Priest defeat The Miz, Elias, and Jaxon Ryker.
(7:52pm) Woods and Priest hold Elias up for a flying dropkick, bur kicks out.

Still, Woods manages to roll-up Ryker and get the pin
(7:46pm) Elias/Ryker/Miz vs New Day & Damien Priest is happening now and, no, you haven't missed anything.
Please send all complaints to your congressperson.
SECRET WRESTLING INTERNET THING....
(7:31pm) Dun dun duh DUNT Here comes Damien Priest, and he sorry about interrupting their song and brings out the New Day and, I'm not kidding, they start throwing tomatoes at the heels because I guess Vince McMahon is backstage tonight.
(7:29pm) Elias and Ryker join Miz and Morrison for a superband meet-up the likes of Clapton and Lou Reed and Tom Petty variety and... it was pretty good actually.
(7:25pm) Back from break and Drew McIntyre wants a match with Braun Strowman... grrrrrrrr.... tonight!?grrrrrrrawrf.  Adam Pearce is all "yeah, sure, whatevs, just don't eat me"
(Oh Christ.... Domino's brought The Noid pack? REALLY? 
(7:19pm) Strowman does the TOOT TOOT charging clothesline and, to their credit, WWE didn't play the train noise! Never the less, Drew accidentally clotheslines Braun, and T-BAR attacks Drew and gets back into the ring before the 10 count. Drew didn't.

RESULT: T-Bar & Mace defeat Drew McIntyre and Braun Strowman.
(7:14pm) After informing us that there's going to be a "Temptation Island" "reunion show", we're informed that now we're actually getting the tag match (with McIntyre as Braun's partner as if that surprises anyone)
(7:10pm) Drew races out to help Braun and does a good job and then the two good guys have some light-hearted jaw jacking between the two. COMMERCIAL!
(7:09pm) T-MACE or DioDidjakovic or whatever they call themselves, start to stomp a mudhole into Braun in the corner - and get DQ'd for it.

RESULT: Braun Strowman defeats Mace & T-BAR by DQ.
(7:06pm) Mace and T-BAR (those are still their names), and taking on Drew and Braun Strowman. Braun wants to prove to Drew that he's the "leader" of whatever the hell their little union is and is goin' out there and fight these two guys himself. 

It's also fun when wrestlers run down their credentials during a promo because that's what I would do.
(7:04pm) I missed Raw last week. Did the announcers recognize Dio Madden and Dominik Dijakovic and were like "OMG IT WAS THEM ALL THE TIME" as if they didn't recognize them in the first place.
Oh, also, Mace and T-Bar are wearing face paint and talking about the future - The Ascension 2.0, I guess.
(7:01pm) The show begins with a look back and the confrontation between Drew McIntyre and MVP/former RETRIBUTION dude Tace and Me-Bar.

THIS IS THE START OF RHE SHOW PLEASE SCROLL BACK UP K THANKS LATER!