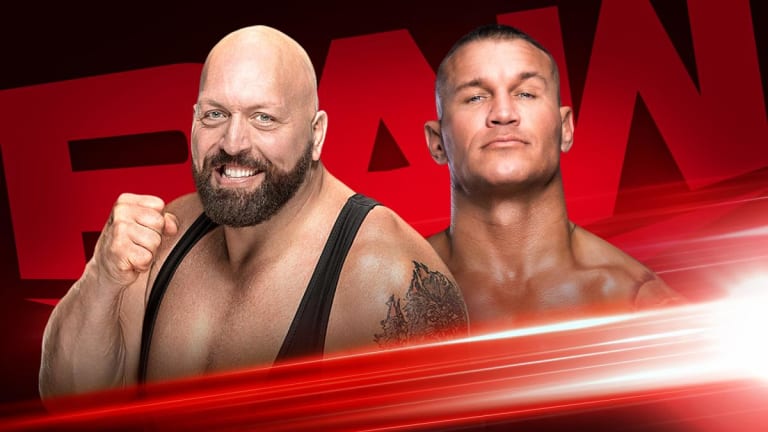 WWE RAW LIVE Coverage & Results (7/20/20)
Tonight's edition of Monday Night RAW emanates from the WWE Performance Center in Orlando, Florida and is headlined by Randy Orton taking on Big Show in an 'Unsanctioned Match' as well as the fall-out from last night's 'The Horror Show at Extreme Rules' PPV event!
Before the show begins, let's see what tonight has in-store for us!
Randy Orton Looks To Kill Another Legend When He Takes On Big Show In An Unsanctioned Match
Seth Rollins Battles Aleister Black
Who Is The RAW Women's Champion?
Christian Will Address The WWE Universe
*LIVE COVERAGE*
The show begins with a video package showing what happened during the Seth Rollins/Rey Mysterio 'Eye For An Eye' match, last night at 'The Horror Show at Extreme Rules' PPV event.
We then see Seth Rollins & Murphy making their way down to the ring. As the pair walk down the entrance ramp & head into the ring, Tom Phillips, Byron Saxon & Samoa Joe on commentary are shown & they provide a medical update on Rey Mysterio's condition & they announce that certain nerves weren't completely torn & after some time he'll be able to recover full vision.
Back in the ring, Rollins describes what happened to Rey Mysterio, last night. Rollins says what happened, last night, will stay with him for the rest of his life. He says the visual of Rey Mysterio holding his own eye in his hand will stay in his memories forever.
Rollins says the question he's been asked the most over the last 24-hours is, does he regret it? Rollins says he'll answer that with a question of his own...& asks the WWE universe if they regret making him the 'Monday Night Messiah' because this is their fault. He says they should be disgusted with what they have done to Rey Mysterio & his family. He goes on to say Mysterio shouldn't have picked this stipulation in the first place & actions have consequences.
Seth then says that nobody will stand in the way of what he will do for the greater good as Aleister Black's music hits & interrupts Rollins. Aleister says Rollins shouldn't dare deflect the blame on anyone else. He did this himself & he's here to rectify it. Murphy goes running after Aleister but Aleister tears into him & beats him down throughout the ringside area as we head to a commercial break & Seth Rollins will take-on Aleister Black up next.
Match - Seth Rollins (with Murphy) vs Aleister Black
Highlights (Seth Rollins vs Aleister Black)
Result - Seth Rollins defeats Aleister Black
After the match Rollins & Murphy brutally beat down Aleister Black and focus in on his right arm heavily during the beat-down.
We then see a replay of last night, when MVP declared himself as the NEW United States Champion after Apollo Crews wasn't medically cleared to compete against him at 'The Horror Show at Extreme Rules'.
Backstage, MVP, Bobby Lashley, Ron Simmons and R-Truth are talking. MVP asks R-Truth to join he and Lashley down to the ring...Truth declines the offer and tries to walk away but Shelton Benjamin super-kicks him and pins Truth to become the NEW 24/7 Champion. MVP then asks Benjamin to join he and Lashley down to the ring to which Shelton obliges as we head to a commercial break.
After the break, MVP, Bobby Lashley & Shelton Benjamin are in the ring and before they can say much, Ricochet & Cedric Alexander interrupt and say they'll do just fine without MVP and his henchmen. MVP laughs them off and says why don't they pick any 2 of them and face them in a tag-team match, right now. Ricochet & Cedric say they actually have a 3rd to take them on in 6-man tag-team match...and out comes Mustafa Ali who makes his return after several months on the shelf. Ricochet, Cedric & Ali rush the ring and the 3-heels scatter out of the way as we head to a break before the match gets underway.
6-Man Tag-Team Match - MVP, Bobby Lashley & Shelton Benjamin vs Mustafa Ali, Ricochet & Cedric Alexander
Highlights (MVP, Bobby Lashley & Shelton Benjamin vs Mustafa Ali, Richochet & Cedric Alexander)
Result - Mustafa Ali, Ricochet & Cedric Alexander defeat MVP, Bobby Lashley & Shelton Benjamin
We then see Randy Orton backstage. Orton says guys like Edge, Christian & Big Show have saved him from himself...but when he takes them out...it feels amazing...and that's why he's the legend killer and tonight...he will end another career when he punts the Big Show.
Christian then joins the commentary team live via satellite and the commentary team ask Christian if Randy Orton will indeed end Big Show's career, tonight. Christian starts off by saying he'll never look at Randy Orton or Ric Flair the same after what they've done to he & Edge and says he doesn't know if he'll ever be the same. He then says that he can't wait for Big Show to 'knock Randy's ass out, tonight!'.
Bianca Belair, Ruby Riott & Peyton Royce are getting into it, backstage and Bianca & Ruby mock Peyton for losing to them, last week. Peyton says that Billie Kay is 'attending to business back home' and she will beat Ruby, tonight.
Match - Peyton Royce vs Ruby Riott
Highlights (Peyton Royce vs Ruby Riott)
Result - Ruby Riott defeats Peyton Royce
Match - Street Profits vs Andrade & Angel Garza (with Zelina Vega)
Highlights (Street Profits vs Andrade & Angel Garza)
Result - Street Profits defeat Andrade & Angel Garza
We then see the WWE Women's Tag-Team Champions, SmackDown Women's Champion, Bayley and (maybe) RAW Women's Champion, Sasha Banks make their way to the ring. Sasha says she rightfully earned the RAW Women's Championship and Bayley says because the referee was unable to do his job after Asuka spit green mist into his face, she did what any true role-model would do and counted the 1-2-3. Asuka & Kairi Sane make their way to the ring and scream at Sasha & Bayley. Sasha says if Asuka wants her title, she can come get it. Stephanie McMahon then appears on the big-screen and says next week, Sasha will face Asuka in a match to determine who is actually the RAW Women's Champion...and if Sasha gets DQ'd, counted out or if Bayley gets involved, she will lose the match and the title will go to Asuka. We then go to a quick break and Bayley will face Kairi Sane, coming up next.
Match - Bayley (with Sasha Banks) vs Kairi Sane (with Asuka)
Highlights (Bayley vs Kairi Sane)
Result - Kairi Sane defeats Bayley
After the match and a subsequent commercial break, WWE Champion Drew McIntyre makes his way down to the ring.
The Scotsman says Dolph Ziggler's stipluation choice, last night was an extremely smart one...he beat the hell out of him...but then he lost...which is the story of Dolph's career. Drew says that the next PPV is SummerSlam, the biggest party of the Summer and he wants a real contender and the aforementioned, Dolph Ziggler interrupts and comes down to the ring. Ziggler says he was so close to becoming WWE Champion...Drew tells Dolph that he's not getting another title shot. Ziggler says he saw fear in Drew's eyes, last night. McIntyre says Ziggler needs to stop embarrassing himself and then throws Ziggler down, tells him that one day he'll learn and attempts to walk away but Ziggler tells McIntyre to give him one more match...anytime and Drew can pick the stipulation. Drew chuckles and accepts the challenge and is about to walk away but Ziggler wants to know the stipulation and Drew says he'll tell Dolph the stipulation right before the bell rings.
Unsanctioned Match - Randy Orton vs Big Show
Highlights (Randy Orton vs Big Show)
Result - Randy Orton defeats Big Show
After the match, Orton drills Big Show with a punt kick to the head and the show goes off-the-air as Orton celebrates.
That's a wrap for Monday Night RAW!
Be sure to stay with WrestlingNewsWorld.com and (@WNWNews) on Twitter for all of your Pro Wrestling news & needs! You can find me on Twitter (@WNWFaria)!
While you're here at Wrestling News World, why not become one of our Premium Members for exclusive backstage news? You can even start off with a 30 day free trial!