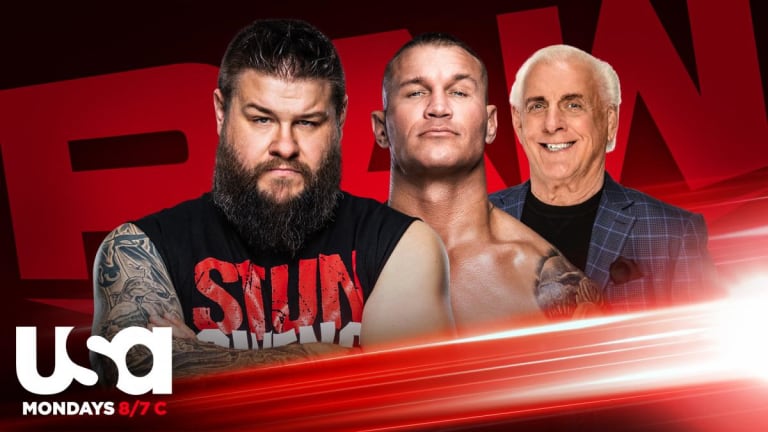 WWE RAW LIVE Coverage & Results (8/10/20)
Tonight's edition of Monday Night RAW emanates from the WWE Performance Center in Orlando, Florida and is headlined by the number one contender for Drew McIntyre's WWE Championship, Randy Orton taking on Kevin Owens.
Before the show begins, let's see what tonight has in-store for us...
Randy Orton Battles Kevin Owens
Asuka Takes On Bayley With An Opportunity To Face Sasha Banks At SummerSlam On The Line
Will 'Retribution' Cause More Havoc?
What's Next For RAW Underground?
Seth Rollins & Dominik Mysterio Sign The Contract For Their SummerSlam Match
Mickie James Returns To Monday Night RAW
Bianca Belair Looks For Revenge On Zelina Vega
*LIVE COVERAGE*
The show begins with a memoriam to WWF/WWE legend, James 'Kamala' Harris, who passed away, yesterday.
We now head over to the commentary team of Tom Phillips & Byron Saxton, who preview the events of the evening.
Phillips and Saxton's commentary partner, Samoa Joe is in the ring to moderate the upcoming contract signing between Seth Rollins and Dominik Mysterio. Joe first introduces the former WWE Champion, Seth Rollins who makes his way to the ring with Murphy. While Rollins & Murphy make their way to the ring, Byron Saxton says that Samoa Joe is not medically cleared to compete, so he is unable to get into any physical altercation with Rollins, even though it's evident he may want to. Joe then introduces Dominik Mysterio as 'the son of the greatest Luchador of all-time'. Dominik comes to the ring with a kendo stick and Rollins says no real man would come with a weapon, only cowards do that and Dominik doesn't look like a man, he looks like a scared little boy. Joe takes the kendo stick and says when he looks at Rollins, he sees a sad little man. Joe says Rollins got caught in his feelings and is forcing a young man (Dominik) with no training to fight for his father. Rollins says he gave Rey and Dominik every single opportunity to be on the right side of the greater good and the only one who's been forced into anything, is himself. Seth says he was forced into being the 'Monday Night Messiah' and asks when it's going to be enough. Dominik says it's never going to be enough. Dominik says Aleister Black will never be the same...and his father, Rey, will never be the same and says that Seth uses the greater good as an excuse to do whatever he wants. Rollins says Dominik fulfilling his dream of becoming a WWE superstar because of him and Dominik should be on his knees thanking him. Dominik says that Seth is right and his dream was to become a WWE superstar...but now it's to kick Seth's ass. Rollins says that Dominik wouldn't last 10 seconds in a normal, regulation Wrestling match with him and says that everyone knows it, because he's the best wrestler of his generation. Rollins says since he won't last in a regulation match with him, he can bring that kendo stick to the ring with him at SummerSlam...and any other weapon that he wants...that way he and his family won't have any excuses when he ends Dominik's career before it ever begins. Rollins tells the crowd to congratulate the newest WWE superstar then tells Dominik to get out of his ring and take a seat and take some notes because he's about to beat the hell out of Humberto Carrillo.
Carrillo makes his way to the ring and we head to a commercial break before the match gets underway.
Seth Rollins defeats Humberto Carrillo in a squash match.
After the match, Murphy attacks Dominik then throws him into the ring, where Rollins starts whaling on Dominik with that kendo stick that Dominik brought to the ring. Rollins directs Murphy to tied Dominik up to the ropes, Murphy obliges and Rollins continues the beat-down with a kendo stick while he screams into the camera at Dominik's father, Rey Mysterio. Murphy then retrieves several more kendo sticks from under the ring and he and Rollins both start drilling Dominik with kendo sticks as commentary pleads with Rollins to stop.
We then see a video package showing the carnage that 'Retribution' has caused over the last week on both RAW and SmackDown before our next match gets set.
Match - Andrade (with Angel Garza and Zelina Vega) vs Angelo Dawkins
Highlights (Andrade vs Angelo Dawkins)
Result - Angelo Dawkins defeats Andrade
Match - Bianca Belair (with Angelo Dawkins) vs Zelina Vega (with Andrade and Angel Garza)
Highlights (Bianca Belair vs Zelina Vega)
Result - Bianca Belair defeats Zelina Vega
After the match, Bianca and Angelo get in the ring. Bianca says that she and her husband, Montez Ford like to keep their business-lives separate...but if Zelina ever messes with her husband again...she will get her ass beat by the EST of WWE. Angelo says at SummerSlam, Montez will be back...and when it comes to Andrade and Angel Garza...the Street Profits want the smoke before we head to a commercial break.
Back from the break and the 'Hurt Business', MVP, Bobby Lashley and Shelton Benjamin are in the ring for the latest installment of the 'VIP Lounge'. MVP says the problems with production during he and Apollo Crews' United States Championship match, last week were the only reason he lost. Out comes the U.S. Champion, Apollo and he says that MVP always has an excuse when he loses and needs to shut up. MVP calls Apollo a habitual bad decision maker and he made a bad decision by coming down to the ring by himself. Apollo rushes the ring and chases the MVP, Lashley and Shelton out as we head to a commercial break.
After the break, it appears that we have an impromptu match...
Match - Apollo Crews vs Shelton Benjamin (with MVP and Bobby Lashley)
Highlights (Apollo Crews vs Shelton Benjamin)
Result - Shelton Benjamin defeats Apollo Crews
After the match, Bobby Lashley is about to lock-in the 'Full-Nelson' on Apollo but MVP tells Lashley not to hurt him that way he doesn't have an excuse to not show up for their match at SummerSlam. Apollo kicks MVP and escapes the hold and runs up the entrance ramp with his title.
We then see footage of 'Retribution' throwing cinderblocks through glass at the WWE Performance Center and then we head to a break.
Back from the break, we see the returning Mickie James, backstage and Lana and Natalya interrupt and mock Mickie. Mickie says she expects this from Lana but not someone with the family legacy like Natalya...and then says she'll see them next week.
8-Man Tag-Team Match - Viking Raiders, Cedric Alexander & Ricochet vs Akira Tozawa & 3 'Ninjas'
Highlights (Viking Raiders, Cedric Alexander & Ricochet) vs Akira Tozawa & 3 Ninjas)
Result - Viking Raiders, Cedric Alexander & Ricochet defeat Akira Tozawa and 3 Ninjas
After the match, one of the ninjas roll up Tozawa and take his 24/7 Championship...and of course, the ninja was R-Truth, who wins the 24/7 Title for a 38th time.
We then see WWE Champion, Drew McIntyre, backstage and Charly Caruso asks him if he meant what he said about Randy Orton, last week. Drew says he wouldn't have said it if he didn't mean it...and at SummerSlam, he's going to take the torch from Orton's hands...kick him in the skull and teach him that evolution has passed him by and we head to a commercial break.
Back from the break and we're about set for our next match...
Match - Liv Morgan (with Ruby Riott) vs Peyton Royce (with Billie Kay)
Highlights (Liv Morgan vs Billie Kay)
Result - Peyton Royce defeats Liv Morgan
We then see Shane McMahon and a security guard, backstage and after a commercial break...it's time for RAW Underground.
Back from the break and Riddick Moss is going at it with Cal Bloom during RAW Underground and Moss wins after an eye poke and a massive right hook.
We then head back to the ring where Asuka will take-on Bayley...
Match - (If Asuka wins, she faces Sasha Banks at SummerSlam for the RAW Women's Championship) - Asuka vs Bayley (with Sasha Banks)
Highlights (Asuka vs Bayley)
Result - Asuka defeats Bayley
After the match, we go back to RAW Underground where Arturo Ruas beats the hell out of 2 unnamed gentlemen, back-to-back in quick fashion before we head to a commercial break.
Back from the break and we're right back to RAW Underground where we see DABBA-KATO, the break-out star from last week's debut of RAW Underground. KATO beats the absolute hell out of an unnamed gentleman by grabbing his 'man parts' and knocks him out-cold with a hook and then Shayna Baszler appears. Baszler doesn't have any takers for a match, so she goes out to ringside and drills a woman with an elbow, throws her in the ring and beats her down and 2 other women storm the ring but Shayna dispatches of them with ease and that's a wrap for this week's RAW Underground.
We then see 'Retribution' destroying a car in the WWE Performance Center's parking lot.
Back to the ring area, we see Randy Orton making his way to the ring being flanked by Ric Flair and after a commercial break, it's time for our main event of the evening...
Match - Kevin Owens vs Randy Orton (with Ric Flair)
Highlights (Kevin Owens vs Randy Orton)
Result - Randy Orton defeats Kevin Owens
After the match, Randy Orton grabs a mic and tells Ric Flair to stay in the ring because there's something that they need to talk about and we head to a commercial break.
Back from the break and Orton says he has every right to be pissed of at Ric Flair because he made Orton fight Owens because his ego is too big, but he can't find it in himself to be mad at the 'Nature Boy'. Orton asks Flair if he remembers a story from around 2002 or 2003 in Peoria, Illinois and nobody else would help him...except Ric. Orton says from that moment on, he respected him and loved him. But not anymore...because he's a liability to him and now he realizes why he took him under his wing back in the day...because Ric wishes he was the son that he didn't have. Orton mocks Flair for crying and says he's not the Ric Flair that he used to look up to and the Ric Flair that he looked up to wouldn't need a pacemaker to keep his heart going. Orton says Flair's a junkie for the spotlight and that's why he's trying to hitch his wagon to Orton and he worries about himself. Flair takes the mic and says he's taking this very personal. Flair says that old Ric Flair from 2001 isn't here anymore...and of course he wants to be apart of the spotlight...he's 71 years old and still on RAW...and he's here because he wants to be there when Randy wins his 14th, 15th, 16th and 17th world titles...and wants him to break his record of world title wins. Flair says he's traveled the world with Orton's father...and he knows him better than almost anyone and that's why he wants Orton, someone who's climbed from the bottom to the top to break all of his records. Flair, now emotional says after over 30 days in intensive care, all he wanted to do was tell his loved ones how much he loves them...and he's not trying to take anything from Orton...all he is, is Charlotte's dad and the guy who wants to be next to Randy during this adventure. Orton hugs Flair and then as Flair turns to leave the ring, Orton hits him with a low-blow and whispers 'it's all going to be over soon' in a downed Flair's ear. Orton slowly stands over Flair, backs up to the corner of the ring and drills Flair with a punt to the head as the lights go off and on (seemingly because of 'Retribution'). Drew McIntyre comes running down to the ring but Orton escapes before Drew can get to him. Drew calls Orton an evil son of a bitch as WWE officials come down to assist Drew in checking on Flair. McIntyre, in the ring locks eyes with Orton, who's standing on the stage as the show goes off-the-air.
That's a wrap for tonight's edition of Monday Night RAW.
Be sure to stay with WrestlingNewsWorld.com and (@WNWNews) on Twitter for all of your Pro Wrestling news and needs! You can find me on Twitter (@WNWFaria)!
While you're here at Wrestling News World, why not become one of our Premium Members for exclusive backstage news? You can even start off with a 30 day free trial!