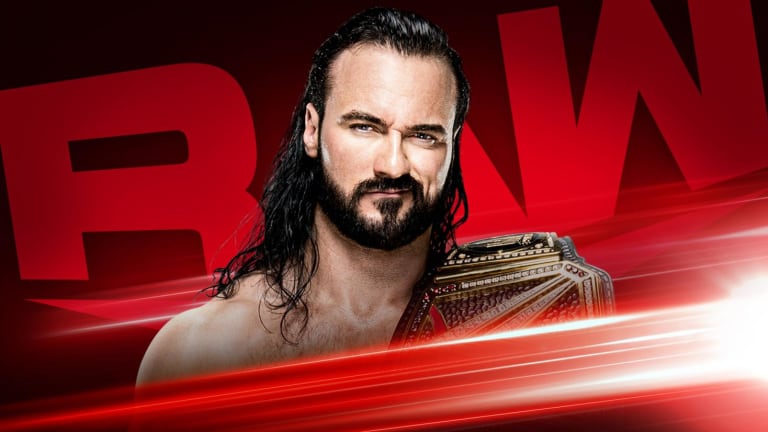 WWE RAW LIVE Coverage & Results (8/3/20)
Tonight's edition of Monday Night RAW emanates from the WWE Performance Center in Orlando, Florida. The show is headline by a new faction debuting as well as the return of Shane McMahon.
Before the show begins, let's take a look at what tonight has in-store...
A New Faction Debuts To Cause Chaos 
Shane McMahon Returns To Monday Night RAW
Drew McIntyre Addresses Randy Orton's Blindside Attack, Last Week
Asuka Addresses Sasha Banks' Controversial Win, Last Week
Apollo Crews Defends The United States Championship Against MVP
*LIVE COVERAGE*
The show begins with the lights flickering...possibly hinting at the debuting faction that's apparently set for tonight...but nevertheless...our first match of the evening is ready to get underway...
United States Championship - Apollo Crews (C) vs MVP (with Bobby Lashley & Shelton Benjamin)
Highlights (Apollo Crews vs MVP)
Result - Apollo Crews defeats MVP, And STILL United States Championship
We then see Apollo Crews, backstage who is talking to Charly Caruso. Crews thanks MVP for paying for the new design for his new United States Championship belt and he did this for his wife and kids.
We then see MVP at ringside with Bobby Lashley and Shelton Benjamin, MVP says he lost because of the lights flickering and being distracted. He says he doesn't care about Apollo's wife or his kids and he wants his rematch at SummerSlam.
We then see a massive security guard, standing in front of a door as commentary says whatever is behind that door, is the brainchild of Shane McMahon...who will tell us about it, later tonight.
It's announced that after the break, we'll hear from the WWE Tag-Team Champions, SmackDown Women's Champion, Bayley and RAW Women's Champion, Sasha Banks.
Back from the break, we see Bayley and Sasha Banks talking with Sarah Schreiber. The champs show a video package of all of their title wins and then Asuka interrupts the video and says revenge will be sweet. Shayna Baszler then walks in, laughs, says she's done waiting and lays out Sasha Banks with a punch as we cut to another backstage area where we see Kevin Owens who's approached by The IIconics, who say they want to be guests on the KO Show, next but Owens says he already has guests for the evening as he makes his way to the ring before we go to a commercial break.
Back from the break and we see Kevin Owens in the ring, set for another edition of the KO Show. Owens says there's a bunch of interesting things going on, tonight, including the return of Shane McMahon, but he says he's not hear to talk about Shane. Important to note that the lights are flickering and Owens' mic cuts out during this a few times, again possibly setting the table for the debut of the unnamed faction, later tonight. Owens introduces his guest of the evening, Ruby Riott. Riot makes her way to the ring and says it's been tough recently, but she finally got back on her feet and beat Peyton Royce and got her to stop with the 'bullshit'. Ruby says the only thing that would've made that moment better, is if Liv Morgan was there to celebrate with her. Owens says that's funny, because Liv Morgan is actually his next guest and out she comes. Liv gets in the ring and says that she's only here because Kevin asked her to be here. Kevin says the 2 of them came into this business together, along with Sarah Logan, and just because Sarah has moved on with her career, doesn't mean they need to split apart. Owens says that he's seen them travel all over the world together and Liv should listen to what Ruby has to say. Ruby says that she came back and thought everything would be the same...but it was different...and then Liv beat her...and she saw that Liv didn't need her...and with Sarah leaving and Liv not needing her anymore, she took out her frustration on Liv...and she's sorry. Ruby notes that her and Liv have their debut date tattooed on the back of their necks...and they'll always be connected as the IIconics interrupt. Peyton Royce says everyone is sick and tired of Liv and Ruby complaining about everything...and they're sick of Ruby boasting about beating Peyton Royce after 400 straight losses. Billie Kay says they conquered WrestleMania together and won the WWE Tag-Team Championships...and they're best-friends...forever. Liv says that they're right...she and Ruby are not friends like them...and they're not iconic...but they start a riot better than anyone...Peyton says that they should prove it and fight them, right now...Owens asks if the technical difficulties can continue, but only for Peyton and Billie's microphones...Peyton smacks Owens, Owens asks Billie if that was necessary, then she smacks Owens...Owens turns to Ruby and Liv and asks them if they mind giving him a hand...Liv & Ruby attack Peyton & Billie and it appears as if we have ourselves a tag-team match after a quick commercial break.
Match - Liv Morgan & Ruby Riott vs The IIconics
Highlights (Liv Morgan & Ruby Riott vs The IIconics)
Result - Liv Morgan and Ruby Riott defeat The IIconics
After a commercial break, we see Charly Caruso, backstage who says that apparently someone deliberately destroyed some boxes and equipment backstage which could be the cause of the technical issues that have been happening throughout the show. MVP walks in and Charly tells him that Apollo Crews has accepted his challenge for a rematch for the United States Championship at SummerSlam. Shelton Benjamin walks in and says that someone stole his 24/7 Championship and MVP says they're gonna go find out who stole it and teach them what happens when you steal from 'The Hurt Business'.
WWE Champion, Drew McIntyre then makes his way to the ring. McIntyre says he and Randy Orton have some similarities. At one point, Vince McMahon told them that they're the chosen one...but Orton didn't earn everything like he has. He was handed everything. Drew says that when Orton runs down his accolades, he neglects to mention that he had a silver spoon the whole time, because his dad was 'Cowboy', Bob Orton. Drew mentions that he never got to live the lavish life and ride in limos and have backup like Evolution did for Orton. Orton interrupts McIntyre and is flanked by Ric Flair. Randy asks Drew, is his respect not enough? Orton says the way Drew repays him is to come out here and bash his name in front of the world? Orton says he's here because he wants to be here because he loves going down to the ring and hitting people with RKO's and punting people in the head...and it's gonna be sweet when at SummerSlam, he RKO's Drew and punts him in the head and takes his WWE Championship. Randy says he wasn't fired, unlike Drew because he's so much more valuable than Drew ever was...and he is the true chosen one, then, now and forever. He asks Drew to stop quoting legends and to come up with one opinion of him that's an original idea. Drew says Orton represents everything that is wrong with WWE. Drew says the most interesting part of The Undertaker's documentary was Orton...he says that Orton said that The Undertaker reached down and pulled him up to Taker's level...something Orton has never done. Drew says Orton has never done anything for guys like Kevin Owens, Ricochet, Apollo Crews or Ali what Undertaker, Triple H or Ric Flair did for him. McIntyre remembers something that happened a decade ago...McIntyre was down in the dumps, had no family around, was thousands of miles away from home...and a kind word from someone like Orton would've changed his life...but he never did that...and at SummerSlam...he's gonna claymore kick Orton in the head...not only for himself, but for every guy on the current roster and for the guys that are no longer with WWE...and when he kicks Orton in the head...he WILL see it coming.
Back from the break, we see Kevin Owens, backstage with Ric Flair. Owens says he's trying to be everything Randy Orton could be, but refuses to be. Owens says Flair should tell Orton to meet him in the ring, next week if he has an issue with that.
We then see Nia Jax in he ring with WWE official, Pat Buck. Nia says to take a look at the footage of what happened, last week. We then see the video of Nia attacking Buck, last week, which caused her to be 'fined'. Nia challenges Buck to a match, Buck says he's only in the ring because he was told that Nia would be apologizing to him for last week. Nia says he'll get his apology after their match. Buck says he should just leave. Nia slams the microphone against him and says to speak up...Buck then suspends Nia indefinitely, without pay. Nia freaks out and attacks Buck and starts screaming at him while she beats him down.
After Nia walks out, R-Truth, Akira Tozawa, and Tozawa's 'ninjas' start chasing each other around the ring as we head to a break.
Back from the break and it's time for our triple-threat 24/7 Championship match...
24/7 Championship - Shelton Benjamin (C) (with Bobby Lashley & MVP) vs R-Truth vs Akira Tozawa (with Ninjas)
Highlights (Shelton Benjamin vs R-Truth vs Akira Tozawa)
Result - Akira Tozawa defeats R-Truth and Shelton Benjamin, And NEW 24/7 Champion
We then see Shane McMahon in an underground looking area with a ring with no ropes and 2 guys engaging in an MMA-looking fight and he says at 10:00pm we'll see 'RAW Underground'.
Back from a commercial break and we see Dominik Mysterio, backstage with Sarah Schreiber. Sarah asks Dominik why he continues to pick at Seth Rollins even after what he did to his father, Rey...Dominik says if anyone thinks he's crazy, now...just wait until he challenges Seth Rollins to a match at SummerSlam as he walks off...
Shayna Baszler makes her way to the ring and it's time for our next match...
Shayna Baszler and Sasha Banks battle it out for a few minutes until Asuka comes down to the ring and attacks Bayley and gets in the ring and goes after Sasha which causes the referee to call the match off as we head to a commercial break.
Back from the break, we see Asuka in the ring with Charly Caruso and we see a replay of what happened between Sasha Banks and Asuka, last week. Asuka says Kairi will be OK but she's not here...and Sasha and Bayley are here...and what she wants is a rematch for the RAW Women's Championship against Sasha Banks at SummerSlam. Shayna Baszler gets in the ring and says she's rooting for Asuka to beat Sasha Banks and get that RAW Women's Championship back...and she'll be cheering...because when she beats Sasha...she gets to dismember Asuka and take the RAW Women's Championship from her. Sasha Banks comes back out and says the RAW Women's Championship is hers...and she'll give Asuka her rematch...if she can beat Bayley, next week Monday night.
We then see 'RAW Underground' and Shane McMahon says we'll love what happens up next as we head to a commercial break.
Back from the break, we see Shane McMahon with 'RAW Underground'. Shane introduces 'DABBA-KATO'...who beats the hell out of 2 unnamed gentlemen and Shane says RAW Underground will be right back as we head back to the ring for our next match.
Match - Angelo Dawkins (with Montez Ford) vs Andrade (with Angel Garza and Zelina Vega)
Highlights (Angelo Dawkins vs Angel Garza)
Result - Angel Garza defeats Angelo Dawkins
Montez Ford and Andrade then have a match and Ford collapses in the middle of the match which forces the referee to call off the match as WWE officials as well as Angelo Dawkins rush the ring to attend to Ford.
Backstage, we see Murphy watching a video of him attacking Aleister Black, last week...Seth Rollins is also there and tells Murphy that he made the right decision...but it's time to move onto the future...Murphy asks Rollins if he's thought about Dominik's challenge for a match against him at SummerSlam. Rollins laughs and walks out as we head to another break.
Back from the break, we get back to RAW Underground and Shane McMahon introduces the next bout, which pits Erik of the Viking Raiders against an unnamed gentlemen. Erik beats his opponent down and is victorious after about 15-seconds of punishment.
We head back to the ringside area as commentary announces that there will be one more match at RAW Underground but we head backstage where Charly Caruso is outside of the trainer's room where Montez Ford is being attended to. Angel Garza walks in an flirts with Charly for a moment before Zelina Vega & Andrade walk in and before Zelina can say much, Angelo Dawkins walks-in and says that the doctor told him that he thinks Montez may have been poisoned before the match. Ford's wife, Bianca Belair comes out of the trainer's room and starts yelling at Vega, Andrade and Garza and blames them for poisoning Ford. Belair attacks Vega as WWE officials break up the fight.
Back at ringside, commentary tells us there is some security footage that needs to be shown and we see 5 masked people vandalizing the WWE equipment boxes outside of the WWE Performance Center, earlier this evening as we head to a commercial break.
Back from the break, we see MVP, Bobby Lashley and Shelton Benjamin backstage and Charly Caruso catches up with them and asks how they're feeling even though things haven't gone their way, tonight. The 3 men talk about all of the things that have gone wrong, tonight and that they say that they're being sabotaged. MVP asks Charly where RAW Underground is and then MVP smiles and it appears as the 3 men are headed to the underground fight-pit.
Commentary then runs down the card for next week, which includes Randy Orton taking on Kevin Owens as well as Asuka taking on Bayley and if Asuka wins, she gets her rematch for the RAW Women's Championship against Sasha Banks at SummerSlam. We then see a video package of the Seth Rollins, Rey Mysterio and Dominik feud over the past few months and then Rollins & Murphy make their way to the ring. Rollins says he has some housekeeping to tend to before he responds to Dominik's challenge. Rollins then says he'd like to ask commentator, Tom Phillips a few questions. Rollins asks Tom if he considers himself a professional, Tom says yes...Rollins then asks if he considers himself an unbiased journalist...Tom says yes...Rollins then asks if Tom takes pride in his body of work...Tom again says yes. Rollins then asks what Tom was doing while Dominik was assaulting him with a kendo stick, last week...Rollins says he was cheering him on. Seth says Phillips is the voice of Monday Night RAW...and he's apart of the greater good, regardless of if he likes it or not. Rollins says it's Tom's job to call it down to the middle...and if he doesn't, he's doing a bad job...and if he's doing a bad job, he's a liability...and now the time has come to find a new voice of Monday Night RAW. Rollins then instructs Murphy to take Tom and Samoa Joe steps in front of Murphy and says that won't happen and Rollins needs to get back in the ring or he'll slap the lips off of Murphy. Rollins tells Joe he doesn't want to do this and Joe says yes, he does. Rollins gets in the ring and tells Joe to get in the ring and whatever happens in there, isn't his responsibility as we head to a commercial break.
Back from the break and Rollins and Murphy are in the ring with steel chairs as Joe stands outside the ring but Dominik appears with a kendo stick and beats Rollins and Murphy down in and around the ring as Rollins and Murphy retreat. Rollins, now on the stage, grabs a mic and says he accepts Dominik's challenge for a match at SummerSlam.
We then head back to RAW Underground where Dolph Ziggler is in action and takes out an unnamed gentleman with a rear-naked choke which forces his opponent to tap-out.
MVP, Bobby Lashley and Shelton Benjamin then show-up and MVP says The Hurt Business now controls RAW Underground and then Bobby Lashley gets in the ring and viciously beats down an unnamed gentleman. MVP then gets in the ring and says he wants in on the action. MVP then beats down a different unnamed gentleman and wins his fight. Shelton Benjamin then takes his turn and beats down Dio Maddin. Bobby Lashley, Shelton Benjamin and MVP then start attacking everyone at ringside and Shane McMahon says that they proved their point. The Hurt Business then celebrate in the ring as the show closes.
That's a wrap for Monday Night RAW!
Be sure to stay with WrestlingNewsWorld.com and (@WNWNews) on Twitter for all of your Pro Wrestling news and needs! You can find me on Twitter (@WNWFaria)!
While you're here at Wrestling News World, why not become one of our Premium Members for exclusive backstage news? You can even start off with a 30 day free trial!