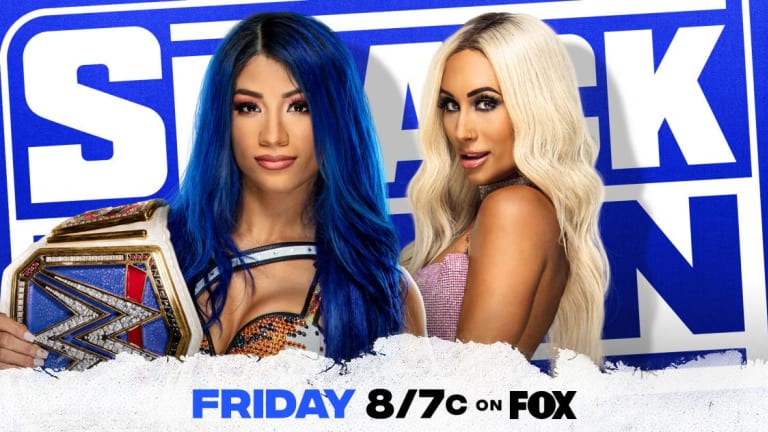 WWE SmackDown LIVE Coverage and Commentary (12/11/20)
Hey everyone! Kevin Christopher Sullivan here, ready to cover tonight's episode of SmackDown with you all. There's a lot I like about SmackDown on the Fox Network, but one of the biggest reasons is that it's not on USA. Nothing against the USA Network at all, actually - some of my legit favorite shows have come from there. Like Monk. And Burn Notice. And Silk Stalkings. Seriously, that was a good show. But, also, it means that usually when a WWE show on USA starts, I have to sit through the final moments of some Dick Wolf NBC police drama - which are also good shows, but they rarely have happy endings. So, having TMZ lead into SmackDown is like a vacation.
Kevin is a bit busy so I Justin "Juice" Lucciano will be helping out with the coverage tonight! Join in the discussion in the comments or Twitter my twitter is @juicecannon1. 
I hope you enjoyed my coverage I had fun but Monday Kevin shall return and he will next Friday as well! Have a good night everyone!
Carmella vs Sasha Banks SmackDown Women's Championship
Carmella dunking Banks into the ice to cool Banks off is really nice. Oh wait it was an attack, nevermind. Carmella celebrating a win by disqualification is definitely interesting.
Banks going off on Carmella in the corner leads to a five count and a disqualification interesting. Banks statement on the sommelier allowing Carmella to attack Banks. 
Carmella is just dominating kind of expected a back of forth kind of shocked. This definitely won't be the end of this feud. The Cone of Silence is a cool submission in my opinion. Banks now getting out of it and locking in the Banks Statement. Sommelier with the save!
I miss Carmella's overreactions and loud screams when people kick out of her pin attempts. No I'm not being sarcastic, I found them very funny. 
Ok now the main event title bout begins, I'm thinking Banks retains and I'm sure that's how most people feel. I'll be honest I thought Carmella was just leaning on Banks against the turnbuckle, I did not notice the elbows at first.
Street Profits versus Ziggler and Roode for the Tag Titles confirmed for next week sounds good, Belair vs Bayley also for next week well that sounds greeeeeaaat!
New theme for Carmella interesting, it suits her character but it's nothing special though. Does anyone else miss Banks old theme? I know her current is a remix of the old one but the old one was catchy and did not need to change but I get why they did it, the current fits a heel more, but she is no longer a heel soooo change it back please.
I know the Forgetten Sons aren't for everyone but I'm a big Wesley Blake fan and Steve Cutler is cool too so I'm glad they are back and aligned with King Corbin.
Gable saying he did not actually want to be tagged in is definitely interesting and confirms that he is a heel. Makes excuses? Check. Blames others? Check. Manipulates otheres? Check. 
Alpha Academy vs Shinsuke Nakamura and Cesaro
Frequent tags are the key but Otis and Gable tagging every 5 seconds seems like overkill. Nakamura getting the win here and the team that should have won, won but I don't like Gable constantly being made to look weak though. 
Hey it's Mario Lopez and I guess he's a Sasha Banks man cool cool, really random but cool.
Looks like Otis and Gable are a tag team, I love getting answers quickly. Shinsuke Nakamura and Cesaro picking a fight with the Alpha Academy those poor fools!
Chad Gable training Otis is just great I honestly love it. That segment of Gable just throwing stuff at a blindfolded Otis is amazing. I still don't know if Gable is a heel or face though and if these two are a tag team or a wrestler and his manager. 
Riott Squad vs Billie Kay and Natalya
Riott uses the Riott kick on poor Billie to get the win for her team. Negative Billie loses, positive the established tag team wins and Liv Morgan and Riott continue their momentum. 
Kay and Ruby Riott starting us off in this tag match. I'm honestly curious what the endgame of the Billie Kay resume angle is and what the direction of Liv Morgan and Ruby Riott is as well.
Owens running around hurt trying to find his rival with a chair backstage is becoming a December/November tradition... If it happening the past two years counts as a tradition. Oh there is Reigns with the brutal sneak attack come on Kayla don't distract a man while he's on the hunt. Now it's Reigns turn to talk some fire talk. Damn he threatened the Owen's family right to eat...
There's Jey with another sneak attack. Oh and there Jey is again getting beat down by Owens after a sneak attack. Reigns first does not help his cousin he's not a very good family member. He almost helped though so maybe he's almost a good family member?
Owens is a master of the promo and he is killing it with this TLC promo. He should lead promo classes at the performance center. Also it must be lonely when your only friends currently are tables, ladders and chairs oh my!
Interesting that Reigns and Heyman are just watching a recap of the feud backstage. Oh and Jey Uso still serving his cousin, I don't know if he's being loyal or spineless.
Kevin Owens facing Roman Reigns is a WrestleMania caliber match and we are getting it at TLC! Definitely excited for the match. I've never been much of a Reigns fan but he's been so great since returning, he's definitely winning me over and probably a lot of his other doubters too.
A recap of the Owens/Reigns and Uso drama now to refresh our memories and remind us of how great of a job these three are doing.
Carmella making Banks relevant? Carmella you do know she's one of WWE's most popular superstars right? Also Carmella's sommelier is a champion took a beating earlier from Banks and he's already up completely fine with a smile on his face back to work. He might be in the running for my MVP of this week's SmackDown. 
Yes! I live for this Bianca Belair and Bayley feud! Give me the match already I need it!!!
Big E vs Sami Zayn
This is the ultimate match of Brain vs Brawn. Lot's of Big E dominating as expected but Zayn winning, I did not think that would happen! Oh and Graves just called it battle of Brains and Brawn, ok copycat I see you...
I can not wait to see what antics Zayn uses in this match. Don't get me wrong I am a fan of Big E and I even want him to win the Rumble but I am just a bigger fan of Zayn and him being a long reigning Intercontinental Champion. All of that being said even though I am rooting for Zayn I think Big E will win and earn a future Championship match.
Michael Cole talking over Zayn is just disrespectful. The champion is right he deserves respect. Wrestling fans rally with me in a campaign for WWE to respect Zayn!
Sami Zayn not having a shirt is ridiculous and the champion is not being unreasonable in wanting one. Also I thought Kalisto was a heel now? Oh look Kalsito and Crews made a shirt for him, that's nice.
 I know Zayn is the heel but this segment made Crews, Kalisto, Tamina, and Big E just look like gigantic bullies. LONG LIVE the people's champion Sami Zayn! If you can't tell I'm a big Zayn fan.
Dolph Ziggler w/Robert Roode vs Montez Ford w/Angelo Dawkins
Roode with the attack on Dawkins distracting Ford and leading to a Famouser from Ziggler and a pin. Pretty predictable stuff to be honest, and if you don't believe me just scroll down where I said Ziggler would win.
Ford's red shoes with the black and gold pants is definitely a strange choice kind of distracting me from the match a bit to be honest. I know they happen all the time but standing moonsaults always impress me and Ford's is no exception.
Street Profits having solo cups poor down from the ceiling and celebrating mid-match is definitely a baller move, hopefully it does not come back to bite them.
Who is ready to get the smoke! Time for Dolph Ziggler to get the smoke. In reality Ziggler will probably win to cement a title opportunity for his tag team.
Sasha Banks vs Carmella Contract Signing
The Boss enters the ring for a contract signing for her match with Carmella at TLC and when she went to sign the contract was not there. Accusing poor Adam Pearce of a setup? That is messed up! Oh there Carmella is on the TitanTron so she does not have to get her hands dirty. Did not see the title match getting moved up to tonight, wonder if TLC will have a SmackDown Women's Championship match then...