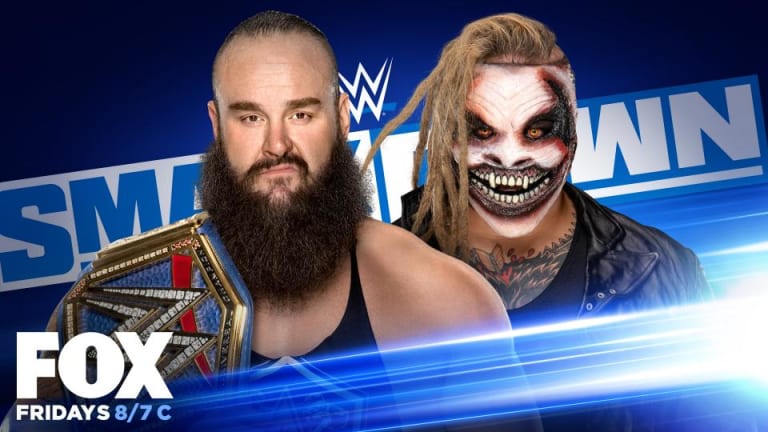 WWE SmackDown LIVE Coverage and Results (8/14/20)
Tonight's edition of Friday Night SmackDown emanates from the WWE Performance Center and is headlined by 'The Fiend', Bray Wyatt confronting Universal Champion, Braun Strowman as well as a three-brand Battle Royal to determine SmackDown Women's Champion, Bayley's challenger for SummerSlam.
Before the show begins, let's take a look at what tonight has in-store...
Universal Champion, Braun Strowman Promises To Confront 'The Fiend', Bray Wyatt
Triple-Brand Battle Royal To Determine SmackDown Women's Champion, Bayley's Challenger at SummerSlam
Big E Battles John Morrison
Alexa Bliss Has A Sit-down Interview To Discuss Her Interactions With 'The Fiend', Bray Wyatt
*LIVE COVERAGE*
The show begins with a video package showing the carnage that 'Retribution' has caused over the last couple of weeks on both Monday Night RAW and last week, on Friday Night SmackDown. We then get to ringside where Michael Cole and Corey Graves are on commentary, this evening. They note that WWE has added extra security at every entrance at the WWE Performance Center to nullify any possible havoc from 'Retribution'. Cole and Graves rundown the events of the evening and we're about set for our first match of the evening...
Big E and Morrison make their respective entrances but the lights flicker and 'Retribution' rush the ring, attack both men, chase Cole and Graves out of the ringside area and then escape through the back, The Miz comes down to check on Morrison and we head to a commercial break.
Back from the break, Big E and John Morrison are getting checked on, backstage, also there is Cesaro, Shinsuke Nakamura, Chad Gable, Drew Gulak, Lince Dorado, Gran Metalik and King Corbin. Corbin and Big E talk about that they need to take-out 'Retribution'. Big E says he still wants to fight John Morrison, tonight. Sheamus walks in and mocks Big E's speech. Sheamus says without Kofi Kingston, Xavier Woods and a bunch of old pancakes, he's vulnerable and 'Retribution' took advantage of him...and they would never attack him, because they know that he's not afraid of them and we head back to the ring. Cole and Graves say that WWE has added additional security on top of the extra officials they added earlier in the evening.
In the ring are the WWE Women's Tag-Team Champions, RAW Women's Champion, Sasha Banks and SmackDown Women's Champion, Bayley. Bayley says it's time to get the show on the road and it's time for the triple-brand battle royal. Sasha says 'Retribution' knows better than to interrupt she and Bayley. Sasha announces that one week after SummerSlam (where she and Bayley will defend their single's titles), they will have to defend their tag-team titles at the Payback PPV. Bayley says she's taking ring announcer, Greg Hamilton's job for this match and makes him leave the ring. Bayley then reads off the instructions for the battle royal match and then Sasha Banks introduces the participants and we're about to get underway...
SmackDown Women's Championship # 1 Contender's Triple-Brand Battle Royal - Asuka vs Shayna Baszler vs Billie Kay vs Peyton Royce vs Tegan Nox vs Shotzi Blackheart vs Lacey Evans vs Liv Morgan vs Ruby Riott vs Nikki Cross vs Naomi vs Bianca Belair vs Dana Brooke vs Tamina
Highlights (Triple-Brand Battle Royal)
Result - Asuka Wins, Will Face Bayley For The SmackDown Women's Championship at SummerSlam
After a commercial break, we see Mandy Rose, backstage. She says when people say she's just a dumb, pretty blonde that gets everything handed to her...it hurts...and when Sonya cut her hair and made her look dumb it actually reminded her that she's much more then just a pretty face. Mandy then challenges Sonya to a hair vs hair match at SummerSlam. 
We then see Sheamus, backstage who's about to make his way to the ring but he stops right behind the curtain and tells security to take this match off and that 'Retribution' knows better then to attack him. We go to a quick commercial break before Sheamus is in action...
Back from the break and wee see Nikki Cross, backstage who finds Alexa Bliss. Nikki apologizes for pushing her down, 2 weeks ago and admits to being at fault for 'The Fiend', Bray Wyatt attacking her. Nikki says both Bray and Braun Strowman are in the building and they need to get her somewhere safe. Alexa says she wants to stick around and needs some answer from Braun as we head to the ring and Sheamus is making his way to the ring...
Match - Sheamus vs Shorty G
Highlights (Sheamus vs Shorty G)
Result - Sheamus defeats Shorty G
Commentary announces that the 'Intercontinental Statistics System' with AJ Styles will happen after a commercial break.
Back from the break, the Intercontinental Champion, AJ Styles makes his way to the ring with Christopher Joseph Parks...AKA TNA Wrestling's Abyss.
Styles says the most pressing question in WWE is who will face the phenomenal one at SummerSlam for the Intercontinental Championship. Styles hilariously plugs his Twitch stream and says the nerds in his chat always talk about statistics and tries to make the case for certain superstars for title opportunities.
AJ says when he watches Baseball or Football...he's always looking at player's statistics...so he's a nerd too. So, he's hired a team...the Intercontinental Championship Statistics System...the ICSS. 
Styles then reveals a board with the rankings of who deserves a chance at his Intercontinental Championship...and he's the only name on the board. AJ says if you work really really hard, you can earn a title opportunity as Jeff Hardy interrupts. 
Hardy says if he wasn't attacked and taken out of the Intercontinental Championship tournament, he would've faced Styles in the finals for the title. Hardy says he's accomplished everything, so has AJ...and the sound of Jeff Hardy vs AJ Styles just sounds 'mega cool'. Hardy then asks Styles for a title match at SummerSlam. AJ says he respects Jeff...and he's known him for a very long time...and he admires everything he's gone through and accomplished. Styles says he knows everyone will love to see he and Jeff face each other in a WWE ring...and Jeff was apart of the best tag-team in WWE history...but HELL NO, he won't face Jeff for the Intercontinental Championship and says this isn't a pity-party. Hardy attacks Styles and then writes his name on the board as we see the SmackDown Tag-Team Champions, Shinsuke Nakamura and Cesaro, backstage. Cesaro calls Lucha House Party garbage and says Shinsuke will destroy Gran Metalik, tonight...but while they're talking, Metalik and Lince Dorado are stealing the tag-team titles and they run of as we head to a commercial break.
After the break, we see AJ Styles, backstage where Kayla Braxton catches up with him and AJ says that if Jeff Hardy wants a piece of him...he's gonna get it. AJ says he's going to erase Hardy then hilariously tries to erase Hardy's name from the board but it's permanent marker and AJ gets pissed and walks off as our next match is set to get underway...
Match - Shinsuke Nakamura (with Cesaro) vs Gran Metalik (with Lince Dorado)
Highlights (Shinsuke Nakamura vs Gran Metalik)
Result - Gran Metalik defeats Shinsuke Nakamura
It's then announced that after a quick commercial break, Alexa Bliss will have a sit-down interview to discuss the recent events involving her, The Fiend and Braun Strowman.
Back from the break, we see Kayla Braxton, backstage, who's with Matt Riddle. Kayla asks Riddle how he's dealing with King Corbin constantly calling him out and trying to mess with him. Riddle says he called him out, he tried to fight him, he even interrupted his match against Sheamus, last week...and Shorty G walks in. Shorty G apologizes to Riddle for taking him out, last week. He says he has a family and wanted to collect the king's ransom from Corbin. Riddle says it's ok and if he ever wants to throw down, just let him now and they can fight as King Corbin comes up from behind Riddle and attacks him. Corbin thanks Shorty G and says he always knew that Shorty G would amount to something great.
We then see Alexa Bliss who's being interviewed by a WWE producer. She's asked how she is...she says she's been better. The producer asks her what she thinks of Braun. Alexa says he's amazing...they're best-friends. He then asks her if she ever thought that their relationship would be more then friends, she says maybe...Braun cared about her...and she cared about Braun, a lot. He then asks her if she thinks that's why 'The Fiend' went after her, she says that's a question for him. She's then asked what it's like being in the presence of 'The Fiend'. She says it's scary...but also compelling...and it's true what they say about moth's to a flame. Alexa is then asked what she thought about Braun saying he didn't care about her, last week...Alexa looks to the side and appears to be getting very emotional as we head to a commercial break.
Back from the break and it's announced that, next week, LIVE on SmackDown...AJ Styles will defend the Intercontinental Championship against Jeff Hardy.
We then see Sonya Deville, backstage...she says all it took was a little haircut to finally get some aggression from Mandy Rose...and she'll look great bald. Sonya says she's going to destroy Mandy and says 'see ya later, baldy' and we go back to the ring for our next matchup, which has The Miz joining Michael Cole and Corey Graves on commentary.
Match - Big E vs John Morrison
Highlights (Big E vs John Morrison)
Result - Big E defeats John Morrison
*During the match, the lights flicker a few times and some of the SmackDown locker room surround the ring in case 'Retribution' attack and instead, 'Retribution' destroy the backstage area and attack WWE officials and security.*
After the match, Sheamus comes out of nowhere and drills Big E with the 'Brogue Kick' and escapes through the crowd.
Universal Champion, Braun Strowman then makes his way to the ring and we head to a commercial break.
Back from the break and Braun Stroman says he tried to warn 'The Fiend', Bray Wyatt that when he got out of that swamp, he was going to be the most terrifying son of a bitch that anyone's ever seen. Braun calls 'The Fiend' out to the ring and says he will rip 'The Fiend' limb for limb.
Instead of 'The Fiend', Alexa Bliss comes out to the ring. Alexa says they owe it to their friendship to have a conversation. Alexa says she doesn't believe that Braun doesn't care about her, like he said, last week. Braun says they were never friends and says Alexa used her to fight all of her battles. Alexa asks what the hell is going on...Braun says everyone who encounters 'The Fiend', changes. Braun tells Alexa to get out of the ring...and he says he wants 'The Fiend'. Alexa slaps Braun several times and then Braun grabs her but the lights almost go out...Braun tosses Alexa across the ring and the lights fully go out and when they come back on...The Fiend is in the ring with a downed Alexa Bliss...but no sign of Braun Strowman. Strowman appears on the titan-tron and he and 'The Fiend' both laugh in an extremely sinister tone as the show goes off-the-air.
That's a wrap for tonight's edition of Friday Night SmackDown!
Be sure to stay with WrestlingNewsWorld.com and (@WNWNews) on Twitter for all of your Pro Wrestling news and needs! You can find me on Twitter (@WNWFaria)!
While you're here at Wrestling News World, why not become one of our Premium Members for exclusive backstage news? You can even start off with a 30 day free trial!