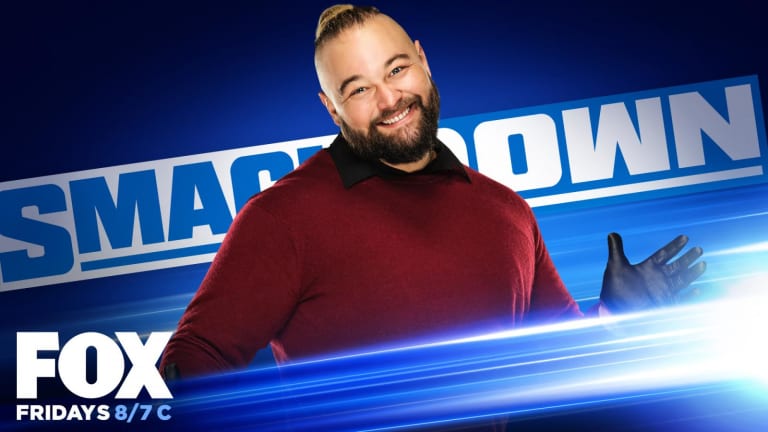 WWE SmackDown LIVE Coverage and Results (8/7/20)
Tonight's edition of Friday Night SmackDown emanates from the WWE Performance Center in Orlando, Florida and is headlined by a brand-new episode of the Firefly Funhouse with Bray Wyatt, fresh-off The Fiend's attack of Alexa Bliss.
Before the show begins, let's take a look at what tonight has in-store...
Bray Wyatt Returns With The Firefly Funhouse
Matt Riddle Battles Sheamus
Jeff Hardy Looks For Revenge On King Corbin
Sonya Deville Joins The Miz and John Morrison On 'The Dirt Sheet'
*LIVE COVERAGE*
The show begins with a video package of Bray Wyatt and Braun Strowman's 'Swamp Fight' from Extreme Rules, 3 weeks ago and then we see The Fiend's attack on Alexa Bliss, from last week and we transition into a new edition of the Firefly Funhouse with the aforementioned, Bray Wyatt.
Bray says if anyone wants to point the finger for what happened to Alexa Bliss, last week, they should be blaming Braun Strowman. Wyatt says all of this could've been avoided if Braun just gave Bray what he wants (in reference to the Universal Championship). Bray closes the funhouse segment by saying, he (The Fiend), will be here later tonight...with a very special guest.
It's now time for our first match of the evening...
Match - Matt Riddle vs Sheamus
Highlights (Matt Riddle vs Sheamus)
Result - Matt Riddle defeats Sheamus via DQ (Shorty G attacked Riddle)
After the match, Riddle beats down Shorty G and then heads to the back.
Sheamus then grabs a microphone and starts screaming at Shorty G, who just cost him a win and then Sheamus absolutely drills him with a Brogue Kick and then heads backstage.
Commentary announces that The Fiend is indeed here and will appear later on tonight.
It's also announced that The Miz and John Morrison will host 'The Dirt Sheet' with special guest, Sonya Deville after a commercial break.
Back from the break and we see The Miz and John Morrison getting set for 'The Dirt Sheet'. Before they introduce their special guest of the evening, Sonya Deville, we see a Blonde wig appear on the big-screen and it's 'Mandy Rose's hair' which Sonya chopped off, during her attack of Mandy, last week. Miz and Morrison mock Mandy for having her hair cut off and then the hosts introduce Sonya Deville, who makes her way to the ring.
Sonya says she doesn't understand why everyone is surprised that she did that to Mandy, last week. Sonya says she's a woman of her word and she told Mandy that she was going to make her as ugly on the outside as she is on the inside and she enjoyed every single second while she was attacking her, last week.
Deville goes on to say that Mandy's only award she'll ever win in WWE, is when she won an award on WWE's The Bump for the best social media moment of the year, when she and Otis kissed at WrestleMania. Sonya calls Mandy pathetic and says now she's as ugly as Otis, so it's fitting that they're a couple. Otis and Tucker then come running down to the ring and take out Miz and Morrison as we head to a commercial break.
Match - Cesaro (with Shinsuke Nakamura) vs Lince Dorado (with Gran Metalik)
Highlights (Cesaro vs Lince Dorado)
Result - Cesaro defeats Lince Dorado
After the match, we see Otis and Tucker, backstage and Kayla Braxton catches up with them and asks Otis if he'll be able to channel his anger and stay focused in their match, later on tonight, against The Miz and John Morrison. Otis says he's usually a funny guy but he's been bullied his whole life and won't let Miz and Morrison mess with his 'peach', Mandy Rose.
We then have the awe-inspiring entrance of 'The Fiend' and then head to a commercial break.
Back from the break and The Fiend is standing over Alexa Bliss, who's seated in the middle of the ring. The Fiend walks around Alexa and then eerily crawls towards her, goes for the mandible claw, but Alexa stops her and Braun Strowman appears on the big-screen. Braun says he doesn't give a damn about Alexa...all he cares about is destroying Bray Wyatt. Braun tells Bray that he's staring into the eyes of the most sadistic son of a bitch that he's ever laid eyes on. Braun said Bray pushed him passed his breaking point and now, he's what nightmares are made of...he's a monster. He tells Bray that he can do whatever he wants to whoever he wants, but at SummerSlam, he's going to have to come face-to-face with the monster and we head to a commercial break.
Back from the break and our next match is set to get underway...
Match - Jeff Hardy vs King Corbin
Highlights (Jeff Hardy vs King Corbin)
Result - Jeff Hardy defeats King Corbin via DQ (Sheamus attacked Hardy)
After the match, Sheamus and Corbin argue which leads to an impromptu match between the two.
Match - Sheamus vs King Corbin
Highlights (Sheamus vs King Corbin)
Result - Sheamus defeats King Corbin
After the match, we see the WWE Women's Tag-Team Champions, RAW Women's Champion, Sasha Banks and SmackDown Women's Champion, Bayley, backstage and as they're talking, a WWE producer comes in to tell them that they need to head to the ring for a video call with Stephanie McMahon as we head to a commercial break.
We're back from the break and we see Kayla Braxton, backstage with Big E. Kayla asks Big E what his plans are since his New Day teammates are on the mend with injuries. Big E says he's been an entertainer and a tag-team partner forever...but now he can answer the long-asked question of what happens when Big E takes the ball by himself and tries to run with it? He says he will give nothing less then ALL of him...because New Day rocks.
We then see Bayley and Sasha Banks in the ring. Stephanie McMahon appears on the big-screen. Stephanie congratulates them on winning all of the gold on RAW and SmackDown. Bayley says that there's a lot of negativity and jealously from the Women's roster, so they appreciate her saying that and they're just trying to be role-models. Stephanie says they've done whatever it takes to win those titles...including playing special guest referee and destroying Kairi Sane's career...so while she doesn't think they're the best role-models...they certainly are worthy of those titles. Stephanie says regardless of the outcome of Bayley's match against Asuka, Monday, that she will defend the RAW Women's Championship at SummerSlam. McMahon then turns her attention to Bayley...Stephanie announces that there will be a 3-brand triple-threat match battle royal, next Friday on SmackDown with women rom RAW, SmackDown and NXT fighting for the right to fave Bayley at SummerSlam for the SmackDown Women's Championship.
It's now time for our main event of the evening...
Match - Heavy Machinery (Otis and Tucker) vs The Miz and John Morrison (with Sonya Deville)
Highlights (Heavy Machinery vs The Miz and John Morrison)
Result - The Match Ends In A No-Contest (Mandy Rose and Sonya Deville brawl in the ring)
Mandy and Sonya are brawling backstage as the lights go out and the new stable 'Retribution' ambush the ring with weapons, chase Michael Cole and Corey Graves out of the arena, then start attacking cameramen and destroy the ringside area. They then run into the crowd and start attacking the PC staff and NXT superstars who make up the crowd.
The group absolutely destroys the ring and announce table and then spray-paint their logo on the plexi-glass and ring as the show goes off the air.
That's a wrap for Friday Night SmackDown!
 Be sure to stay with WrestlingNewsWorld.com and (@WNWNews) on Twitter for all of your Pro Wrestling news and needs! You can find me on Twitter (@WNWFaria)!
While you're here at Wrestling News World, why not become one of our Premium Members for exclusive backstage news? You can even start off with a 30 day free trial!