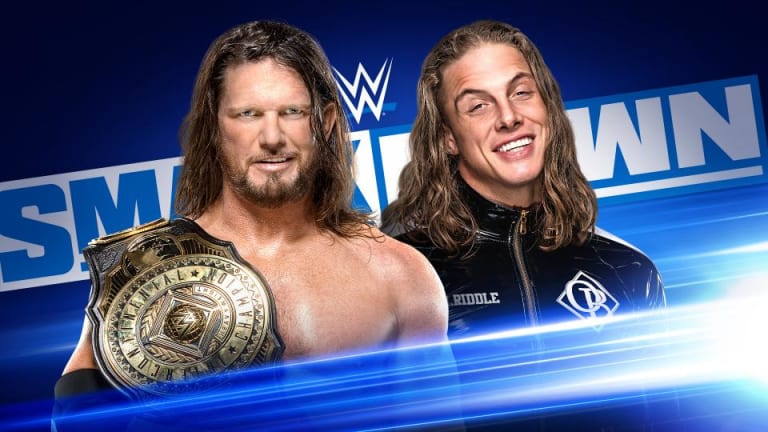 WWE SmackDown LIVE Coverage & Results (7/17/20)
Tonight's edition of WWE SmackDown emanates from the WWE Performance Center in Orlando, Florida and is headlined by an Intercontinental Championship match which pits Champion, AJ Styles against challenger, Matt Riddle.
Before the show begins, let's see what tonight has in-store for us!
AJ Styles Defends The Intercontinental Championship Against Matt Riddle
Bray Wyatt Returns To The Firefly Funhouse Ahead Of His 'Swamp Fight' Against Braun Strowman, This Sunday
Alexa Bliss Hosts 'A Moment Of Bliss' With A Mystery Guest
*LIVE COVERAGE*
The show begins with a backstage vignette where AJ Styles & Matt Riddle verbally tear into each other, Daniel Bryan makes his prediction for the match, Alexa Bliss teases her upcoming edition of 'A Moment Of Bliss', The Miz & John Morrison talk about Morrison's upcoming match against Braun Strowman, Strowman says the horror show will begin, tonight and then Shinsuke Nakamura & Cesaro say they will become the new SmackDown Tag-Team Champions.
The SmackDown Tag-Team Champions, Kofi Kingston & Big E of The New Day make their way down to the ring as we see highlights of New Day's match against Shinsuke Nakamura & Cesaro, from last week, where the match ended in a DQ. It appears as if our first match of the evening is about to be underway.
The winner of the following match, will get to pick the stipulation in the SmackDown Tag-Team Championship match, for this Sunday at 'The Horror Show at Extreme Rules'.
Match - Big E (with Kofi Kingston) vs Cesaro (with Shinsuke Nakamura)
Highlights (Big E vs Cesaro)
Result - Cesaro defeats Big E
After the match, Cesaro and Nakamura grab a table from under the ring and prepare to put Big E through it, but Kofi Kingston makes the save and as the New Day are about to put Cesaro through the aforementioned table, Nakamura makes the save and he & Cesaro run to the back.
We then see King Corbin backstage being interviewed by Kayla Braxton. Corbin tells her that after AJ Styles is done pummeling Matt Riddle during their Intercontinental Championship match, tonight...he'll take over from there.
It's announced that after the commercial break, Alexa Bliss & Nikki Cross will host, 'A Moment Of Bliss' with a very special mystery guest.
Before we get to 'A Moment Of Bliss'...we see Cesaro & Shinsuke Nakamura, backstage and they announce that their SmackDown Tag-Team Championship match against The New Day, this Sunday will be a Tables Match.
We now see Alexa Bliss & Nikki Cross in the ring and it's time for 'A Moment Of Bliss'. Alexa Bliss says she can see the future very clear...and she thinks the Los Angeles Lakers will win the NBA Finals...Braun Strowman will walk out of Extreme Rules, this Sunday, victorious over Bray Wyatt...as Nikki Cross is going on a tangent about her match against Bayley, this Sunday, WWE Women's Tag-Team Champions, SmackDown Women's Champion, Bayley & # 1 contender for the RAW Women's Champion, Sasha Banks make their way to the ring.
Sasha Banks cracks a joke about Nikki Cross and then Bayley says that she and Sasha are the architects of the Women's revolution. Bayley yells at a camera man, Nikki tells her to watch her mouth and then Bayley offers her prediction and says that she will defeat Nikki, this Sunday and Sasha will defeat Asuka to become the RAW Women's Champion. Sasha says that Bayley is right and there's not a damn thing anyone can do about it. Alexa says that's cute and all but they didn't let her finish announcing who her special guest is. Asuka & Nikki attack Sasha & Bayley as Alexa says lets get a referee down to the ring and they need to settle their differences in a tag-team match.
Match - Bayley & Sasha Banks vs Asuka & Nikki Cross (with Alexa Bliss)
Highlights (Bayley & Sasha Banks vs Asuka & Nikki Cross)
Result - Bayley & Sasha Banks defeat Asuka & Nikki Cross
We then see The Miz & John Morrison, backstage. Morrison tries to convince Miz to step in for him against Braun Strowman, but Miz laughs and tells Morrison that he'll do great as the pair head to the ring and after the break, John Morrison will face the Universal Champion, Braun Strowman in a non-title match.
After the break, we get an eery message from Bray Wyatt. Bray is at the 'Wyatt Swamp' where he met Braun Strowman. Bray says when Braun arrived, he gave him the truth...and a purpose..he created a monster. He says that Braun left him...or so he thought. The swamp is where dark comes to light and the devil comes to dance. It's a special place, a horrible place...and once you enter, a part of you will live forever. He says that he knows that the monster that he created is itching to come home. Wyatt says that Braun isn't capable of being alone...Bray must control him and destroy the monster that Braun has become.
The Miz & John Morrison make their way down to the ring, as does Braun Strowman. Braun stops mid-entrance and says that every man has to face his fear...and that's what he plans to do, this Sunday. Braun says that he must go home and finish Bray Wyatt before Bray turns into The Fiend and ends him.
Match - Braun Strowman vs John Morrison (with The Miz)
Highlights (Braun Strowman vs John Morrison)
Result - Braun Strowman defeats John Morrison
Match - Lacey Evans vs Naomi
Highlights (Lacey Evans vs Naomi)
Result - Lacey Evans defeats Naomi
Intercontinental Championship - AJ Styles (C) vs Matt Riddle
Highlights (AJ Styles vs Matt Riddle)
Result - AJ Styles defeats Matt Riddle, And STILL Intercontinental Champion
After the match, Matt Riddle and AJ Styles shake hands but King Corbin comes out of nowhere and attacks Riddle and plants him with an 'End of Days' and celebrates over a motionless Riddle as the show goes off-the-air.
That's a wrap for WWE SmackDown!
Be sure to stay with WrestlingNewsWorld.com and (@WNWNews) on Twitter for live-coverage of WWE Extreme Rules, this Sunday, beginning at 7:00pm, (Eastern)! You can find me on Twitter (@WNWFaria)!
While you're here at Wrestling News World, why not become one of our Premium Members for exclusive backstage news? You can even start off with a 30 day free trial!