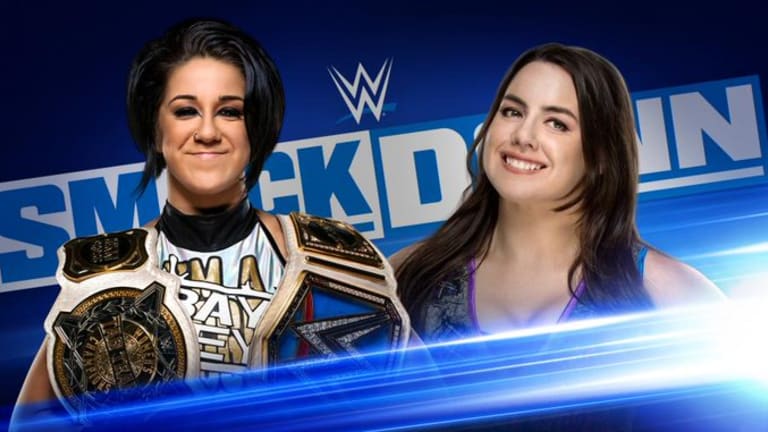 WWE SmackDown LIVE Coverage & Results (7/31/20)
Tonight's edition of Friday Night SmackDown emanates from the WWE Performance Center in Orlando, Florida and is headlined by Bayley defending the SmackDown Women's Championship against Nikki Cross and AJ Styles defending the Intercontinental Championship against Gran Metalik.
Before the show begins, let's see what tonight has in-store...
Bayley Defends The SmackDown Women's Championship Against Nikki Cross
AJ Styles Defends The Intercontinental Championship Against Gran Metalik
Naomi Looks To Finally Get Rid Of Lacey Evans
Otis & Mandy Rose's Love Story Continues
*LIVE COVERAGE*
The show begins with AJ Styles, Gran Metalik, Naomi, Lacey Evans, The Miz, John Morrison, Big E, Bayley, Sasha Banks & Nikki Cross all hyping up their matches & segments as the music for the Firefly Funhouse starts playing and we see Bray Wyatt inside of the aforementioned Funhouse. We see Bray with a snorkeler and seaweed on his sweater and he says he was in the swamp looking for Braun Strowman. Bray says that a part of Braun's soul will remain in the swamp forever...and now HE has him...and Braun has something that HE wants...the Universal Championship...and until HE gets it...NOBODY is safe. Bray then says goodbye and we're welcomed to Friday Night SmackDown by our commentary duo for the evening, Michael Cole & Corey Graves as we're set for our first title match of the night.
Intercontinental Championship - AJ Styles (C) vs Gran Metalik (with Lince Dorado)
Highlights (AJ Styles vs Gran Metalik)
Result - AJ Styles defeats Gran Metalik, And STILL Intercontinental Champion
Backstage, we see King Corbin and Shorty G. Corbin says that it's disgusting how 'bare-foot idiots, like Matt Riddle' walk into SmackDown and get all the opportunities while guys like Shorty G who work their ass off, get overlooked...Shorty G says he sees right through Corbin and that he knows that Corbin wants him to take out Riddle, that way he doesn't have to do it, himself. Corbin says that's not what he meant, but since he mentioned it...the 'King's ransom' is still up for grabs to whoever takes out Matt Riddle.
After the upcoming commercial break, Jeff Hardy will address his future, following his win over Sheamus, last week.
Back from the break and Jeff Hardy makes his way out to the ring. Hardy says he hasn't felt this good in a long time, the last few months, dealing with Sheamus were extremely tough and the demons that he brought with it weren't easy to deal with. Jeff says that being an alcoholic will always be a battle he has to deal with...but he's not just an alcoholic...he's a father, a husband and a WWE superstar and he loves nothing more than performing for the fans. King Corbin then interrupts him and tells Jeff to stop talking and he can't hear anymore of this non-sense. Corbin says he gets why Hardy is always complaining, because his life sucks but he has more important things to deal with, like Matt Riddle and his opponent for later tonight, Drew Gulak. Hardy says everyone else isn't the problem...the problem is him. Corbin says he's disappointed in Jeff and someone like him should want to be in the King's good graces. Corbin calls Jeff sad & pathetic and all he does is count the 12-steps and collect 'stupid coins' as Drew Gulak comes out from the back and attacks Corbin and we'll have Gulak vs Corbin when we comeback from a quick break.
Match - Drew Gulak vs King Corbin
Highlights (Drew Gulak vs King Corbin)
Result - King Corbin defeats Drew Gulak
After the match, Matt Riddle attacks King Corbin but Shorty G makes the save and takes out Riddle with a really solid rolling, German suplex.
Match - Big E vs The Miz (with John Morrison)
Highlights (Big E vs The Miz)
Result - Big E defeats The Miz
After a commercial break, we see Sheamus, backstage. Sheamus says the biggest mistake from fighting Jeff Hardy in a bar...was fighting Jeff Hardy in a bar. A bar is Jeff Hardy's home. Sheamus says it was basically a handicap match, him against Jeff Hardy and his lifelong partner...alcohol. Sheamus says if he can deal with an addict like Jeff, whatever he deals with next won't be an issue. He says Jeff Hardy isn't his problem, anymore...but he (Sheamus) is now the SmackDown locker room's problem.
Match - Naomi vs Lacey Evans
Highlights (Naomi vs Lacey Evans)
Result - Naomi defeats Lacey Evans
We then see Otis & Mandy Rose, backstage as they prepare for their 'date'...as the couple walk off, Sonya Deville lurks in the background as we go to a commercial break.
Back from the break, we see Mandy Rose getting ready for her date with Otis and Sonya Deville shows up and brutally beats Mandy down, grabs a pair of scissors and cuts off a chunk of her hair. Sonya then grabs a razor but WWE officials are able to stop her before she goes any further. A few moments later, Kayla Braxton shows up to give an update on the situation and The Miz and John Morrison show up and crack a few jokes at Mandy's expense...at one point, Morrison says now she looks like a Soccer mom and calls her 'Minivan Mandy'.
It's now time for our main event of the evening...
SmackDown Women's Championship - Bayley (C) (with Sasha Banks) vs Nikki Cross (with Alexa Bliss)
Highlights (Bayley vs Nikki Cross)
Result - Bayley defeats Nikki Cross, And STILL SmackDown Women's Champion
After the match, Nikki pushes down Alexa Bliss in frustration and The Fiend appears and locks-in the Mandible Claw on Bliss as the show closes...
That's a wrap for tonight's edition of Friday Night SmackDown!
Be sure to stay with WrestlingNewsWorld.com and (@WNWNews) on Twitter for all of your Pro Wrestling news and needs! You can find me on Twitter (@WNWFaria)!
While you're here at Wrestling News World, why not become one of our Premium Members for exclusive backstage news? You can even start off with a 30 day free trial!