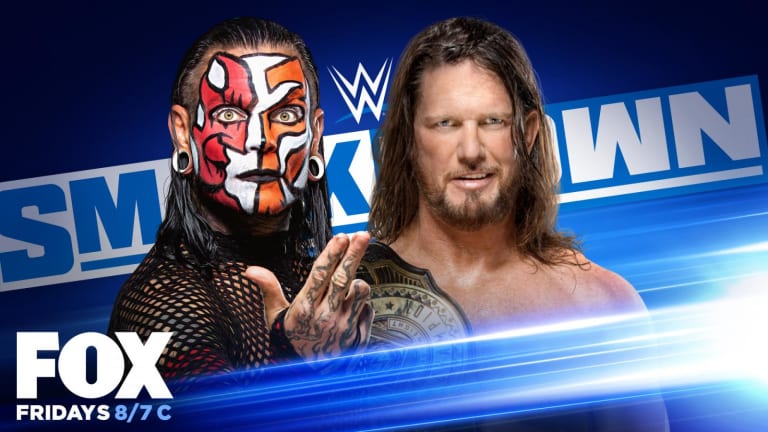 WWE SmackDown LIVE Coverage & Results (8/21/20)
Tonight's edition of Friday Night SmackDown is emanates from the Amway Center in Orlando, Florida and is LIVE for the first time in months and will feature the debut of the WWE's newest virtual fan experience, 'WWE ThunderDome' as well as a pair of title matches just 48-hours before SummerSlam.
Before the show begins, let's see what tonight has in-store...
Vince McMahon Kicks-off The Show
AJ Styles Defends The Intercontinental Championship Against Jeff Hardy
What Will Universal Champion, Braun Strowman Have To Say To 'The Fiend' Ahead Of Their Championship Match At SummerSlam
Shinsuke Nakamura & Cesaro Defend Their SmackDown Tag-Team Championships Against Lucha House Party
Big E Looks For Revenge On Sheamus
*LIVE COVERAGE*
The show begins with the debut of WWE's newest creation, the virtual fan experience now known as 'WWE ThunderDome'.
We then see the Chairman of WWE, Vince McMahon in the ring, who welcomes us to Friday Night SmackDown as well as the aforementioned ThunderDome. Before he can say another word...the lights go out and here comes The Fiend, who's entrance looks even more unbelievable then usual with this new set.
The Fiend follows each step that Vince takes before the Universal Champion, Braun Strowman interrupts & gets in the ring but out of nowhere, Retribution shows up with about 10-15 members surrounding the ring. The Fiend waves to Braun, the lights go out & The Fiend is gone. Retribution attacks Braun before the entire SmackDown locker room rushes the ring & makes the save, Retribution all slide out of the ring & we head to a commercial break.
Highlights (Big E vs Sheamus)
Result - Big E defeats Sheamus
We then see Jeff Hardy, backstage where a trainer is tending to his right knee which is apparently injured. Commentary says there's no word on what happened to Hardy.
SmackDown Tag-Team Championships - Cesaro & Shinsuke Nakamura (C) vs Lucha House Party (with Kalisto)
Highlights (Cesaro & Shinsuke Nakamura vs Lucha House Party)
Result - Cesaro & Shinsuke Nakamura defeat Lucha House Party, And STILL SmackDown Tag-Team Champions
We then see video footage of the SmackDown locker room coming out to attack Retribution, earlier in the night and AJ Styles kicked Jeff Hardy in the back of his right knee during the attack which is what caused Hardy's knee injury.
The WWE Women's Tag-Team Champions, SmackDown Women's Champion, Bayley & RAW Women's Champion, Sasha Banks make their way to the ring where Corey Graves is waiting to interview them.
Graves asks if they think that they can both actually beat Asuka in separate matches, this Sunday at SummerSlam. Bayley & Sasha laugh Graves off but then Naomi interrupts & challenges each of them to separate singles matches right here, right now. Graves suggests they should do a beat the clock challenge to see he beats Naomi faster, if at all & Naomi is sick of waiting for an answer & attacks both Champions as we head to a commercial break.
Back from the break and Sasha Banks will face Naomi first. Sasha gets Naomi to tap-out to the 'Bank Statement' in 3 minutes & 37 seconds.
Bayley gets in the ring, the referee makes sure Naomi is okay & their match gets underway. Naomi shockingly gets the win over Bayley in just 1 minute & 53 seconds.
Bayley & Sasha's opponent for SummerSlam, Asuka comes down to the ring and says neither Bayley or Sasha are ready for Asuka. Sasha rushes the stage & tries to attack Asuka but Asuka takes her out then goes to the ring and beats down Bayley, who retreats to the stage and just walks by Sasha Banks who's laying motionless on the entrance ramp.
We then see Sonya Deville backstage and Dana Brooke comes up to her and says she's sorry for what's happened this week and Sonya just slaps the hell out of her and we head to a commercial break.
Back from the break, Sonya Deville makes her way to the ring and she says she wants to up the stakes for their match at SummerSlam and it will no longer be hair vs hair...it will be a no-DQ match and the loser leaves WWE.
We then cut to the Firefly Funhouse with Bray Wyatt. We see a recap of the last few episodes of the Funhouse as well as The Fiend's interactions with Universal Champion, Braun Strowman & Alexa Bliss over the last month or so.
After the video package, we actually see Nikki Cross, not the Funhouse. Nikki says the Alexa Bliss that she knows is warm and loving and the Alexa that she spoke, last week wasn't that Alexa...and she feels that something terrible is about to happen.
Michael Cole & Corey Graves them announce that an new episode of the Firefly Funhouse will indeed happen, later tonight as it's now time for the Intercontinental Championship match.
Intercontinental Championship - AJ Styles (C) vs Jeff Hardy
Highlights (AJ Styles vs Jeff Hardy)
Result - Jeff Hardy defeats AJ Styles, And NEW Intercontinental Champion
After the match, Kayla Braxton gets in the ring & Jeff Hardy says a few words about what winning the Intercontinental Championship means to him and he hopes this is the start of his life truly getting back on track.
We then see Huskus The Pig-boy & Ramblin' Rabbit (dressed like Alexa Bliss) in the Funhouse and commentary announces that after a commercial break, the Firefly Funhouse is up next.
In the Funhouse, Bray Wyatt appears and say that love is the most dangerous word in the world. All it does is trick you into having an emotional breakdown. Huskus The Pigboy & Ramblin' Rabbit then do a skit of Braun Strowman & Alexa Bliss' love story before Bray steps in and yells at them that they're doing it wrong & makes them leave. Bray laughs into the camera and asks 'what took you so long?' and Universal Champion, Braun Strowman rushes the Funhouse, attacks Bray Wyatt then drags Bray's body out of the Funhouse as he says he's not done with him as we head to a commercial break.
Back from the break, Michael Cole & Corey Graves says that they're trying to get cameras on the brawl between Braun & Bray, that's occurring backstage. Cameras finally catch up to the brawl and Bray & Braun are absolutely tearing into each other before Braun chucks Bray off of a ledge to the concrete ground below. WWE officials check on Bray and get a stretcher, load Bray onto it and then they put him into an ambulance. WWE officials start yelling at the ambulance driver to drive off and the ambulance pulls a little bit forward and then begins driving in reverse and finally comes to a stop as the entire back windows of the ambulance turn red and smoky and the doors open and it's 'HIM'...The Fiend laughs maniacally into the camera as the show goes off the air.
That's a wrap for tonight's edition of Friday Night SmackDown!
Be sure to stay with WrestlingNewsWorld.com and (@WNWNews) on Twitter for all of your Pro Wrestling news and needs! You can find me on Twitter (@WNWFaria)!
While you're here at Wrestling News World, why not become one of our Premium Members for exclusive backstage news? You can even start off with a 30 day free trial!