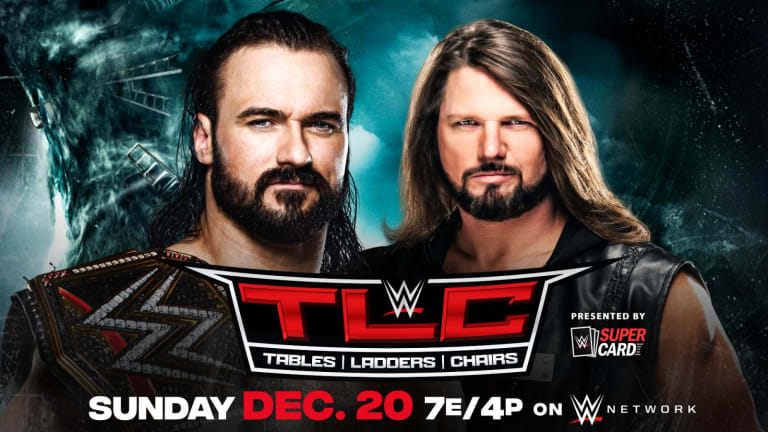 WWE TLC 2020 LIVE coverage and commentary
Things are going to get messy tonight during WWE's annual tribute to furniture, TLC. Yeah, those are the kind of jokes we're going with.
You may need to refresh the page for the latest results
Hi! How do you do? Kevin Christopher Sullivan (@HeyImKevinSully on Twitter) here with you as we get ready for the final WWE PPV of this dumpster fire of a year. I know everybody calls 2020 a "dumpster fire", but is there really a more apt term for it? 
Tonight's show has kind of a little bit of everything, even when you don't take into account the match stipulations. Three world title matches with interesting stories behind me, a feud between two formal rivals reignited, and a well-built tag team match with a secret partner surprise. 
TLC starts tonight at 7pm/6pm Central, with the kickoff show before that. Our coverage will probably start 15-30 minutes before showtime, but we'll be sharing tweets, WNW articles, and more not only during the show but up until kick-off, too. If you want to chime in on tonight's events, Tweet me at the handle above or post them in the comments section below. 
TLC starts tonight at 7pm/6pm Central, with the kickoff show before that. Our coverage will probably start 15-30 minutes before showtime, but we'll be sharing tweets, WNW articles, and more not only during the show but up until kick-off, too. If you want to chime in on tonight's events, Tweet me at the handle above or post them in the comments section below. 

Tonight's updates will go from latest to earliest on down, and I'll do my best to include timestamps to keep everyone up to speed. In the meantime, get comfortable and enjoy the show and I'll see you in a bit.
---------------------------------------------------------------------
We're thirty minutes away from tonight's TLC. Get ready.
Timestamps from here on in will be Central time, just so you know.
(6:00pm) OK, ladies and germs, the "Pirates Beware" warning pops up on screen and it's time to start 2020's WWE TLC!
WWE Champion Drew McIntyre will be defending his title against AJ Styles to open the show.
(6:07pm) Omos accompanies Styles to the ring, wearing a stylish turtleneck and gold chain under a brown bomber jacket which is a good look for him.

What?
(6:10pm) Wo DO you got tonight? Styles or McIntyre? Will Miz cash in either way during or after the match? Let us know your thoughts in the comments or via Twitter.
(6:11pm) The WWE Champion is heading to the ring to get this match started.
Is Drew's sword legal in this match?
(6:13pm) Drew is introduced and, as he is, he rips off his kilt and kicks it right into AJ's face.
Bell rings and AJ immediately attacks Drew's knee.
(6:17pm) Styles in the corner and Drew charges in... but AJ moves. As Drew stumbles back, AJ leaps onto the turnbuckles for an attack - but Drew chops him in the chest and out of the ring.
The champ warning Omos to keep his distance... as if he had to, since it's no-DQ and all.
My favorite thing about ladder matches is when the participants pretend climbing up the ladder is soooooo hard.
(6:19pm) Drew heads up the ladder but Styles blasts him in the knee with a chair and puts a stop to that.
(6:21pm) McIntrye looks to slingshot AJ into the upright ladder but instead tosses him onto the ladder. Drew has to think fast and pulls him off, tossing AJ into a corner that also has a chair propped up in it.
(6:24pm) AJ looks like he's going to attempt a Styles Clash on Drew onto a ladder. The champ reverses it and hits AJ with a Future Shock DDT. He follows it up by throwing the ladder directly onto Styles, but the former champ retaliates with a chop block to the knee.
(6:25pm) Styles uses the ladder to enhance a Calf Crusher on Drew. It looks siiiiiiick.
AJ takes a chair and blasts Drew's knee with it repeatedly... then uses the chair in conjunction with another Calf Crusher.
(6:30pm) Styles has McIntrye on a table on the outside of the ring. AJ starts to set up a ladder in the corner, presumably to use it to leap off of onto Drew. Drew gets up and throws a chair at his head. Then throws a table into the ring.
(6:33pm) Styles hits Drew with a Phenomenal Forearm. Omos slides a new ladder into the ring for him.
AJ's climbing the ladder and Drew pulls him off, lifts him up into a Gorrilla Press and tosses him right onto a table on the outside!
(6:35pm) Drew begins to climb the ladder and The Miz races down to the ring! He tosses Drew into a table of his own and CASHES IN!
Miz begins to climb the ladder, but Omos hits the ring and pulls him down. 
(6:37pm) Morrison blasts Omos in the back with a chair, and the giant reacts to it like all he did was call him a mean name.
AJ and Drew fighting at the top of the ladder. Miz comes back in and sets up his own ladder next to it.
(6:40pm) Despite getting knocked off the ladder and right onto the ropes, Drew manages to push both of them to the ground.
Drew nails Miz with a Claymore, then climbs the ladder to retain.
RESULT: Drew McIntrye defeats AJ Styles and The Miz
(6:50pm) The Mandalorian's Sasha Banks is defending her SmackDown Women's Championship against Carmella next!
(6:54pm) The bell rings and Sasha charges after Carmella, who bails out of the ring.
Sasha tosses her opponent over the top rope but Reginald races to ringside and catches her.
(6:59pm) Banks hits Carmella with the Three Amigos, followed by a Frog Splash (the Eddie Tribute Combo) but the Untouchable One manages to kick out of the pin attempt.
(7:01) Carmella slams Banks face first onto the mat and goes for three different pinfall attempts, but Sasha kicks out of each.
(7:05pm) Sasha has Carmella in the Banks Statement! Reginald pulls Carmella out of the pin attempt, but eats a Meteora from the ring apron for his trouble. Carmella with a kick to the head and tosses her into the ring, goes for a pin, and gets a 2.
Sasha knocks Carmella to the mat and throws on the Banks Statement and gets the tap out.

If you wanted to know how to defeat Carmella... this is the way.
RESULT: Sasha Banks defeats Carmella
Meanwhile, Asuka is warming up backstage. Billie Kay approaches her, again with her headshot and resume, and offers to be her tag partner tonight. She even claims to understand Japanese - and she's made her own Asuka-style mask. Asuka informs her that "the position has been filled." Awww
The New Day defend their Raw tag titles against the Hurt Business... and I really see the HB coming away with the belts tonight.
Bell rings, Cedric charges right at Kofi, and Kofi nails him with a superkick immediately.
(7:17pm) The New Day are overwhelming Cedric like the champs they are, then go for the pin. Shelton breaks up the pin. That gives Cedric the opportunity to shake the cobwebs off and tag in Benjamin.
(7:19pm) Woods is selling an injured shoulder and Alexander zeroes in on it. Advantage: bad guys.
(7:21pm) Alexander goes for a handspring attack, but Woods leaps to his feet and kicks him away - getting the hot tag to Kofi in the process.
(7:23pm) Benjamin catches Kofi in mid-air and holds him up for Alexander to hit off the top rope. Kofi rolls him out of the way and escapes. And now everything has gone to heck.
(7:25pm) Benjamin with a double-underhook superplex on Kofi! Shelton is ready to finish him off, but Benjamin tags himself in.
He nails Kofi with the Lumbar Check and gets the pin!
RESULT: The Hurt Business defeat The New Day to win the Raw Tag Team Championships
Coming up! Door Dash is bringing me dinner! Oh, also, it's Nia Jax and Shayna Baszler defending their Women's Tag Team Championships against Raw Women's Champion Asuka and her (ooooooooooh) mystery partner! (it's probably The Undertaker)
And Asuka's mystery partner is none other than Charlotte Flair.
So... not The Undertaker. I owe Tom Fenton $20 now.
Asuka and Shayna start the match out, but it doesn't take long for Charlotte to get tagged in.
And we have new Women's Tag Team Champions!
RESULT: Asuka and Charlotte Flair defeat Nia Jax and Shayna Baszler
Roman Reigns, along with Paul Heyman, make a big production of coming down to the ring and putting his Universal Championship on the hook in the middle of the ring.

Suddenly, KEVIN OWENS COMES IN OUT OF NOWHERE! 
Jey Uso hits the ring (no DQ after all) and Owens blasts him with a chair, too. Kevin Owens is out for blood.
Was that a head shot to Uso?
(8:05pm) Owens climbs back into the ring, and Reigns nails him with a drive-by. Advantage Reigns.
Owens is nearly to the top of the ladder, belt within reach, and Jey Uso rushes back in to stop him. 
Roman attempts to throw Owens into a Jey Uso superkick, but Owens dodges, knocks him out of the ring, and hits Reigns with a Stunner.
Owens powerbomb Uso right into the announce table.
(8:16pm) Owens scrambles to the top of the ladder and is met by Reigns.
Kevin goes for a superkick, Reigns catches him and powerbombs him onto a ladder.
(8:20pm) Reigns casually strolls into the ring and saunters up the ladder - but Owens grabs him by the leg.
"You're embarrassing me in front of my family!"
Owens clocks Reigns in the mush, and Reigns spears Owens right into a table.
(8:22pm) Reigns charges Owens outside of the ring - but Kevin moves and sends Reigns flying into the security wall.
Positions are reversed as Reigns manages to stop Owens from reaching the belt.
Owens goes for a pop up powerbomb and Reigns reverses it into a superman punch. Kevin still manages to bomb him into a table. 
(8:26pm) Owens is nearly at the belt, but Uso blocks him. Then Reigns grabs him on the ladder with a Guillotine Choke, sending Owens to the mat. Reigns grabs the belt.
RESULT: Roman Reigns defeats Kevin Owens
Big E vs Sami Zayn confirmed for SmackDown on Friday
It's time for the INFERRRRRRRNOOOOOO MATCH!
Why is "Legend Killer" on Randy's hoodie in the Guitar Hero font?
(8:52pm)
The Fiend tosses Orton into a kerosene soaked rocking chair, then sends a line of flame towards him, Trevor Phillips style. Orton moves at the last second.
(8:54pm) Orton has a chain wrapped around his hand, pounding away on Wyatt's mask - and The Fiend shrugs it all off.
The ring is surrounded by flames. It looks pretty dang cool.
Fighting outside of the ring, Wyatt attempts to push Randy into the flames. Orton turns him around and pushes him into the fire, and the Fiend is lit ablaze.
Wyatt, still engulfed, races back into the ring, but is met by an RKO. 
RESULT: Randy Orton defeats The Fiend
Orton grabs a gas can from outside the ring and brings it back in to pour onto The Fiend. Uh oh.
The Viper tosses a lit match onto the prone body of The Fiend and it goes up in flames. 
And that's our show.
So, we come out of TLC with two title changes, a MOTY candidate, a failed MITB cash-in and a clown on fire. All in all, I'd say that was a pretty successful show.
I'll be back tomorrow night for Raw, as WWE will be heading into not only the holidays but gearing up for the Royal Rumble. Until then, thanks for reading. I'm outta here.