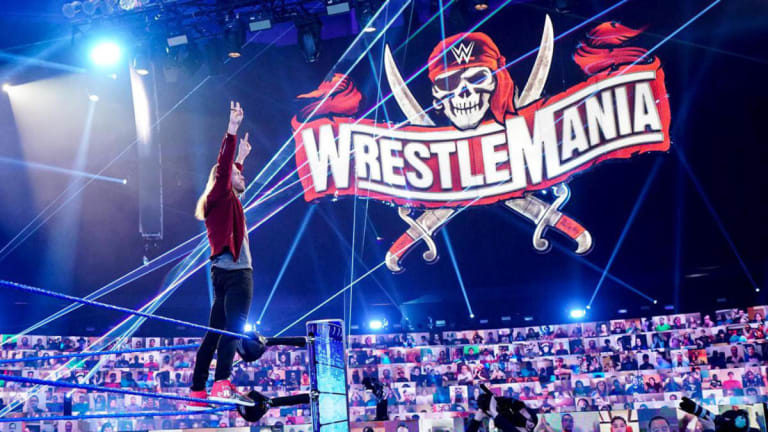 WWE WrestleMania 37 LIVE coverage, commentary, and MORE!
It's the first major WWE event with fans in forever! Provided the weather doesn't ruin it. Come hang out with us!
(As usual, you may need to refresh the page to get the latest updates)
Well, we're finally here. It's the first night of WrestleMania! I'm excited! Are you excited? I'm excited.
I'm also Kevin Christopher Sullivan, part of the Live Coverage Crew here at Wrestling News World, and I am thrilled, honored, and privileged to be able to provide you with commentary on tonight's - and tomorrow night's! - card. 
AT THE MOMENT - it looks like inclement weather is heading towards Raymond James Stadium in Tampa, FL and they've asked the crowd there to seek shelter for the time being.
So, we might see the show delayed a little bit. I can't imagine neither Tampa nor the WWE have gone into tonight's show without a contingency plan, so we'll have to wait and see how things play out.  Thankfully, we still have plenty of time before the show is supposed to start.
In the meantime, share your WrestleMania Night One predictions in the comments down below and let's get a conversation going. We'll keep you up to speed with the developments down in Florida as they happen!
---
We're about 15 minutes away from the official preshow on Peacock, so we'll wait and see what word comes down from WWE on high then.
The Kickoff Show is almost over and, despite reports coming in that the steel cage is being lowered to the ring, they've confirmed that McIntyre vs Lashley will be starting the show off as expected.
See you all in a bit! All timestamps will be in Central Time. Have fun!
---
COVERAGE STARTS BELOW - LATEST UPDATE WILL BE RIGHT BELOW THIS LINE.
---
That was an amazing first night! Wow! That was an absolute pleasure to cover.

I will see you all tomorrow night, provided the weather holds. Thank you all so much for watching along with me.

Until then... I'm outta here.
RESULT: Bianca Belair defeats Sasha Banks to win the SmackDown Women's Championship!
(10:37pm) Bianca with the Kiss of Death and GETS THE PIN! HOLY SH**!!!
(10:36pm) Bianca hits Sasha with her braid so hard it sounded like a gunshot!
(10:35pm) Banks has Bianca in the Tree of Woe and charges in for a dropkick, but Bianca moves and Sasha slams her legs right into the second turnbuckle. Bianca goes for the pin but Sasha still kicks out!
(10:33pm) Banks uses Bianca's braid to pull her into a Banks Statement! Brilliant! Belair still gets to the ropes and there's a lot of B names in the match I just noticed.
(10:32pm) Sasha turns a botched Meteora into a gorgeous splash and nearly gets a pin. Nice ring work from the Boss.
(10:30pm) No matter who wins this match tonight, these two are making each other look awesome.
(10:26pm) Banks continuing to use Belair's hair against her, but Bianca turns the tables and pulls Sasha into the ring post! Belair gets the champ back into the ring before the ref's count.
(10:18pm) Sasha vs Bianca is about to start. I'm going to sit back and take this in, but I'll keep you guys in the know, as well. Let's go!
I'm standing by my prediction that Sasha wins, but I'm not going to be shocked if Bianca gets the title tonight. That would be a hell of a way to end Night One.
Bad Bunny's got my respect. Big time.
RESULT: Bad Bunny and Damien Priest defeat Miz and Morrison
(10:06pm) Priest lifts up Miz and Bunny with the top rope splash and GETS THE DAMN PIN!
(10:05pm) Bad Bunny just hit Morrison with a CANADIAN DESTROYER on the arena floor! HOLY SH**!!!!!!
(10:04pm) Following a plancha onto Miz and Morrison by Bunny, Priest throws Miz into the ring. Miz manages to hit Priest with his finisher, but Bunny breaks up the pin.
(10:02pm) And there it is! Priest in and cleaning house!
(10:00pm) Not Good Rabbit has been taking punishment for a good five minutes now, setting him up for the greatest moment in any tag team match, the Hot Tag!
(9:53pm) Crowd chanting "Let's go, Bunny!", the first time a WWE crowd has chanted that since Adam Rose worked for the company.
(9:51pm) It looks like Priest and Miz are going to start things out, but Miz insists on taking on Bad Bunny, so Priest obliges and tags in Bunny.
(9:48pm) Meanwhile, Bad Bunny arrives on top of Becky Lynch's truck from last year, apparently.

Jokes aside, that was a pretty friggin' dope entrance.
(9:47pm) And Damien Priest makes his WrestleMania debut and looking like a badass version of Prince. LOVE IT.
(9:41pm) A horde of bunnies come to the ring to introduce... Miz and Morrison, actually.
I'm guessing the 2021 class will be highlighted tomorrow night.
(9:30pm) Bayley comes out and interrupts Michael Cole and introduces the video package showing off the Hall of Fame inductees.
RESULT: Braun Strowman defeats Shane McMahon. (Also, I am now 2-3)
(9:26pm) Braun asks those in the crowd who has ever been called "stupid" to stand up. Then, he powerslams Shane and wins the match.
(9:25pm) Shane and Braun are on the top of the cage. Braun shouts "Who's stupid now?!" and throws him down to the mat.
(9:24pm) As Shane climbs down the outside of the cage, he sticks his hand in and waves goodbye.

Braun grabs his hand and, with his other hand, peels back the cage wall and pulls Shane back in!
(9:23pm) Why was there a bag with a toolbox near the top of the cage?
(9:21pm) Shane climbs the cage and Elias and Ryker climb up the other side to help him - and Braun charges into the cage wall, sending Ryker and Elias to the floor and Shane from the top of the cage to the mat.
(9:14pm) Before Braun can enter the cage, Elias and Jaxson Ryker attack him with chairs. KABOOM
(9:13pm) It's time for Braun vs Shane... in case anyone needed a quick nap or something.
Shane McMahon dumped green slime on Braun Strowman! You can't do that on television!!!!

Whoever gets that joke and tweets me gets a shout out here. @HeyImKevinSully
WWE 2K22 has been announced.
RESULT: AJ Styles and Omos defeat The New Day and are your new Raw Tag Team Champions!
(9:04pm) And Omos with the pin! New champs. And I finally predicted one correctly!
(9:03pm) AJ with a Phenomenal Forearm off of Omos's shoulders!
(9:02pm) And here's what this match is all about. Omos is destroying the New Day single-handedly.
(9:01pm) Omos FINALLY enters the match!
BTW, here's a piece I wrote regarding AJ Styles in this match. Please check it out when you have some free time. 
(8:58pm) New Day is overwhelming AJ so far in this match - probably to make Omos's debut even more intense.
(8:54pm) Never mind, it's AJ instead.
(8:53pm) New Day dancing to AJ's music is everything. Also, Omos is starting this match off with Kofi.
(8:49pm) Big E is out to introduce his New Day pals!
Man, I am 0-3 so far. I kind of suck at this prediction thing.
RESULT: Cesaro defeats Seth Rollins
(8:44pm) Cesaro with a Neautralizer and the win!
(8:43pm) Rollins goes for it again, but Cesaro counters it with a European Uppercut and then a no-hands airplane spin. Then a Swing - 23 times!
(8:42pm) Seth declares himself a "god" and goes for the Stomp. Cesaro ducks but Seth hits him with a back kick.
(8:41pm) Rollins busts out The Pedigree! Still only gets a 2! Crowd is FULLY awake now.
(8:40pm) Cesaro with the Neutralizer on Rollins, but Rollins kicks out.
(8:39pm) Rollins with a Corkscrew Splash, but Cesaro kicks out!
(8:37pm) Cesaro goes for the Swing, and Rollins rolls him up to reverse. Then another attempt and Seth grabs the ropes. Then ANOTHER attempt, and this time he gets ten swings. But his arm hurts, so he had to drop him. He goes for a Sharpshooter, but Rollins breaks free.
(8:34pm) The announcers keep going on about "Can Cesaro get the Swing on Rollins?" that if he does, it'll probably mean he'll lose the actual match.
I think they should get Seth Rollins in those Old Spice ads and call him "Smell-th Rollins."

Tweet this.
(8:32pm) Seth Rollins against Cesaro is up next.
RESULT: Natalya and Tamina win the Tag Team Turmoil match and go on to challenge for the Women's Tag Titles tomorrow night.
(8:25pm) Natalya has Ruby set for the Sharpshooter, but instead has Tamina go up top for the Superfly Splash, which ends the match.
(8:22pm) Natalya and Tamina are the final team in the match - with the winners going on tomorrow night to challenge for the Women's Tag Team championships.
(8:20pm) Dana with a Swanton on Liv, but Morgan reverses it into a roll-up and, despite the incorrect call by the announcer, the Riott Squad move on.
(8:16pm) Riott Squad with a Backstabber into a Senton on Billie Kay, and Riott Squad wins. Carmella attacks Ruby after losing. Dana Brooke and Mandy Rose in now.
Hey, another set of Harley Quinn-inspired ring gear. Yay.
(8:14pm) Naomi and Lana are out, and the Riott Squad is in.
(8:11pm) Naomi and Lana vs Carmella and Billie Kay is the match starting out the Tag Team Turmoil match.
(8:05pm) Titus O'Neal and the nWo are talking backstage, when Bayley comes out to try and be buddies. It doesn't work.
Looks like I'm 0-1 so far.
RESULT: Bobby Lashley defeats Drew McIntyre to retain his WWE Championship
(8:03pm) McIntyre goes for the Claymore, but MVP distracts him. Lashley slaps the Hurt Lock on Drew - and Drew nearly gets out Bret Hart-style! But, he doesn't break and Lashley wins!
(8:00pm) Lashley nearly gets the Hurt Lock on Drew, but the challenger slips out and drives the champion into the turnbuckles. McIntyre gets the Kimura lock on Bobby, but Lashley grabs the ropes to break.
7:59pm) Drew with the countdown for the Claymore, but MVP pulls his charge out of the ring before he can launch. So, Drew launches himself over the ropes instead and crashes into the two of them.
(7:58pm) McIntyre with THREE Future Shock DDTs and Lashley STILL kicks out!
(7:57pm) Drew tosses Lashley off the turnbuckle and charges in for the Claymore. Lashley counters with another chokeslam - but Drew kips up to his feet!
(7:54pm) Drew with a Glasgow Kiss heatbutt, and Lashley responds with a chokeslam. He goes for the Hurt Lock, but Drew manages to fight his way out.
(7:53pm) Drew even gets a Northern Lights suplex on the champion, but only gets a 2 count from it.
(7:51pm) Lashley has been controlling this match from early on, including breaking out of a reversal-into-an-armbar - but Drew bursts out of the corner with a lariat and gains some momentum.
(7:45pm) The bell rings and this match is on.
MATCH #1: WWE Champion Bobby Lashley vs Drew McIntyre for the WWE Championship.
(7:39pm) Samoa Joe mentions "great performances" and that has to apply to Titus O'Neal managing to not drive his microphone into Hogan's forehead.
(7:35pm) WrestleMania co-hosts are being introduced, Titus and Hulk. Hulk comes out and Titus looks... like controlled rage, I guess?
(7:28pm) Love Seth Rollins calling Cesaro "Zazz-ah-ro"
(7:25pm) Michael Cole and Samoa Joe in rain parkas, assuring us that WrestleMania will begin for realsies in five minutes.
(7:15pm) Drew McIntyre has had enough of MVP's trash talk and confronts the two of them. Officials drag MVP and Lashley away, and Drew is giving the kind of promo that helps prove why he's one of the top guys in the company.
(7:14pm) We jump from an improvised interview with Shane McMahon to one with Bobby Lashley and MVP.
(7:10pm) Annnnnnnnnnnnnd.... we have a weather delay.
(7:05pm) Good singer, though.
(7:04pm) I don't know who this is singing America the Beautiful but her outfit looks like a wardrobe malfunction waiting to happen.
(7:01pm) Vince McMahon opens the show, along with the WWE Roster behind him, addressing and thanking the live audience for their patience and for attending. All Superstars are adhering to social distancing guidelines, which is responsible of them.

Also looks like a brand new "THEN. NOW. FOREVER." bumper.