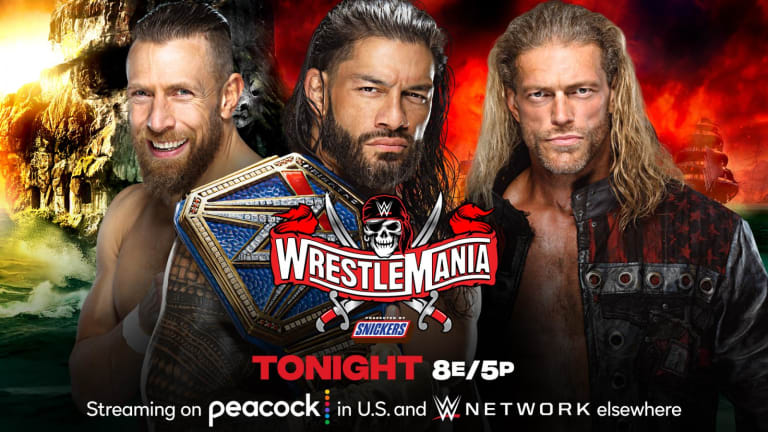 WWE WrestleMania 37, Night Two - LIVE coverage, commentary, and MORE
WrestleMania 37 continues tonight! And so does the crummy weather, it seems.
(You may have to refresh this page a couple of times to get the latest updates to load)
Greetings and salutations, my friends. Kevin C. Sullivan of the WNW Live Coverage Crew here with you for Night Two of WrestleMania 37!

Last night's show was one to remember - and if you don't remember, you can read our coverage of it here - and the hope is that tonight is going to be just as memorable. 

We're in the process of getting everything together before the show, but we'll be up and running as soon as the Kick-Off Show wraps up. See you all in a bit!
---
And... that was it. Show's over. That was a great match, but I was kind of expecting something to happen afterwards. BUT, I suppose that's what Raw after Mania is for. Which I'll be covering for you guys tomorrow, as well.

Thanks for coming by and hanging out. Have a fantastic evening. Until next time... I'm outta here.
RESULT: Roman Reigns defeats Daniel Bryan and Edge
(10:16pm) Con-Chair-To on Bryan and then Edge goes after Reigns, but Jey Uso attacks. Edge spears him, but Reigns with the spear. Roman with a Con-Chair-To on Edge, then piles him on top of Bryan and pins them both.
(10:14pm) Edge has entered Bulgy Eyes Mode.
(10:14pm) Bryan goes for the running knee but Edge spears him. Then Roman charges him, and Edge ducks the attack and spears HIM! Edge goes for the pin, but Bryan pulls him out of the ring.
(10:12pm) "You got a bad neck?" Bryan asks before stomping away at Edge's neck.
(10:11pm) Both Edge and Bryan have Roman in a submission hold... but only one can win. So, they start headbutting each other.
(10:10pm) Edge looking for multiple steel chairs, as if that's a big surprise.
(10:08pm) Roman powerbombs Bryan off the ring steps and through the announce table. Then, Edge leaps off those same steps and spears Roman like his life depended on it.
(10:06pm) Edge breaks up the hold before Reigns can submit. So, Bryan slaps it on Edge instead. Then Reigns breaks it up.
(10:05pm) Bryan grabs Reigns by the arms and stomps away at his head. Then, he slaps on the Yes Lock.
(9:56pm) Edge reverses an Irish whip and tosses Jey into the steel steps. Now, Edge has the upper hand over both Bryan and Roman.
(9:55pm) The bell rings and Roman immediately goes after Daniel Bryan. Bryan ends up on the floor and Jey Uso gets involved. He attacks both Bryan and Edge - no DQs.
(9:49pm) Here comes Romey.
(9:47pm) Edge is dressed in white and red... much like Randy Orton earlier.
(9:46pm) Daniel Bryan is the first to come to the ring, followed by Edge.
Main Event Time: Universal Champion Roman Reigns vs Edge vs Daniel Bryan
(9:38pm) Bayley makes a crack about John Cena and the Nikki Bella punches her and that was about it. WHeeee.
(9:37pm) And now the Bella Twins come out?
(9:36pm) Hulk and Titus come out to thank the live crowd and TV audience when Bayley comes out to interrupt.
RESULT: Rhea Ripley defeats Asuka to win the Raw Women's Championship.
(9:30pm) Well... I was wrong. Rhea Ripley nails Asuka with the Riptide and scores the win and the title! (Also, my kid was yelling and I missed this WHOLE match. Don't have kids.)
(9:11pm) Rhea comes out to a live band version of her theme. That rarely bodes well.
Match 6: Raw Women's Champion Asuka vs Rhea Ripley
Coming up next....
RESULT: Apollo Crews defeats Big E for the Intercontinental Championship
(8:52pm) Daba Kato interferes, slamming Big E to the mat and draggin Apollo over him - and we have a new champion.
(8:50pm) Apollo nearly tosses the steel steps onto Big E from the ring apron, but E moves.
(8:46pm) Bell rings and both men duck out of the ring and each grab a kendo stick.
(8:43pm) Oh... it's to bring out Big E. OK. That's nice.
(8:42pm) Oh... it's essentially a no DQ/no countout match. OK. That's nice.

Also, Wale is doing a song. For some reason.
Match 5: Intercontinental Champion Big E vs Apollo Crews
(8:40pm) Well... it's about time for the Nigerian Drum Fight... whatever the f*** that is.
(8:37pm) Looks like Bad Bunny is going on tour.
RESULT: Sheamus defeats Riddle to win the WWE United States Championship.
(8:34pm) Riddle attempts an Asai Moonsault, but Sheamus Brough Kicks him out of the air and gets the pin.
(8:33pm) Sheamus goes for White Noise from the top rope, but slips off and has to settle for a regular one. So, he heads back up and hits him with a flying knee, but it's still not enough to get the pin.
(8:32pm) Came across some technical issues and had to restore an older version of our coverage. So far, at the moment, Riddle vs Sheamus has been a lot of back and forth with no one really holding the advantage for very long.
Match 4: WWE US Champion Riddle vs Sheamus
(8:17pm) Riddle is riding his scooter backstage and comes across new WWE Hall of Famer The Great Kahli. Riddle attempts to sell Khali on a business idea, but isn't having it. RVD comes out and attempts to "translate" and offers Riddle some "RVD Rolling Papers". Perfect.
(8:16pm) Logan Paul attempts to congratulate Owens, but Owens nails him with a Stunner, which makes the crowd happy.
RESULT: Kevin Owens defeats Sami Zayn
(8:12pm) Owens has Sami in the corner and charges in with a lariat. He races to the corner, ready to do it again, but Sami races in and nails KO with a Helluva Kick. Sami goes for another one, but Kevin hits a superkick and then a Stunner for the win.
(8:11pm) Tonight's first "This is Awesome" chant breaks out.
(8:10pm) Sami hits an Exploder Suplex, followed by a Blue Thunder Bomb, and then another Exploder, but Zayn still only manages to get a 2-count.
(8:04pm) Sami charges at Kevin and gets nailed with a pop-up powerbomb for his trouble.
(8:02pm) I hope that, to counter having Logan Paul out there, Kevin Owens brings out the Angry Video Game Nerd.
(7:59pm) Also, in the For Some Reason Department, JBL is the special guest commentator for this match.
(7:55pm) Coming up: Sami Zayn vs Kevin Owens! And Owens is the face! And Zayn is the heel! And it's at WrestleMania! And... Logan Paul is involved for some reason. 
RESULT: Nia Jax and Shayna Baszler defeat Natalya and Tamina
(7:52pm) Natalya slaps the Sharpshooter in Jax, but it's actually Baszler who is legal - and she slaps the Karafuna Clutch on her and gets the win.
(7:51pm) Tamina goes for the Superfly Splash, but Jax moves.
(7:49pm) Jax with a cross body off the top rope on both Natalya and Tamina, but only gets a two. Now, it's just Nia and Tamina in the ring, and Nia is screaming at Tamina and she says a bad word but the censors don't catch it.

And then Tamina SLAMS Nia Jax!
(7:47pm) Baszler and Tamina throwing down now.
(7:46pm) Jax with a spinebuster on Natalya and goes for the pin, but Tamina recovers soon enough to break the pin up.
(7:45pm) Jax has Natalya in the corner and charges her way in, but Nattie moves and Niz slams right into the ring post.
(7:42pm) Natalya and Baszler in the ring and the Queen of Spades just nailed the Queen of Harts in the chin with a stiff-looking knee. Ow. Now, she's wrenching Natalya's ankle in ways it wasn't meant to wrench before slamming her foot down onto it.
Match 2: Natalya and Tamina vs WWE Women's Tag Team Champions Nia Jax and Shayna Baszler
(7:34pm) Titus and Hulk are backstage talking to Eric Bischoff, when Bayley comes out and does Bayley stuff.
(7:31pm) Wyatt is back on his feet and glares.... I think... at Bliss. Then the lights go out and when they come back on, Bliss and Wyatt are gone.
RESULT: Randy Orton defeats Bray Wyatt
(7:29pm) Wyatt counters an RKO with a mandible claw and nearly hits Orton with a Sister Abigail - when suddenly flames erupt from the turnbuckles and Alexa Bliss is sitting on top of the Jack In The Box, with Papa Shango ooze pouring down her face. Randy with an RKO and the win.
(7:26pm) The Fiend is looking thinner and fitter. Also, every attack Orton hits Wyatt with has had no effect on him.
(7:22pm) And, can you believe it? The Fiend is inside the Jack In The Box! What a shock! Ha ha ha ha  this is friggin' awesome.
(7:21pm) Randy's in the ring and Bray's music hits... then the Firefly Funhouse music does.... and Alexa Bliss comes out. And she's got a HUGE Jack In The Box at ringside.
(7:17pm) And along those lines, we get a video package.
I dunno, man, but he's certainly wearing it tonight.
Match One: Randy Orton vs "The Fiend" Bray Wyatt
(7:12pm) Man, this crowd does not like Hulk Hogan. I found the whole segment cute, though.
(7:10pm) Titus O'Neal and Hulk Hogan open the show in full pirate regalia. Titus looks less annoyed to be next to Hulk.
(7:06pm) The same Johnny Depp/Jack Sparrow impersonator narrates the same video package that started last night's show, which is fine because it was awesome last time.
(7:02pm) The "New Face of Country Music" performs "America the Beautiful" and the crowd isn't digging it.