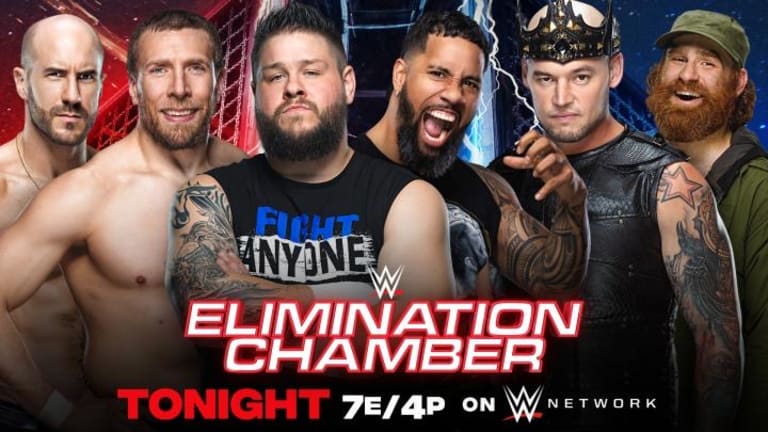 WWE Elimination Chamber 2021 LIVE coverage and commentary (02.21.21)
It's the last WWE PPV before WrestleMania! Kevin's here to cover all the nonsense with nonsense of his own.
(Note: You may have to refresh the page a couple of times for the latest updates.)
(All times listed are CST time.)
Hello and welcome, everyone! Kevin Christopher Sullivan here and tonight is the night! And what night is that, you ask? Well, I mean... it's Elimination Chamber night. What did you think it was? You clicked on the link and all that. Sheesh. That last part wasn't meant for any of you who didn't ask that, which is probably all of you, now that I think about it. Anyway, where was I?
Elimination Chamber is the "Last Stop on the Road to WrestleMania™(probably)", and it's setting up the pieces of the chessboard that is the Grandest Stage of Them All. Even if we don't get either Edge's or Bianca Belair's picks for which titles they'll compete for at Raymond James Stadium, we'll most likely find out on either Raw or SmackDown (or NXT, I suppose). And, we have, count 'em, two Elimination Chamber matches. 
We have a little bit of news before things start for realsies - Keith Lee has been pulled from his United States Championship triple threat match, due to injury most likely. The kick-off show will feature a battle royal Fatal Four Way between Ricochet, John Morrison, Elias, and Mustafa Ali (edited at 4:11pm) to determine who will take his place in the match against Matthew "Riddle" Riddle and US Champion Franklin Roberto "Bobby" Lashley.
We'll be kicking things off with, well, the Kick-Off Show, which starts in an hour as I type this. Until then, keep refreshing the page for any news we happen to get in the meantime.

Oh, hey! If you're following along and you'd like to join in on the fun, there's a few ways to do that. First, you can comment in Real Time using the comments section down below. If I get any funny or insightful comments there, I'll post them up here in the coverage. Also, you can reach me on Twitter at @HeyImKevinSully and/or the hashtag #WNWChamberWWE. I'll also post anything good that gets sent my way from there. Or, you can just yell at your computer screen, I guess. I won't hear it but, technically, that's something you can do.
OK, see you all in a little bit.
---
The Kick-Off Show has started. I'm not going to go over everything the panel (Booker T, JBL, and Pete Rosenberg) discusses, as it's just going to be the matches. But, I'll be sure to cover any of the preshow matches and anything unexpected.
WWE confirms that Lacey Evans is out of her WWE Raw Women's Championship match against Asuka due to a sudden case of being pregnant. However, there's been no announcement as of yet as to who will be replacing her. My guess is that it won't be announced until the match itself.
Samoa Joe has a new interview segment on The Bump where he interviews wrestlers in a Chevy truck. I don't have a joke for that because I respect Samoa Joe and also he could murder me just by looking at me.
Speaking of Samoa Joe, he's on the announce team for the Fatal Four Way match to determine who replaces Keith Lee in the US title match later tonight. 
(5:42pm) RETRIBUTION gang up on Ricochet and powerbomb him onto the ring post. However, John Morrison uses the distraction to roll up Mustafa Ali to get the pin.
RESULT: John Morrison defeats Ricochet, Mustafa Ali, and Elias to be added to the United States Championship triple threat match later tonight.
---
OK.... Elimination Chamber coverage starts proper HERE!
(Remember to refresh the page a couple of times to get the latest updates.)
---
Tail end of the Kick-Off Show and the Chamber is already lowering. Hmmmmm.
---
Well... that was something. How did you all enjoy the show tonight? Be sure to leave your comments down below. In the meantime, I'll see you all tomorrow night for Raw. Untill then... I'm outta here.
RESULT: THE MIZ DEFEATS DREW MCINTYRE TO WIN THE WWE CHAMPIONSHIP!!!
Sorry, let me repeat that...
RESULT: The Miz defeats Drew McIntyre to win the WWE Championship
(8:29pm) Bell rings and Miz goes for the kill, nailing Drew with a DDT and then the Skull Crushing Finale and.... THE MIZ WINS?!?!
(8:28pm) The Miz comes down with his MITB contract!
(8:28pm) Lashley slaps the Hurt Lock on Drew!
(8:27pm) Bobby Lashley hits the ring and attacks McIntyre!
RESULT: Drew McIntyre wins to retain his WWE Championship
(8:25pm) AJ goes for another Forearm on Drew, but McIntyre counters with a Claymore and the win!
(8:23pm) AJ is taking a beating from Sheamus, and Sheamus isn't having it. The Irishman leaps from the top rop, but Drew catches him with a Future Shock DDT. McIntyre wants to hit the Claymore, but Sheamus with the Brough Kick! Still... AJ nails Sheamus with a Phenomenal Forearm and pins Sheamus! Sheamus is Eliminated
(8:20pm) The champion delivers a brutal Claymore on Jeff Hardy getting another man out of the match. Now Only McIntyre, Sheamus and Styles remain.
(8:17pm) Sheamus with a Brogue Kick on Kofi and the elimination.
(8:16pm) Kingston leaps from the pod and crashes into everyone. Goes for multiple pins, none of which stick.
(8:14pm) Sheamus has Kofi prone on top of a pod and tries to climb up there to beat him up some more. McIntyre pulls Sheamus down and crotches him directly onto the top turnbuckle.
(8:11pm) Kofi and AJ fighting in one corner, Drew and Sheamus in another, and Hardy laying on the mat, taking a little nap.
(8:09pm) Sheamus finally exits his pod and he and McIntyre immediately start to throw hands.
(8:06pm) Still in this match: Drew, AJ, Hardy, and Kofi (who eliminated Orton - which means we're probably not going to see The Fiend tonight) with Sheamus still in the pods.
(8:04pm) Somehow, Randy Orton got eliminated, Olmos broke open AJ's pod so he could sneak in through the main door, and Adam Pearce sent Olmos to the back. 

Man, I kind of suck at this sometimes.
(8:01pm) With Hardy in a pile on the floor, Orton turns his attentions to McIntyre, including a couple of pin attempts.
(8:00pm) McIntyre lawn darts Hardy right into one of the pods. 
(7:58pm) Drew McIntyre is the first man out of the pods.
(7:53pm) We get to hear everyone in the pods trash talk to Randy Orton, which is weird.
(7:50pm) Captain Scarves and Scuba Gear (aka Jeff Hardy) will be starting the match with Captain Underpants (aka Randy Orton)
(7:48pm) Shaamoose is the last pod inhabitant before the first two starters come to the chamber. Shamus is talking smack with his FORMER BEST FRIEND DREW MCINTYRE HOW COULD YOU SHEAMUS YOU HAVE NO HISTORY OF DOING THIS before getting into his own pod.
(7:47pm) Kofi Kingston is the next into the pods, and the announcers keep bringing up Kofimania, which means he's not going to win.
(7:46pm) AJ Styles - my daughter's favorite - is next.
(7:44pm) Drew McIntyre is the first one into the chamber.
(7:40pm) It's time for the Raw/WWE Championship match in the EELEEMANATON CHAYMBER.... wait.... so does Asuka get the night off?
(7:39pm) MVP is backstage, having a word with Miz - who is, as we all know, best friends with John Morrison, who ate the pin in the US title match.
Oh. There's another PPV before WrestleMania. Fastlane. Oops. I is dumb.
RESULT: Nia Jax and Shayna Baszler retain against Bianca Belair and Sasha Banks.
7:35pm) Nia with a Samoan Drop on Bianca, but Sasha tags herself in and hits Jax with a Meteora. Reginald comes to the ring with a bottle of champagne and hands it to Sasha to use as a weapon.

The ref sees it and grabs it away from Sasha, and it's enough of a distraction for Nia to hit Sasha with another Samoan Drop and the win.
(7:33pm) Belair and Banks with some intense double-team offense, including a Frog Splash and Kiss of Death on Baszler. Bianca goes for the pin, but Jax pulls her off and gets the tag in.
(7:31pm) Baszler going the Pete Dunne route, bending Sasha's fingers back before tagging in Nia to continue the beating.
(7:29pm) Banks finds herself at the end of a double-team attack, as Belair look on, trying to will her partner into a tag. That never works.
(7:27pm) Belair and Jax start this one off.
(7:23pm) Kayla Braxton interviews their opponents, Bianca Belair and the SmackDown Women's Champion Sasha Banks, when Reginald comes out and says some stuff, I guess. 
(7:22pm) We now head into the Women's Tag Team Championship match, as the champions, Jia Nax and Bayna Shaszler come to the ring.
RESULT: Riddle defeats John Morrison and Bobby Lashley to win the United States Championship.
(7:18pm) Morrison argues with MVP on the floor, and MVP gives John his crutch - thinking it will get Morrison disqualified if he uses it. It's a Triple Threat match, dummy. Lashley dodges the strike and gets Morrison in the Hurt Locker. Riddle is back in the ring, though, and nails Lashley with the crutch, sending Lashley sprawling to the floor. 

With Lashley out of the picture, Riddle nails Morrison with a German suplex and gets the pin~
(7:16pm) With Riddle in control, Lashley rushes into the ring, but Riddle nails him with a jumping knee.
(7:15pm) Lashley is laid out on the arena floor, and Morrison pushes Riddle into the ring post and tosses him back into the ring. That didn't last long.
(7:13pm) Lashley goes for a vertical suplex on Riddle, but Morrison leaps the ropes and knocks Riddle back to his feet. Lashley's opponents seem to realize they need to team up to take the champion down.
(7:10pm) Riddle leaps on Lashley's back for a sleeper, but Lashley tosses him away. The champion continues his assault on Morrison on the floor, and Riddle tries to attack him there, too, to no avail.
(7:09pm) Bell rings and Lashley goes right after Riddle - which is more than fine by Morrison, who just hangs back. Until he gets greedy and attacks Riddle himself. Lashley grabs him and tosses him into the corner
(7:07pm) Riddle and John Morrison are in the ring, and Bobby Lashley makes his own way down. He does not look happy.
(7:05pm) Riddle comes to the ring for his US title match in ring gear inspired by Evel Kenievel.
(7:03pm) 24/7 Champion Bad Bunny is backstage, talking to Sonya Deville, when Miz interrupts them. Miz asks Bunny why he's there, Bunny tells him here's there because he's the 24/7 Champion, then slaps him. Miz turns around to attack, but Damian Priest cuts him off. 
(6:57pm) Roman celebrates in the ring, until Edge comes out of nowhere, spears the crap out of Reigns (not literally, that would be gross), and points to the WrestleMania sign. We're getting Edge vs Reigns for the Universal Championship at WrestleMania!
RESULT: Roman Reigns defeats Daniel Bryan to retain the Universal Championship.
(6:55pm) Roman bites Bryan's hand to escape the hold, then begins to mercilessly pound on Bryan. A Guillotine chokehold and Roman wins.
(6:54pm) The bell rings and Reigns goes for a spear onto Bryan's bad leg - but Bryan catches him and slaps him into the Yes Lock!
(6:53pm) The Chamber is raised up off of the ring.... and here comes Roman Reigns.
Daniel Bryan wins the SmackDown Elimination Chamber match.
(6:50pm) Uso leaps off the pod for another Frog Splash, but Bryan gets his (bad) knee up, then nails Uso with a running knee and Jey Uso is eliminated!
(6:49pm) Uso nails Bryan with a frog splash, but Bryan kicks out!
(6:48pm) Cesaro with a top rope gutbuster and then a one-legged swing on Bryan's bad leg. Uso races in and superkicks Cesaro, frog splash, and Cesaro is eliminated!
(6:47pm) Bryan has Cesaro on the mat and heads to the top turnbuckle - despite a bum leg - but Cesaro races over with an uppercut to put a stop to that nonsense!
(6:45pm) Cesaro leaps off the top turnbuckle but gets nailed with a vicious kick from Bryan. Bryan attempts a backslide pin, but Cesaro kicks out, as well as out of another pin attempt.
(6:44pm) Daniel Bryan is nursing a hurt knee but Cesaro is ready to fight! Cesaro swings Uso twice into the chamber wall, then catches Daniel Bryan attempting a flying bodyblock and tosses him back into the ring.
(6:43pm) Uso slams the Chamber door onto Owens's arm, then begins to lay superkicks onto him. One Frog Splash later and Kevin Owens is Eliminated.
(6:41pm) Owens with a moonsault onto everyone, crashing into the steel cage floor. Stunners all around. Sami goes for a Helluva Kick, but Owens dodges and hits him with a Stunner and Sami Zayn is eliminated.
6:39pm) Jey Uso is the last man to enter the Chamber and goes right for Owens.
(6:38pm) Everyone trades finishers and everyone is on the mat. Owens is back up and heading right for Sami, who is begging off. Owens hits a neckbreaker but only gets a 2. Fisherman's Buster on Daniel but only gets a 2 on him.
(6:37pm) Kevin Owens with cannonballs all around.
(6:35pm) Kevin Owens is the next one in the chamber, and Sami Zayn immediately tries to get him to form an alliance. It seems like he's about to, But Zayn just ends up eating Chamber Pod Wall.
(6:34pm) Cesaro nails Corbin to the mat, then catches him in The Swing. One Sharpshooter later and King Corbin is eliminated.
(6:33pm) Corbin lays the rest of the pack out on the mat once again.
(6:32pm) Zayn and Cesaro are climbing along the chamber wall, as Sami just wants to get the heck away from the Swiss powerhouse. Cesaro kicks Sami down to the mat, then does a few pull-ups for good measure.
(6:30pm) with Bryan and Corbin in pain on the mat, Sami attacks Cesaro and goes for the pin. Cesaro fights back and Sami eventually climbs up Uso's pod to escape.
(6:29pm) Zayn goes for a Helluva Kick on Bryan, but Bryan moves out of the way and Sami now has a sore leg, the poor guy.
(6:27pm) Sami Zayn is the next to be released and he wants none of it. He shuts his pod door closed as Corbin goes after him. Corbin gets nailed with a Daniel Bryan dropkick, and Zayn begins to taunt him. Somehow, one of the other pod walls has come free and Cesaro takes advantage of it and attacks Sami.
(6:25pm) Corbin is murdering everybody in the chamber right now and I should probably take back all the mean things I said about him. :/
(6:23pm) Bryan dodges a charge into the corner by Corbin and runs the gambit, corner dropkicks all around. Cesaro dodges and throws Bryan into the corner, and now it's free European Uppercuts for everyone. Corbin dodges, as well, and everyone gets a Deep Six. Everyone in the ring is feeling very giving right now.
(6:21pm) Cesaro with a vertical suplex and I just realized that his trunks look like one of those Magic Eye pictures from the 1990s.

Also, King Corbin is the first to be released from a pod. Wheee.
(6:18pm) Bryan with a missile dropkick followed by attempting a hurricanrana off the top rope. Cesaro tries to powerbomb him out of it, but Bryan reverses that. However, going for the running knee, Cesaro just absolutely nails him with a clothesline. And a real clothesline, not one of those sissy European kind.
(6:15pm) Cesaro bangs on Sami's pod, scaring the Bejesus out of him. 

Daniel Bryan comes to the chamber, and it's time to get this started.
(6:14pm) The Thwiss Thyborg, Thesaro, is the first entrant to come to the ring to start the match. Michael Cole says about Cesaro "nobody in WWE has been hotter than" him.
(6:10pm) The final pod inhabitant is going to be Jey Uso. That means Cesaro and Daniel Bryan will be starting things off.
(6:09pm) King Corbin is the next one in, and I've already forgotten he's in this match.
(6:07pm) Sami Zayn is the next one in. He starts jaw-jacking with his buddy/enemy/frenemy(do people still say that?) Owens before getting into his pod. The ref locks Sami into his pod and then immediately kicks his film crew back to the dressing room.
(6:06pm) It's worth nothing that Greg Hamilton announced the winner will be taking on Roman Reigns "tonight"... not necessarily "immediately.

Also, Kevin Owens is the first one out.
(6:04pm) The voice of Michael Cole signifies that the SmackDown chamber match will be starting tonight's festivities.
(6:01pm) WWE. THEN. NOW. TOMORROW. NEXT WEEK.
(6:00pm) DON'T STEAL THIS PPV OR YOU GO TO THE JAILS