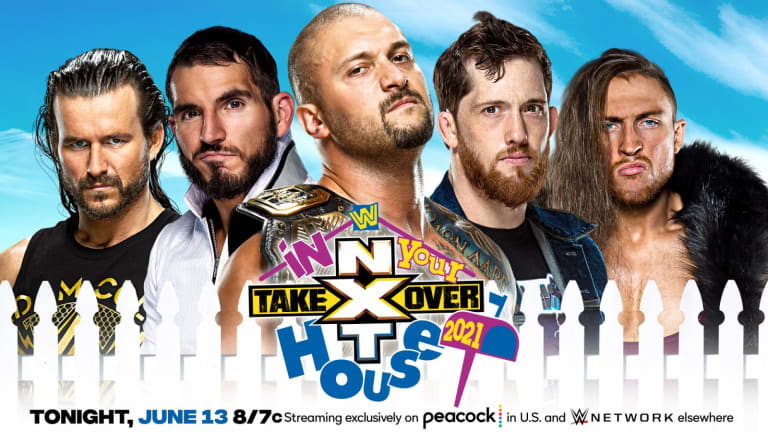 WWE NXT TakeOver: In Your House LIVE coverage and commentary (06.13.21)
Tonight's NXT Championship main event will have not one, not two, not thr... ok, it's gonna be a 5-way match. Come watch with us!
(If watching live, you may need to refresh the page once or twice to get the latest updates. Updates will be time-stamped and posted below the introduction. Any opinions posted below are those of the writer and not necessarily those of Wrestling News World or its staff. Though they should be. I'm very smart.)
(Open a new tab and check out our official preview here!)
Greetings and salutations, my freaky freaks! And you, too, Gary. You know who you are. Where did you put my mail? I'm serious.
Anyway, hi! Kevin Christopher Sullivan (no relation to that singer guy, it's just a coincidence) here, providing you insightful and (hopefully) hilarious real-time (well... kinda) commentary and coverage of tonight's NXT TakeOver: In Your House 2021: The Wrath of Khan. No, the other Khan. Actually, neither of them are involved in this show, I don't know why I said that. 
Following all this garbage I'm about to type, you'll find the updates, time-stamped (in Central time, btw). I'll also be splicing in Tweets from all over (want to include yours? I'll get to that) - from official WWE and NXT accounts, your favorite WNW writers (and me, too, I guess), and other sites were friendly with (just because you don't include your tweets, other websites, doesn't mean we're not friendly with you. Probably), and more!
If you're reading this and you tend to live-Tweet events like this, feel free to shoot me a Tweet at @HeyImKevinSully, and I'll see about adding you to my list. But, only if you want to. I'm not your dad. Probably.

Or use the hashtag #WNWTakeOver. That works, too.
Anyway, enjoy the show tonight and maybe I'll stick around for a post-show chat if you guys actually let me know you're reading for once. Sorry. Not trying to be a jerk about it.
---
That's our show, ladies and germs. And what a show it was. Takeover rarely ever doesn't leave me drained after it ends, and tonight was no exception. It also left us with plenty of questions we'll have to wait until Tuesday to (possibly) get some answers for.

Thank you all for tuning in. I'll see you tomorrow night for Raw, which is probably going to be pretty lame compared to this (but probably OK on its own - boy, if that doesn't get some of you to finally comment on one of these things, I don't know what will).

Until then... I'm outta here.
(9:21pm) Regal is being interviewed in the parking lot (LOOK OUT, WILLIAM, IT'S NOT SAFE THERE!), and asked about his thoughts on tonight's show.

"In my seven years since becoming GM, I have never seen such bedlam. I think it's time for a change." He gives blonde lady a sad look and walks away. Is Regal retiring? Will we get a new GM. Who was that blonde lady? That's not a part of the narrative, I just didn't catch her name.
The show ain't over until the screen says "Copyright WWE...." in the corner
(9:27pm) O'Reilly has Cole in a figure four, but Kross comes up behind him, locks in a chinlock. Kyle looks like he's literally dead. Cole escapes the figure four but O'Reilly passes out and Kross retains.

RESULT: Karrion Kross retains his NXT Championship
(9:15pm) Karrion has the Kross Jacket on Dunne, but the former NXT UK champion does that fingers thing to him... all while Kross pleads for him not to do it. 
(9:13pm) Kross has just stood up from the wreckage of the table and he's ready to destroy.
(9:11pm) Dunne attempts to moonsault Cole and Gargano, but the two superkick him out of the sky,
(9:10pm) And now I've lost all track of what the f*** is happening. This match rules so hard.
(9:09pm) All four of the other guys focus their offense on Kross, to the point where Cole and O'Reilly double powerbomb him into the announce table.
(9:07pm) Kross shouts "Adam Cole, BAY BAY!" before hitting Cole with a German Suplex.
(9:06pm) Kross keeps getting knocked down and he keeps getting back up like nothing happened like he thinks he's The Undertaker or something.
(9:00pm) I have no way to describe what has happened so far except to say that everyone in the ring has been getting eaten alive by the champion.
(8:51pm) Nope, I was wrong. The bell rings (Adam Cole feels special now) and they're off to the races.
(8:50pm) Adam Cole is in, and now Karrion is in and now it's time for twenty minutes of ring introductions.
(8:45pm) Kyle O'Reilly's music slaps so hard. Pete Dunne enters after him.
(8:43pm) Johnny Gargano walks backstage, passing Shotzi Blackheart, who has to be held back by security because she's trying to murder Dakota and Raquel. He heads to the ring and it's time for our main event!
(8:38pm) Someone stole Todd Pettengill's Walkman! It's OK, because now he's gonna play some Karate Fighters with... uh oh. Dexter Lumis. Todd makes the mistake of asking Dexter "how the women treatin'" him. Dexter no like that. He grabs Todd's Karate Fighter, and Todd wisely concedes the match and scampers away.

Also, the Great American Bash was announced for next month, July 6.
(8:36pm) Gonzalez with a little tribute to Diesel, hitting Moon with Snake Eyes, then her one-armed powerbomb and then the pin.

RESULT: Raquel Gonzalez defeats Ember Moon
(8:36pm) Moon goes for yet another Eclipse, but the champion catches her in mid-air!
(8:34pm) Suddenly, here comes Shotzi Blackheart attacking Dakota! She chases her to the back. Moon slams Raquel's head into the ring post and then does some top rope DDT type thing on the stage.
(8:32pm) Raquel goes for another chokeslam, but Moon reverses it into a cutter. A second rope codebreaker and then an Eclipse and the pin.... but Dakota puts her foot on the ropes.
(8:31pm) Moon scrambles to the top turnbuckle, going for the Eclipse, but Dakota distracts and the Champ hits her with a superlex. Goes for the one-armed powerbomb, but Ember reverse and rolls her up again. It does not work.
(8:28pm) Ember finally gets the champ off her feet with a powerful right hook. She then tries to fancy pants roll-up pin Gonzalez but gets a 2. Ember goes for a Camel Clutch-type move, but Dakota helps her charge grab onto the bottom rope, which I believe is against the rules.
(8:26pm) Raquel springs up to the second rope and looks as if she's going for a Vader Bomb, but she actually twists in the air and hits a Senton!
(8:24pm) Dakota Kai is there - with some amazing pink hair - and makes a distraction to help Raquel get the upper hand.
(8:22pm) We got a bit of a break - hope everybody got a chance to pee and stuff - and we're on to the NXT Women's Championship Match.
(8:14pm) Ted Dibiase hands Knight the belt, then straps it around his waist. Great match, really intense.
(8:12pm) Knight tosses Grimes off the ladder and ONTO another ladder, climbs up, and he's your new Million Dollar Champion.
(8:10pm) Grimes climbs (ha ha rhyming) up some of the stage equipment (seems kind of counter-productive) and leaps down on Knight.
(8:07pm) Knight is out on his back, and Grimes heads to the stage to get the giant golden ladder. He gets it open, and Knight races up to meet him. Grimes kicks him down, but LA runs and shoves the ladder over.
(8:05pm) Grimes lays nearly a dozen heavy kicks into LA's chest, but Knight grabs his hair and tosses him to the mat. Knight goes for a charge, but Grimes backdrops him onto a ladder. 
(8:02pm) Knight is in the corner, sitting on the ground, and Grimes is about to drive it right into his... well, you get it. Luckily for Knight (and his future children), he's able to jump out of the way just in time.
(8:01pm) As LA Knight starts decimating Grimes, Wade Barrett is admitting he "didn't have the right skill set" to win ladder matches back in his day.
Also, very classy, IMPACT....
(7:57pm) Both men are now jousting with ladders in the ring. LA tries to pull a ladder out of the ring for some reason but Grimes grabs it and shoves it into him, driving it into his chest and pushing him into the security wall.
(7:55pm) And as soon as I type that, Knight goes for the ladder. 
(7:53pm) No sign of a ladder yet, though Grimes has had the upper hand for the majority of the match so far.
(7:51pm) As we wait for this match to start, let's get a better look at Mae Yim getting all Magic Kung Fu on Mercedes Martinez's ass.
(7:49pm) The Million Dollar Man Ted Dibiase brings the Million Dollar belt to the ring, accompanied by (what I assume are) armed guards.
(7:46pm) Coming up - the ladder match for the Million Dollar Belt! LA Knight vs Cameron Grimes. This should be dope AF. AF stands for As Farts.
(7:45pm) Tomasso Ciampa and Tim Thatcher are backstage and they are very angry. Looks like we're getting them vs Imperium on Tuesday.
(7:41pm) Li calls for BOA to give her a chair, but Mercedes fights her off and hits both of them. Now she's calling out old whatshername that sits in the chair.

And she just thoroughly kicks her ass. Holy S***!!
(7:39pm) Xia nails Mercedes with a kick to the jaw and gets the pin! What a hard fought match by both women.

RESULT: Xia Li defeats Mercedes Martinez
(7:22pm) Xia Li is absolutely destroying Mercedes Martinez.

I can't believe I just typed that sentence.
(7:29pm) Both Mercedes and Xia have such badass entrances. Li, however, does a badass sword demonstration at the end of hers, so hers is technically more badass.
(7:27pm) Todd Pettengill is about to introduce the video package for Mercedes Martinez vs Xia Li, and acting like he's still stuck in the 90s, trying to put a VHS tape into a TV and asking if the production truck has RCA cables. I love it.
(7:23pm) Reed with the flying splash on Mendoza and the champs retain.

RESULT: Bronson Reed and MSK defeat Legado del Fantasma.
(7;23pm) Oh wait, he's OK. He just pulverized Santos through the barricade.
(7:21pm) Holy crap, Bronson just landed on his head!
(7:20pm) Reed gets the two non-Santos Escobar members of LdF into a fireman's carry and hits them both with a Samoan Drop at the same time. 
(7:18pm) Something about this crowd seems really weird. Oh, wait, it's because there is one.
(7:17pm) Each team takes a moment to tope suicida the other, then Bronson Reed does it to everybody. 
(7:12pm) We've got Nash Carter and Santos Escobar in the ring, and Escobar is trash talking pretty strong. Carter reaches over to tag in Broson Reed as Escobar begs him not to. Ha ha he does it anyway,
(7:08pm) Legado del Fantasma come out - AS A TEAM, I MIGHT ADD - and Santos is wearing a Bane from Dark Knight Rises kind of mask.
(7:06pm) MSK is coming out, being all energentic and stuff, so I guess it's time for the WINNER TALK ALL match. I'm clearly very perceptive.
(7:05pm) And now Todd is back! Yay! Hi, Todd!
(7:04pm) Michael P.S. Hayes - Dok Hendrix, bay bay - welcomes us to NXT! Then someone I've never heard of comes out and starts rapping. OK.
(7:01pm) NXT opens with an opening that pays tribute to the old Collesuem Video openers. Then we get Todd Pettengill running down the card! YAY! Todd Pettengill!
(6:54pm) Dear lord, WWE has a Tik Tok account now.
(6:38pm) As the Million Dollar Man gets older, he seems to do the Million Dollar Laugh following more random stuff. Like "I feel like ordering out for dinner tonight HAHAHAHAHAHAH!" Like, why is that funny, Ted?

Also, Sam Roberts shaved his head.
(6:31pm) WWE. THEN. NOW. FOR crying out loud, it's just the kickoff show.
(6:24pm) Even more schennigans... What do you guys make of THIS? #WNWTakeOver
Hey.... I'm not beneath shameless self promotion.
(5:55pm) Pre-pre-show antics.