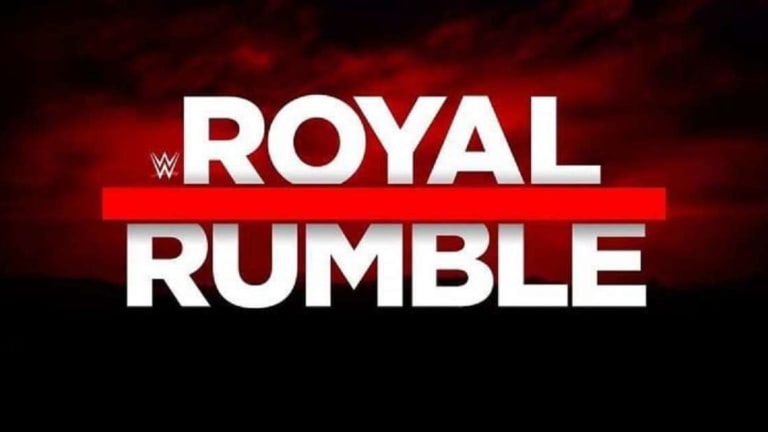 WWE Royal Rumble 2021 LIVE coverage and commentary (01.31.21)
The Road To WrestleMania starts tonight with the WWE Royal
(You may need to refresh the page for the latest updates. Sorry about that.)
The Road to WrestleMania starts here! Well, not here here, that would be weird. But, the Royal Rumble, I mean! Whoo hooo!
I'm Kevin Christopher Sullivan and I'll be recapping the events of tonight's WWE Pay-Per-View as it happens. Well, maybe like... slightly after it happens. We've got two World TItle matches (McIntyre vs Goldberg and Owens vs Reigns), and two Rumble matches. And we're expecting plenty of surprises, as well.
If you're interested in chiming in on tonight's events and having your (hopefully) hilarious tweets shared during the show, simply send them my way at @HeyImKevinSully. You can also chime in your opinions and comments in the, er, comments section. Oh, so that's why they call it that. Huh.
We'll get things started sometime during the kick-off show, so keep checking back, tell your friends, and enjoy the show!
---
OK! It's time for our first match of the night - albeit on the Pre-Show - as Nia Jax and Shayna Baszler challenge Asuka and Charlotte Flair for their WWE Women's Tag Team Championship.
Looks like Asuka's injured her arm (kayfabe?), and she's taking on Shayna and Nia on her own, as Charlotte is out cold on the floor.
Jax with a powerbomb on Asuka and goes for the pin, but Charlotte is back on her feet and breaks up the pin. 
And Asuka makes the hot tag to Charlotte!
Charlotte is about to pin Baszler, but here comes Ric Flair! Uh oh.
Flair has the Figure Eight on Baszler, but Lacey Evans nails her in the head with a... well, something... and knocks her right out. 
Nia Jax with the Atomic Legdrop and the pin. New champs!

RESULT: Nia Jax and Shayna Baszler defeat Asuka and Charlotte Flair to win the WWE Women's Tag Team Championship.
OK.... time to grab a beer and a hot dog and get ready for the ROOOOOOOOOYALLLL RUMMMMMMMMBLLLEEEEE*cough*EEEEEEE!
THEN. NOW. A FEW MINUTES FROM NOW. NEXT WEEK. TUESDAY. FOREVER.
And we're kicking things off with Goldberg vs WWE Champion Drew McIntyre! And Goldberg, wearing his Brock Lesnar Jimmy John's-style shorts, is escorted to the ring by security guards, as per his contract.
Drew McIntyre comes to the ring and he's oily and ready. Let's do this.
Drew and Goldberg spear each other before the match even begins!
Goldberg has three spears on Drew and still only gets a two count! Now he's going for the Jackhammer
Drew still kicks out!
Goldberg charges at Drew, but crashes into the turnbuckles.
Claymore on Goldberg! DREW WINS! DREW WINS!
RESULT: Drew McIntyre defeats Goldberg to retain the WWE Championship
And now it's time for the Handshake of Respect.
Trademark.
"You passed the test. You deserve it." - Goldberg. And then they hug.
Is Goldberg selling that beating or is he really that friggin' gassed?
(6:23pm Central) Michael Cole and Corey Graves are in the commentary booth for the Shasha Banks/Carmella SmackDown Women's Championship Match.
Carmella is in the ring, doing her "I'm really sexy" ring entrance. Sasha Banks is interviewed backstage and says she's going to win or something.
Anyway, here's the match. Let's go.
Sasha leaps off the turnbuckle with a Meteora, but also lands awkwardly on her knee.
Banks goes for the Three Amigos, but Carmella knocks her out of the ring - and into the arms of Reginald. Banks with a hurricanrana and the ref has sent Carmella's wine dude back to the, er, back. Carmella nails Banks with a dive out of the ring.
Sasha is up top and leaps for a Frog Splash. Carmella gets her knees up and then slaps the champion in her submission finisher - but the champion gets out.
Carmella drags Banks to the center of the ring by the arm... but Banks wraps her up and gets the Banks Statement on her.... and gets the win!

RESULT: Sasha Banks retains her title against Carmella.
Xavier Woods and Big E are chatting backstage, when Sami Zayn comes out to talk trash with them. All of a sudden.... KOFI KINGSTON IS BACK!
Anyway, this Bad Bunny guy is doing a song so I'm gonna make a sandwich.
Booker T is just standing there as Bad Bunny does... whatever it is he does.... while putting out some G.I. Bro vibes.
*Howard Finkel voice* And now... it's time... for the WOMEN'S ROOOOOOOOYAL RUUUUUUUMBLE MAAAAAATCH!
Bayley is #1.
I mean, she's the first one in the Rumble. I wasn't, like, cheering her own.

Though I hope she does well.

Whatever. Shut up. Watch the show.
Naomi is back! She's #2! She's wearing giant sunglasses!
Ding ding and I might add ding. This match is ON.
And Bianca Belair is in at #3!
Belair immediately goes after Bayley, who she beat on SmackDown the other day.
Currently in the ring:
Bayley
Naomi
Bianca Belair
(6:58pm) BIllie Kay is #4.
Kay comes to the ring and decides to sit at commentary rather than get in the ring.
Bianca nearly gets eliminated but hangs on to the top rope with one hand.
NXT's Shotzi Blackheart is #5 and she arrives in her tank!
And, at #6, it's the newly crowned Women's Tag champion Shayna Baszler. Kay tries to give her her resume. Instead, she gets a punch. And now Shayna is going ham on everyone.
Bianca and Naomi attempting to get Shayna out together.

Toni Storm is #6.
And Toni goes right for Shotzi.
Shotzi Blackheart is eliminated by Shayna Baszler
Well, I'll be darned. Jillian Hall is #8.
It looks like Jillian and Billie Kay are teaming up. Jillie and Billie!
Ruby Riott is #9.
Billie stops Ruby from getting suplexed, then rescues Jillian from an attack, as well. She's taking this being a good partner seriously.
Victoria is #10???! Victoria is #10
Victoria gets tossed through the ropes, but not over, so she's still in this.
Peyton Royce is #11.
Iiconics reunion as Royce and Kay attacks Victoria. Peyton wants to do the Iiconics pose but Billie is hesitant, as Ruby Riott is next to her.
Santana Garrett is #12.
So far, only one elimination.
Belair once again fights her way out of another elimination.
Liv Morgan is #13.
Billie Kay eliminates Jillian Hall
The Riott Squad eliminate BIllie Kay
Rhea Ripley is #14. 
Rhea Ripley eliminates Toni Storm
Shayna Baszler eliminates Victoria

Rhea Ripley eliminates Santana Garrett
Charlotte Flair is #15 and she does NOT look happy.
Flair goes after her WrestleMania opponent from last year, Rhea Ripley.
#16 is Dana Brooke
Bayley eliminates Ruby Riott
Torrie Wilson is #17. Hey, that's my number.
Rhea Ripley eliminates Dana Brooke.
Lacey Evans is #18, and she's out with Ric Flair and wearing his robe.
Bayley is eliminated by Bianca Belair
Mickie James is #19
Mickie goes after Charlotte - "I've been waiting a long time for this."
In the ring:
Charlotte
Mickie James
Shayna Baszler
Naomi
Lacey Evans
Rhea Ripley
Bianca Belair
Nikki Cross is #20
Alicia Fox is #21
R-Truth rushes to the ring, being chased by the usual gang trying to get his belt. Alicia Fox rolls him up and becomes new 24/7 Champion!
Mandy Rose is #22
Alicia Fox is eliminated by Mandy Rose!
Truth rolls Fox up and gets his belt back!
Dakota Kai is #23
Mickie James is eliminated by Lacey Evans
And Carmella is here at #24.
(7:33pm) Dakota Kai and Mandy Rose are eliminated by Rhea Ripley
Nikki Cross nearly eliminates Carmella, but is caught by Reginald. She then.....
Nikki Cross is eliminated by Carmella
Tamina is #25
Carmella is thrown out again, only to get caught by Reginald again... but then gets let go as Tamina superkicks him.
Carmella is eliminated
Naomi gets thrown out of the ring, but lands on her back, feet not touching the ground. Naomi uses Bianca's braid to pull herself back into the ring.
Lana is back and at #26.
Lana goes right after Rhea Ripley. That's not wise.
Alexa Bliss is #27! Yay!
Torrie Wilson was eliminated earlier, in case anyone was concerned.
And nearly everyone else in the ring goes after Alexa Bliss, before she can transform into The Fiend.
The Lights begin to go out, but Ripley tosses her out of the ring before anything can happen.
Alexa Bliss is eliminated by Rhea Ripley
Ember Moon is #28
Nia Jax is #29
Lacey Evans is eliminated by Shayna Baszler. Ember Moon is eliminated by Nia Jax. Naomi is eliminated by both of them.
Nia won't attack Tamina, calling her "family", so Baszler attacks her instead. Then Jax hits her with a Samoan Drop anyway. 

Tamina is eliminated by Shayna Baszler

Shayna Baszler is eliminted by Nia Jax!
"I'm sorry! I had to do it!" - Nia Jax
Lana leaps onto Nia's back and gets knocked to the mat. Nia chases Lana out of the ring, then back in, and then charges at her. Lana pulls down the top rope...
Lana eliminates Nia Jax
Natalya is #30
The tag champs attack Natalya and then rush the ring and attack everyone else, too.
Final five:
Natalya
Lana
Bianca Belair
Charlotte
Rhea Ripley
Natalya feigns wanting to team with Lana, then attacks and throws her out.
Lana is eliminated by Natalya
Natalya nearly throws Rhea Ripley out of the ring, but she hands on. Bianca sneaks up behind her and tosses her out.
Natalya is eliminated by Bianca Belair
Charlotte, Bianca, and Ripley are the final three.
Everyone is pointing at the WrestleMania sign. 
Ripley throws Charlotte over the ropes, but she holds on. However, Bianca rushes over and the two of them knock her to the floor
Charlotte Flair is eliminated by Rhea Ripley and Bianca Belair
Ripley sneaks up on Bianca and tries to throw her out. They both flip over and grab on to the rope. The two agree to get back in the ring together and settle this properly.
Bianca Belair clotheslines Rhea Ripley out of the ring and wins!
Rhea Ripley is eliminated by Bianca Belair
Bianca Belair is your 2021 Women's Royal Rumble Winner!
That was a great match and congratulations to Bianca but I have had to pee that ENTIRE MATCH. 
Miz and Morrison come out to talk to Bad Bunny and I don't care.
We get back to the panel and R-Truth comes out to talk to the crew. I sneezed and, the next thing I see is Peter Rosenberg hitting Truth with a low blow and pinning him to win the 24/7 Championship. 
Coming up now is the Home Improvement match between Romy and Michelle's High School Reunion Reigns and Kevin "Not me" Owens.
"Kevin Owens isn't a bodybuilder. He's not a martial artist. He's just a regular guy from Canada who will punch you as hard as you can punch him." - Me.
Let's recap right quick....
(8:17pm)
Nia Jax and Shayna Baszler defeated Asuka and Charlotte Flair to win the WWE Women's Tag Team Championships

Drew McIntyre defeated Goldberg to defend his WWE Championship

Sasha Banks defeats Carmella to defend her SmackDown Women's Championship

Bianca Belair wins the Women's Royal Rumble.

This match is on! Reigns gets a Superman punch on Owens, but it's not enough to keep the Prizefighter down. Owens recovers and gets a pop-up powerbomb on the champion. Now the fight heads to the outside.
Reigns and Owens are now climbing all over the screens in the stands, which I don't think I've seen before.
Owens has a chair and he's going after Roman's knee.
The fight goes on, and the camera pans back to show how high up they are and my buddy Kenny says "Boy, that was subtle, wasn't it?"
Reigns tosses Owens off the platform and through some tables. The ref counts to 9 and Owens just barely makes it to his feet.
Owns staggers back to the backstage area, which looks like the ring area but with no screens.
ROMAN REIGNS RUNS KEVIN OWENS OVER WITH A FRIGGIN' GOLF CART!!!!
Kevin manages to get himself back to his feet, and throws a clipboard at Roman's head.
KEVIN OWENS HAS LOST IT! 
Owens with a frog splash off the risers and through a table. 
And now Owens is driving a forklift. And he raises the lift. And he launches himself off and hits Reigns with a senton through a table!
Reigns makes it to his feet by 9, but then falls to the floor again.
Roman spears Owens through an LED screen!
"Dammit Roman, this Thunderdome is a rental" - @robbydeshazer
Kevin beats the count by rolling off the platform onto his feet.
Roman stalks Owens, carrying a set of handcuffs. Rut roh.
Owens handcuffs Reigns to a lighting rig, and the ref counts to 8.... and Reigns grabs the ref and tosses him into the rig, breaking the count (and the ref)
Roman with a low blow on Owens and now Paul Heyman is out with keys to the handcuffs.
That took way too long to get those handcuffs off.

Roman with a Guillotine choke on Owens.
Roman Reigns defeats Kevin Owens to retain the Universal Championship
It's Rumble match time! Edge is already in the ring. Randy Orton makes his entrance, but Edge isn't waiting. He races up the ramp and strikes!
And #3 is on his way...
And that man is Sami Zayn.
Zayn attacks Edge's knee and knocks him to the mat. Now, he and Orton are working the Rated-R Superstar.
And #4 is Mustafa Ali.
All three are pummeling Edge. And here comes #5.
And #5 is Jeff Hardy
Orton and Zayn take the boots to Hardy, then look like they're yelling at each other then Orton nails him with an RKO. RKO on Ali. Then he gets crushed with a spear by Edge.
Edge with an impaler DDT on Orton through a table! Both of them are on the floor and out comes #6....
And #6 is Dolph Ziggler
And Jeff Hardy is eliminated by Dolph Ziggler
Dolph, Zayn and Ali try to throw Edge out, but he hangs on. And here comes #7...
and #7 is Shinsuke Nakamura!!
And #8 is Carlito!
HE SPEETS IN DEE FACE AVH PEEOPLE WHO DON WANNA BE COO
Meanwhile, the refs are helping Orton back to the, er, back... but he's not eliminated! Keep that in mind.
And #9 is Xavier Woods and he goes right for Ali.
And #10 is Big E.
Sami Zayn is eliminated by The New Day
And that brings John Morrison out at #11
Woods is out of the ring, and Big E is trying to help him back in. Ali kicks Woods's arm away and knocks him to the floor...

Xavier Woods is eliminated by Mustafa Ali
Big E isn't happy about that and tosses Ali right over the ropes.
Mustafa Ali is eliminated by Big E
#12 is Ricochet and #13 is Elias
And #14 is NXT's Damian Priest!
And Priest eliminates Elias!
Priest and Edge are going face to face in the ring as the next dude comes to the ring...
And #15 is Miz! And Miz is taking the MITB briefcase to Bad Bunny's DJ setup so, I mean, he sure showed him, didn't he?
Bad Bunny comes out to confront Miz, and the distraction is enough for Damian Priest to eliminate both of them!

Miz and Morrision are eliminated by Damian Priest
And Bad Bunny leaps from the top rope onto the Dirt Sheet guys.
And #16 is Riddle.
And #17 is Daniel Bryan! Hey, that's MY number!
Whoa. #18 is Kane.
And is chokeslamming everybody including....
Dolph Ziggler and Ricochet are eliminated by Kane
Daniel Bryan sees Kane across the ring and wants a hug! And he gets one! And also a chokeslam.
Now Priest and Kane are face to face and.... Priest eliminates Kane!
Kane is eliminated by Damian Priest.
#19 is King Corbin and he manages to eliminate Shinsuke Nakamura.
And #20 is Otis. 
Otis clears everyone out and hits the Catepillar on Priest... so, of course, King Corbin eliminates him right after.
#21 is Dominik Mysterio and he's going right after King Corbin. And eliminates him!

King Corbin is eliminated by Dominik Mysterio
It looks like Damian Priest is going to be the Bianca Belair from last year this year.
#22 is Bobby Lashley and he wastes no time in...
Damian Priest and Dominik Mysterio are eliminated by Bobby Lashley
And now Big E and Riddle are taking the fight to Lashley
And #23 is The Hurricane?
Hurricane tries to chokeslam Lashley and Big E... and gets thrown out for his trouble.
The Hurricane is eliminated by Bobby Lashley and Big E
And #24 is CHRISTIAN!!!!!
Everybody gangs up on Lashley and...
Bobby Lashley is eliminated by everybody
Edge and Christian are reunited! There's a hug! And then Riddle wants to get in on the lovefest, but they beat him up.
And #25 is AJ Styles
And #26 is the elder Mysterio
That's right. Raymond J Mysterio, Jr.
Big E starts to attack AJ, so Omos grabs him from outside the ring and pulls him out.'
Big E is eliminated by Omos (who isn't in the match so that's BS)
And #27 is Sheamus
And Shame-O nails both Riddle and Edge with that Ten Beats chest attack and then goes after Christian.
Mysterio goes for a 619 on AJ, by Omos grabs him and tosses him out of the ring. BOOOO
Rey Mysterio is eliminated by Omos
#28 is Cesaro
It looks like Cesaro and Sheamus are going to have a reunion, but Cesaro knocks him down and puts him in the swing.
#29 is Seth Rollins! The Messiah is Back!
Cesaro goes right after him and nearly tosses him out. But he doesn't.

And #30 is Braun Strowman.
And Strowman tosses out both Cesaro and Sheamus.... and then AJ Styles!
(9:41pm) Who's left?
Seth Rollins
Edge
Christian
Riddle
Daniel Bryan
Braun Strowman
And Randy Orton, I think?
Riddle and Bryan are aimed at each other. And they're not holding back
Seth Rollins sneaks back into the ring, hits Bryan with The Stomp, and tosses him out!
Daniel Bryan is eliminated by Seth Rollins
Riddle leaps over the top rope to attack Rollins, who is sitting on the apron. Strowman punches him right out of the ring.
Final Four: Edge, Rollins, Christian, and Strowman
And Orton.
Seth Rollins pushes Christian and Strowman out of the ring! And then Edge tosses Rollins out!
Orton comes... say it with me... out of nowhere... and tries to get the upper hand on Edge with an RKO. Edge counters and tosses Orton right the F out of there!
Randy Orton is eliminated by Edge.
Edge is your 2021 Royal Rumble winner!!!
Wow. WWE had a difficult task ahead of them, putting on a Royal Rumble without a live crowd. But, they pulled off a really, really, really good show.
OK, results time......
Nia Jax and Shayna Baszler defeated Asuka and Charlotte Flair to win the WWE Women's Tag Team Championship
Drew McIntyre defeated Goldberg to retain the WWE Championship
Sasha Banks defeats Carmella to retain the SmackDown Women's Championship
Bianca Belair wins the 2021 Women's Royal Rumble
Roman Reigns defeats Kevin Owens to retain the WWE Universal Championship
Edge wins the 2021 Men's Royal Rumble

I hope everybody had a great night! That was a fun show, and I'm very much excited about tomorrow night's Raw.

Thanks to everybody in the Twitter chat and everybody reading along tonight. I had so much fun. Let's do this again soon.
Until tomorrow... my name is Kevin Christopher Sullivan and... I'm outta here.