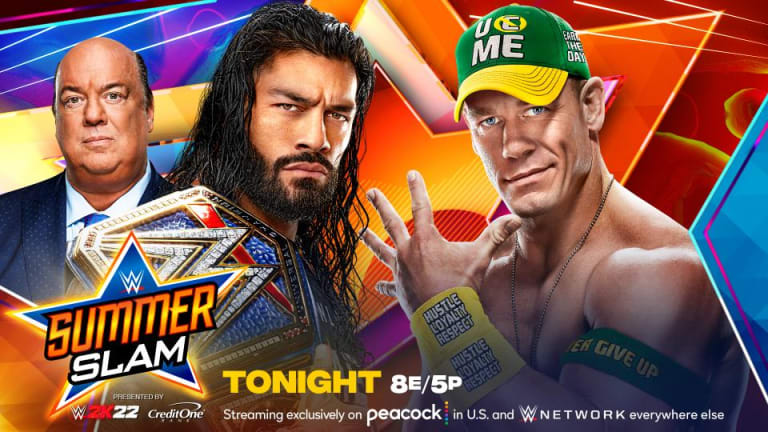 WWE SummerSlam 2021 LIVE coverage and commentary
It's party time in Las Vegas!
(Thanks for reading! If you're following along live, you may need to refresh the page once or twice to get the latest updates of the show. Updates will be timestamped in Central time.)
Welcome to our LIVE coverage of WWE SummerSlam 2021 here at Wrestling News World! With the first live crowd of this size in well over a year - and with AEW grabbing the headlines with CM Punk coming back to... well, you know what happened - WWE has their work cut out for them. Let's see if they can pull off a great show.
Use the comments section below to chime in on tonight's festivities, or shoot me a Tweet at @HeyImKevinSully. Or, just keep your comments to yourself, I guess. Whatever. I'm not the boss of you. Do what you want.
Let's do this!
---
(9:29pm) Edge with the Brood entrance and it. Is. EVERYTHING.
(9:26pm) I'm ashamed that Michael Cole made a Sgt. Pepper's Lonely Hearts Club Band joke about Seth Rollins's outfit before I could. Grrrr. :/
(9:18pm) Charlotte gets the Figure Eight on Nikki A.S.H., and gets the submission win to regain the title.

RESULT: Charlotte Flair defeats Rhea Ripley and Nikki A.S.H. to win the Raw Women's Championship
(9:13pm) Rhea and Nikki attempt a double suplex on Charlotte, but Flair reverses it into a double DDT! DAAAAAAAAAMN
(8:56pm) The Raw Women's Championship Triple Threat Match is on now and our Raw Women's Champion Nikki A.S.H. (that's a dumb name) comes out first... and the crowd is feeling it.
(8:53pm) In a match that lasted longer than Becky vs Bianca, but just barely....

RESULT: Drew McIntyre defeats Jinder Mahal
(8:45pm) US Olympic gold medalists in wrestling this year - Gable Stevenson and Tamyra Mensah-Stock - come to the ring as WWE celebrates - and rightfully so - their achievements. Maybe we'll see them in WWE before too long?

Probably.
(8:35pm) Oh.... well, that didn't take long...

RESULT: Becky Lynch defeats Bianca Belair to win the SmackDown Women's Championship.
(8:34pm) THIS MATCH IS ON!
(8:32pm) Becky tosses Carmella out of the ring, tells Biance she'll "be right back" and then continues to beat the crap out of Carmella.

Now, it looks like we're getting Becky vs Bianca?
(8:29pm) WAKE UP, BITCHES! BECKY LYNCH IS BACK!!
(8:26pm) Apparently, Sasha Banks isn't able to compete tonight, so she's getting replaced with Carmella. Ugh.
(8:20pm) I love watching Pat McAfee losing his shit whenever Boogs and Nakamura show up.
(8:18pm) Following an interview of Damian Priest by Tiffany Hadish, we get Rick BOOOOOOOOOOGS introducing King Nakamura!
(8:13pm) After Dom tries to suplex one of the Usos onto the ring apron, he ends up on the arena floor. The Usos with a double running knee and a flying splash and the Usos retain.

RESULT: The Usos defeat The Mysterios.
(8:00pm) Mysterios vs Usos up next.
WWE 2K22 announced for March of 2022. We can also report that the next big reveal for the game will come out in January - including who is on the cover.
(7:54pm) Priest nails Sheamus's broken face onto the mat with the Reckoning and gets the pin!

RESULT: Damian Priest defeats Sheamus for the WWE United States Championship.
(7:52pm) Sheamus goes for a cloverleaf, but Priest turns it into a cradle pin. Sheamus, in turn, turns it into a heel hook. Priest responds by ripping off Sheamus's mask!
(7:51pm) The champ goes for a Brough Kick, but Damien dodges and nails a superkick, followed by a superkick, but Sheamus kicks out
(7:49pm) Sheamus fights out of Priest's finisher, then heads to the top rope. Priest goes to throw him off, but Sheamus reverses it. Still only is able to follow it up with a 2-count.
(7:48pm) Priest has taken the brunt of the damage so far - not a squash - but there's definitely going to be a comeback for him at some point before this match is over.
(7:38pm) Damien Priest takes on US Champion Sheamus for the title... and that's up NOW.
(7:35pm) Mario Lopez from Saved By The Bell is backstage and talking to new tag team champs of Raw RK-Bro. So... that was weird,
(7:33pm) Duodrop on the mic: "The loooooooser of he match... Eva Mariiiiiieeeee!" Then the former Piper Niven steals Eva's robe and struts away.
(7:31pm) Alexa misses a Twisted Bliss and Eva goes for the pin, but doesn't get it... but Alexa pulls it around and gets the pin anway.

RESULT: Alexa Bliss defeats Eva Marie
(7:29pm) There IS indeed a doll involved and Eva "attacks" Lily, slapping her in the "face", which causes Alexa to lose it.
(7:25pm) Eva Marie heads to the ring with Duodrop, as she's about to take on Alexa Bliss. There may be a doll involved.
(7:19pm) After a really well paced match - with Omos still looking like a monster - Orton nails AJ with the RKO and gets his team the 1-2-3. New champs!

RESULT: RK-Bro defeats AJ Styles and Omos for the Raw Tag Team Championship
(7:06pm) We're starting off with the Raw Tag Team Championship match as RK-Bro - Riddle and Randy Orton - challenge champions AJ Styles and Omos.