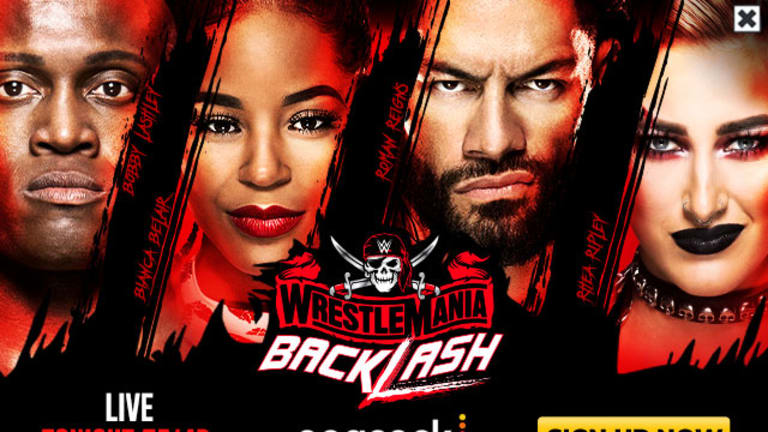 WWE WrestleMania Backlash LIVE coverage and commentary (05.16.21)
What will the fallout from WrestleMania be... or the... backlash, if you will.
What will the fallout from WrestleMania be... or the... backlash, if you will.
(You may have to refresh the page a couple of times for the latest updates)
Hey everyone! Kevin Christopher Sullivan here, covering tonight's Backlash action for you, right here on Wrestling News World. As I'm setting this up, Ricochet has answered Sheamus's open challenge for his United States Championship. This is part of the pre-show so we'll let you know what happens when our coverage begins.
Keep it right here for all the action, broken finger and all!

Oh, and Sheamus defeated Ricochet.
---
The end of that Sheamus/Ricochet match saw Ricochet attack Sheamus from behind and stealing his hat and coat - despite the fact that Sheamus won the match clean. So, yay Ricochet, I guess?
---
Well... that's the show. How'd you guys enjoy it?

I'll see you all for Raw tomorrow night. Until then... I'm outta here.
(9:01pm) Rollins attacks Cesaro!
Seth Rollins?
(9:00pm) And now Jey Uso is attacking Cesaro after the fact. Boo.
(8:57pm) Roman manages to get the Guillotine choke on Cesaro but that was a HELL of a match.

RESULT: Roman Reigns retains his Universal Championship against Cesaro
On a side note, Pat McAfee has won me over as a legit WWE announcer.
Reigns fights out.
(8:54pm) Cesaro rolls it into a crossface!
(8:53pm) Reigns with the Guillotine choke on Cesaro, but Cesaro powers out! He's going for the Sharpshooter now!
(8:51pm) Reigns with an armbar on Cesaro's bad arm. Cesaro rolls him up, but Reigns kicks out. Cesaro goes for a springboard uppercut but Roman with a Superman Punch - Cesaro kicks out!
I hope I'm wrong.
(8:50pm) This match has been amazing. It's gonna suck when Cesaro loses. :(
(8:48pm) Cesaro with a discus clothesline on Reigns, which puts Roman on the mat but it also causes Cesaro to scream in pain. 
(8:47pm) Reigns trash-talking at Cesaro, and the announcers keep bringing up Daniel Bryan. Interesting.
(8:45pm) Roman is smiling... laughing!... as he attacks Cesaro's bad arm.
(8:40pm) Cesaro manages to get the Sharpshooter on Reigns! The champion manages to get to the rope, but Cesaro is on a roll now! Plancha over the ropes onto Roman and Cesaro isn't playing around.
(8:39pm) Roman has been pretty dominant throughout the match, but just can't put the champion away. Roman sets up for a Superman Punch, but Cesaro dodges and nails him with an uppercut!
(8:36pm) Cesaro seems to have injured his arm, and Roman is taking advantage of it.
(8:29pm) Why does Cesaro have vampire teefs?
I love Cesaro. I think he's awesome. I really wish he had a chance to actually win this tonight.
(8:25pm) It's time for the main event - Cesaro vs WWE Universal Champion Roman Reigns.
(8:15pm) Lashley's back in the ring! He tosses McIntyre out of the ring, then nails Braun with a spear and GETS THE PIN!

RESULT: Bobby Lashley retains his WWE Championship against Drew McIntyre and Braun Strowman.
(8:13pm) And then we get THIS...
(8:11pm) Strowman hits McIntyre with a senton, of all things, and still only gets a 2-count! McIntrye dodges a charge into the corner and nails Braun with a Michinoku Driver! DAAAAAANG.
(8:09pm) McIntyre tosses Lashley into a LED board, causing an explosion of sparks. Lashley is out... and also nowhere to be seen, for some reason.
(7:54pm) Time to begin the first of our two World Championship matches tonight - the WWE Championship. Drew McIntyre is first out, as he and Braun Strowman will be vying for Bobby Lashley's title in a Triple Threat match!
(7:46pm) Bianca rolls Bayley up and, using her braid, pulls her back and gets the pin!

RESULT: Bianca Belair retains her SmackDown Women's Championship against Bayley
(7:45pm) Bayley rakes Bianca in the eyes! Bayley To Belly but still only gets a 2! 
(7:42pm) Bayley with a top-rope elbow but it isn't enough! 2 count!
(7:39pm) Bayley goes for a pin, and Belair Yokozunas her right out of the ring
(7:30pm) And the bell rings. Bayley tries to start a "Bay-Lee" chant, which is hilarious.
(7:28pm) We're heading into the SmackDown Women's Championship match - Champion Bianca Belair vs Bayley
RESULT: Damian Priest defeats The Miz
(7:18pm) John Morrison slips into the ring and attacks! However, it's not enough to fight off the horde of the undead, and gets dragged
(7:16pm) Priest and Miz and pulled out of the ring by zombies and now they're working together to fight off the zombies!
(7:12pm) Corey Graves does make a reference to ECW. Meanwhile, Kenny points out "could this be the first Lumberjack match where the Lumberjacks try to pull opponents out of the ring?"
(7:11pm) It's time for Army of the Dead: The Match between Damian Priest and The Miz, with "zombies" as Lumberjacks.
Could we see a return of the ECW Zombie tonight??
(7:00pm) Rey with a 619 on Roode and tags in Dominick! While Rey intercepts Dolph with a sunset flip out of the ring, Dom with a Frog Splash - shades of his real father! - and gets the pin!

RESULT: Dominick and Rey Mysterio win the SmackDown Tag Team Championships!
(6:57pm) Dolph begins to set up a Superkick, but Dominick nails him with one of his own! Both men make tags and now it's Rey and Bobby in the ring.
(6:54pm) Rey manages a top rope bulldog on Roode... and then tags in Dominick!
(6:52pm) Dominick makes his way to the ring, nursing injured ribs. He wants a tag in, but Rey isn't having it. Dolph with a Zig Zag but Rey still kicks out.
(6:50pm) Rey takes a superkick to the face as he slides out of the ring, and barely beats the 10-count to get back in the ring. Rey manages to get a double DDT on his opponents and starts to rally! Roode into the ring post!
(6:49pm) Ziggler nails Rey with a Famouser, but Rey kicks out at the last second!
(6:47pm) The champs start working over Rey's knee outside of the ring, and he's having trouble putting weight on it.
(6:46pm) Rey manages to get an advantage with a drop toehold, but leaps to the top rope for a moonsault and Ziggler knocks his legs out from under him.
(6:42pm) The bell rings and Mysterio immediately goes after his opponents. And doing well. And that can't bode well for the rest of the match,
Rey's outfit harkens back to the old Adam West Batman.
(6:41pm) Rey Mysterio comes out and it looks like he's going it alone.
My buddy and business partner Kenny just made a good observation: Dolph Ziggler kinda looks like Kurt Russell.
(6:39pm) Thanks to the attack by the Dirty Dogz, Dominick won't be able to team with his dad in their SmackDown Tag Team Title match.
(6:31pm) After a badass series of back and forth, including a dodged moonsault and a couple of close calls with a couple of Asuka Locks, Ripley nails Asuka with the Ripcord... Riptide?... whatever, Ripley wins.

RESULT: Rhea Ripley retains her Raw Women's Championship
(6:27pm) Ripley and Asuka with a double superplex on Charlotte.
(6:26pm) Charlotte with a top rope moonsault onto both Ripley and Asuka on the outside. 
(6:25pm) Ten minutes into the match and Asuka has control, trading kicks between her opponents and getting a 2-count pin on Charlotte.
(6:22pm) Did Ripley just... spit on Charlotte?
(6:21pm) With Rhea on the arena floor after getting knocked to the apron by Charlotte, Asuka manages to get an armbar on The Queen - but Ripley gets her bearings and breaks up the hold.
Rhea and Asuka doing a great job in balancing between double-teaming Charlotte and fighting each other.
(6:15pm) The bell rings, and the match starts as Corey Graves explains how a Triple Threat match works for the 137th time.
(6:13pm) Finally, we get the Raw Women's Champion Rhea Ripley, also looking awesome. And then, Mike Rome begins the title match introductions.
(6:12pm) Asuka is next, with her usual gear... but she still looks awesome.
(6:10pm) We begin the first match of the night with Charlotte Flair making her way to the ring, decked out in Cruela Deville-inspired ring gear.
WWE WrestleMania Backlash sponsored by Batista: The Movie.
WWE. THEN. NOW. FOR CRYING OUT LOUD WHY IS MY FEED ALWAYS A MINUTE BEHIND?!
(6:00pm) WWE WrestleMania Backlash will be starting out with the Raw Women's Championship Triple Threat Match! Enjoy!