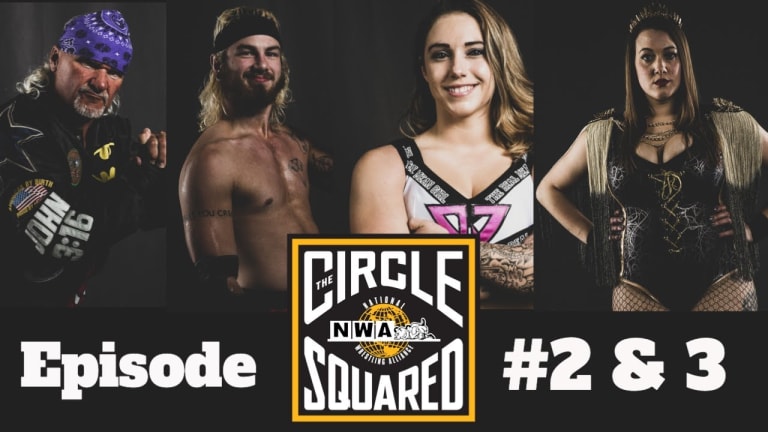 The Circle Squared Ep. 2 & 3 LIVE Coverage
6:05p est.
<iframe width="560" height="315" src="https://www.youtube.com/embed/wsUkhf7cYzg" frameborder="0" allow="accelerometer; autoplay; encrypted-media; gyroscope; picture-in-picture" allowfullscreen></iframe>
Here we go...... 

We start off with a video package of what The Circle Squared is all about and who was in the first episode.  We get to see the LIVE reactions from other content creators on what they watched in ep. 2 & 3.  

Colby Corino gets interviewed first.  The song of Steve Corino talks about how he grew up with a wrestling ring in his backyard.  Corino says he wrestlers for his son, put food on his table and diapers on his butt.   Colby hopes that one day his son will say "I'm proud of you Dad".  Colby enters the ring. 

Now comes, George South to the interview podium.  George South comes out and berrates the fans and how he has never been supported.  He says that he has never gotten the chance to stand in front of the NWA letters.  George says that Colby is like a son to him.  George makes his way into the ring.
Colby Corino vs. George South
      Ding, ding, ding.  Colby locks up George South early and knocks George down.  The men are at it again and Geroge South is in control now.  A back suplex by George South and he follows it up with a claw to Colby's head.  Colby breaks out of it and locks in an abdominal stretch.  George uses his strength and gets out of it and locks in the claw again. 
   
       Colby seems to be fading, but gets a second wind and fights back, but George South ends Colby's momentum.  Once again George South locks in the Claw for a third time.  Colby fights back again, but telegraphs a back body drop, which allows George South to lock in the claw again.  George sizes up Colby for a shoulder tackle, but Colby moves out of the way and rolls up George South for the 1-2-3.  Colby puts his hand out, but George walks away.

Winner by pinfall Colby Corino
Now we see Joe Galli give us an update and rundown on The Crockett Cup, which is coming April 19th.  We knew about the Aldis championship match, but Galli announces for the first time that Aaron Stevens vs. Trevor Murdoch.  Galli also announces a Wild Card Battle Royal, where the final 2 wrestlers will be a tag team in the Crockett Cup.

Now we see David Marquez at the interview desk.  Out comes Freya The Slaya.   This is the first time that we have seen women wrestlers on The Circle Squared.  Freya looked a tad nervous and I do not think she mentioned her name. 

Up next is Dani Jordyn, the real mean girl.  She goes on to tell us why she is called the real mean girl.  Dani goes on to show us a list of all the people she has "burned".  Dani heads into the ring and we are ready to go.
Freya The Slaya vs. Dani Jordyn 
     
      Both ladies feeling each other out.  Freya has the size advantage in this bout.  Dani tries to lock Freya up, but is having no luck.  Freya is too big, too strong.  Dani starts attacking the legs of Freya to take her off her feet, but Freya just threw aside.  Once again Dani is shut down by the power of Freya.  Freya gets a two count after a big slam.  Freya misses a kick and Dani starts attackign the right knee of Freya.  
     
      Dani keeps bringing the attack, but Freya lands a big forearm to the face.  Freya locks in a million dollar dream, but Dani kicks her way out.  Dani gets caught and Freya goes for a chokeslam, but Dani rakes the eyes to get out.  Freya lands a big boot and  goes for a leg drop, but Dani moved.  Dani comes at Freya with some forearms to the face and a snapmare.  Dani is able to get Freya down to one knee and hits a dropkick to the face.  Dani scoops up Dani and lands a massive Tiger Driver for the 1-2-3.

Winner by pinfall Freya The Slaya
That is it for this edition of The Circle Squared.  Remember, next week NWAPowerrr returns with Super Powerrr.  See you all next week.....


Until Next Time.......