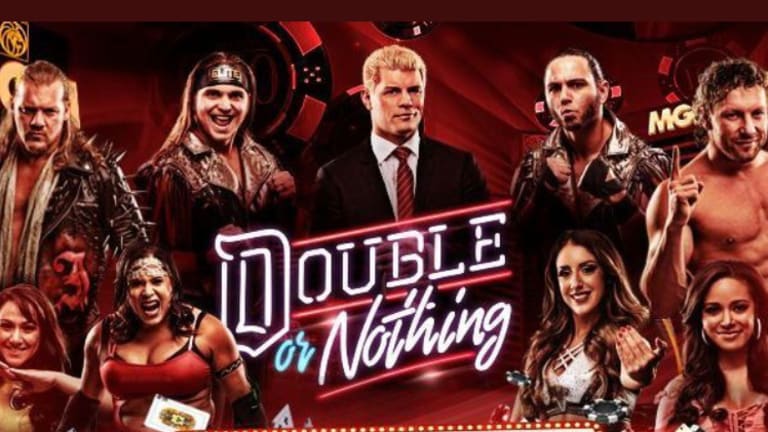 AEW's Double Or Nothing Live Results And Coverage (05/25/19)
Welcome everyone back to WNW! Tonight, we witness history as a new wrestling company is being built from the ground up, All Elite Wrestling. Tonight, in Las Vegas, AEW brings us Double or Nothing. Join me down below for live coverage and results of tonight's show! 
Live From Las Vegas, Nevada
Hangman Page won the AEW Casino Battle Royale Match 
Ryan's Thought: A fun match to watch and everyone got a chance to shine in the match. MJF and Page were the final two and Page got the elimination to win a future AEW World Championship opportunity against Kenny Omega or Chris Jericho at a later date. 
A video package aired of Cody vs Dustin for later in the night. 
Kip Sabian defeated Sammy Guevara
Ryan's Thought: What a match, and this is just the pre-show. The two highlighted with their flashy move set. A good match and the two have good chemistry. I can't wait to see another match between Sabian and Guevara. 
A vignette aired for Sadie Gibbs. 
Jim Ross was shown backstage, followed by shots of Cody, Kenny Omega, Matt Jackson meeting Michael Nakazowa, and Nick Jackson superkicking a backstage producer. 
The Elite then made their way out to the stage. Chants of AEW roared throughout the arena. They each grabbed the mic from each other and Kenny welcomed everyone to the show. Matt then got on the mic and said it was cool to see 20,000 people. Cody then said it was only 13,000. Matt said they should round up. They said they will be making history tonight with this revolution.... (End of Pre-Show) 
The show opened with Chris Jackson singing the National  Anthem.
SCU defeated Strong Hearts 
Ryan's Thought: Oh my, what a fast paced six-man tag team match. Complete chaos the entire match. All men worked hard, but damn, SCU has great chemistry. This set the bar high for the rest of the night. 
Britt Baker defeated Kylie Rae, Nyla Rose and Awesome Kong
Ryan's Thought: Before the match started, Brandi came out and stated she wanted to make the match awesome. Awesome Kong then made her way out and it was a Fatal-Four Way Match. Good match and effort from all of the ladies involved. 
Best Friends defeated Angelico and Jack Evans 
Ryan's Thought: Wow, great match between all four men. Angelico and Evans ooze heel all over them. They all did a group hug before the lights went out. Two men appeared in the ring and the lights went back out. More men appeared out of nowhere and took out both teams.
AEW announced that ALL OUT will be held in Chicago, Illinois at the Sears Center on August 31st. 
Hikaru Shida, Riho and Ryo Mizunami defeated Aja Kong, Yuka Sakazaki and Emi Sakura
Ryan's Thought: If this show doesn't feel like an alternative, then I don't know what is. A great match that was hard hitting.
Cody Defeated Dustin
Ryan's Thought: That was the match that they both deserved to have at Mania. But now it's AEW. That was a great story being told in that ring, as both brothers left it all in the ring. Dustin ended up a bloody mess and it added so much to the match. After the match, Cody asked Dustin to be his partner against the Young Bucks next month at the Fight For the Fallen event. 
Bret Hart introduced the AEW World Championship
The Young Bucks defeated the Lucha Bros to retain the AAA Tag Team Championships 
Ryan's Thought: Hands down, the best match of the night thus far. Both teams took it to each other and multiple near falls. Great match. 
Chris Jericho defeated Kenny Omega
Ryan's Thought: I might seem biased, but my God, what a show and main event. Omega and Jericho tore the house down and overall, a great show and I can't wait to see what's next! 
Jericho grabbed a mic and said he doesn't care if people cheer or boo him, he is AEW. He said it isn't a company for himself and not the fans. He wants to prove his name, and they sold out because of him. Jericho demanded a thank you and the crowd booed. Jon Moxley then made his way out of the crowd and into the ring. He stared down Jericho and hit Dirty Deeds on him, along with the referee. Moxley turned his attention to Omega and picked him up, and tried hitting a Dirty Deeds on him. Omega knocked him out of the ring and the two brawled throughout the crowd. Moxley climbed the poker chips and Omega followed him. Moxley hit Dirty Deeds and then kneed him in the face. He picked Omega up and threw him off the chips to end the show....(e)