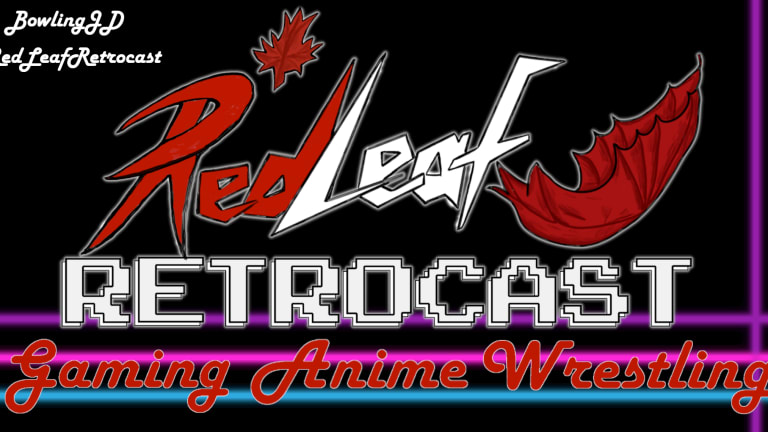 Retro report: AJW Classics 30, NJPW Wrestling Dontaku May 3, 1993, WCW Nitro Jan 4, 1999
By JD Woolley
Learn, remember, and re-live the past.
Audio version of the retro review is available through the Red Leaf Retrocast podcast.
All Japan Women's Pro-Wrestling (AJW) Classic Eps 30
Place: N/A (Takashi Matsunaga Tribute Show)
This is an AJW historical episode, so as to save future matches, we will cover pre-1983 AJW matches and a couple extra classics here.
WWWA Singles Championship: Jumbo Miyamoto (c) vs. Mach Fumiake (AJW @ Korakuen Hall, 3/19/1975)
Starting with this historical episode, and as to not get ahead of ourselves in the AJW timeline, we decided to only watch up until the 1983 matches since that's where episode 1 of the classics began.
Here, we go back to one of the original heels of joshi wrestling in champion of the time Jumbo Miyamoto. She is actually quite short, stocky, all-be-it "ugly" aka a troll of a woman. Mach Fumiake on the other hand is a beauty. She represented the early stage of being an actress, singer, and more end of the spectrum. Basically, these two, with the exception of the foreign heel aspect of women's wrestling would represent the beauty vs the beast if you will.
As for the match, it's very simplistic and basic mat work of the era, and after some odd minutes of exchanging holds Mach hits a rough look deadlift double arm suplex. Jumbo kicks out, yet her shoulders were still on the mat, so the ref counts 3. A new champion is crowned and under "controversial" circumstance. This was of the time as expected.
WWWA Tag Team Championship: Beauty Pair (c) vs. Black Pair (AJW @ Japan, 12/8/1976)
This is the next stage of AJW rising to popularity. The Beauty Pair, Jackie Sato and Maki Ueda, would run the tag division for years. Both would hold the top title in time, and more notably Jackie Sato would run the entire promotion as the top star for an era. These two in particular would bridge the gap between wrestling and pop culture (a full decade before McMahon in the USA). Beauty Pair would sing before shows, and even appear in movies, and more. Something we still see from wrestlers in Japan today from part time models, singers, and actresses becoming wrestlers. Yumi Ikeshita and Shinobu Aso were the heels of this era and did the job as was asked of them.
This bout was simply put as, the heels double team Beauty Pair for a bit, a comeback is mounted and Sato catches Aso coming off the ropes into a tombstone piledriver for the win. Short and sweet.
Devil Masami vs Jackie Sato Nov 27, 1980 (youtube)
These next matches were not on the historical show, but since Sato is such an important figure, this warranted a desire to watch a couple historically important and good matches. First up is Devil Masami challenging Jackie Sato. This young challenger was already on a rise to fame with her strong build, unique look, and charisma. Sato was out to prove she was still deserving of the top spot.
Important to note that during this time, the massive heel Canadian Monster Ripper had vacated the 3WA title. This match was simply fun. Sato utilized the mat wrestling technique of the 70's. However, Sato was not afraid to go to strikes, and utilize her fast footwork to get speed over power against the large Devil Masami. The best examples of this is Sato doing jumping sling blades and even performing a jackknife suplex into a backbreaker. Devil Masami however would not stay down. Yes, the moves were doing their damage, while the power moves would not falter. Overhead press drops, forearms, and more was Masami's game plan. In a turn of events at the end of the match, Masami lifts Sato up and over her shoulder, over the top rope and to the floor. Sato would grab the knee and unable to get back into the ring to continue the match. Masami wins over the ace. A fun match to watch from a long lost era.
Rumi Yokota vs Jackie Sato Dec 16, 1980 (youtube)
This was the days before Yokota became Jaguar. None the less, this was a match for the vacated title. It is unknown to me why Sato was in this match as opposed to Masami having Sato lost to her only a month prior. Regardless, it's Sato vs the extremely young Yokota. This is one of the best mat worked wrestling matches of the late 70's/early 80's. In a way, this could be said it was a legit wrestling match barring two going for actual shoot pins, if you catch my drift here. It's a journey as in the last 4 minutes heading into the 20 minute time limit draw both are exhausted and going for desperation pins to win. The time expires causing the match to be deemed to restart with a 3 minute overtime.
Once the match starts again, Sato attacks Yokota with a series of hard back attacking moves: jackknife backbreaker, back drop, and all leads into a liontamer. Yokota does not give up before time expires again, but she is also unable to escape the hold. By judges decision Sato wins the bout and the vacated title. Sato remains on top, but with Yokota and Masami screaming down her neck, it was only a matter of time.
WWWA Singles Championship: Devil Masami vs. Jaguar Yokota (c) (AJW @ Ota Ward Gymnasium, 7/19/1982)
This was the defining match of the early 80's in joshi wrestling, in my opinion. It features the top 2 stars of the era and the best wrestlers. Jaguar dressed in all white with a slick white jacket, and nice French white cap. Masami is purple Count of Monti Cristo with a purple singlet with flowers. Both look outstanding and like the biggest stars in women's wrestling.
Masami dominates the early stage of the match with nothing but power moves. Jaguar survives and flips to land on her feet avoiding a high back drop. She gives Masami a back drop of her own. Masami escapes to the outside, and this is when Jaguar runs and leaps over the top rope. Unfortunately, and scary, her feet doesn't clear and she flips and lands headfirst disappearing from the camera. A crash landing like no other, Jaguar leaps onto Masami after hitting the ground. I assume to communicate to each other. They walk and brawl outside and Jaguar grabs a chair to pummel Masami with it. She continues even bringing this fight into the ring. Masami not having it, grabs a kendo stick to match the challenge of weapons. This breaks down and the ref can no longer maintain control. This is deemed a no contest. Solid stuff, some crazy moments, and of the era, quite good. This is worth recommending.
New Japan through the 90's (NJPW) – Wrestling Dontaku May 3, 1993
note: matches covered are what's available in the archive on njpw world
Other notable matches from the time watched were: none this time.
Great Muta VS Hulk Hogan
Both men were respected champions of their promotions here, Muta the IWGP and Hogan the WWF. There's a myth or legend that Hogan in Japan was a good wrestler. That's debateable considering this match. Does he do more than the "Hulkamania-Hulk-up standard?" Yes. However, is it really anything more than wrestling 101 basics? No.
Hogan does some wristlock exchanges, a rolling armbar, does hit an enzuguri, but really nothing more than a typical basic match. Muta was the star trying to bring out something more than that. He gets Hogan to throw him in and around the ring including into the fans. Muta grabs the ring bell hammer and hits Hogan with it. The best part of the match was easily Muta reversing a whip into the post so Hogan goes into it. This is when Muta grabs a ladder to hit Hogan, brings a chair into the mix, and run all the way down the ramp screaming hitting a clothesline to Hogan unable to stop himself going into the ring. Hogan wants to use the chair, but gets misted for his trouble. Lucky for Hogan it hits his chest instead of his eyes. Due to this he hits an axe bomber, Muta kicks out, while Muta hits a moonsault that Hogan kicks out of.
The biggest moment of the match came from Muta kicking out of the leg drop of doom. As we know, nobody kicks out of that unless it's a big deal. One more axe bomber gives Hogan the win and then the famous Hogan speed of putting down the WWF prop and wanting the real title of wrestling happens.
Is this the best match in the world, no. However, inside the history of wrestling it is quite significant. Worth checking out surely.
Antonio Inoki & Tatsumi Fujinami vs. Riki Choshu & Genichiro Tenryu
This match was finally the ultimate confrontation for WAR vs NJPW feud. Even if the feud is now with Chosu on the other side for no reason, this was the culminating match. Inoki must be the star of the show at all costs. The crowd loves the man after all. It's a special tag match for the stars of the 80's, and feels like nothing more. Unfortunately, it's nothing special either other than Inoki gets his shine as he does.
The crowd is mostly dead for its entirety unless Inoki gets in to liven things up. There is no doubt Inoki oozes charisma to make a crowd wake up and molten. His flurry of offense always gets the job done. Fujinami unfortunately gets rolled up to lose for his time, but the match wasn't great anyways.
June 15, 1993 Nippon Budokan IWGP Heavyweight CHAMPIONSHIP MATCH Great Muta vs. Great Kabuki
A dream match in all sense of the term. Mist vs Original Mist-er. It is still weird Kabuki got rolled up prior to this bout by Fujinami, but none the less here we are.
Kabuki is old, slow, and a broken veteran at this point. He had almost no business being in a competitive match in 1993. Muta eats this dude alive. Kabuki starts bleeding almost immediately, and continues throughout the match. No comeback was ever good enough outside of maybe one hope spot, but it's quickly shut down by Muta. The Great Muta parades this one-sided beating around the ring and to the outside including running from the back of the arena screaming to hit that clothesline. This time, Muta momentum took himself into the ringside post.
After all this, Kabuki mists Muta and attacks him in the ring with a weapon for the DQ. An uber lame finish to an epically boring to bad match. NJPW does run this match back one more time in the G1 later in the year, but ultimately quite disappointing. Do not recommend this one at all.
Next up are the matches in the njpw archive are the remainder of 1993 (July-Dec) including some AJPW classic bouts.
Watch along!
WCW Nitro Jan 4, 1999
from Georgia Dome Atlanta, GA
Meanwhile on WWF Raw: Mick Foley wins the WWF title in the main event.
Show begins with soft opera type music recapping in small clips the Nash Goldberg Starrcade match. We begin with commentary plugging the Nash Goldberg main event for the first Nitro of 1999 as the Nitro girls dance in gold. Of course, commentary also reminds us of the new regime of Ric Flair and of course plugging Hogan is back on Nitro to thank the fans since he announced his retirement on Jay Leno a couple months ago.
Balloons are falling from the ceiling as then we cut to some nerds having a live Nitro party. We have evolved from the lame vhs tapes to live at the arena.
Glacier vs Hugh Morris (w/ Jimmy Hart)
Yes, the first wrestler WCW pumps out to start the New Year is Glacier (haha)! At least we get his sweet entrance. With these two bums starting off Nitro, this crowd was so hot to start the show and it's amazing how cold this crowd got so fast. They could not care less about this match and honestly, neither could I. Glacier eats a moonsault inside 3 minutes to Morris.
Short commentary plugs
Ric Flair will give us a state of the wrestling address and Hogan will grace us as he moves into the political arena they say. A 6.5 minute recap of Flair Bischoff from Nitro last week happens and 17 minutes into the show we get the Nitro intro finally. Dude...
Cut to outside as the Flair family with Arn Anderson in front walk into the arena as Mean Gene in the ring sets us up for an interview.
Mean Gene interviews GM Ric Flair
We follow the Flair entourage all the way from outside into the ring...the...whole...time. We notice a young Reid, Ashley (later known as Charlotte in WWE), and all the Horsemen. Flair crows to Bischoff and calls him out. He says it would be easy to fire him, but instead has Bischoff work under Schiovane on commentary for the night (oh interesting). We recap the Referee Randy Anderson firing on Nitro by Bischoff and Flair calls him out. Ric Flair rights a wrong and offers him his job back at double the salary. He thanks everyone that made this possible including Savage. Flair is totally calm and serious throughout all this. Flair books himself into a handicap match at Souled Out vs Windham and Hennig, but son David Flair wants in. Arn says he's ready and this convinces Flair to oblige to a tag match. Yes... David Flair has begun.
Booker T defeats Emory Hale in a squash match.
Chavo Guerrero Jr. defeats Norman Smiley in a rematch from Nitro last week.
Help ease my pain, please. The nitro girls dancing before the match in hot black outfits was better. Meanwhile, Bischoff refuses to continue to say nothing during the matches with his feet on the desk. We have seen way too much Smiley on WCW lately. This hurts. The match was a botch filled big wiggle disaster.
Chris Benoit defeats Horace
Benoit already in the ring without an entrance, while Horace gets the full nWo entrance. Funny enough the first person of the nWo we see of 1999. Could not help but notice the stuffing remains of Chavo's horsehead are still in the ring. They could not be bothered to sweep it out of the ring. Why was this match 50-50 until a crossface victory for Benoit? Horrible. The best thing came post-match on commentary was Zybsco saying Benoit won the match using science to take Horace down.
Goldberg getting arrested in back by 8 police officers.
He cuts the longest promo on the cops, and gets arrested due to having a warrant for his arrest. We don't know why, but we have a feeling there goes our main event. Goldberg said to the police they will need every sort of weaponry they got to take him in.... and then he goes away quietly. As Goldberg said "THIS IS WRONG!"
We return to commercial to see Goldberg getting taken away by police in a toyota corolla. It definitely didn't look like any police vehicle. Nash storms out yelling "what the hell" and then we see Hogan laughing about it. Hmmmm.
Funny enough Schiovane on commentary informs us the police station is simply across the street.
Chris Jericho (w/Ralphus) defeats Saturn by DQ (8:12)
This match was fine. It also had a strange and funny ending with Jericho elbowing and then pulling the ref in front a Saturn off a plancha.
Jericho boots Saturn in the nuts, lionsault, liontamer, and then the ref calls for the bell DQ-ing Saturn. Saturn then yells,
"I didn't give up, NOOOOOOO!" haha!
This is probably due to this continuing weird and terrible "feud" of Anderson the ref not liking Saturn. It's quite dumb.
Goldberg at the police station.
Here we and Goldberg are informed that Miss Elizabeth has pressed charges on Goldberg over aggravated stalking. They are now going to go over with Elizabeth and Goldberg to get the charges and story straight. Woo boy here we go.
Commercial for a 15 month Nitro girls calandar (number is currently for car insuarance) and they dance.
Back to the geek Nitro party, "shout out to Jordan in Chicago!!!!" "Free Goldberg yeahh!
What's the best part of Nitro so far, "when Goldberg went to jail" you sure? "Yeah!!!" Hilariously terrible.
Back with the police station getting Elizabeth's account of Goldberg's stalking... everywhere.
lWo party time!
We all blessed with Eddie and the lWo party at ces Casa del lWo. It is filled with low riders, beautiful chicas, tequilla, and card games featured by Eddie trading hands and then winning the poker game. All the women say he's the best while El Dandy is the whipping boy. Only took WCW 6 months to do anything meaningful with this lame group.
Juventud Guerrera & Psychosis defeat Kidman & Rey Mysterio Jr. (7:36)
This is strange because at the lWo party we saw Rey Mysterio Jr on the couch hanging with the other lWo losers without the women like Dandy and Hector Garza. Schiovane is begging Bischoff to contribute on commentary still, and finally just gives up on him. I believe this is the fourth straight week, including Starrcade, where we have seen this group of guys against each other. This was a decent match that ends via Kid-man accidently hitting Rey with a missile dropkick from behind. Head shot style! Psychosis finishes him off with a top rope leg drop. Wild.
Police now inform Goldberg his stalking of Elizabeth at the gym...he owns.
Mean Gene interviews Kevin Nash (c).
It is still incredible that for 8 months the Wolfpac faction was just a cool theme song. Anyways, Nash claims Goldberg is being screwed and it's obvious Hogan is behind this. Nash demands Flair makes Hogan the new challenger tonight. We question all this because of the Savage connection with Elizabeth last week, still connecting with Hogan and this strange Wolfpac connection too. It's all very convoluted.
Flair storms out and strangely gives Hogan a reward for having Goldberg arrested. This is immediately followed by the same opera video we saw to start off Nitro tonight.
Back to the police station with Elizabeth. Blah blah he's always there.
Mean Gene interviews Hollywood Hogan
Crowd - boooooooo! He also gets the entire pyro budget for an interview.
Hogan here to announce his VP running mate.... something we were told on Nitro months ago and didn't get it. Hogan says he owes his fans one last retirement match and accepts to retire with the heavyweight title. Call Hollywood the big bad wolf, howlllllll!
AND! it was during this moment as Hogan is walking out Schiovane announces here and now that former Cactus Jack is about to win the competitions world title "woo boy that'll put butts in seat" sarcastically. There it was, half way through the middle of the show as they head to commercial. Crazy how I thought it was made to be a bigger deal than this kind of throwaway line. I always thought and even thought I remembered Bischoff saying this line.
Konnan defeats Scott Steiner (c) (w/Buff Bagwell) by DQ (4:01) TV title
Steiner comes out yelling he's a genetic freak (I think for the first time) and dear GOD he's right. He looks bigger than ever. He calls out K-dog so he can beat him up and then calls the audience hicks and will beat them up afterwards. Then, mid-match Schiovane says the line again if you're even thinking about changing the channel to our competition, fans, do not, because we understand that Mick Foley, who wrestled here one time as Cactus Jack, is going to win their world title. Ha!
Anyways, a bad match ends in DQ via Bagwell run in. Whoopie. Steiner whoops Konnan with a chair post-match. I also just want to remind people, still no Sting and the tag titles are still absent from TV for months.
Wrath open challenge as he cuts a fun deep voiced promo.
I guess in the universe of my own WCW fandom vacuum, this is a dream match of mine as Bam Bam Bigelow comes out to answer. Bischoff says his first words on the night on commentary and calls Goldberg "jail bait." Weird that Bigelow just comes out to have a match while in storyline currently Bigelow doesn't have a contract. This was a fun mean guy match with brawling and big hoss moves.
Unfortunately they spilled to the outside and the ref can't keep control any longer and calls for the bell. A bit of a lame finish, but if we at least get a feud out of this I would be for it.
Of course, back to the police station for more questioning. "It happens all the time, blah blah." At least we finally get the police calling Elizabeth out on her bullshit with a fun good cop bad cop segment. Perjury is a serious crime Miss Elizabeth as she completely recounts her story. So now Goldberg can go back to the arena and get his match back, right? Surely, Ric Flair will fix this wrong.
Diamond Dallas Page defeats Brian Adams (w/Vincent)
The match was totally acceptable even for a Brian Adams match. It was a bit on the slower side and ends with DDP leaping off the top hitting a diamond cutter after clocking Vincent. The people's champ wins.
Back at the police station with 13 minutes left in the show, Goldberg finally gets released and uncuffed (only 1 hand though. haha).
"Get me back to the dome!".... I don't think he's going to make it.
WCW World Heavyweight Title Match Hogan w/ Steiner? vs Nash (c) w/ Hall?
Maybe Goldberg will make it back in time because Buffer is doing the intro. All the showmanship, all the pyro, all the building, all the publicity for this moment. Buffer even introduces Hogan as a man campaigning for office of these United States and recognizes Hogan as the leader of the nWo (not Steiner). No Savage, Sting, or Bret Hart on this show at all eh? hmmmm.
Hall comes out with Nash because I guess we are ignoring all the weird anti-promos from last week as Hall wears back Wolfpac shirt. The amount of pageantry prior and during the build in the ring. The crowd is on their feet. Both wrestlers pace around the ring for about 2 minutes. The anticipation of levels of this clash is high. Maybe we get Goldberg's music hit and Flair reverses the match? I think the crowd is expecting something like that based on the build for this show.
Then...oh and then... Hogan holds a punch, pokes Nash in the chest, and Nash violently takes a bump to the mat. The crowd audibly laughs. Then, they grow utterly silent to the 3 count.
The ring announcer names Hogan the new world champion as Goldberg with police finally shows up back in the toyota corrola and runs into the ring still with the handcuffs on one hand. Goldberg runs wild until Hogan hits him (very weak) with the belt. Goldberg fights back but then Luger shows up and turns on him. Thus, Bischoff begins the gloating on commentary as clearly the Wolfpac faction is dead and the nWo is right back where it was plus Luger. Hall uses a taser multiple times on Goldberg after Nash cuffs him to the rope. The spray paint is busted out since forever and tags Goldberg up and down his body, Hogan tags the belt with nWo in red, and the show goes off the air with fans just pelting the ring with garbage. Thus, we begin the 6 weeks journey of WCW proceeding to lose their audience in droves. This will be quite the journey of how WCW did it.
Next show is WCW Nitro Jan 11, 1999